Princeton University Press is putting its best foot forward by using an old foot. The press's ongoing collection titled "Ancient Wisdom for Modern Readers" has a new addition with "How to Stop a Conspiracy: An Ancient Guide to Saving a Republic."
Josiah Osgood, professor and chair of classics at Georgetown University, has written a new translation of the ancient work and one that is easily accessible to modern readers. Then again, that's the whole point.
The book is a new translation of Sallust's great work "The War With Catiline" about the Catiline Conspiracy. The conspiracy involves the patrician and politician Lucius Sergius Catilina who, after two electoral defeats for the Roman consul, decided a coup was the only other alternative. The story involves several famous ancient Roman figures, like Marcus Tullius Cicero, Julius Caesar, and Marcus Porcius Cato (Cato the Younger).
Osgood's translation from Latin to English is easy to follow, pleasant to read, and chock-full of memorable lines of wisdom. This historical work of more than two millennia demonstrates just how little human nature has changed in regard to ambition, persuasion, articulation, and violence.
The Catiline Conspiracy and the struggles of the Roman Republic also place a mirror in front of the American Republic. The similarities are striking, especially in the wake of the Clinton-Russia conspiracy and the Capitol riot of Jan. 6, 2021 (as mentioned in Osgood's introduction).
The arguments from Catiline about his reasons for conducting the coup, and the arguments from Cicero, Caesar, and Cato about how to deal with the conspirators are also striking due to the modern connections we can draw.
Who Should Read It?
The Founding Fathers read the classics of ancient Greece and ancient Rome, among others, which increased their knowledge and grounded their wisdom. As the education system, both public and private, has moved far away from classical liberal instruction, the "Ancient Wisdom for Modern Readers" collection is primed for today's readers, whether still in school or venturing toward retirement.

The lack of experience and education in the classics has proven a detriment to American society. Many today reflect on the possibility of history's repeating itself based only on recent history of the 20th century, and predominantly the 20th century starting with the outbreak of World War II—not even as far back as World War I.

The oversight has catered to an idea of extremism, with young and middle-aged people making direct correlations to the worst in history, rather than looking back at millennia gone by and understanding that there are many others who are not so cruel and devastating, and who are more virtuous and thoughtful than our modern version of historical figures.

Along with its reflections on modern society, "How to Stop a Conspiracy" is a perfect book for encountering the good, the bad, and the indecisive. Not only is it a necessary read, but it also will help push American society (I dare say the society of the West) further away from the ills of Allies versus Axis to look at people, politicians particularly, more clearly.
Learning in Another Way
Along with learning about ancient history, how human nature is unchanging, and how there is no perfect way to handle a conspiracy, readers can also task themselves with learning a bit of Latin. The original Latin is on the facing pages of the book.

The visually direct translation, if given enough time and effort, provides the opportunity to learn at least a smidgen of Latin. If nothing else, it creates a second dose of entertainment.

"How to Stop a Conspiracy" is a necessary read, along with many other selections published by Princeton University Press. They are well-conceived books in their design, small enough for travel, and have easy-to-read large print that is perfect for readers of every age.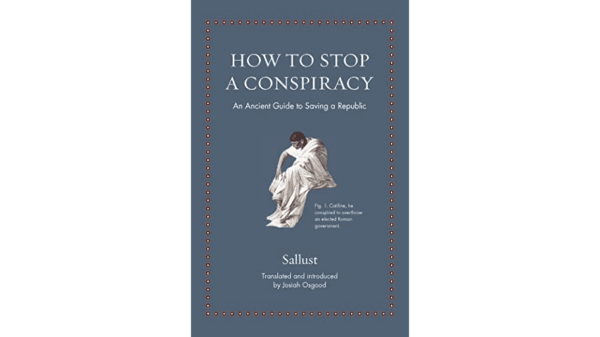 'How to Stop a Conspiracy: An Ancient Guide to Saving a Republic' By Sallust, translated by Josiah Osgood Princeton University Press, May 10, 2022 Paperback: 230 pages