The Best Apple Pie Is A Game Changer
I have a little confession.  Despite my affection for all things sweet, cooked apples aren't what my sweet teeth run to. Fresh 'n crisp fall apples just off the tree – those, I adore.  I just don't typically prefer them cooked.  That puts me in the tiny category of people who [used to] regularly pass up the apple pies on the dessert buffet.

Alas, I wasn't destined to stay that way.  I gave this magical apple pie with flakiest butter crust a whirl, and new door opened up.  This best apple pie recipe was a game changer for me.  Now, there's no turning back.

For reasons still mysterious, I began searching high and low for the best apple pie recipe maybe because I wanted to like apple pie.  After digging through countless variations, I settled on this tried and true version.  And now I'm forever done searching.
Watch Apple Pie In Action: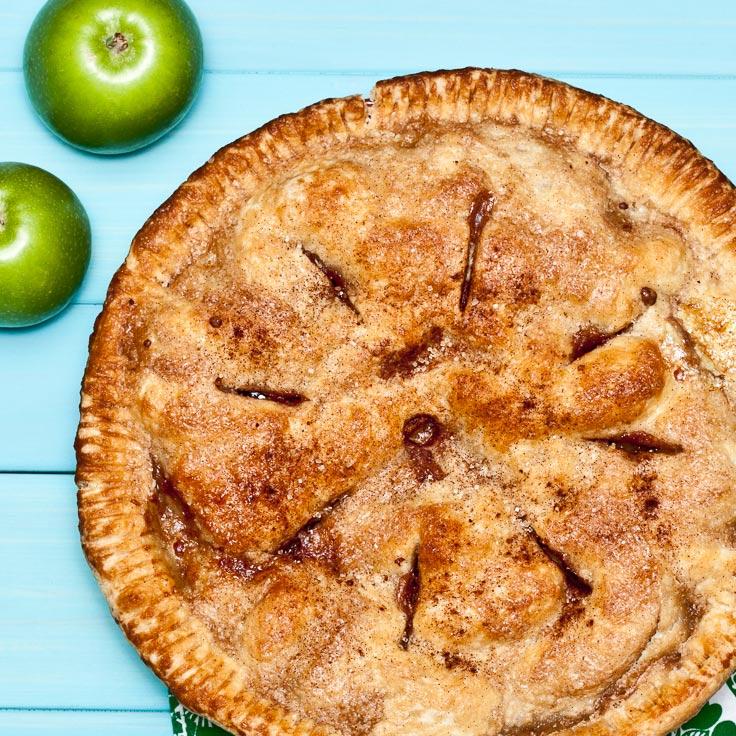 Hello, Flaky Butter Crust (No Shortening)
What makes this apple pie extra memorable is the fabulous flaky butter crust.  We always prefer using butter rather than shortening whenever possible.

This is our go-to recipe for a flaky butter crust; perfect for any sweet or savory pies.  Technically, one could use store bought pie dough.  But it wouldn't be right if I didn't say this out loud:  store-bought pie dough won't produce the buttery deliciousness of a homemade crust.  And I am a crust fiend.  Fiend, I tell ya.

So if anything, save this recipe for the crazy awesome all-butter crust that you'll drape over all future pies from now and forever more.
Apple Pie And Pie Dough Tips
The pie dough needs a bit of time to chill.  If you plan ahead for that, you're good.  Try to stick with Granny Smith apples for best texture and balance of tart vs. sweet. Granny smith apples also hold up to baking well, unlike some varieties.

You'll love that this apple pie can be totally prepared ahead of time.  In fact, it's best after it's had some time to sit and set.

Bake it and let it set 

overnight or at least several hours

, so the filling has time to cool and 

thicken.

  The pie 

reheats beautifully

, especially if you're going for a' la mode.  

Vanilla bean ice cream

 and warm pie.

Add this to your dessert list for the holidays… or really any day.  Ever heard of leftover apple pie for breakfast? Been there, done that.  Highly recommended.  Apple pie lovers in your life will go nuts over this one.
More To Bake And Eat
Best Apple Pie with Flaky Butter Crust
Prep Time: 45 mins Cook Time: 1 hr Servings: 8
Ingredients
For the Filling:
½ cup butter
3 TB all purpose flour
3 TB water, with 2 tsp cornstarch fully dissolved in it*
1 TB vanilla extract
½ cup white sugar
½ cup packed light brown sugar
2 tsp cinnamon
dash nutmeg
8 Granny Smith apples – peeled and sliced, not too thin
For the Dough (Double Crust):
2 ½ cups all purpose flour
½ tsp table salt
1 cup butter, chilled and diced
½ cup very cold ice water
Other:
1 egg white, beaten
coarse sugar for garnish
Instructions
In a large bowl, combine flour and salt.  Cut in butter until mixture resembles coarse crumbs, just until there remains small pea-sized butter chunks in the dough.  Gently stir in 1 TB of ice cold water at a time, until mixture starts to hold together.  It should be pliable enough to stick together when pinched, but not sticky.  Work the dough sparingly, using either pastry cutter or cold fingers.  The key is not to overwork the dough (avoid using food processor.)  The little chunks of butter should still be visible.
Gently form 2 dough balls (1 slightly larger than the other) and wrap well in plastic.  Refrigerate at least 1 hour (up to overnight.)
Preheat oven to 425F and place rack on lower middle position. Melt butter in a saucepan.  Stir in flour to form a roux.  Add water with dissolved cornstarch, white sugar, brown sugar, vanilla, cinnamon, and nutmeg.  Bring to a boil, and immediately reduce to barely simmer.  Keep sauce warm while you roll out the crust.
Roll the larger dough ball out to fit bottom/sides of  9-inch pie pan, with bit extra for edges.  If dough is firm, you may need to roll it out twice.  Place crust in bottom of pie pan.  Press evenly into the bottom and up sides of the pan.  Press down the edges.  Roll the smaller dough ball to fit over top of 9-inch pie pan.  Set aside.
In a large bowl, combine apple slices with the warm sugar sauce, reserving about 1/4 cup (or enough for brushing over top crust.)  Brush bottom crust with beaten egg white.  Fill with apple mixture, mounding.  Place top crust over filling, crimping very tightly at edges to ensure good seal (I use a fork to "crimp" tightly down until edges are fully sealed.)  Cut several slits in top crust.  Brush remaining warm sugar sauce over entire top crust.  Sprinkle with coarse sugar and light dusting of cinnamon, if desired. Place pie on a baking sheet and bake 15 minutes.  Reduce temp to 350F and bake another 35-45 minutes, until top crust is golden brown and apples are soft.  Use thin strips of foil to cover pie edges, if they start browning too quickly. Cool completely before serving. Letting it cool at room temp overnight is best.  Enjoy…it is totally worth your work!
Equipment
1 Apple Peeler/Corer 1 Pie Pan 1 Pie Crust Shield
Notes *It's very important when cooking with cornstarch that the cornstarch is always fully dissolved in room-temperature water or cool water first. It's easiest to use clean finger to mix cornstarch/water in a small bowl so you can actually feel that the cornstarch has fully dissolved. It will look like cloudy water – no dry powder should still be intact (Otherwise, it will clump up when cooking and no amount of stirring will undo it.)
Nutrition Serving: 1slice | Calories: 495kcal | Carbohydrates: 41g | Protein: 5g | Fat: 36g | Saturated Fat: 22g | Polyunsaturated Fat: 2g | Monounsaturated Fat: 9g | Trans Fat: 1g | Cholesterol: 92mg | Sodium: 853mg | Potassium: 27mg | Fiber: 4g | Sugar: 2g | Vitamin A: 1097IU | Vitamin C: 0.5mg | Calcium: 43mg | Iron: 2mg