I'll be the first to admit that I struggle with the whole lunch thing. If I haven't prepared anything at the start of the week (which, to be honest, is most weeks), I end up eating some version of eggs on toast all week long, lamenting the fact that I should have just carved out 20 minutes on Sunday to make something more exciting.
This is that something more exciting. This colorful quinoa salad holds up well in the fridge, is perfectly packable, and has enough protein and other good things to keep you satisfied. It also doesn't really take a whole lot of time to assemble, so now I really don't have any excuse not to make it before the week gets underway.
A Light, Fresh Grain Salad That Satisfies
While many "light and fresh" salads leave you hungry in an hour, this one is different, all thanks to quinoa. Quinoa is packed with protein and fiber, both of which will keep you feeling satisfied.

To prevent it from becoming clumpy or mushy when dressed, you'll want to spread it out on a baking sheet after it's done cooking and stick it in the fridge to cool for 10 minutes while you prepare the other ingredients. This small step results in a far-superior grain salad.

I love flavorful aromatics like garlic and onion in grain salads, but I don't love the stink they leave behind on my breath at lunch, which has a way of lingering throughout the afternoon. I've started to reach for garlic and herb goat cheese instead, which is readily available next to the logs of plain goat cheese at the grocery store. It lends just the right amount of flavor (with no trace of stink), and cuts down on an ingredient, so it's a win-win.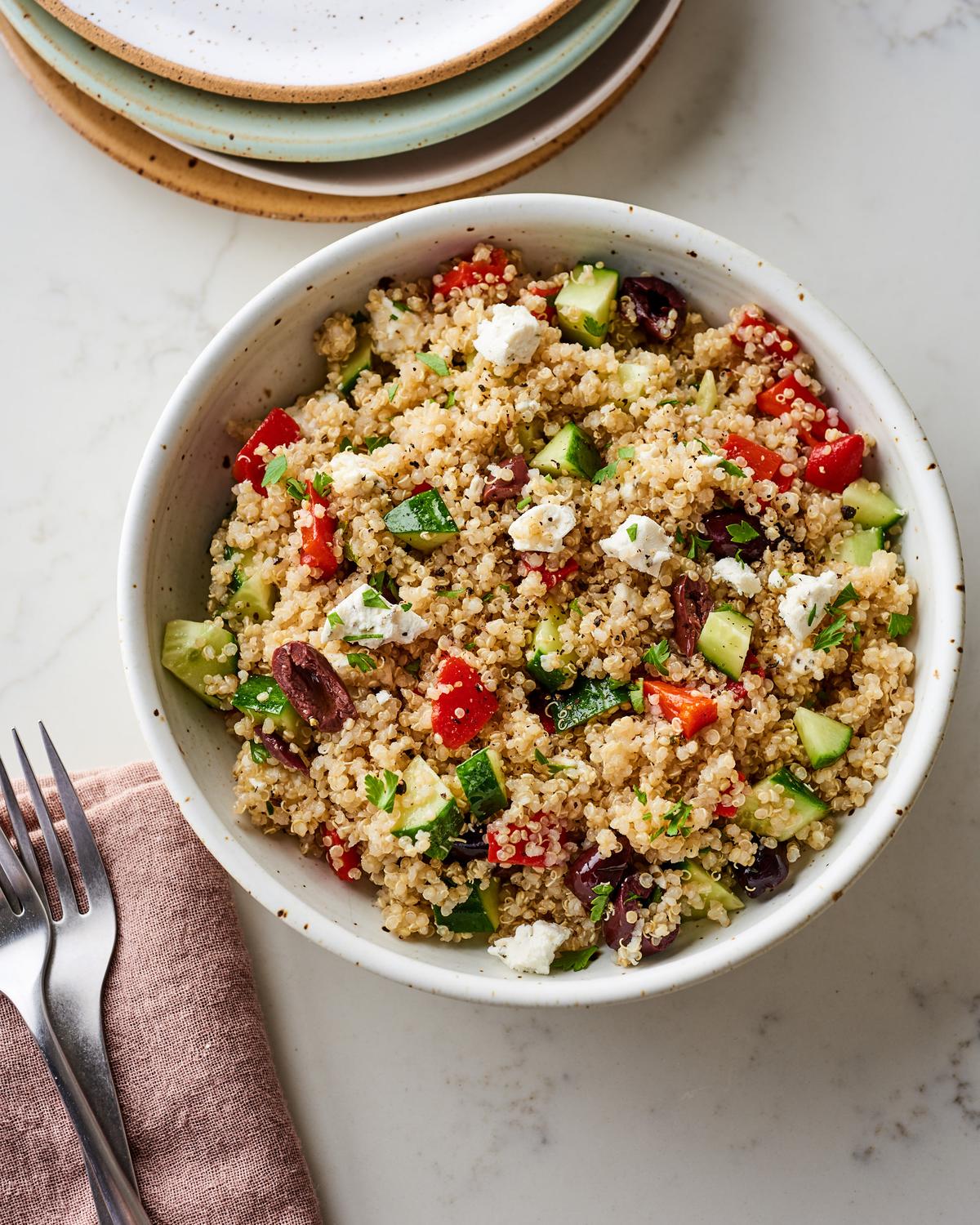 Mediterranean Quinoa Salad
Serves 6 to 8

For the Salad
1 1/2 cups quinoa
2 3/4 cups water
1/2 teaspoon kosher salt
1 large English cucumber
1 (12-ounce) jar roasted red peppers
1 cup pitted Kalamata olives
1/2 cup coarsely chopped fresh parsley leaves
4 ounces garlic and herb goat cheese
For the Dressing
3 tablespoons olive oil
2 tablespoons red wine vinegar
1/2 teaspoon dried oregano
1/2 teaspoon kosher salt, plus more as needed
1/4 teaspoon freshly ground black pepper
Place the quinoa in a fine-mesh strainer and rinse well.
Place the quinoa, water, and kosher salt in a medium saucepan and bring to a boil over high heat. Reduce the heat to low, cover, and simmer until the quinoa is tender and all the liquid is absorbed, about 15 minutes. Uncover and fluff with a fork. Transfer the quinoa to a rimmed baking sheet, spread into an even layer, and refrigerate until cooled completely, 10 to 15 minutes.
Make the dressing: Place olive oil, red wine vinegar, dried oregano, kosher salt, and black pepper in a large bowl and whisk to combine.
Assemble the salad: Chop the English cucumber into rough 1/2-inch pieces, drain and coarsely chop the roasted red peppers, and coarsely chop the olives. Add everything to the bowl.
Add the cooled quinoa and toss to combine and evenly coat in the dressing.
Coarsely chop parsley leaves and add to the bowl. Crumble the garlic and herb goat cheese into the salad and toss again gently to combine. Serve at room temperature or chilled.
Recipe Notes: The salad can be made up to one day ahead and stored in the refrigerator. Leftovers can be refrigerated in an airtight container for up to three days.
Sheela Prakash is a senior contributing food editor at TheKitchn.com, a nationally known blog for people who love food and home cooking. Submit any comments or questions to editorial@thekitchn.com. Copyright 2021 Apartment Therapy. Distributed by Tribune Content Agency, LLC.