There are all sorts of opinions about which is the most enjoyable way to experience Alaska.
Sitting in a lounge chair, sipping coffee, or perhaps enjoying a snack, while taking in spectacular sights of fjords and glacier-filled bays from your own cozy private balcony aboard a luxury cruise liner is one experience that is hard to beat.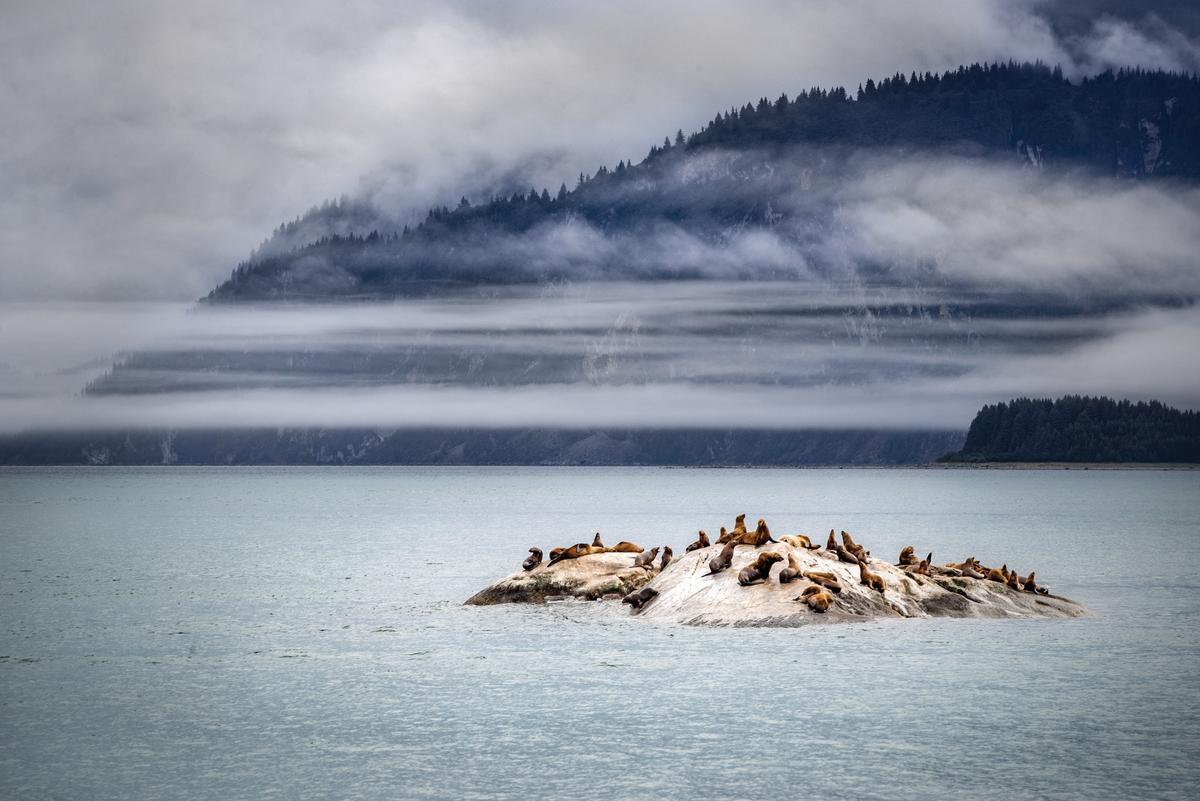 So is taking a coach ride through a wilderness park and seeing grizzly bears, moose and caribou, mountain goats, and all sorts of other game in their natural environment.
So is gazing out the sweeping curved glass enclosure of a domed railroad coach and seeing panoramic views of some of the world's finest scenery.
So is watching for whales—and seeing humpbacks and orcas.
So is standing in a rippling stream fishing for world-class salmon.
So is panning for gold—and finding some.
So is flying low over the vast wilderness in a helicopter or small plane—and maybe landing on a glazier.
And so is drifting swiftly down an unspoiled remote river in a small rubber raft for mile after mile, seeing more bald eagles in a couple of hours than you'd ever thought you'd see in a lifetime.
You can do all this and lots more, too, in just one trip if you take a tour that my wife and I have enjoyed—an Alaska Princess Cruisetour, a delightful one-week cruise that is either followed or preceded by an equally delightful weeklong land tour. Other major cruise lines offer similar packages.
Alaska: A Perfect Combination
We like cruises—love 'em, in fact—but we had our doubts about whether a cruise was really the best way to see Alaska.
Many Alaska cruises visit only the Inside Passage, the narrow tail-like strip along its bottom southeast coast. Very nice to see—but not really a full introduction to Alaska.
Far better is a cruise that goes far further north, on up through College Fjord and on to Seward, the tiny town (pop: 2,500) that is the traditional gateway to the heartland of Alaska, beautiful Kenai Peninsula, the main outposts of Anchorage and Fairbanks, and the incomparable Denali National Park and Preserve, one of the world's largest and finest wildlife parks.
And better still is a trip like the one that we took—a cruise that begins or ends in Seward and is either preceded or followed by a tour of the heartland of Alaska. It's a great combination, a perfect way to see Alaska.
The cruise portion of our trip—a 7-day, 2,000 miles journey—got underway in Vancouver (British Colombia, Canada), an unusually pleasant city and a spot well worth spending a couple of extra days.
One thing that we especially enjoy about cruising is that it enables us to visit different interesting places in a relatively short period of time and at a relaxed pace. We enjoy the mix of living luxuriously aboard ship and also continually checking out very different ports of call while always having the same pleasant room to come back to. Nice to be able to see so many different places without having to live out of a suitcase, constantly packing and repacking.
Our cruise ship was huge. It could carry as many as 2,272 passengers plus its crew of 870, but it never felt crowded. We never had to wait long in a line. We never had any problem finding a seat at a show. And every shore excursion departure and return was swift and easy.
Lots to Do Aboard the Cruise Ship
You could have a perfectly wonderful journey if all you did was stay aboard and enjoy the amenities of the ship. A fine cruise ship such as offers so many opportunities for fine dining, interesting entertainment, and some plain good old relaxation.
And when you don't wish to step "out" to eat, there's also round-the-clock room service. We sometimes had breakfast, lunch, or dinner in our sitting room or out on our private balcony (70 percent of the outside cabins aboard the ship had balconies). It made our nicely decorated, smartly designed, and quite roomy mini-suite all the more pleasant). All we had to do is ask and—presto—there it was, anything that we wanted from the menu of any of the restaurants.
You never worry about going hungry, but you might want to give a thought to some ways to burn off a few calories. No problem. On most cruise ships you can jog around the deck, participate in various organized workouts, head for the gym or one of the pools, or go dancing in one of the discos. There is almost always something interesting or entertaining to do, including activities for young children and teens.
Scores of Shore Excursion Possibilities
Shore excursion possibilities were awesome. Not even counting what we saw and did in Vancouver or Seward, in the three ports of call along the way—Ketchikan, Juneau, and Skagway—we were able to choose from a selection of 66 different shore excursions.
In Ketchikan, we visited Saxman Native Village, where we witnessed the songs and dances of the original settlers of southeast Alaska and watched totem poles being created and learned a little about how to read them. Other tour possibilities here included a lumberjack show, a kayak adventure, sportfishing, mountain biking, canoeing, and seaplane explorations.
In Juneau, we toured Alaska's tiny capital city and went on a wildlife sightseeing tour where we saw whales and a grizzly bear. Other tour possibilities included glacier tours, nature walks, fly-in fishing, panning for gold, and an authentic Alaskan salmon bake.
In Skagway, which has truly retained the flavor of the Gold Rush era, we journeyed over White Pass Summit into Canada's Yukon Territory after first passing through a tip of British Colombia. This is the trail the Klondike prospectors braved, and we marveled at what it must have been like for them to do so way back then.  We returned on White Pass Scenic Railway, an incredible narrow-gauge railway that crosses snowy peaks, passes through high mountain tunnels, and transits sky-high trestles.  The views were spectacular. Other tour possibilities included horseback riding through a rain forest, fishing, a wilderness safari, and a jet boat trip to an eagle preserve.
And after that, the scenic wonders got even better, as we leisurely sailed through Glacier Bay and College Fjords, on to the end of the cruise at Seward.
Don't Miss Denali
If the cruise and its shore excursions had been the entire trip, it still would have been one of those trips of a lifetime, but adding a week to journey through the heartland of Alaska by coach and domed rail car put frosting on the cake.
No matter how many great sights you see in Alaska, you're missing out if you don't see Denali, both the vast six-million-acre park and wildlife preserve that bears that name and the great mountain, North America's highest, that is officially known as Mount McKinley but which Alaskans call Denali. A day-long trip through Denali by bus, viewing all sorts of wildlife and taking in the spectacular views of the great mountain and its surroundings, was the highlight of our Alaska land tour experiences.
Along the way to Denali and beyond we stayed in highly regarded wilderness lodges, each extremely comfortable and situated in a stunning setting.
We toured the Kenai Peninsula and visited the cities of Anchorage and Fairfax.
We rode through mile upon mile of some of North America's most stunning scenery in domed railcars on the Midnight Sun Express (there really are only a few hours of darkness during an Alaskan summer day).
And every day we made our tour choice from among a selection of some two dozen very different and very appealing possibilities. A couple of our favorites were panning for gold (we found about $25 worth) and spending four hours drifting down the remote and unspoiled Chulitna River on a rubber raft, viewing wildlife and seeing more bald eagles that most people would hope to see in a lifetime.
All in all, a wonderful two-week vacation adventure.
We wouldn't want to have to choose between doing the cruise and week of shore excursions, and the wilderness cabins and week of land tours into the heart of Alaska. Because put together the way our Princess itinerary was, it was a perfect way to experience Alaska.
If You Go
For information: A number of cruise lines offer combination cruise and land packages similar to the one described in this article. For the ones by Princess, see Princess.com or call 1-800-PRINCESS.
Guidebooks: "Fodor's Alaska" is a good choice.
Fred J. Eckert is a retired U.S. ambassador and former member of Congress. His writings have appeared in many leading publications, including Reader's Digest and The Wall Street Journal. He is also an award-winning photographer whose collection of images spans all seven continents. See his work at EckertGallery.com