Social media is such a new phenomenon. Everything has its pros and cons, but we still don't know what the consequences of its excessive use will be. 
To me, it seems like social media can inflate our sense of vanity. We may update our following with our successes and post altered photos for likes, or we might complain about our hardships in order to get sympathy. We might argue with strangers about politics. Social media gives us enough distance from the conflict itself to feel confident about our opinions.
Social media has become the way in which we might outwardly beautify ourselves to others, but does this prevent us from considering what it means to be truly beautiful, that is, to possess beauty within? I recently came across a painting by Pompeo Batoni titled "Time Orders Old Age to Destroy Beauty" that made me think about the divine nature of true beauty. 
Batoni's Beauty
In "Time Orders Old Age to Destroy Beauty," Batoni painted three figures in a natural setting. The main character is Beauty. She stands to the left in the composition and holds her vibrant pink dress in one hand. The softness of her youth contrasts with the hardness of the rock wall behind her. 
She is affronted by Time, who is depicted as a half-naked older man with angel's wings. Time sits on a rock, points to Beauty with one hand, and holds an hourglass with the other. With his pointing hand, Time directs Old Age, depicted as an older woman also sitting on a rock, to alter the youthful face of Beauty.
In contrast to Beauty, Old Age's clothing is not colorful at all but is a dull, brownish earth tone. The wrinkled skin on her hands and face contrast with the soft luster of Beauty's skin. The two also have different skin tones: Beauty's skin still has the white alabaster glow of youth, whereas Old Age's skin has been darkened and weathered through the years. Old Age reaches for Beauty's face, and Beauty leans away.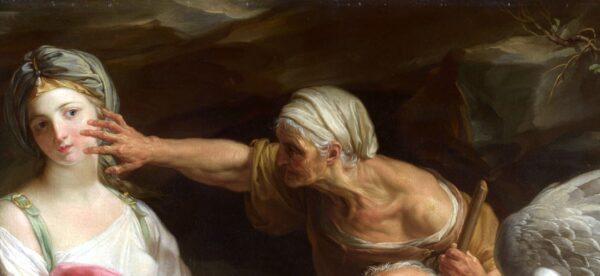 Finding True Beauty Within
What wisdom does Batoni's painting provide for us today? On the surface, the meaning may seem pretty apparent: Beauty fades. The rock wall behind the figures sweeps from left to right and leads our eye from Beauty to Old Age. The way the natural setting is composed suggests that it is the way of nature for youthful beauty to fade into older age, but let's see if we can uncover a more nuanced interpretation of the painting using elements from the composition.
Let's start with Time. Time is the only character who is depicted with angel's wings, which suggests that Time is divine. A blue garment loosely covers him, and blue is a color closely associated with the heavens. Since he is divine, we can presume that Time is able to alter the course of things on earth by way of heaven. 
Time holds an hourglass in one hand, which represents the constant flux and change that he symbolizes. In other words, Time is closely related to fate, which in this instance is orchestrated by heaven. That hourglass is also a warning to all who see it. It suggests, "Your time is limited" and asks, "Are you making the best use of your fate?"
Also, Time is the only character who is depicted nearly unclothed, which suggests something specific about the nature of time. Time is always uncovering the naked truth or way of things. Our fates are the ways that our stories unfold, and if Time is divine, then the ways our stories unfold must have divine reasons. Does he point at Beauty to reveal a divine truth about her and her fate?
Time and Old Age are both sitting on rocks while Beauty is standing and facing the viewer. Time even points up to Beauty as Old Age reaches for her face. Why is Beauty standing while the others sit? Beauty is also the only one who fully shows herself to the viewer. Is Batoni suggesting that Beauty can lead to vanity, that is, to showing off? Is this why she is positioned higher than the other figures?
If Time is a divine figure, then he must not be ordering Old Age to destroy Beauty with malicious intent. Instead, he must be reminding Beauty not to waste her time elevating herself above others with her vanity. 
To me, her truer purpose in regard to her fate is to elevate—that is, to beautify—the divine. In this way, she can develop a sense of beauty that cannot be destroyed by Old Age or Time. She can develop a sense of beauty that is divine, eternal.
What do you see in this painting? In this age of social media, how might we consider beauty that doesn't fade but grows with time?
Have you ever seen a work of art that you thought was beautiful but had no idea what it meant? In our series "Reaching Within: What Traditional Art Offers the Heart," we interpret the classical visual arts in ways that may be morally insightful for us today. We try to approach each work of art to see how our historical creations might inspire within us our own innate goodness.
Eric Bess is a practicing representational artist and is a doctoral candidate at the Institute for Doctoral Studies in the Visual Arts (IDSVA).