While 2020 certainly hasn't been the year of the traveler, that doesn't mean our interest (or passion) has dwindled—no, in fact, most travelers are more eager than ever to return to the open road, to new experiences in new places.
While travelers tentatively dip their toes back into exploring—or daydream from home—here are 10 practical yet inspiring gifts they'll be delighted to unwrap this year.
Saje Road Trip Car Diffuser Kit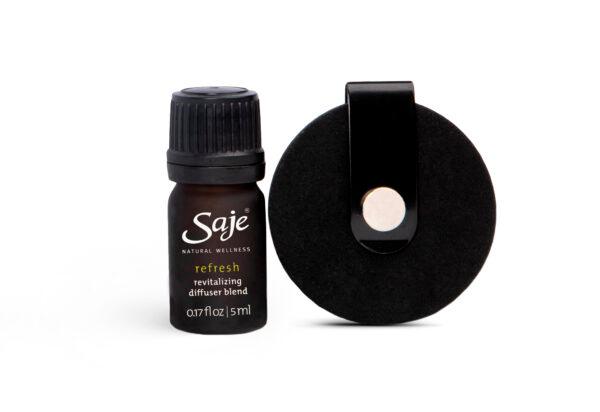 Since domestic travel—especially road trips—seem to be the name of the game this year, why not make the driving experience as pleasant as possible? No matter whether you're blasting the heat or the AC, this mini car diffuser is ideal for uplifting the senses on a long drive. All you have to do is clip the diffuser onto your car vent, then enjoy breathing in the invigorating blend of spearmint, lemon, and eucalyptus. $24 per kit containing a clip-on mini diffuser and 0.2 fl oz Refresh blend,
Saje.com
.
HoMedics Portable Sanitizer Wand
If ever there was an era-appropriate gift for 2020, it's the HoMedics Portable Sanitizer Wand. Simply wave the device over any surface or object, and, using the power of three UV-C germicidal LEDs—no chemicals—it kills up to 99.9 percent of bacteria and viruses in just five seconds. It's compact and cordless (except when charging), making it easily portable, so you can use it either at home or while traveling. $59.99,
HoMedics.com
.
Hotel Lobby Candle
Miss the intoxicating smell of a ritzy hotel lobby? So did blogger Lindsay Silberman; as a result, she spent her months in quarantine designing a line of luxury candles aptly named Hotel Lobby Candle. The candle promises to "transport you from your living room to a fancy resort with the strike of a match." Give your favorite traveler the luxury hotel experience at home with two different scent options: signature and holiday. $54 each or $100 for a gift set including both scents,
HotelLobbyCandle.com
.
Pakt Coffee Kit
Coffee fiends know the joy of a good cuppa, but buying craft coffee every time you need a dose of java on the go is a surefire way to blow your budget—quickly. Pakt, a minimalist travel gear company, came up with a solution for that: the Pakt Coffee Kit, essentially a to-go pour-over set. The sleek all-in-one package includes everything you need to make a barista-quality cup of coffee no matter where you are—as long as you have access to water, beans, and an electrical outlet. $189 for airline-friendly kit containing electric kettle, power base, double-walled stainless steel travel mug and lid, coffee grounds container, collapsible stainless steel dripper, coffee-ground scooper, and mesh reusable filter,
PaktBags.com
.
Olani Wearable Diffuser Necklace
Essential oil enthusiasts know the power of the right oil at the right moment. Olani makes it easy to enjoy essential oils on the go using wearable diffuser necklaces. Simply rub a drop of your favorite oil into the raw lava stone bead, and it will absorb and "diffuse" the oil throughout the day. Necklaces are available in four different minimalist shapes or as a solitary bead—pick a shape and pair it with Olani's essential oil blends designed to encourage peace, joy, or love, for a perfect gift for travelers at home or on the road. $79 for 14K gold-filled, $39 for 24K gold-plated; $19 per essential oil blend,
Olani.co
.
Hush Puppies Hadley Chelsea Boot
The Hadley Chelsea Boot by Hush Puppies, an apparel brand known for high-quality casual, is part of their new WorryFree Collection made from water-resistant suedes and leathers—perfect for travel to rainy or snowy places, sure, but also stylish enough for everyday wear. Hush Puppies offers both men's and women's styles, the ideal go-with-everything basics in any traveler's wardrobe. Customers' glowing reviews do the talking: "No breaking-in period needed," writes one. Another reports, "I wore them in Chicago last weekend and walked 10,000 steps without my feet hurting. I'm going back for a second color." $129.95 per pair,
HushPuppies.com
.
Rifle Paper Co. Travel-Inspired Calendars
Travelers stuck at home while dreaming of their next journey will love a daily dose of global inspiration from Rifle Paper Co's hand-illustrated travel calendars: the 2021
hanging wall calendar
 features large vignettes of iconic travel moments around the world while the
desk calendar
includes whimsical maps of popular cities such as London and Tokyo. A calendar—which both helps us keep track of what day it is and reminds us of brighter days ahead—has perhaps never been a more apropos gift. $26 for wall calendar; $16 for desk calendar,
RiflePaperCo.com
.
Oru Kayak Inlet
If you never before put "portable" and "kayak" in the same sentence, you're not alone—but Oru Kayak has created just that: a foldable recreational kayak made possible by the art of origami. They have five different models available, but the Inlet is their lightest and most portable option. It's designed for use on calm, flat water, and while it's nearly 10 feet long when assembled (setup takes five minutes once you know how to do it), it folds up to just 42 inches by 18 inches by 10 inches—and 20 pounds—when you're between adventures. Grounded travelers can use it on nearby lakes and bodies of water while they wait to take it for a spin on their next trip. $899 for Inlet model,
OruKayak.com
.
Allbirds Shoes
Travelers and fashionistas alike rave about the comfort and functionality of Allbirds shoes, both for travel and for everyday adventures. Their original Runner shoe was made of merino wool—a surprisingly comfortable, moisture-wicking, and odor-fighting fabric—but they recently released a Tree line made from breezy eucalyptus tree fiber and it's been met with equal enthusiasm. Travelers swear by the easy-slip-on Breezer and Lounger styles for heading straight from airport security to exploring a new city with no footwear-change required. $95 per pair,
Allbirds.com
.
Personalized USA Photo Map
Combining home and travel, this personalized photo map of the U.S. is a fun way to commemorate past trips—and get inspired to embark on new ones. Each state is cut out and left blank to fit a photo of you and your family in once you've visited. While international travel remains complicated, there's never been a better time to explore domestically, and this map (which doubles as a home decor conversation piece) is the perfect way to track how much you've seen from sea to shining sea—and how many places you have left to visit. $89 and up, depending on framing options,
Etsy.com
.
Skye Sherman
 is a freelance travel writer based in West Palm Beach, Fla. She covers news, transit, and international destinations for a variety of outlets. You can follow her adventures on Instagram and Twitter 
@skyesherman