Emerging from the cocoon of a global pandemic, it would stand to reason that as fear dissipates, we may wonder what to do with "our one wild and precious life." Like learning to walk again, it will take time to kick off the restraints that have held us steadfast to news on blast. But to make a mindful decision is integral for change and forward motion.
Frustrated by the border measures that have divided spouses and families, my American partner and I yearned to be together. And so, we pack up and ditch our respective countries to catch a glimmer of life on the backroads of Costa Rica, "off the beaten track."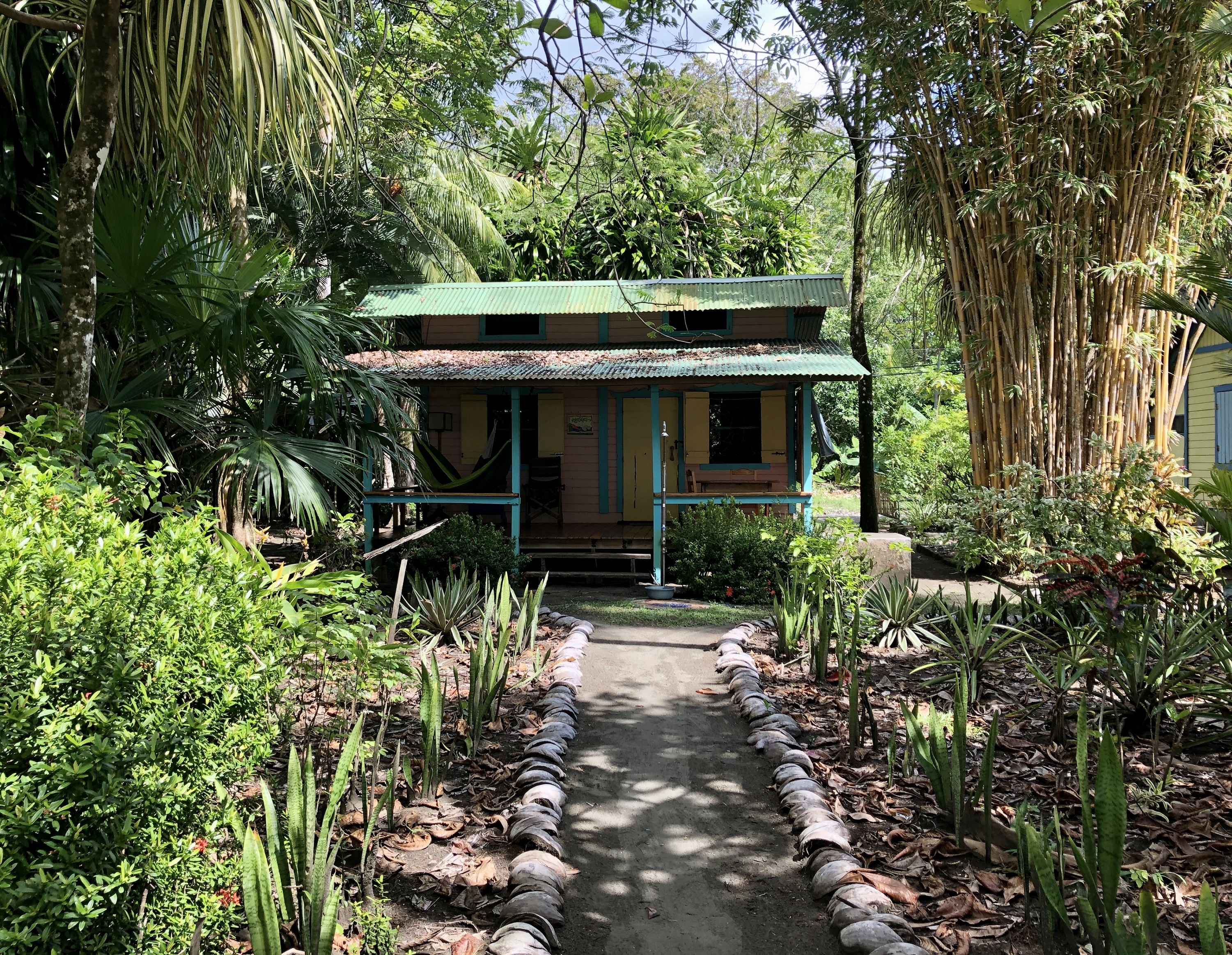 Off to Costa Rica
Landing in the capital city of San Jose, we throw packs to the ground at the Don Juan Airport, waiting for our puddle jumper to carry us to the Southern plantation town of Golfito. Twelve people in a Cessna, flying low over dense jungle, and a glittering ocean is an unruly adventure in and of itself. The pilot, seems distracted, flipping through the pages of a car magazine.
We sweat. We pray. We land without incident on the black tarmac made shiny by a fresh seasonal rain.

In the southern village of Zancudo, our beachside house is one hour away from the border of Panama. Susan England, our beautiful host, invites us to Los Cocos. Rustic cabins serenely perched upon an expanse of black sand; a home to dolphins and stingrays that launch themselves clear out of the water; and sand crabs; my partner curses and shouts to the moon. He hops on one leg in his birthday suit as if he lost his foot. A flashlight reveals that he still has a toe, just a tiny cut made by miniature pinchers. This man served his country, taking apart bombs for a living. I am intrigued by his fear of a creature so tiny in comparison to himself. It isn't long before we laugh about it and enjoy our days governed by the rise and fall of the sun.
Every evening displays a spectacular array of light and shadow that invigorates our former, childhood selves. The silhouette of my man on a boogie board, with raucous laughter heard high above the rolling waves, is sustenance for the soul.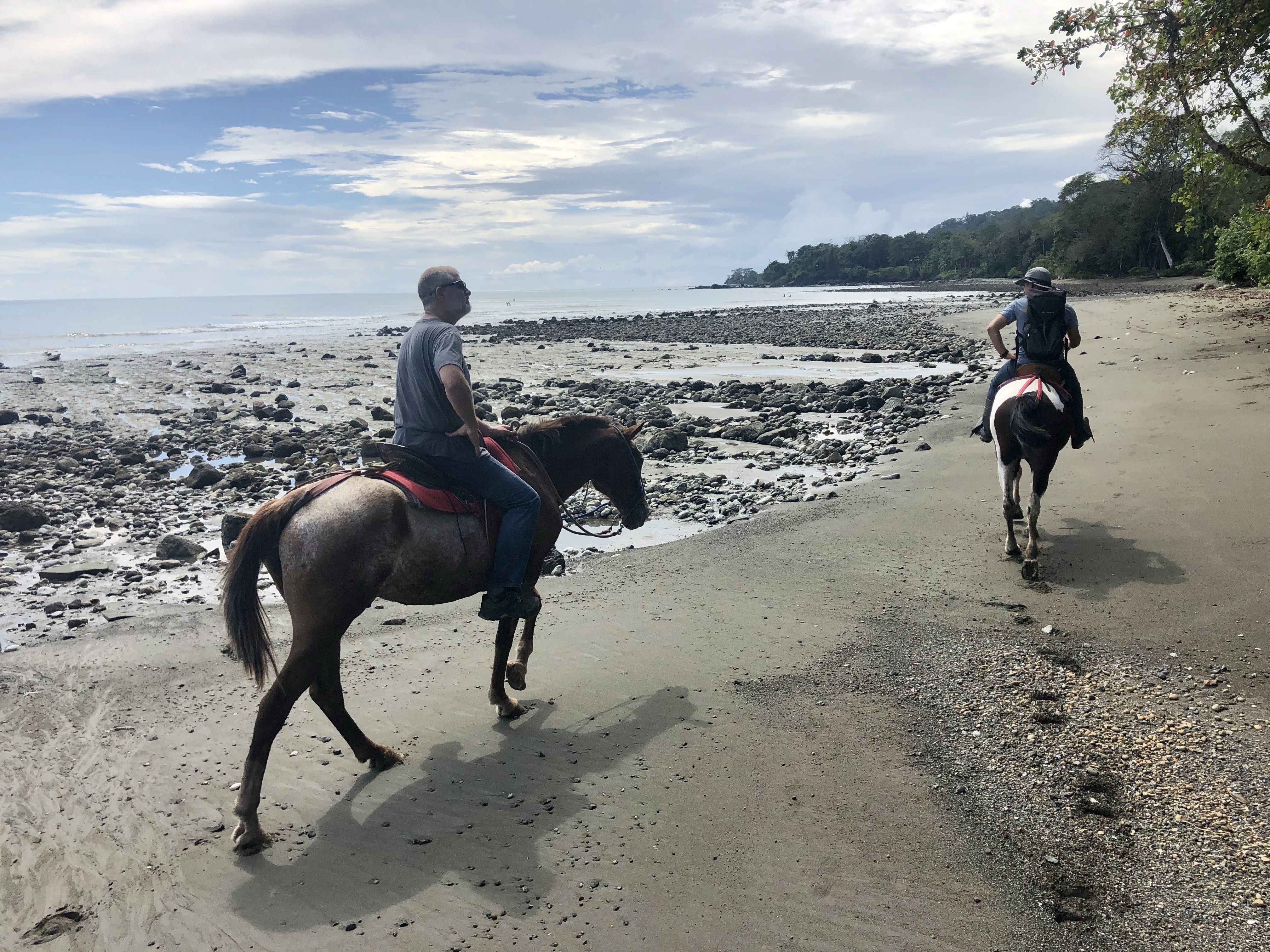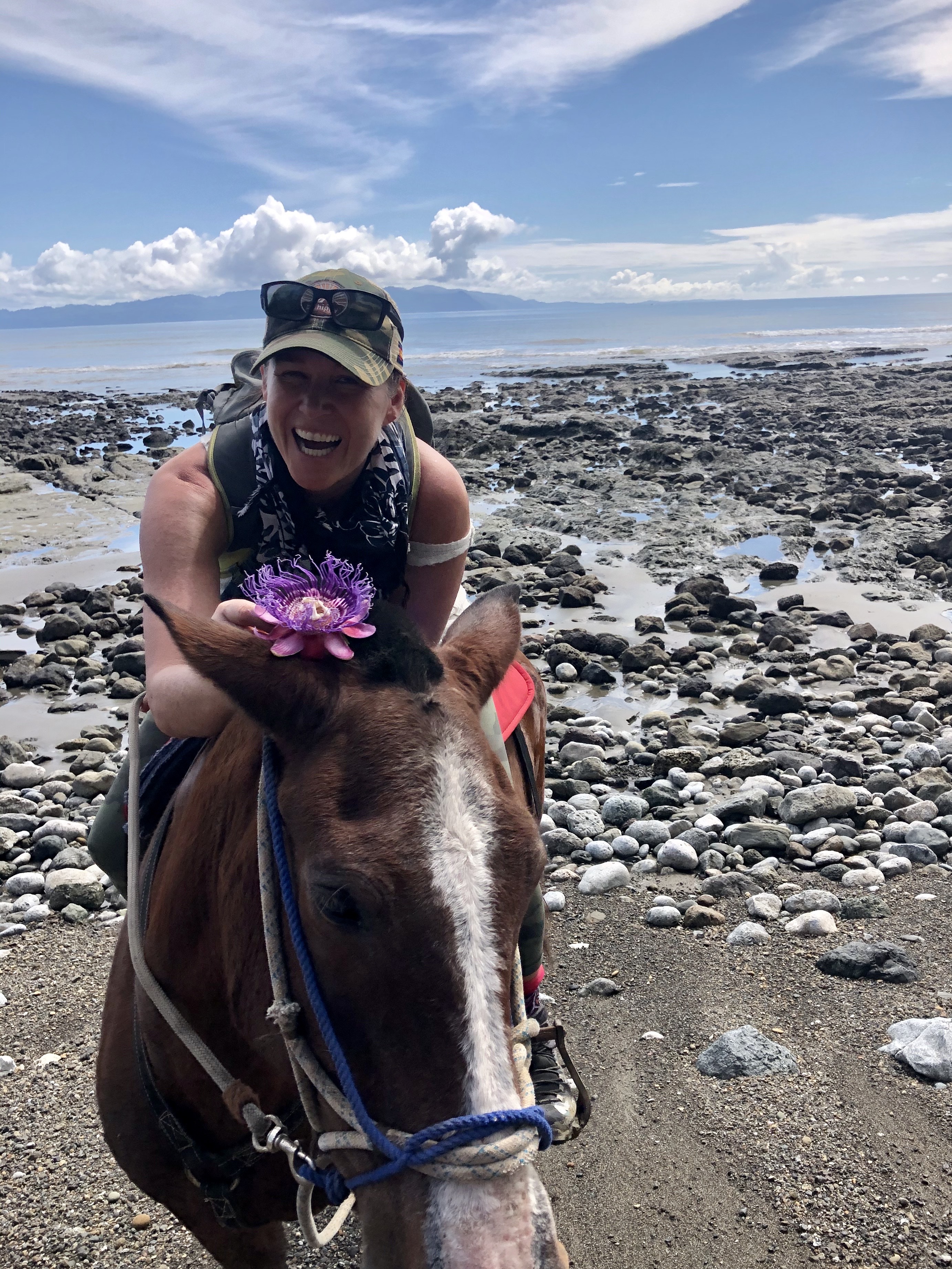 Puerto Jimenez
After a week of simple bliss, we boat across the Golfo Dulce to the town of Puerto Jimenez to stay in an artistically inspired eco-retreat. An evening serving of beef sliders with a peanut butter twist is as unique as our new digs. It feels good to support the owner, Nico Fischer, who hasn't had any guests here for more than 10 months. The resort, built from natural elements, is nestled between pristine beaches and the extraordinary swath of jungle, considered one of the last, wild, and untouched frontiers on the planet. It's a place of solitude that attracts intrepid people who have an interest in searching for hidden jewels.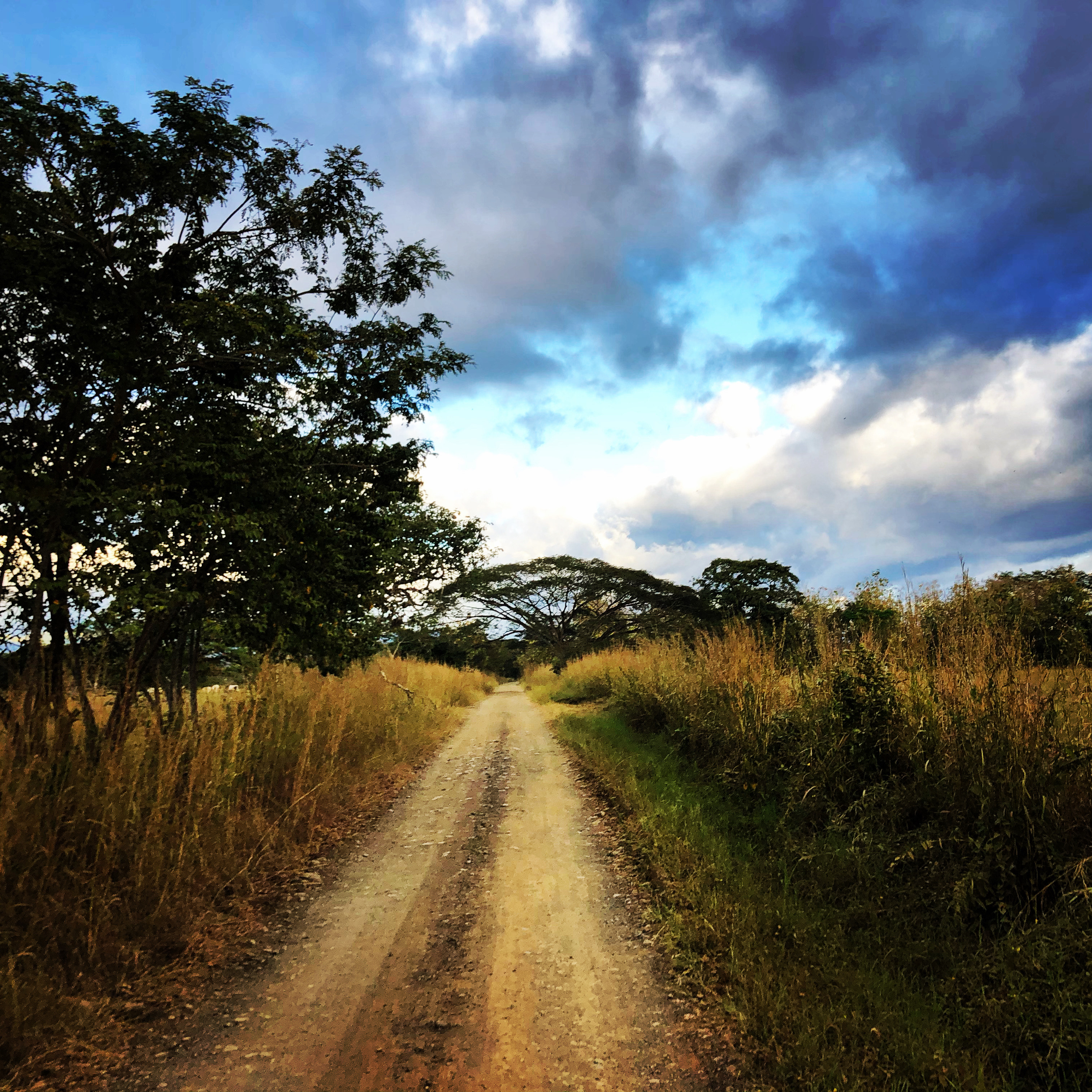 To really know a place, it is said that our feet must be in contact with the ground. Today, it will be hooves, as our guide, Diago, takes us in search of a waterfall by horseback. The horses are small in stature, but poised and sure-footed on the steep, muddy trails of the Osa Peninsula. As we approach more stable ground, Diago shouts, "You wanna run?" With a wave of his hat, he gallops away with both of us trailing not far behind.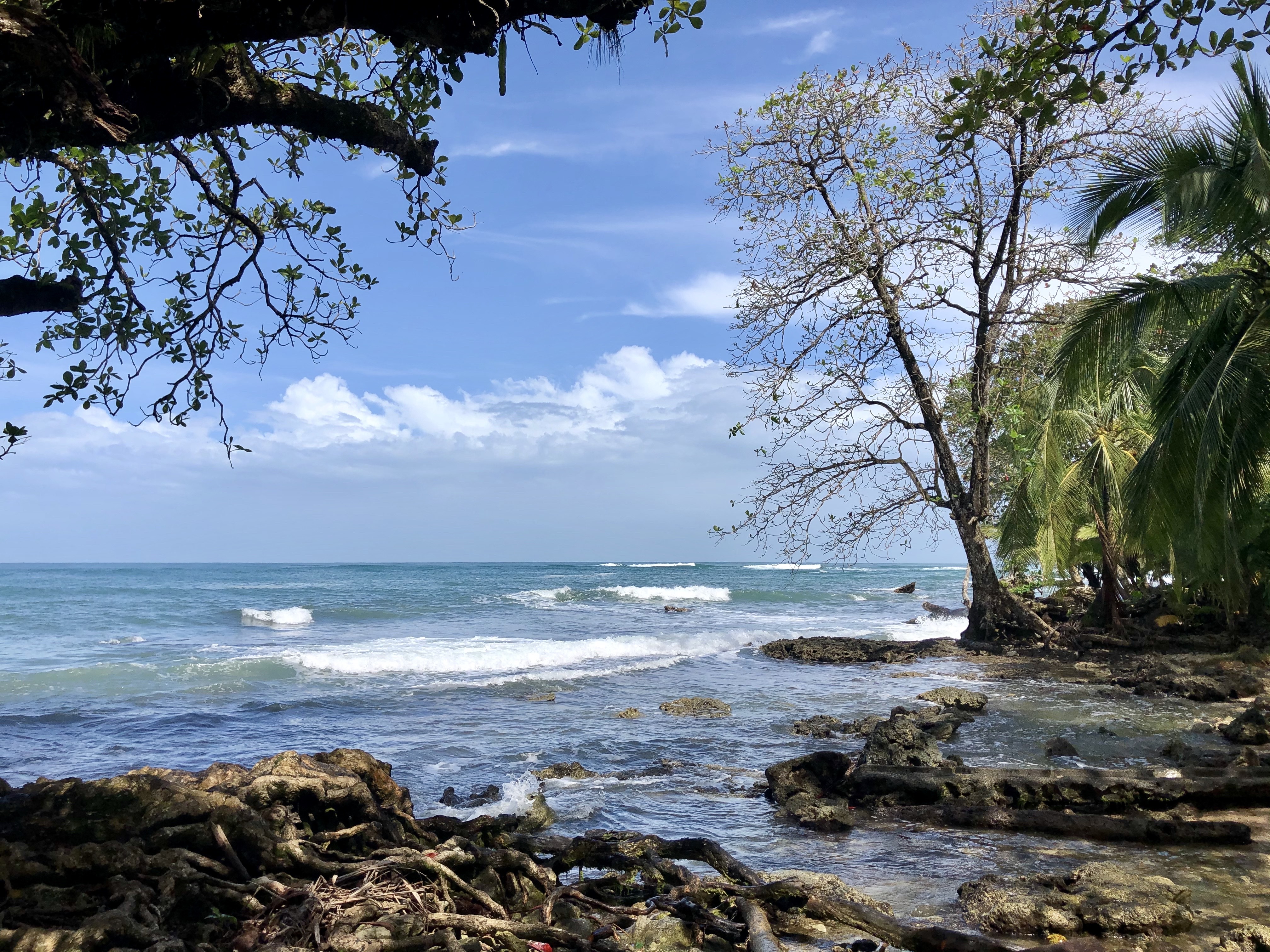 For the next three weeks, we'll trade in the horses for an old Land Cruiser, meticulously maintained by a company called Nomad America, which provided us everything we'd need for a cross-country exploration in a stick shift 4×4 with a rooftop tent. Once supplied with provisions from the town of Puerto Jimenez, we bump along potholed roads stopping to photograph a pair of scarlet macaws and fill our water tank to prepare for remote beachside camping. Playa Carate is a sleepy village adjacent to the wilds of Corcovado National Park.
With not a soul in sight, we choose a spot on the sand that would not be reached by high tide and affords us some shade. A tribe of howlers descend from the branches and assess us with curiosity. We struggle with our rooftop tent but finally sit with two glasses of vino tinto, listening to the age-old breath of the mighty Pacific. The jungle is haunting and deafening tonight with the howlers calling for mates.
Sunrise comes on the wisp of an offshore breeze. An old man approaches from somewhere in the mist. His name is Carlos. His home is near the lagoon just down the beach. He tells me he loves this place.
"No musica. No parties. No cars," he says.
I ask him in Spanish if there are sharks here.
"Si," he replies, "Bull sharks and the occasional saltwater crocodile that migrates to the lake." I consider my morning swims and am happy to have my legs.
I think of Carlos as the turtle whisperer. Walking the beach, he protects the nests of eggs from predators and poachers. A blue, plastic bucket holds 10 of the hatchlings, ready to be released. Carlos is proud of his work. I feel the familiar sting in my eyes when I'm inspired.
"Mucho gusto," I say to Carlos. So nice to meet you.
"Equal," he says, with his hand on his heart. Sometimes, there are no words. A single tear rolls down my face as we drive away, retracing our rugged path through flooded creeks and rutted roads.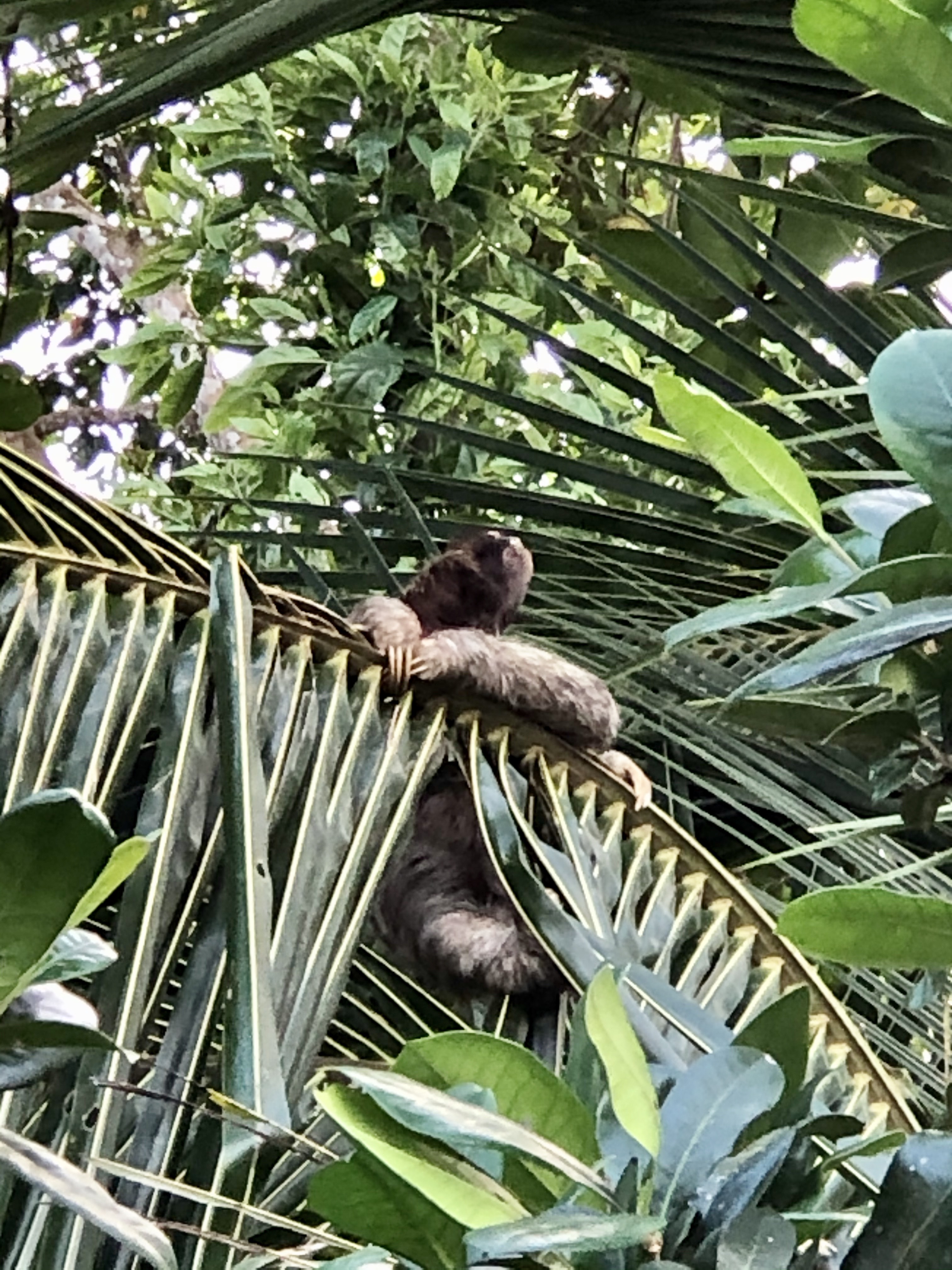 Four Seasons in One Day
In Costa Rica, one day makes all of the difference. After 10 hours in our diesel cruiser, we dip our toes in the rainy Caribbean. The seaside, Rastafarian vibe exists in stark contrast to Cerro De la Muerte, referred to as the hill of death, and a mountain pass in the Central Valley that tops out at 10,961 feet. 
A scenic drive from coast to coast, we experience all four seasons in a day. Rolling into the fiesta that is Puerto Viejo, two middle-aged nomads in a Land Cruiser seem to garnish a lot of attention.
"Pssst," a voice slithers across the street. "You want some weed?" No. Just a hammock and a cold beer, which we find after driving south to Punta Uva, a pretty bay decorated with rainbow hues. We finally see the elusive sloth that came clear out of the trees and onto the beach. Now, what about that creature hopping across our yard that looks like a pig crossed with a chihuahua?
On the move, with a week to go, we burn through our 1,500-mile odyssey, traveling north toward Nicaragua. Just a mile from the border, we boondock at Puerto Soley, a lonely, windswept place flanking a silent, frigid ocean. But the camping is free. We set up near an outpost police station. Affording a feeling of safety, the police watch for illegals swimming to Costa Rica.
Two nights is enough and returning to the Central Valley, wild camping on golden sand gives way to steep mountain roads. The tent becomes a luxury cabin at a farm called La Finca. Our host, Estaban, encourages us further off the beaten track with more secrets than we could ever explore. Hills are planted as far as the eye can see. A caballero (cowboy) gallops along a quiet street.
Perhaps we have saved the best for last. Chasing waterfalls and soaking in natural hot springs, we find the diamonds in the rough. Catarata Del Toro reveals itself in the cascade of white water rolling over a towering, limestone cliff. The rock is covered with a soft carpet of fluorescent, green moss. We are miniature next to the majesty of this hidden canyon.
Tami Ellis is a writer that has been blessed with a life living in the hills of Montana with her partner and on her family ranch nestled between the cut banks of the South Saskatchewan River in Alberta, Canada. Inspired by the world, she has been to 45 countries. She can be reached at twofeetoneworld@gmail.com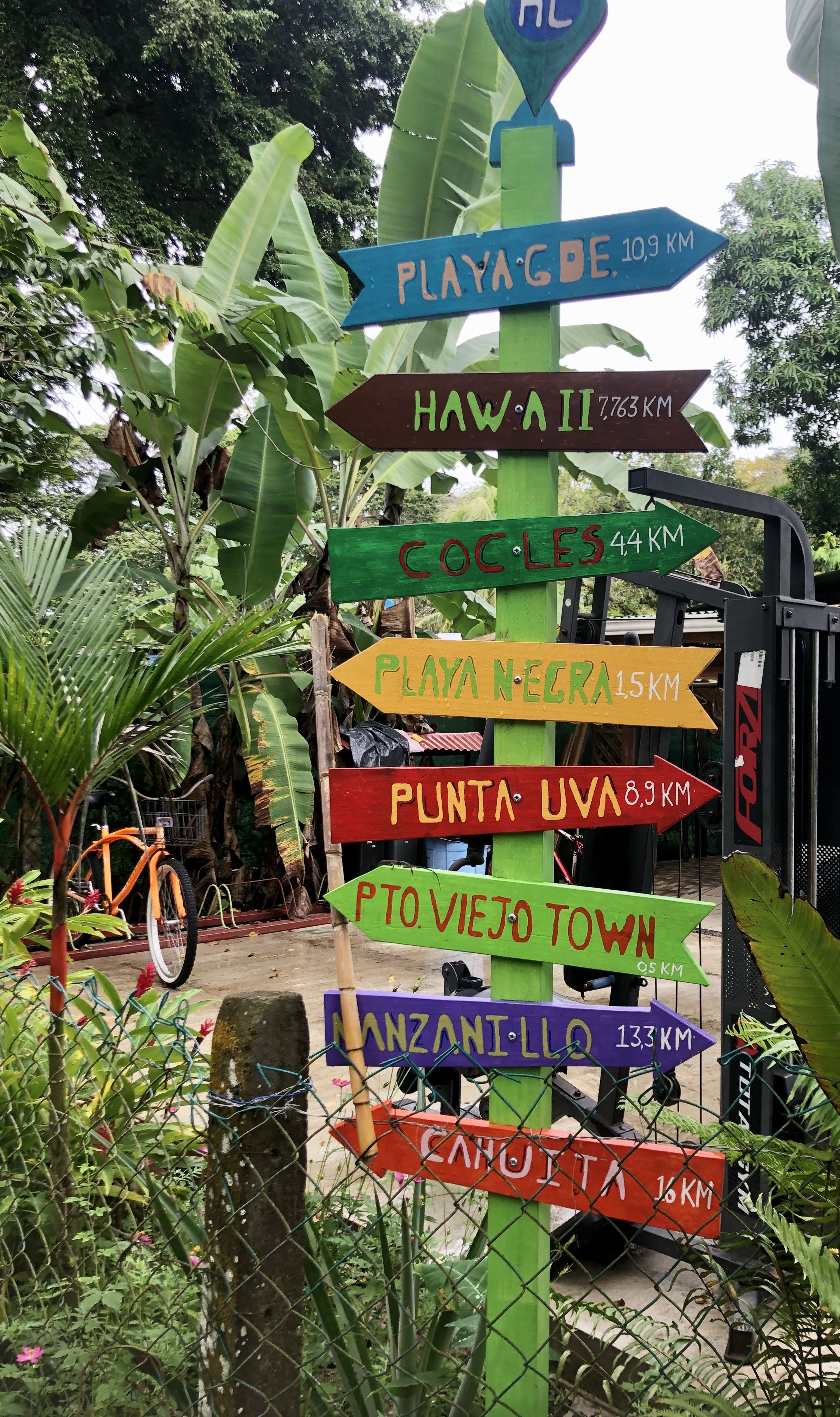 _____
Planning Your Trip
International Flights: Several airlines fly to Costa Rica, including Air Canada, American Airlines, Delta, United, Jet Blue, and Spirit.
Domestic Connection to Golfito: Sansa Airlines is within walking distance of the international terminal.
Best Time to Visit: December to April for dry season. Green season is beautiful with fewer crowds and reduced costs.
For Entry: Valid passport and return ticket or onward travel before 90 days.
Pandemic Requirements: Complete the Health Pass 72 hours prior to departure; acquire medical insurance including $50,000 coverage and $2,000 for lodging in the event of quarantine due to COVID; return PCR testing widely available.
The nature of travel rapidly changes. For more information, refer to VisitCostaRica.com.