I have a propensity for acquiring books. My small, upstairs office has shelves full of them. I have a friend who runs a small bookstore in Warrenton, Virginia. Originally from Portland, Oregon, I find my memories are keen of Powell's, a legendary independent bookstore touted as the world's largest. I like everything about books, and I like people who share my love of books.
For me, there is something magical about turning those first pages of a new book and starting to read—what new information awaits? What characters will I meet? What mystery will be solved? What drama will unfold?—a whole new world in words, perhaps sprinkled with photos or illustrations.
The title alone lured me to pick up Shaun Bythell's "Confessions of a Bookseller." And it has a charming cover depicting a once-large Georgian townhouse, now a bookshop, with every window filled with scenes of books, staff, and book browsers. The owner stands outside the entrance, his faithful cat, Captain, by his side. It is all so inviting.
I also keep a journal, and this book is structured like a diary chronicling a full year in Bythell's life running the largest secondhand bookshop in Scotland.
Participate in Community
I found myself laughing out loud on several occasions. This is an uproariously funny read.
Bythell has a sharp eye for quickly discerning the makeup of his often-eccentric customers. Add to that mix the personalities of his curious staff, legions of friends and acquaintances, and his family, and you have the recipe for a read that combines biting sarcasm with a guy who is passionate about books and often will lend a sympathetic ear to his staff or customers—if the mood suits him.
Each month charted in the book begins with an excerpt from a 1942 London publication, "The Intimate Thoughts of John Baxter, Bookseller," by Augustus Muir.
These snippets set the stage, or offer a theme, to begin that month's adventures in Bythell's book-buying and selling.
Bythell is an avid reader and passionate about the world of books, from their content to their covers. He is a bookseller in a small, rural Scottish village near the sea.
As a shop owner, he has all the challenges of being a businessman in an industry that has dramatically changed in structure, particularly with the advent of online ordering. He remains optimistic that, while the tactics have changed and he does have an online presence, the strategic spirit of reading and purchasing books will survive in traditional corners around the world, like his shop in Wigtown.
Bookstores typically have always offered more than books. They speak to the character of the communities they serve by hosting book signings, lectures, and workshops, and with bulletin boards populated with community events.
The Bookshop in Wigtown is no different. Extra rooms are available for visiting guests. There's always room for hosting a dinner or lending space for a yoga class or pop-up wine bar. The store anchors an annual Writer's Retreat and Wigtown Book Festival. It is all about a caring community, and despite Bythell's often cantankerous and grumpy exterior, he has a deeply soulful side in matters of the heart.
Embrace the Unexpected
There is a graceful rhythm and routine to each day as Bythell notes how many customers come into the shop, how many orders he takes and fills, and how much revenue he makes.
But there's always that odd character who traverses the corridors of the shop or combs through the treasures brought in a box of books. The result is usually some pithy dialogue or silent observation left unsaid that will leave the reader in stitches.
His oddball staff could be the catalysts of their own novels. Emanuela, a young girl from Italy, arrives with his offer of free room and board in exchange for her help in the shop for a summer. Despite a keen language barrier, she manages to enchant many of the locals and is fastidious in her care of the books. She is also a horrible cook but a voracious eater of other people's cuisine.
Take Notes
Another treat offered by this book is the titillating descriptions of other reads that Bythell interjects regularly throughout his daily observances. Readers will no doubt find themselves jotting down authors and titles that are new, or rediscovering books that they have read in the past and warrant a repeat read. This is a bonus for book aficionados.
Not only does the author share other titles throughout his book, but he also offers bits of history, like the creation of bookplates or the best method for book binding.
When in Wigtown, Scotland, I would suggest a visit to The Bookshop. In the meantime, pick up a copy of "Confessions of a Bookseller." You won't be disappointed.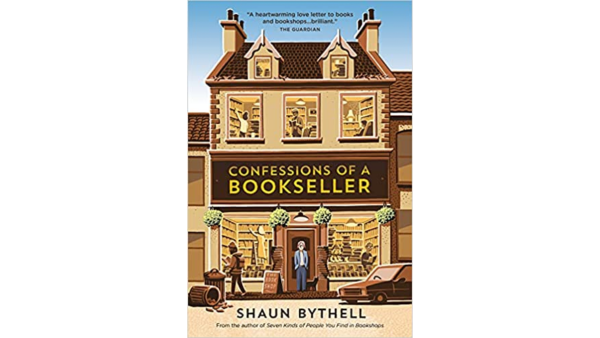 'The Confessions of a Bookseller'
By Shaun Bythell
David R. Godine Publisher, 2022
Hardcover: 324 pages