Bluebeard's Castle/Erwartung: Opera Duo Delves Into the Realm of Psychology
The Canadian Opera Company revives Robert Lepage's double bill
May 19, 2015 Last Updated: May 20, 2015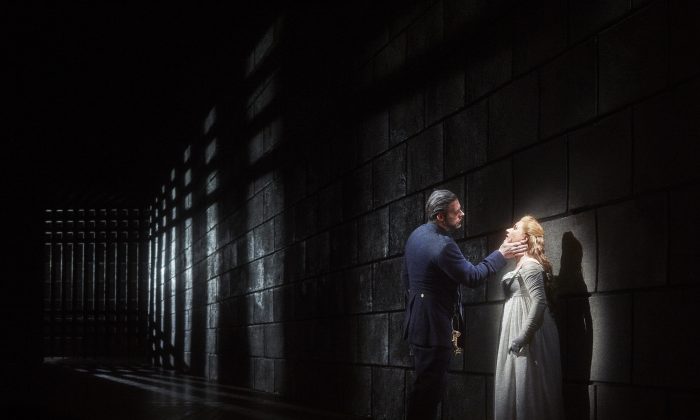 TORONTO—"Fascinating" and "unusual" are words that come to mind when describing the Canadian Opera Company's (COC) production of "Bluebeard's Castle/Erwartung."
Directed by celebrated Canadian director Robert Lepage, the two early 20th-century short operas delve into the realm of troubled human psychology and the somewhat chaotic time in which they were created.
"Bluebeard's Castle," the first of these operas, uses the French tale of the serial wife-killer Bluebeard to explore realms of human consciousness.
Bluebeard, a rich man living in a sinister castle, marries Judith, a young woman of noble family and prospects. Judith's family had heard the rumours of Bluebeard's dark deeds and opposed the marriage, but Judith willingly proclaimed her enduring love for him.
The young woman is determined to bring light into the dark castle (and by extension into her husband's sombre existence), and sets out to unlock the seven forbidding doors in the hope they will help her fulfill her wish. Daunted by what she finds inside, Judith is however able to bravely persist only to succumb to what she finds behind the last door.
Written by Hungarian composer Béla Bartók in 1911, "Bluebeard's Castle" is characterized by the expressionist and nationalistic movement of his time, with influences from Claude Debussy and Richard Strauss, as well as the rhythms of Hungarian folk tunes. The result is powerful atmospheric music that enhances the sombre psychological drama—highlighting the darkness and fear, but also the hope and courage that characterizes the opera.
Lepage's direction also offers a contrast between light and darkness that brings out the claustrophobic nature of the setting in which the two characters find themselves, yet at the same time are surrounded by a gilded golden frame that provides a constant powerful presence of light on the stage.
Canadian bass John Relyea brings out the darkness and power, but also the vulnerability of the troubled Bluebeard, while Russian mezzo-soprano Ekaterina Gubanova is able to capture the strength and fragility of his young bride. The combination of the performances with the direction, the libretto, and Bartok's powerful score makes it a production that stays with you long after you leave.
Austrian composer Arnold Schoenberg's "Erwartung," (1909) the second opera of the double bill, also benefited from the unique vision of both Lepage and set and costume designer Michael Levine—a vision that at times gave the opera a film-like quality.
However, the production is a much more difficult one, combining an erratic text (based on the speech of patients undergoing psychoanalysis) with atonal music and an unorthodox mise-en-scène that includes figures going through a wall, a naked figure, and scenes of madness.
Amidst this, the performance of Canadian mezzo-soprano Krisztina Szabó who carried the heavy opera with remarkable strength and enthusiasm, is one to remember.
Originally commissioned by the COC, this double bill first made its debut in 1993 and has performed in several cities around the world, earning critical acclaim for the opera company. It is a production that is certainly innovative and memorable.
The COC's production of "Bluebeard's Castle/Erwartung" runs until May 23 at the Four Seasons Centre for the Performing Arts in Toronto. For more details, visit: www.coc.ca