Bill Gekas: Photo Portraits Inspired by Old Masters Paintings
June 19, 2015 6:30 pm Last Updated: August 9, 2015 3:46 pm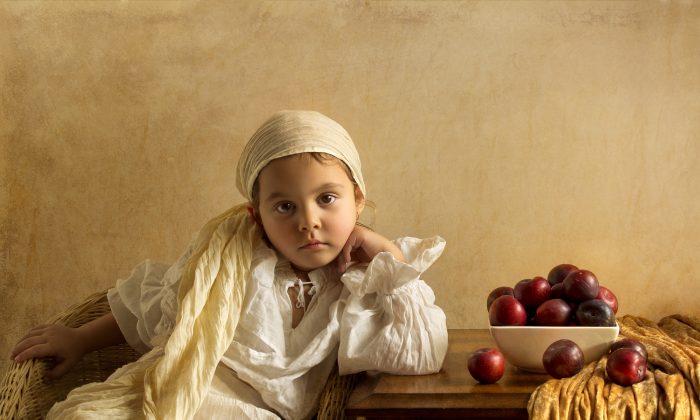 This is part 6 of a 9-part series. To see the full series, see At the Confluence 
The increasing prevalence of photography has fundamentally changed the way representational art is created and perceived in the modern day. At the Confluence examines how some of today's artists have responded to the shift.

Bill Gekas of Melbourne, Australia, owned and ran a manufacturing business in the construction industry, and photographed portraits on commission in his spare time.
In 2013, the Internet caught wind of his photo portraits of his daughter in the style of old masters—specifically Caravaggio, Rembrandt, Vermeer, Rubens, Velasquez, and Christus. They look so painting-like in color and lighting that they leave viewers charmed and confounded.

What started as fun family photo session propelled him into the world of fine art photography and a career-shift.
In this series "At the Confluence," we have mostly explored painters who work based on or influenced by photography. Gekas's work is an example of the reverse.
Gekas, knowingly or unknowingly, has benefited from of the sheer amount of photorealistic paintings now familiar to modern viewers. Because paintings and photos often look so similar, we do a double take when we see Gekas's portraits.
How does Gekas produce the effect and feel of a painting using a camera?
He said it's the lighting, color, and tonal relationships, composition, and emotive expressions of the subject that make his photographs look like paintings.
"When all the parts work together it creates the sum, the atmosphere the old masters works were generally known for," he wrote in an email.
Photography being the capturing of a moment, it's the legwork that makes the image. He drafts compositions in a notebook, creates the effect of a limited color palette through the careful selection of outfits, backgrounds and props, and most importantly, lights the scene. He writes about this process in his blog.
"The lighting is key to many of my works, and I own many speedlights, an Einstein studio strobe, light modifiers, reflectors, RF-triggers, etc.," he said in an interview with Digital Photography School. 
"Most of my indoor studio work is usually lit with a 28-inch soft box as a key light, sometimes a second speedlight with a grid spot attached pointing to the background to light it and a white reflector on the opposite side of the subject to fill some shadow areas."
After Gekas finishes all the preparations, the young talent arrives on set. Then it's just a matter of capturing the pose and expression that best expresses the concept, which is largely a matter of chance.

"In paintings the painter can create the emotive expression required in the final works from their own imagination whereas in photography it must be captured, and this is the challenging aspect."
Gekas likes to illicit a double take from viewers. On a flat computer screen, where brushstrokes wouldn't be evident anyway, it's possible for these images to keep admirers guessing. Printed on photo paper, probably not.
However, despite the attention his photographs have gotten, fooling the eye is only half the fun.
"They've been published in newspapers, magazines, art journals worldwide and have been awarded many times but that part is just a bonus, as this fun family artistic collaboration between myself, my wife, and daughter is creating some lasting memories more than anything else," he wrote.
Tweet @EpochArts with your thoughts on the series using the hashtag #confluence.