"One has to be dead, if one doesn't get revived in Heidelberg," wrote German journalist and poet Christian Friedrich Daniel Schubart in the 18thcentury—a sentiment that still holds true today as I discovered on my trip to Germany's southwest corner.
Located less than an hour from Frankfurt Airport, Heidelberg is buzzing with students, filled with historic buildings, seductive with one of Europe's longest shopping streets, and home to the country's most photographed castle ruin perched on the slopes of Mount Königstuhl, some 230 feet above the Neckar River.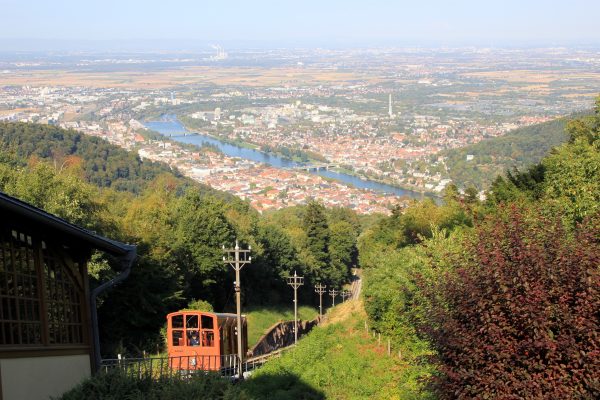 Heidelberg Highlights
My first stop was the Schloss, of course. This German castle was abandoned over 300 years ago, leaving its illuminated windows an eerie sight at night. During the Thirty Years' War, French soldiers planted some 70 explosives around the castle of which only 15 exploded, but, unfortunately, one explosive was buried where the gun powder was stored. Years later, lightning struck and hit yet another gun powder tower. It would seem the castle, part medieval fortress, part Renaissance palace, was destined to become a ruin.
Located inside the massive complex are the German Apothecary Museum and the world's largest wine barrel, a 250-year-old vat with a capacity of exactly 58,574 gallons of wine. "Small boys were tied to ropes and pushed through the opening for cleaning [the inside], then pulled out again," guide Susanne Späinghaus explained.
In order to climb higher, I jumped aboard Germany's oldest funicular, an absolutely charming car with wooden benches and a clanging bell. This inclined railway has been going up to the top of the Königstuhl since 1907.
From Heidelberg's highest point I could see the popular Philosopher's Walk, surrounding towns, and the Rhine Valley in the distance. Down below, travelers mingled on the Old Bridge, trying to get the perfect selfie with the castle ruin in the background.
Heidelberg is also home to Germany's oldest university, founded in 1386, and counts 30 Nobel prize laureates among its alumni.
Time in Heidelberg passed quickly between walks through the city, cruising on the Neckar River, and sampling culinary delights in the streetside cafes. Two days were hardly enough to cover the main sights, but Freiburg, at the foot of the Black Forest's wooded slopes, was calling.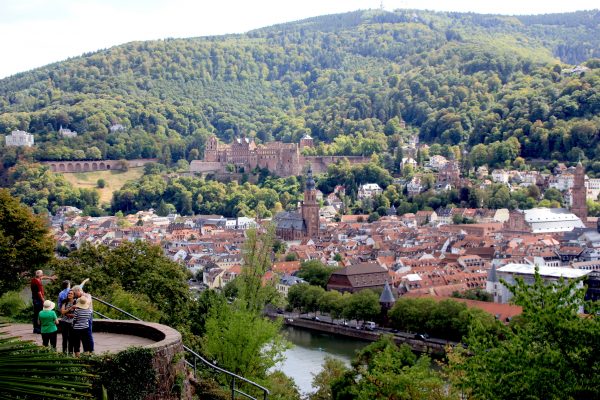 Exploring Freiburg
After less than 90 minutes on the train, I emerged in Germany's sunniest city where sprawling vineyards spoke volumes of the special microclimate here. Not one to ever turn down a good drop, I headed to the Alte Wache Haus der Badischen Weine where over 130 local wines were for sale, and Elvira Higle guided me through a one-of-a-kind wine tasting.
"We don't export a lot as our wines are of high quality and the tastes in other countries are rather varied, so it's simply too hard to compete with larger German wine regions," she said. I didn't mind sticking with the outstanding local offering, which turned out to be the best pairing for the regional cuisine.
German food is much more than just beer and sausages. The Freiburg menus featured specialties like Spätzle (homemade egg noodles), Brägele (sautéed potatoes), Flammkuchen (onions and pork fat with crème fraiche on a thin pizza base), and chanterelles dishes. And, of course, I devoured a piece or two of the famous Black Forest cake during my stay.
Dominating the town's skyline is the 11th-century Freiburg Minster with its filigree spire and intricate entrance portal. Interestingly, from the time of its construction, the cathedral was not owned by the Roman Catholic Church but by the people of Freiburg, a community made rich by silver mining.
On the ground, fed by the Dreisam River, water channels called Bächle flow some four miles through countless narrow streets in Freiburg's Old Town. As early as the 12th century, when the city was founded, the flat paved gutters supplied Freiburg with water for drinking, fighting fires, and other uses.
Although Freiburg was never completely destroyed by fire, in part thanks to the Bächle, it was severely damaged in less than 25 minutes in an air raid on Nov. 27, 1944. Luckily, the Freiburg Minster was only slightly impacted. Over the years, nearly all historical buildings were painstakingly rebuilt and today you wouldn't know the difference from just looking at them.
But in Freiburg it might be best to keep your eyes firmly planted on the ground. Legend has it that if you step into one of the Bächle, you will marry a local. Unless you're looking for an excuse to stay longer in this beautiful part of Germany, that is.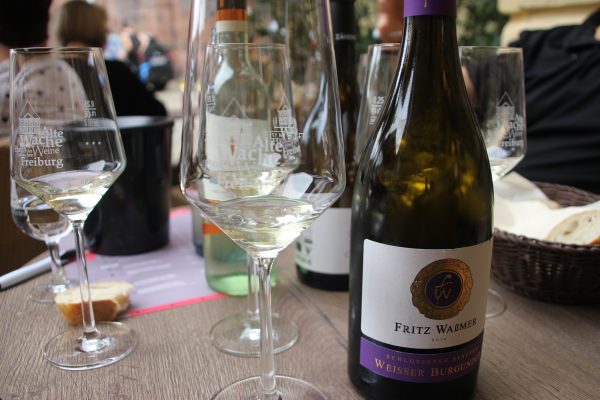 For more information visit, http://www.historicgermany.travel
Wibke Carter is a travel writer who hails from Germany, has lived in New Zealand and New York, and presently enjoys life in London, UK. www.wibkecarter.com