Baba ganoush is one of my favorite ever dips, and by cooking the eggplants over a wood fire, you get an even more intensely smoky flavor.
Serves about 4 as a dip
3 large eggplants, about 12 ounces each
3 cloves of garlic, roughly chopped
1 heaped tablespoon tahini
Juice of 1 lemon
4 tablespoons extra virgin olive oil, plus a little extra for drizzling
1 teaspoon Aleppo pepper or regular chili flakes
A few sprigs of flat-leaf parsley, chopped
For the flatbread chips:
6 flatbreads
2 tablespoons olive oil
1 tablespoon cumin seeds, crushed
1–2 teaspoons chili flakes
Salt and freshly ground black pepper
Fire up the grill for direct and indirect grilling and, once hot, add a few chunks of wood to the fire to get some good smoke going.
Prick the eggplants all over with a fork and lay them on the grill bars, directly over the fire. Cook for around an hour, turning and rotating them a few times until the outsides are darkly charred and the eggplants are collapsed and very soft. If they are burning too much before softening, slide them slightly away from the fire. Once they are cooked, remove them and leave to cool down so you can handle them.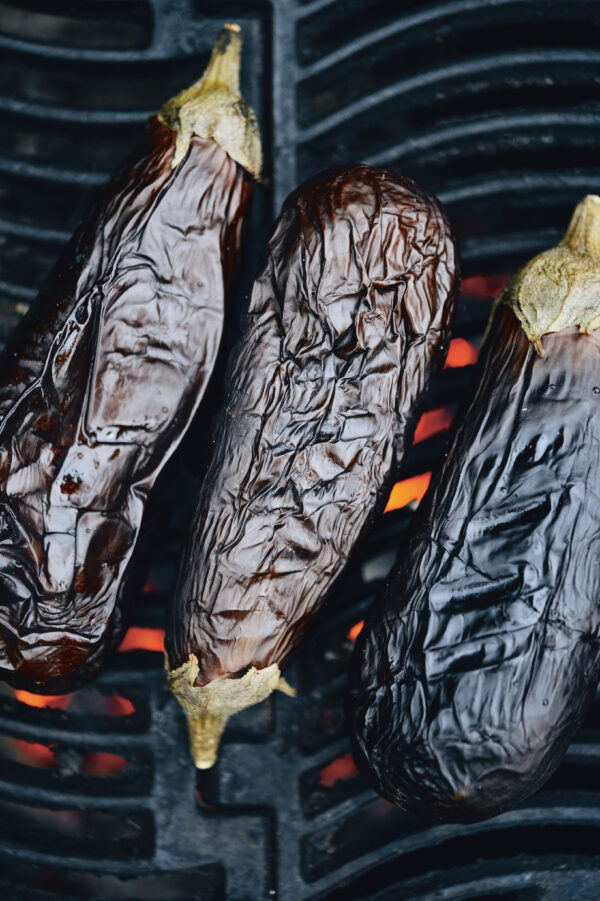 Slice the eggplants in half and scoop out the flesh, spooning it into a food processor as you go. Add the garlic, tahini, lemon juice, olive oil, and salt and pepper and blitz until velvety smooth. You can also put it all into a deep jug and puree with a stick blender. Transfer to a serving bowl and set aside.
To make the flatbread chips, preheat the oven to 400 degrees F. You can also cook them on the grill if there is still plenty of heat to be had.
Lay the flatbreads in a stack on a chopping board and use a sharp knife to slice them through into 8 triangular-shaped wedges, just like cutting a cake. Spread them out over a couple of baking sheets and drizzle with the oil. Sprinkle over the crushed cumin and chili flakes and season with a little salt and pepper. Slide the trays into the oven and bake until crisp, about 5–7 minutes. Alternatively, lay the wedges directly in to the grill bars and shut the lid. Depending on the heat of the fire they may take less time to crisp, or even a little longer if it's a touch cool.
To serve, scatter the Aleppo pepper and parsley over the baba ganoush and add a good drizzle of olive oil. Serve with the chips.
Recipe excerpted with permission from "Charred" by Genevieve Taylor. Published by Quadrille.