In September of last year I spent a few days in Switzerland and visited Bern and Interlaken.
Although Switzerland's busy capital city, Bern projects the kind of charm that is usually found only in small villages. The town of Interlaken is a popular tourist destination in the Swiss Alps, surrounded by two lakes and spectacular mountain scenery.
Bern
Bern is situated on a narrow hill surrounded by the Aare River on three sides. Although the historic Old City was destroyed by fire in 1405 and rebuilt, it has retained its medieval character and was designated a UNESCO World Heritage Site in 1983.
I joined a guided walking tour of the city, and we began our exploration of Bern at the railway station. Dominating Station Square stands a huge glazed steel canopy—the modern symbol of the city—while across the street is the 13th-century Church of the Holy Ghost.
We strolled through the cobblestone streets of the Old City centre and entered the incredible six kilometres of arcades designed for selling goods in all weathers. It is one of the longest covered shopping corridors in Europe.
We then headed for the oldest gate in the western part of the city. A crowd had gathered to watch the mechanical figures of the Zytglogge, Bern's famous astronomical clock tower. One of the landmarks of the city, the 15th-century clock tower used to be a watchtower and prison in the 13th century.
Our guide led us inside the tower and we climbed the 130 narrow stone steps up to its highest platform. In the room where the clock mechanics are located, we were able to view the amazing 16th-century device consisting of several metal shafts and iron gears that manage the movement of the clock. A large iron cannonball acts as a bouncing pendulum, which adjusts the accuracy of the clock. A plaque indicated that it was made by master clockmaker Kaspar Brunner in 1530.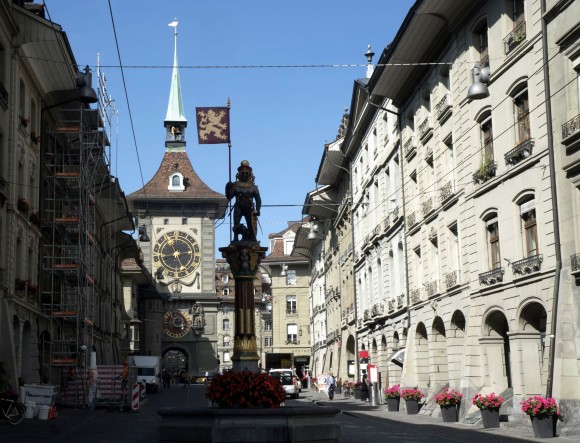 There are many museums and galleries to discover in Bern. We visited Albert Einstein's house on Kramgasse Street, now a museum, where he lived for two years from 1903 to 1905. It was here that the scientist developed his theory of relativity and changed the understanding of time and space and the study of physics. Our guide also showed us a small café where Einstein used to often spend his time.
Bern is a city of fountains, just like Zurich.
Another highlight was the 16th-century historic fountains on Kramgasse. Bern is a city of fountains, just like Zurich. Among the hundreds of fountains in Bern there are 11 significant ones, which are decorated with statues to symbolize historic events or commemorate past heroes.
We continued on to the Münsterplatz, one of the oldest plazas in the Old City, located in front of the 15th-century Bern Münster (Cathedral of St. Vincent). The cathedral is one of the largest in Switzerland and home to the country's tallest church tower. If you fancy viewing Bern from above—and the Alps in the distance—you will have to climb the 344 steps that lead up into the 100-metre spire.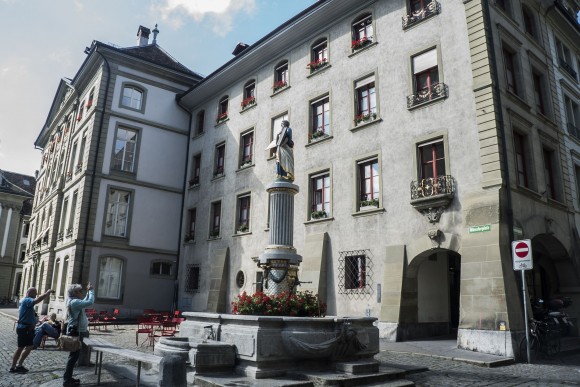 Interlaken
I began my second day in Switzerland by taking a train to Interlaken, some 56 kilometres from Bern. I had a weekly Swiss Travel Pass which entitled me to travel by rail, tram, bus, and boat throughout the country.
Located in a valley between the two lakes of Thun and Brienz, Interlaken is surrounded by the majestic mountains of Eiger, Mönch, and Jungfrau. This dreamy Alpine town is probably the most famous winter holiday destination in Switzerland. It is a jumping off point for train trips on Europe's highest railroad into the mountains and surrounding villages.
I decided on a foodie walking tour of Interlaken to taste local cheese and chocolate. I meandered through alleyways filled with restaurants and cafes, all of which seemed to be decorated with flower baskets and colourful flags. I stopped to taste seven different types of local cheeses—but could have tried many more!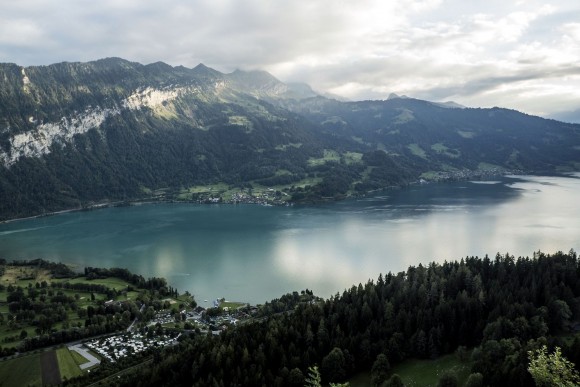 My final foodie stop was at the Funky Chocolate Club at Jungfraustrasse where I tasted a variety of chocolates. The Club also offers classes on the art of chocolate making, including softening, melting, and making casts.
I ended my tour at Hoheweg, a vibrant street where luxury hotels, a casino, boutiques, and shops are located. It's a picturesque setting; opposite, at the other side of a meadow, the Jungfrau rises dramatically to the sky.
Paragliding is a popular activity in the region and I enjoyed watching the colourful canopies floating along, with the mountains as a backdrop. Interlaken is not only a great place for relaxation but also an exotic outdoor hub to experience skiing, biking, hiking, horse-riding, and a plethora of water sports
Those who have only visited this area in winter should return when the snows are gone. They will experience a different landscape, a different ambience, and different things to do.
Switzerland Tourism: http://www.myswitzerland.com
More photos of Bern and Interlaken: www.amirinia.com





Mohammed Reza Amirinia is a freelance writer and journalist who has a passion for documentary photography, social photography, and photojournalism.