As the sun rises, and borders begin to open up, and people—for the first time in a long time—start to consider international travel, the sights and smells and tastes of this big world are again beckoning.
If you're looking to make wine, whiskey, or beer a part of your next vacation, you don't have to just sip. Some places invite you to take things further, whether getting your feet dirty in fine wine, or washing down in a tub filled with brew.
Here are some of the best ways to experience some of the world's finest drinks.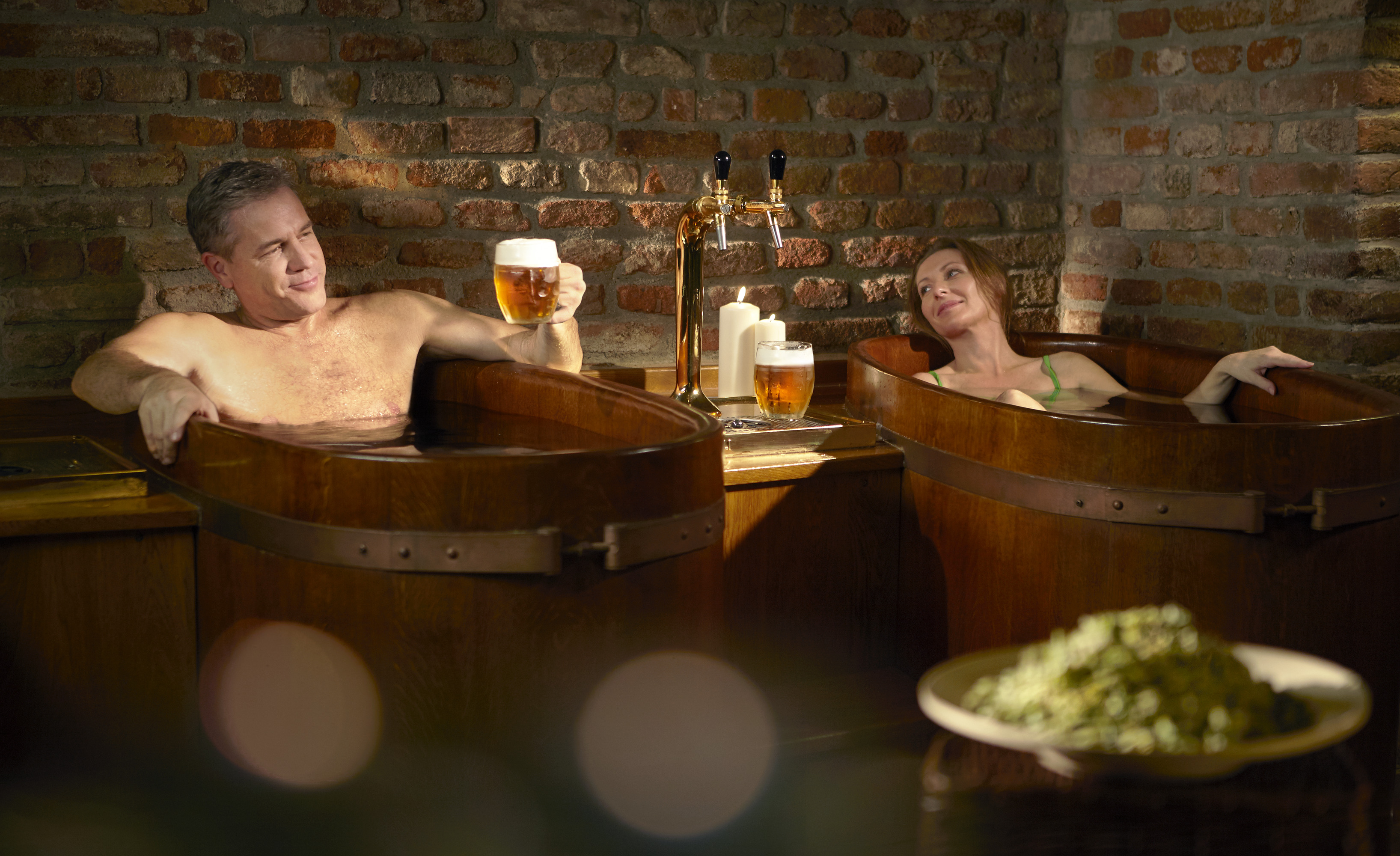 Beer Bath (Czech Republic)
You've probably never been tempted to drink your bath water—but in the Czech Republic, a nation that downs more beer per capita than any other on earth, you just might. Fortunately, whether you choose to soak in the capital, Prague, or nearby Pilsner (yes, the birthplace of pilsner beer), you'll be able to tap into an unlimited supply of the cold stuff. Both cities are home to "beer spas," where you can strip down and get into a big, wooden tub (that looks a lot like a barrel) filled with a mix of malt, hops, barley, and beer, with a tap of craft brew within arm's reach, and a frosty mug waiting.
There's a time limit—otherwise, why would you ever leave?—but most offer the option of following up your sudsy bath with beer-infused massage.
Plan your next beer bath at Purkmistr.cz/en/spa or PivniLazneBernard.cz/en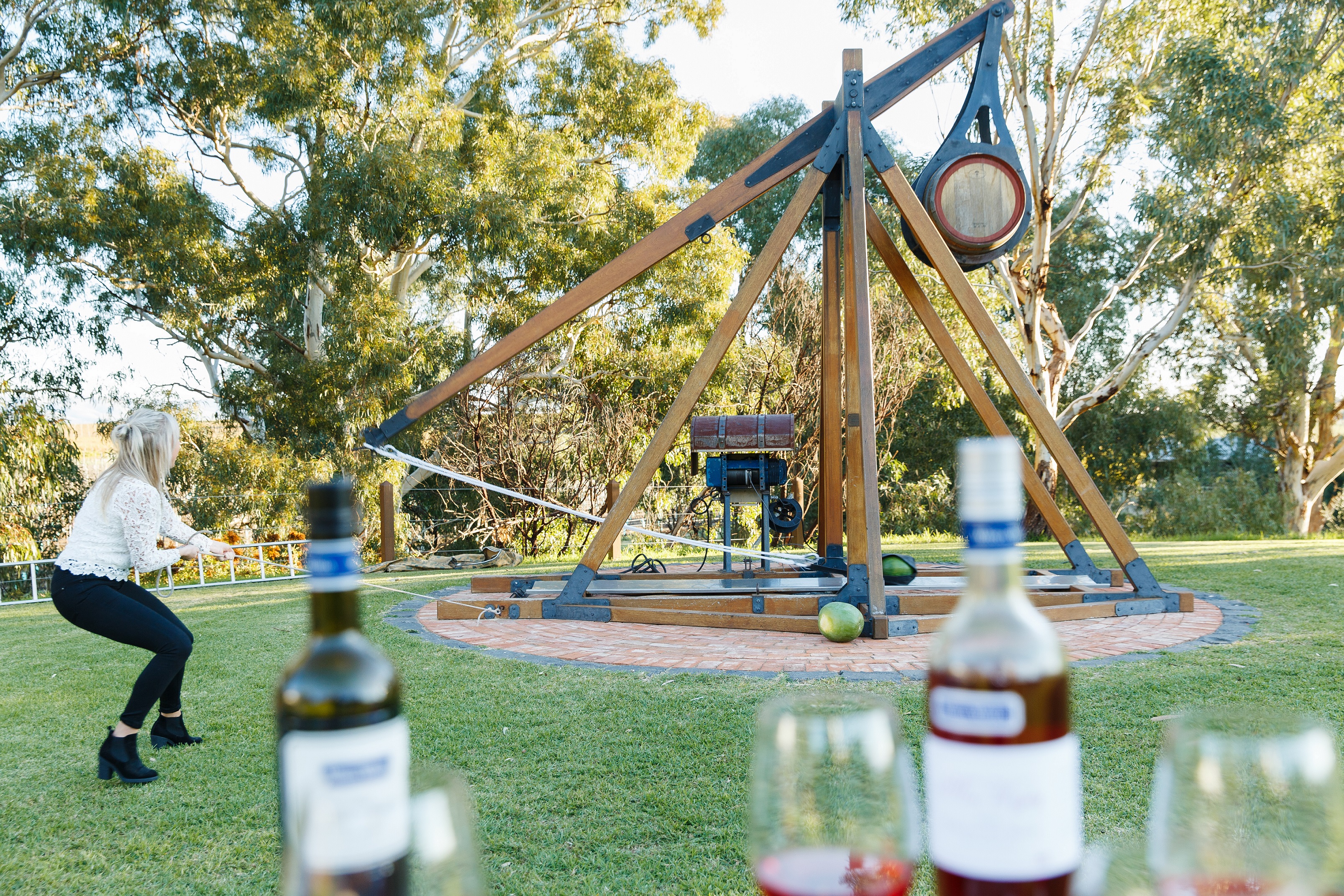 Wine Catapult (McLaren Vale, Australia)
It seemed like a good idea at the time. Founded back in 1894 by an eccentric cricket player and then revived years later by another nonconformist, the late Greg Trott, the latter included a number of unique features while rebuilding Wirra Wirra, a winery set among the rolling hills of the McLaren Vale, just south of Adelaide. One was a church bell, which guests are encouraged to ring—often repeatedly. And the other? A catapult. Trott envisioned a whole local network of these medieval machines throughout the region, with wineries slinging barrels of their best vintages to the others.
The idea never caught on, but if you ask nicely, guides here will show you how it works—with a watermelon, rather than primo vino.
For more info, see WirraWirra.com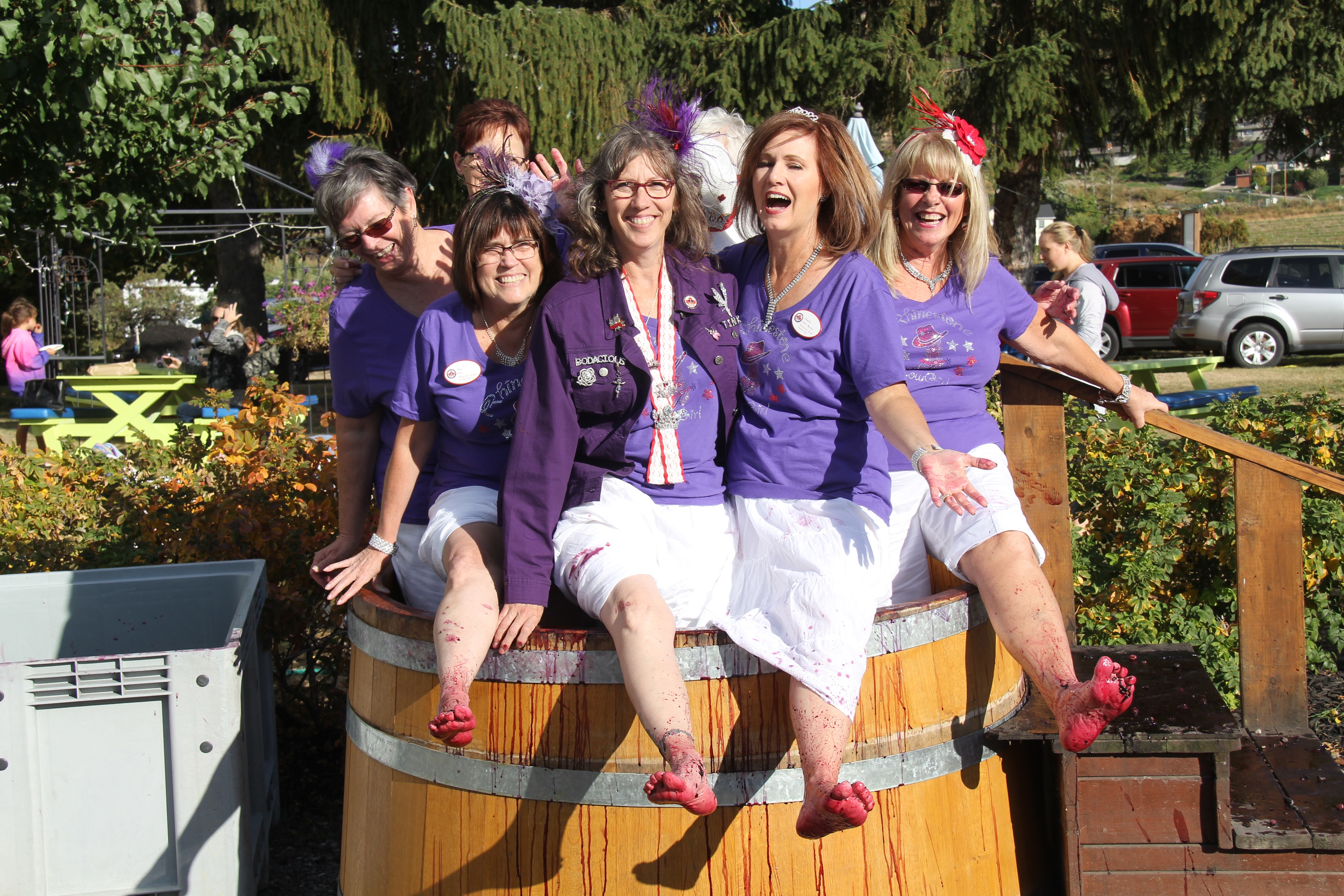 Crushing Grapes (Okanagan Valley, Canada)
It's a great way to get your feet dirty—and help out a bit in the harvest. At House of Rose, a five-acre winery in the Okanagan Valley of British Columbia, the owners encourage you to slip out of your shoes and socks, and do a little stomping, either solo, or with a group of your best friends.
Filling up a tub with fresh grapes, the red slurry between the toes is rather shockingly cold (and very slippery), but it's okay—afterward, you can settle down with a bottle of Hot Flash, one of their bestsellers, a nice full-bodied blend that will get your blood pumping.
Check out House of Rose (and their summer concert series) at HouseOfRose.ca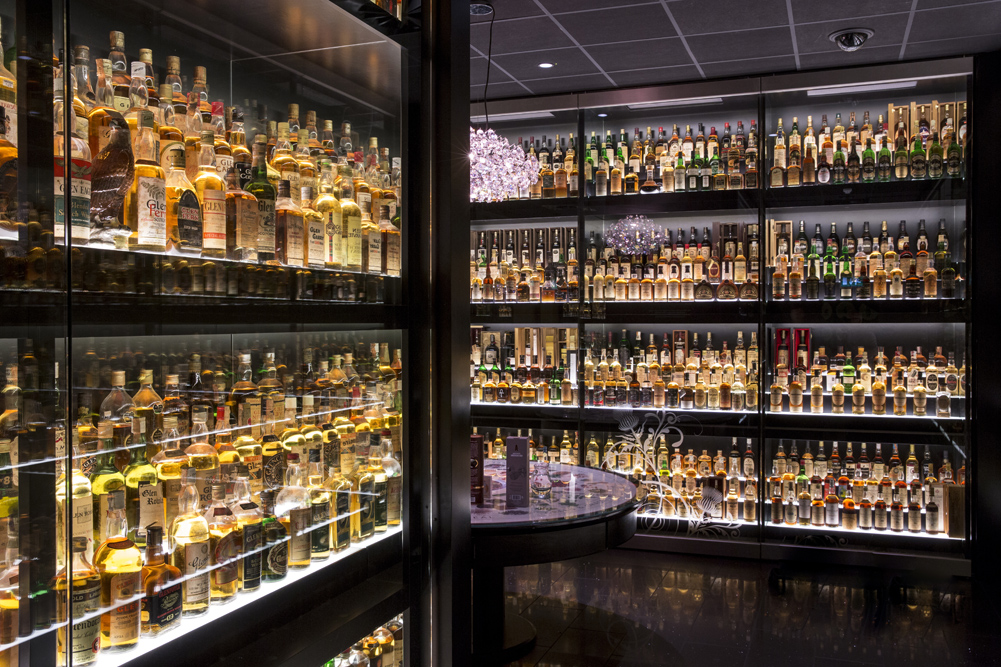 Riding the Whisky (Edinburgh, Scotland)
It's rare to be able to ride through a distillation—but that's exactly what's on offer at the Scotch Whisky Experience, a one-stop-shop for all things whisky, which brings together some 90 percent of all the distillers in Scotland. Situated on Edinburgh's famed Royal Mile, you'll begin your tour with a sort of theme-park ride that takes you from grain to glass, then marvel at The World's Largest Collection of Scotch Whisky, an awe-inspiring collection of 3,384 bottles of the good stuff.
And then? Perhaps a tasting, or a wee dram at one of their two bars (stocked with another 450 bottles), and if that's not enough, you can browse their whisky-themed shop, which includes hip flasks, so you can take your tipple on the go. (And you can come back for classes, at their whisky school.)
Learn more about the Scotch Whisky Experience at ScotchWhiskyExperience.co.uk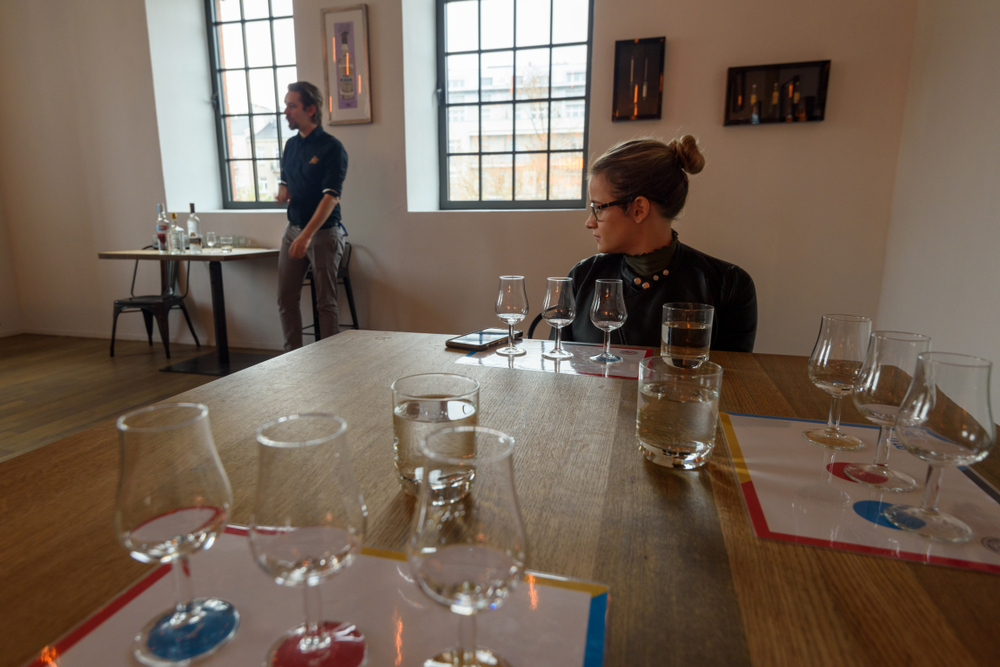 Touring Vodka (Warsaw, Poland)
Once seen as little more than a cheap, accessible working-man's elixir, vodka is having a bit of a revolution in Poland's capital. Recently opened in what was once the country's largest distillery, the Polish Vodka Museum tells the 600-year history of this clear spirit, whose name, "wodka," means "little water" in Polish. Walk the floors in this massive neo-gothic building, which are covered with wood from vodka barrels, and after a film, and a tour, you can enjoy a tasting at their Vodka Academy, where an expert will take you through the nuances of the drink (the difference between wheat and potato vodka, for example).
Then head next door to WuWu, which offers gourmet-style takes on classic Polish dishes (with vodka pairings), and beyond—the city is now full of craft distilleries and hole-in-the-wall vodka bars, which serve their own infusions and barrel-aged varieties.
Have a look at the Polish Vodka Museum at MuzeumPolskiejWodki.pl/en and WuWu at WuWu.bar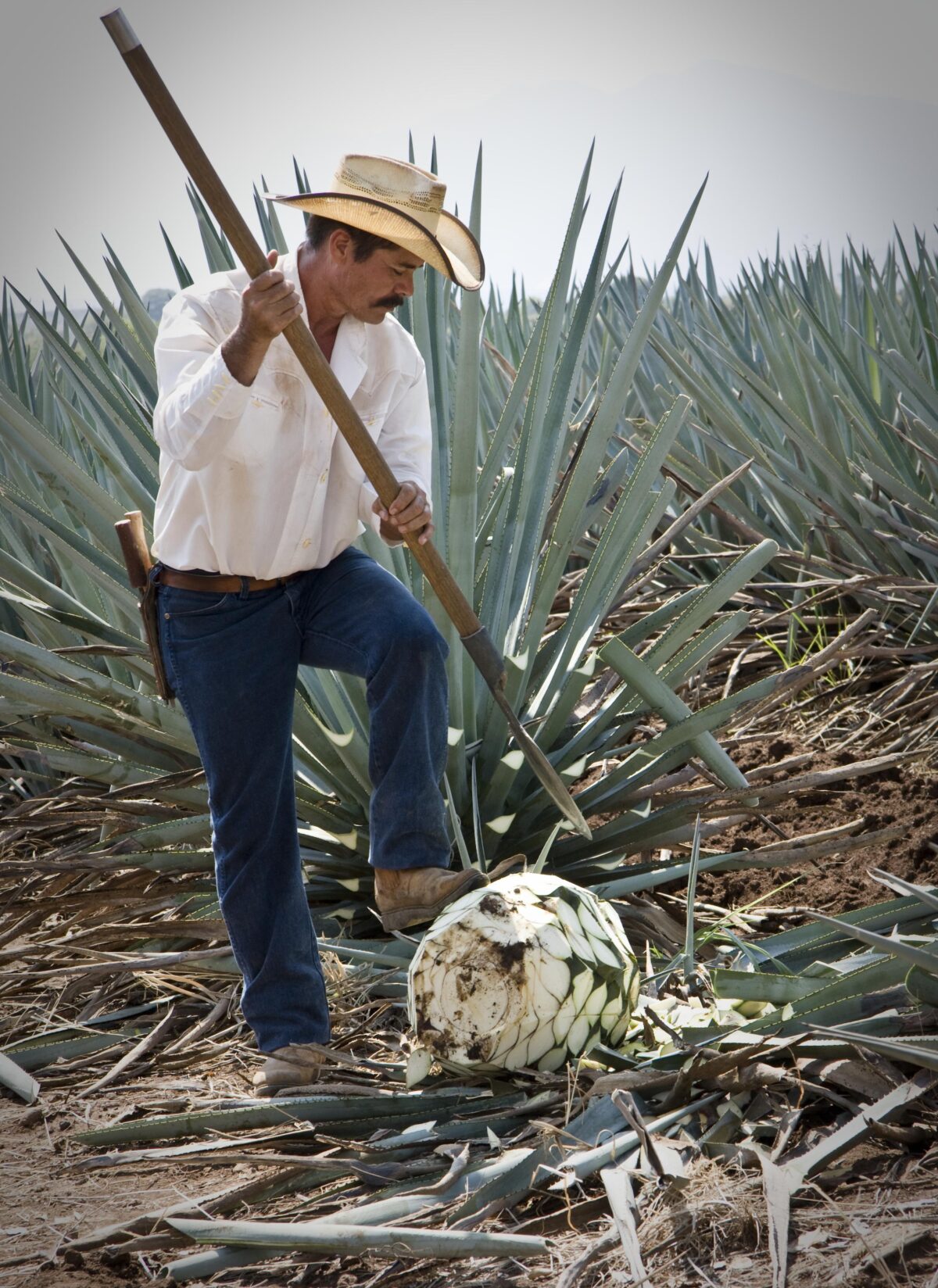 Tasting Tequila (Puerto Vallarta, Mexico)
The chosen refreshment of spring-break partiers, tequila has long been a good-time drink, featured on cheap T-shirts (think: "I swallowed the worm"). But this Mexican spirit is now having its day—A-list celebrities like George Clooney and Justin Timberlake have their own brands, and the thirsty have started booking vacations to the state of Jalisco, where it was born in Aztec mythology as the nectar of the gods.
Ride the tequila train (the Jose Cuervo Express) from Guadalajara, the state capital, to the actual town of Tequila, then roam the surrounding mountains to discover fields of blue agave and centuries-old distilling methods, the agave mashed with volcanic stones and aged in oak barrels, with some growers even playing classical music for the plants—legend has it that this helps sweeten the final product. Or, if you're enjoying a beach vacation in the popular destination of Puerto Vallarta, a couple of hours down the road, you can try a tasting at one of the many tequilerias, learning the difference between blanco, oro, reposado, and anejo, as you imbibe.
Research your ride on the Jose Cuervo Express at MundoCuervo.com/eng/jose-cuervo-express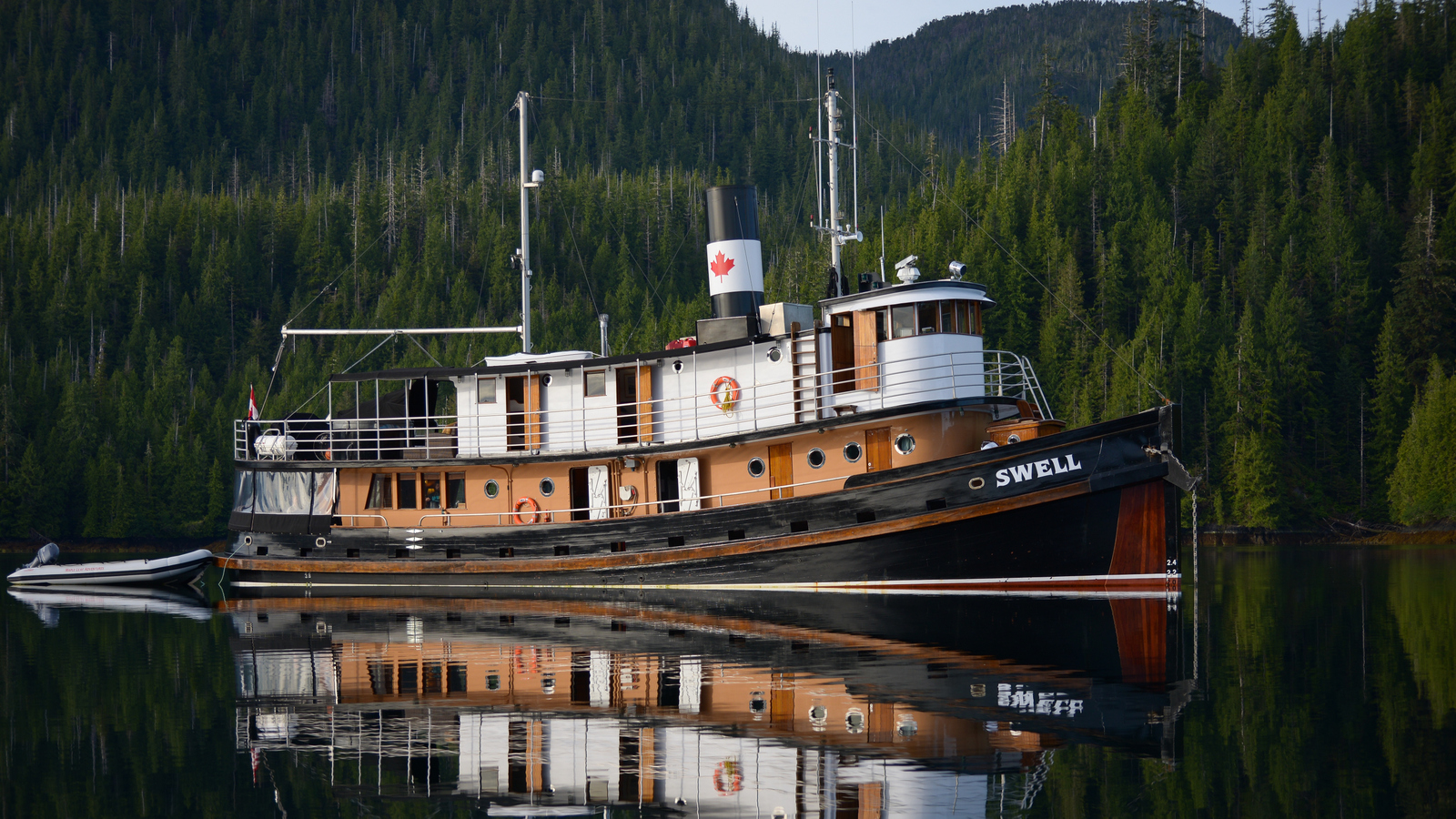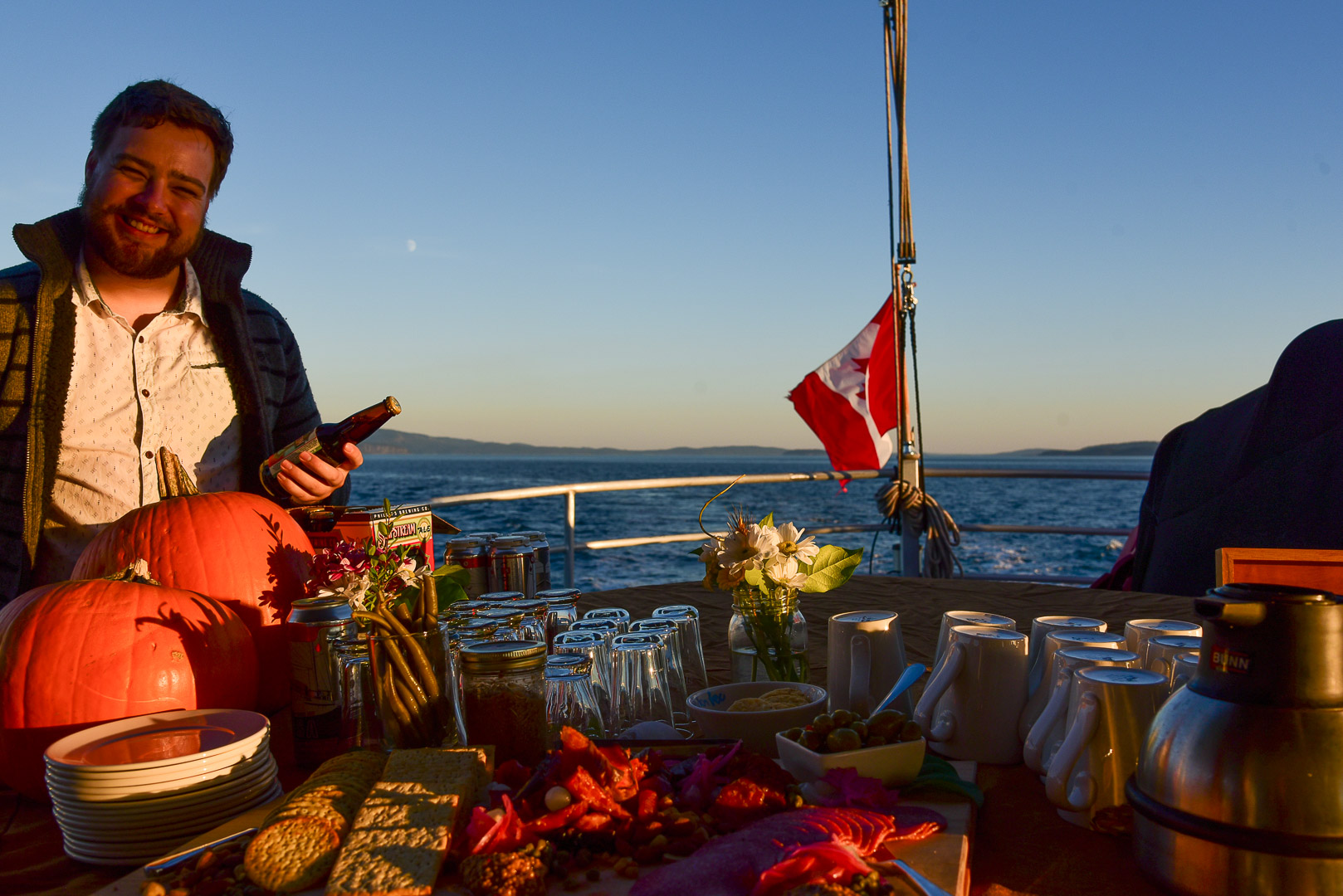 Cruise to Craft Beers (Vancouver Island, Canada)
Sailing on the Swell, an 88-foot tugboat converted into a small, upscale expedition ship with just six cabins, Canada's Maple Leaf Adventures take guests on a twice-a-year voyage through beer heaven, just off the west coast. Cutting through the waters of the Salish Sea, around the green, mountainous Gulf Islands and along Vancouver Island, the ship calls in small ports during this five-day voyage, bringing guests to private brewery tours, historic pubs, flights and tastings, and evening feasts (with beer pairings, of course).
An added bonus—brewing experts come on board to share their knowledge. Relax on deck with a frothy pint and see if you can spot any of the many humpback and killer whales that swim the deeps here, or opt to work off some of those extra, liquid calories in a kayak, or with a brisk shore walk among old-growth temperate rainforest.
Plan your voyage at MapleLeafAdventures.com
Toronto-based writer Tim Johnson is always traveling, in search of the next great story. Having visited 140 countries across all seven continents, he's tracked lions on foot in Botswana, dug for dinosaur bones in Mongolia, and walked among a half-million penguins on South Georgia Island. He contributes to some of North America's largest publications, including CNN Travel, Bloomberg, and The Globe and Mail.