Beauty of People, Culture, and China Brims Throughout Shen Yun
April 5, 2014 12:11 am Last Updated: April 5, 2014 5:19 am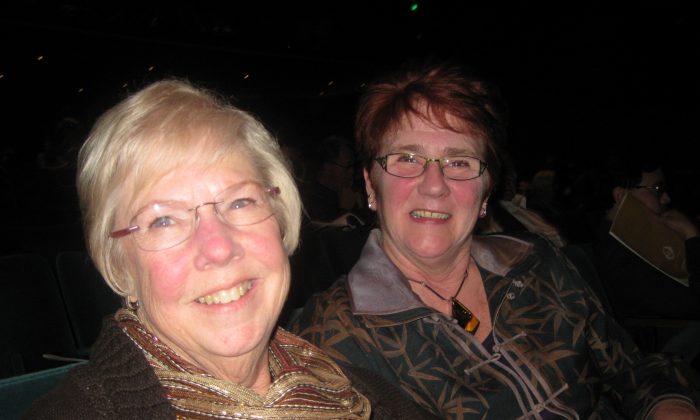 SEATTLE—Seattle's Marion Oliver McCaw Hall played host to Shen Yun Performing Arts on April 4. With its display of traditional art forms that depict China's 5,000 years of divine culture, Shen Yun's second evening of performances in Seattle was something grand to behold.
"It was really wonderful!" said Sharlene Cooper, who is now retired from Safeco Insurance, where she worked in the marketing department for 29 years. "The way they incorporate all of the movements into the backdrop is really spectacular. And the music is great; the costumes are great."
"Through the universal language of music and dance, Shen Yun weaves a wondrous tapestry of heavenly realms, ancient legends, and modern heroic tales," reads Shen Yun's website.
Ms. Cooper attended the performance with Sharon Freel, also retired from her 38 years at Safeco Insurance, where she worked as a director of sales.
"I love the history that's incorporated into it. It's just phenomenal," Ms. Freel said. "Well, going through all the dynasties and seeing the change—and when they had the lotus flower dance with the communist party and so forth—it just brings it to life!"
Shen Yun works to revive the history and culture that has been nearly destroyed at the hands of the communist regime in China.
"Shen Yun cannot be seen in China today, where traditional culture has been nearly lost," reads Shen Yun's website. "Yet Shen Yun—a non-profit organization—has become an international phenomenon, bringing the wonders of ancient Chinese culture to millions across the globe."
Despite the upheaval of values in modern China, Shen Yun affords the world over to bear witness to the heavenly array that is true Chinese culture.
"So it has a very peaceful effect when you're watching it," added Ms. Cooper. "You just feel at peace, and you see the beauty of the performances. And it just makes you really want to drink it in."
Ms. Freel agreed. "Well, it just makes you realize that the Chinese culture has been around for so long and has made so many changes over the years," she said. "It's an amazing history. It's an amazing history."
However, added Ms. Cooper, "It doesn't just show the history of the Chinese culture, but it shows the beauty of the culture and the loveliness of the people."
Reporting by NTD Television and Michael Fitzgerald
New York-based Shen Yun Performing Arts has four touring companies that perform simultaneously around the world. For more information, visit Shen Yun Performing Arts.
The Epoch Times considers Shen Yun Performing Arts the significant cultural event of our time. We have proudly covered audience reactions since Shen Yun's inception in 2006