For those visual artists, designers, or architects who perhaps feel a bit out of step with much of the art they see around them; for art educators who hope to inspire their students; or for art lovers who simply seek beauty and would enjoy time to reflect on its importance, a conference, held in the fitting setting of Chicago's The Drake Hotel, will offer such an opportunity.
On Oct. 29, leading thinkers and artists will speak in Chicago at the Sacred Arts Conference, sponsored by the Catholic Art Guild, a Chicago-based community of artists.
Following a High Mass featuring Renaissance choral music in Chicago's historic St. John Cantius Church, the conference titled "Beauty and the Restoration of the Sacred," will aim to consider the power and importance of beauty in modern times.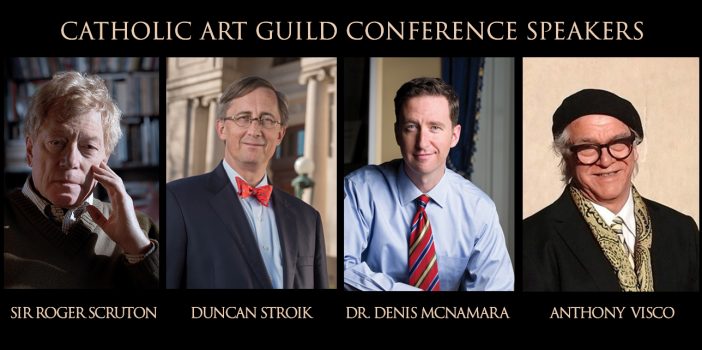 The keynote speaker will be English philosopher Sir Roger Scruton, well-known for his BBC documentary "Why Beauty Matters." Knighted in 2016, Scruton has written more than 50 books, on topics ranging from art, music, and literature to politics and religion.
Other speakers include architect Duncan Stroik, the founding editor of the Sacred Architecture Journal, who advocates for beauty and tradition in his field; classical artist Anthony Visco, the founder and director of The Atelier for the Sacred Arts in Philadelphia, where he creates commissioned paintings and sculptures; and art historian and educator Denis McNamara, who is the associate director and associate professor at the Liturgical Institute of Mundelein Seminary in the Archdiocese of Chicago and has written extensively on sacred architecture.
"Beauty has been so denigrated in today's culture as a result of prevalent utilitarian thinking. This unfortunately relegates those with artistic gifts to the periphery or worse, tells them their gifts are useless," says the conference's organizer and guild president, Kathleen Carr, in a press statement. The nationally awarded fine artist hopes "this conference will shine a light on the necessity of Beauty in today's world."
Tickets available only through Oct. 23. For more information, see CatholicArtGuild.org