The traditional formula for achieving balance in a cocktail involves four elements: strong, sweet, sour, and bitter (or weak, in the case of punch). As well as it works, it has its obvious limitations for bartenders bent on advancing their craft. What about salt, or spice, or umami components? If they matter on the plate, why not in the glass?   
In recent years, beverage pros have begun to take more and more pages from the recipe books of the chefs they work with, in search of answers to those questions.
Flavors From the Kitchen
According to Danny Villa, head bartender of contemporary Asian hot spot KYU in Miami, sourcing from the kitchen makes all kinds of sense. Not only is it more efficient, allowing the culinary and bar teams to "cross-utilize some ingredients, coordinate on orders together, and reduce waste," but it also makes pairing easier: "We don't have to worry about a drink burying the flavors of a dish," he explains, when each complements the other. 
In short, what he and others have discovered is that, when carefully incorporated, these "savory" ingredients don't so much disrupt the classic cocktail formula as expand upon it.
That's certainly true of salt, whose role in food is to bring out flavors. As Villa puts it, "things like mezcal, dry Sherry, and gin never seem overtly sweet independently, but give them a little saline, and the fruity, nutty characteristics come to the foreground."
Miso is another good example: "There's actually a wealth of sweetness to it, and a distinct, over-ripened fruit aroma that makes it a natural in tiki cocktails with funky rums, or in highly floral gin drinks."
Or, consider the Ooo-mami, inspired by KYU's Korean fried chicken. It starts with a fat wash, a type of infusion that Villa says "adds a lot of texture and strange nuance" to a spirit. In this case, tequila is washed in, you guessed it, fried chicken fat. To that, he adds mezcal and three housemade flavoring agents—a syrup, a tincture, and bitters—that contain, among other things, garlic, bitter greens, cumin, shichimi (a Japanese spice mix), and lime. It's all garnished with shiso leaf, "an herbal component that evolves as you drink it." The overall effect is "really decadent, really delicious—it's almost more like food than drink."
Nostalgia in the Glass
Insofar as food, far more than booze, evokes long-cherished memories, can savory cocktails that mimic it also have an emotional pull? That's what James Bolt, owner of The Gin Joint in Charleston, imagines.
"I call it 'the ratatouille moment,'" he says, a reference to the animated film "Ratatouille," in which the namesake dish whisks a character back to childhood. Incorporating everything from cauliflower to dandelion greens to summer squash and seaweed in his drinks, he explains, "I try to convey that through cocktails as well."
Take okra: Bolt squeezes liquid nostalgia from the staple Southern crop by charring it to eliminate its "slimy, sludgy" texture, and then turning it into a simple syrup that he combines with yellow curry-infused rum, coconut milk, sweet chili oil, and lime.
Or, take purple cabbage: Inspired by an old German recipe for a sweet-and-sour treatment of the vegetable, he basically turns the whole dish into a syrup, containing not only cabbage but also currant-flavored crème de cassis, Hefeweizen, fennel seeds, and Champagne vinegar. He then mixes the syrup with rye gin, lemon juice, vermouth, and smoked honey. Ultimately, he says, adding ingredients one by one—savory or otherwise—to build cocktails with layered, balanced flavors is "just like cooking."
Cooking Experiments
In fact, it is cooking, sometimes. Dan Pontius, bar manager at Alden & Harlow in Boston, describes a recent experiment in which one of his bartenders "sautéed maitake mushrooms in butter with shallots, rosemary, and tarragon and then just dumped it into a neutral grain spirit," which they later strained and skimmed for what they amusingly called a Maitake on a Manhattan. It's as though "you're making dinner for yourself, and it's delicious," he jokes.  
Of course, he adds, it takes many such experiments to get a feel for how, say, grilled carrots, roasted sweet potatoes, or fresh pea greens—all ingredients he's worked with—are going to interact with booze as well as express themselves.
"The interesting thing [is] that you can get so many different flavors," beyond what you put in, he says. Case in point: the Meat Your Maker, an Irish whiskey-based drink containing Fernet-Branca washed with rendered beef tallow. Fernet on its own "tortures people the world around," Pontius laughs, due to its minty pungency, but the infusion "makes it really soft, with faint notes of beef and fat—and vanilla, for some reason."
Pontius, Bolt, and Villa all vouch for the fact that their "weirdest" cocktails tend to become their biggest calling cards, giving their guests new insight into how ingredients highlight or transform one another. Pontius recently enjoyed a moment of validation when he overheard one of his customers say to another, "When you see something that sounds like something you would never order, that's the one you get." That's my advice to you, too.
Alden & Harlow's Norigami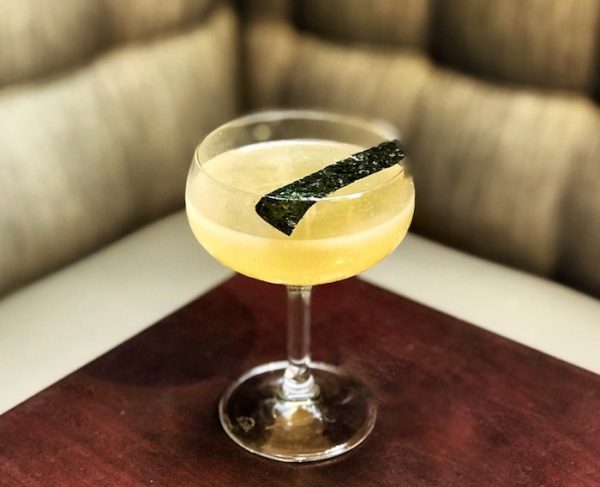 .5 ounce nori infusion
1.5 ounce Suntory Toki Japanese Whisky
.75 ounce lemon juice
.5 ounce elderflower liqueur
Nori cut into strips for garnish
To make the nori infusion, use 5 sheets of nori per 1 liter of neutral grain spirit. Pour spirit over nori, seal, and let sit overnight. Strain through tea strainer.
Combine all ingredients in a shaker with ice; shake and double-strain into a cocktail glass. Garnish with a strip of nori.
Recipe courtesy of Alden & Harlow
Ruth Tobias is a longtime food-and-beverage writer based in Denver, Colorado. To learn more about her and her work, please visit her website, RuthTobias.com, or follow her @denveater on Twitter and Instagram