A baby albino elephant was found alone in the wild, trapped in a snare in January 2020 in South Africa. The infant was severely injured due to the restraint, and it was thought she might not live.
Rescuers took in the dehydrated, starving calf, and took her into the care of the team at Hoedspruit Elephant Rehabilitation and Development (HERD), where she has since healed from her traumatic experience.
Khanyisa was found with a snare wrapped around her neck, ears, and inside her mouth. The sharp wire had cut through her cheeks, leaving the infant with deep scarring.
According to a press statement from Hoedspruit Elephant Rehabilitation and Development (HERD), she arrived in such critical condition, it was unclear if she would survive.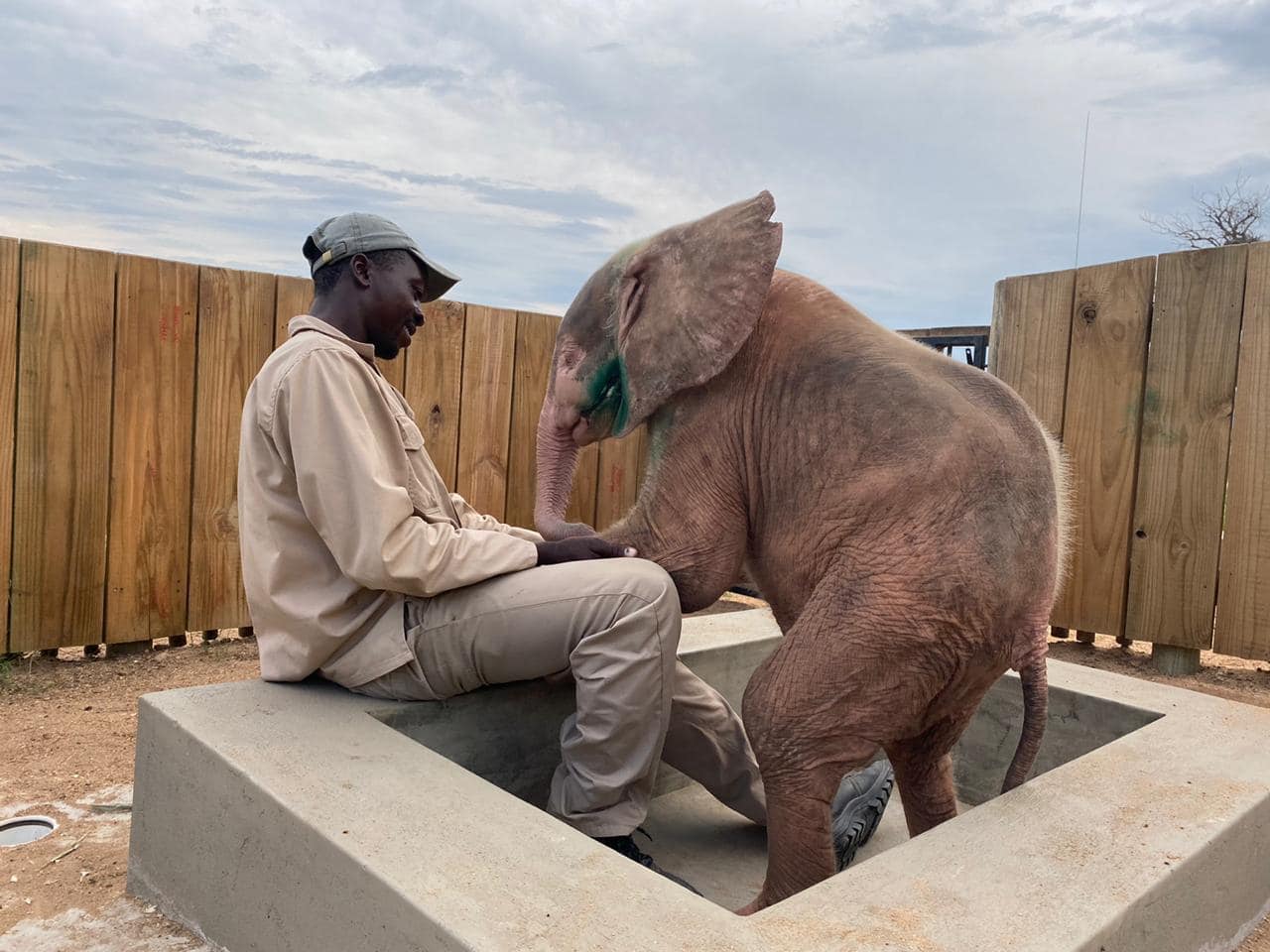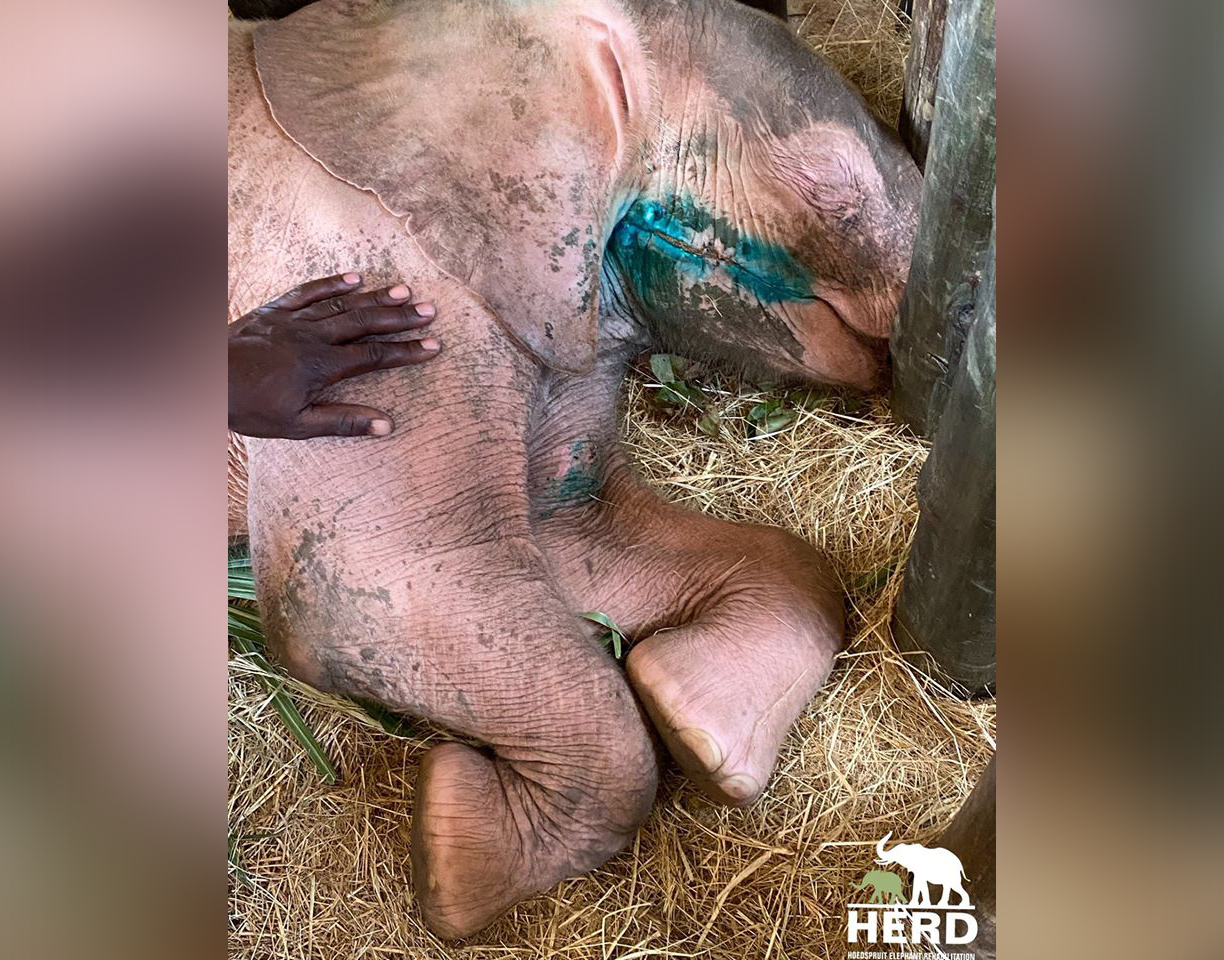 Adine Roode (founder of HERD) expressed concern about whether the effects of emotional trauma would be too great for Khanyisa to make a full recovery. However, the infant elephant surprised everyone with her fiery determination.
Before long, she was exploring the orphanage gardens, and greeting fellow elephant rescues through the fence.
Still, it would be a while before the little calf was well enough to join the herd of rescues, and she still had a long recovery ahead of her.
When she first arrived at HERD last year, Khanyisa's head was so swollen, she could hardly open her eyes. It was a day or so before the team saw the albino elephant's eyes open up completely to reveal their stunning bright-blue color, a trait of her albinism.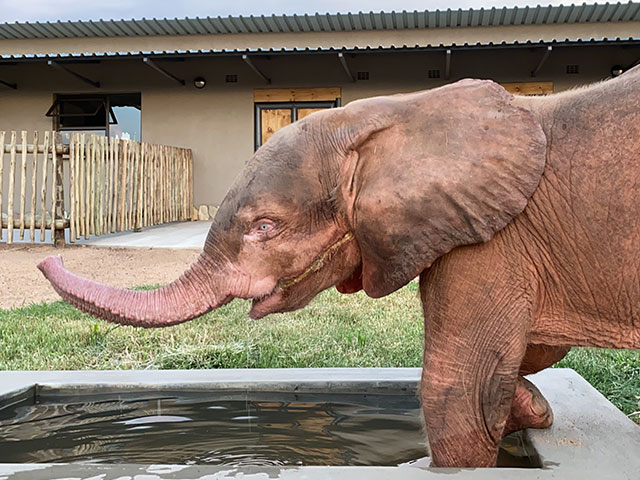 Between her injuries, dehydration, and being seriously underweight due to not having access to her mother's milk, Khanyisa had a very high chance of infection setting in, which would be detrimental to her health, in addition to the emotional trauma she had to deal with.
The first concern was treating the severe wounds left behind by the snare. Khanyisa received treatment from expert care providers and wildlife veterinarians, who cut away dead skin and stitched the lacerations when they were certain there was no infection.
In the first days after her arrival, her carers also struggled to bottle-feed the infant due to the deep, painful wounds surrounding her mouth and her cheeks.
"It took a lot of love and patience from our team to get it right," HERD wrote in a press statement. "But we got it right, eventually. But it takes a lot more focus and consideration from our carers to feed her compared to a healthy elephant calf."

While the staff strived to overcome the issue of bottle feeding, they also had to ensure her nutrition was balanced enough that she didn't suffer from diarrhea, a common threat to the health of rescued baby elephants.
"[It's] one of the biggest threats to their health," HERD explained. "It can cause dehydration and the loss of essential nutrients in their system."
Luckily, their carers were able to successfully nourish Khanyisa, and over the course of seven weeks, she gained 35 kilograms (approx. 77 pounds).
"[Khanyisa] had excellent weight gain in the first year," HERD wrote. "She is on par for her estimated age of now 17 months at a healthy weight of 290KG, though the last month has slowed down and we are reassessing her nutritional intake."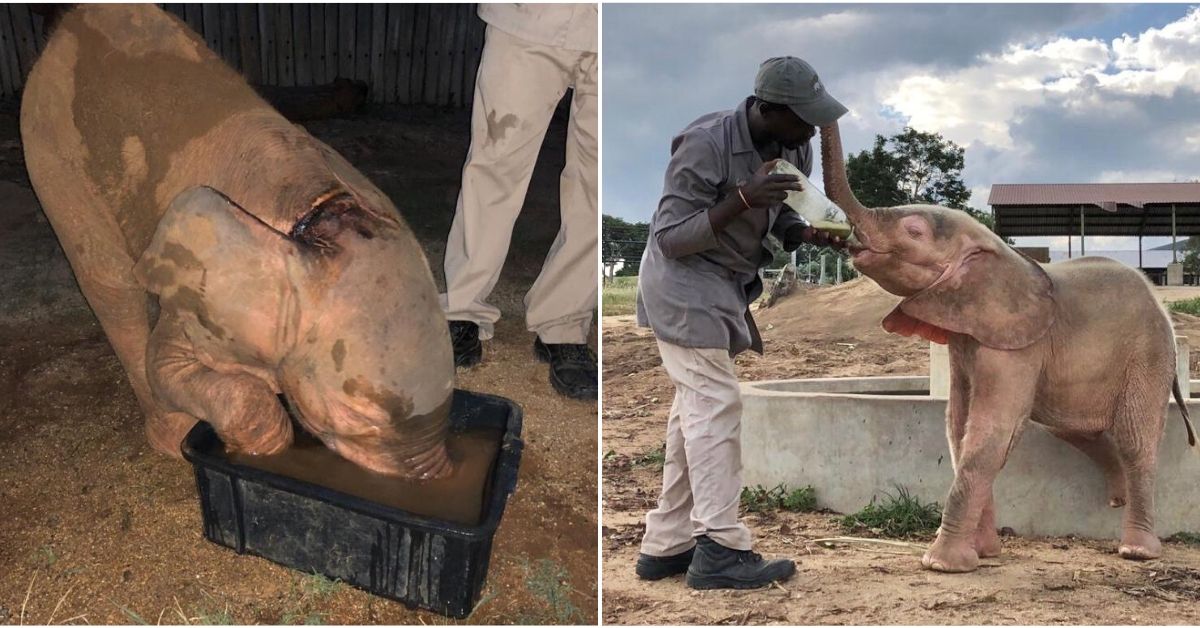 There have been concerns as to the challenges Khanyisa may face due to her albinism. So far, her severed ear is working as normal, but she will always continue to battle with bright sunshine due to her impaired eyesight.
The progress she's made bodes well for her overall recovery.
In April of 2020, when her wounds had completely healed, Adine Roode, founder of HERD, started the steady integration with the local "Jabulani Herd" of elephants, who accepted Khanyisa into their family.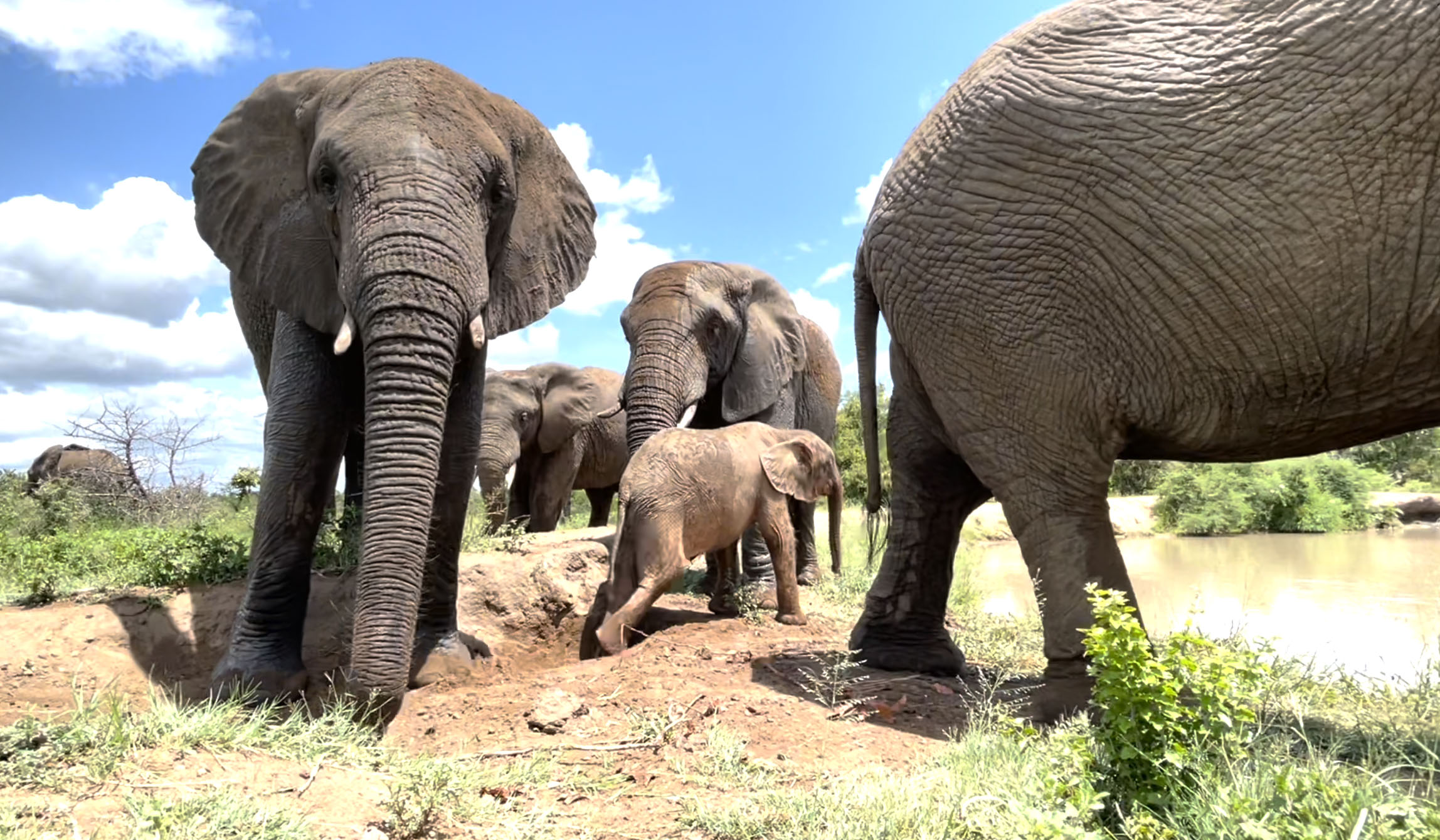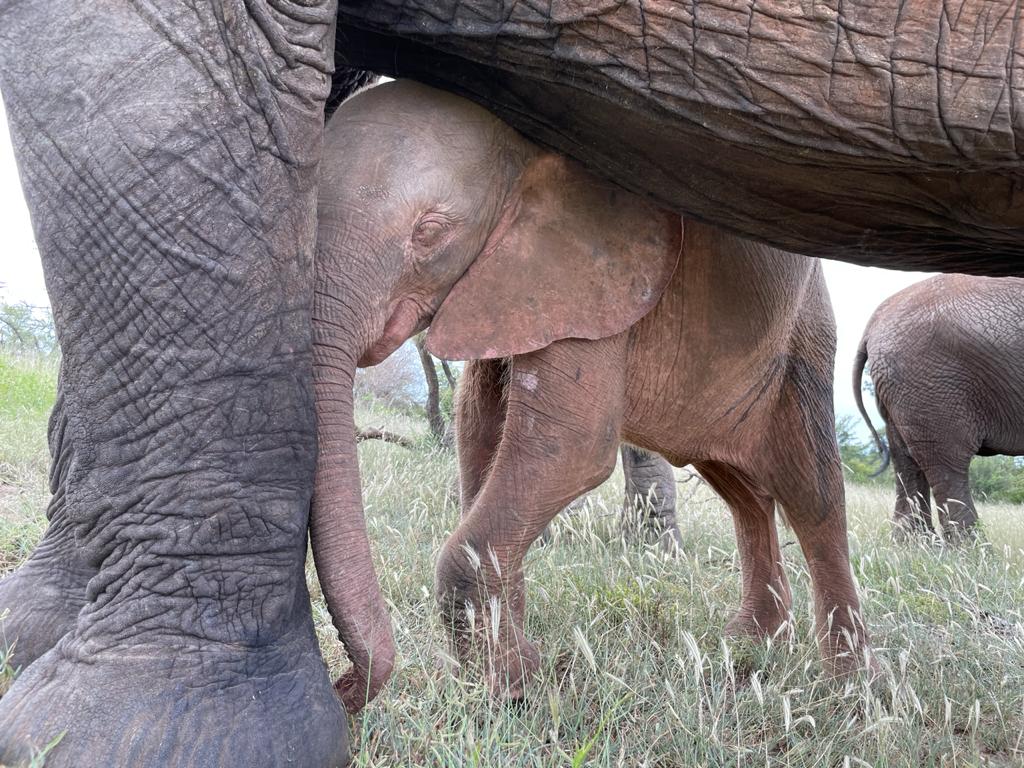 Khanyisa now spends her days from sunrise to sunset in the wild with the herd and returns to the orphanage to stay in the care of her human family, who also provide essential milk formula, which she will be dependent on until she is approximately 4 years old.
"We could not have wished enough for a more favourable outcome," HERD wrote. "Thank you to all our amazing followers from so many parts of the world! Khanyisa has captured your hearts as much as she has captured ours. We appreciate all the support!"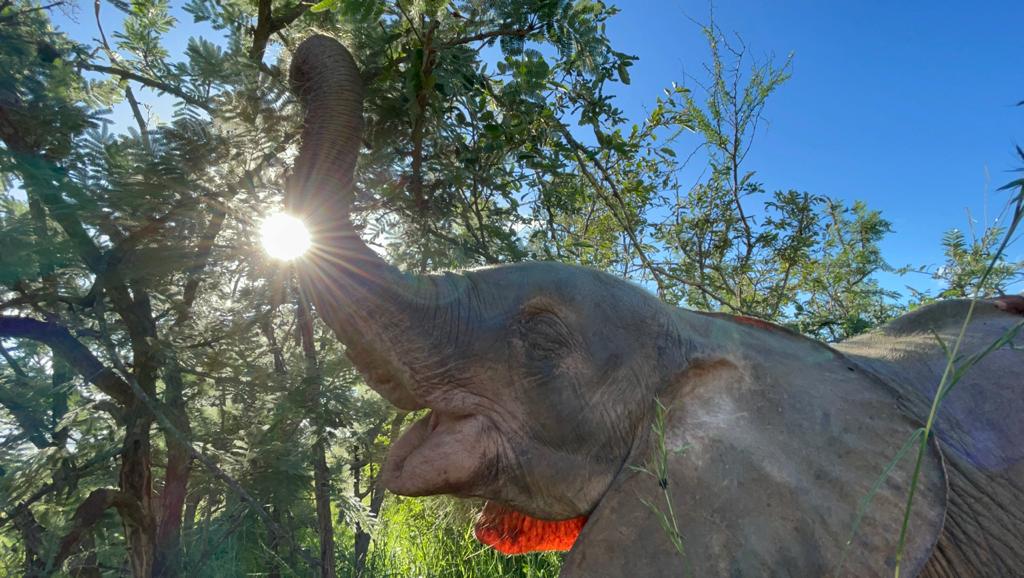 Share your stories with us at emg.inspired@epochtimes.com, and continue to get your daily dose of inspiration by signing up for the Epoch Inspired Newsletter here: https://www.theepochtimes.com/newsletter