Award-Winning Actor Returns to See Shen Yun
May 8, 2010 9:20 pm Last Updated: October 1, 2015 8:11 pm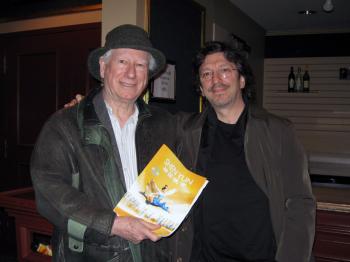 TORONTO—Canadian actor Tony Nardi returned for his second Shen Yun Performing Arts show this season, having seen the company perform earlier this year at a sold-out show in Mississauga. He was at the Canon Theatre Saturday night when Shen Yun returned to Toronto for four shows.
"It's fantastic, it's amazing," Mr. Nardi said after the show. "It's the dancing and the drama. It's just so phenomenal. I love it."
He wasn't bothered by having seen the same program twice.
"It does not matter. They are so amazing. It's incredible, it's wonderful."
Shen Yun produces an all-new program each year and will have new dances and songs when it next returns to Toronto. There is one more show, a Sunday matinee, as part of its current run at the Canon Theatre.
Mr. Nardi is a two-time Best Actor winner at the Genie Awards, which honours the best in Canadian cinema. He won most recently in 2000 for his lead role in "My Father's Angel."
He has won a host of other acting awards, both in Canada and abroad. He's also a veteran stage actor, having performed in the Stratford Festival, Canada's premier production of Shakespeare.
He was invited to the show by Rocco Galati, proud father of Miranda Zhou-Galati. Ms. Zhou-Galati is a principal dancer with Shen Yun's International Company, which is putting on the four shows this Mother's Day weekend in Toronto.
Shen Yun has three companies, each touring different parts of the world.
Mr. Nardi was dazzled by the young Ms. Zhou-Galati, describing her as one of several dancers who look like they "float in the air."
"Isn't she so amazing, so regal? She floats in the air like Audrey Hepburn."
"Both on the women and men side, there are a couple of dances that make you kind of like, 'I don't know how they do it.' It's like walking on a tightrope or in a cloud or something.
For more information, please visit ShenYunPerformingArts.org .