STEAMBOAT SPRINGS, Colo.—The snow is so light that I barely hear the crunch of Tonka's footsteps as we ride along the trail. His feet sink at least eight inches with each footstep, but my trusty horse is used to snow, so it doesn't even faze him.
My husband and I are on a trail ride at the base of Hahns Peak just outside of Steamboat Springs, Colorado. It's almost spring, but there is plenty of snow on the ground.
For me, horseback riding in Steamboat Springs is a given. This is prime ranching country and has been for more than 100 years. Many ranching families go back four generations, and it's not uncommon to see folks in cowboy boots and cowboy hats.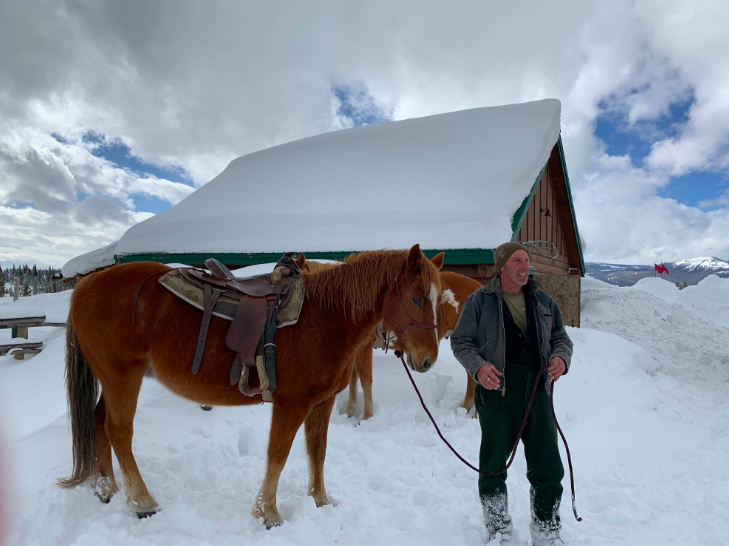 Skiing takes top billing in the winter, though, and kids here grow up on skis. This tiny town has produced 98 Olympians and counting. Steamboat is famous for its "champagne powder." In fact, fresh snow is so revered that most companies have a "powder clause" in their employment agreements. Loosely, it means if there are more than six inches of fresh snow on a given day, you have permission to take a few hours off to ski. That's why some shops close when there is fresh snow.

Fresh powder covers the slopes when we ski at Steamboat Resort that next day. Steamboat has trails for all ability levels, and since we rarely have to wait in line, we ski many of them. Falling snow covers our tracks, and it's a perfect day to be on the mountain.
Home Base With Moving Mountains
While Steamboat Springs has many inns and hotels, we choose to stay at a vacation home called Sun Ridge Lodge. Part of the Moving Mountains portfolio of vacation homes, Sun Ridge Lodge can hold up to 14 people. The kitchen in this five-bedroom, five-bath home is so large that it should have its own cooking show. With a hot tub, heated outdoor patio, pool room, and even an elevator, we hardly want to leave the house.
One night, we opt for a private dinner prepared at the home by Chef Juan, a chef at Moving Mountains. While we relax by the fire, Chef Juan and his assistant Ani serve us scallop ceviche with coconut cream and Asian shrimp rolls, followed by tender mojo roasted pork with fried plantains, and parsnip and sweet potato puree. After a rewarding evening like that, I understand why this add-on service is so popular.
Catered Ski Chalet

The private chef's dinner is a taste of the company's Catered Chalet service. Moving Mountains is a pioneer in European-style catered ski chalets in the U.S. During this full-service experience, a chef cooks breakfast and dinner for your group in the home, catering to your needs and requests. Moving Mountains shuttles guests everywhere they need to go and organizes lift tickets, ski rentals (delivered to the home), dinner reservations, and activities. You don't have to worry about a thing, because Moving Mountains takes care of your whole vacation experience.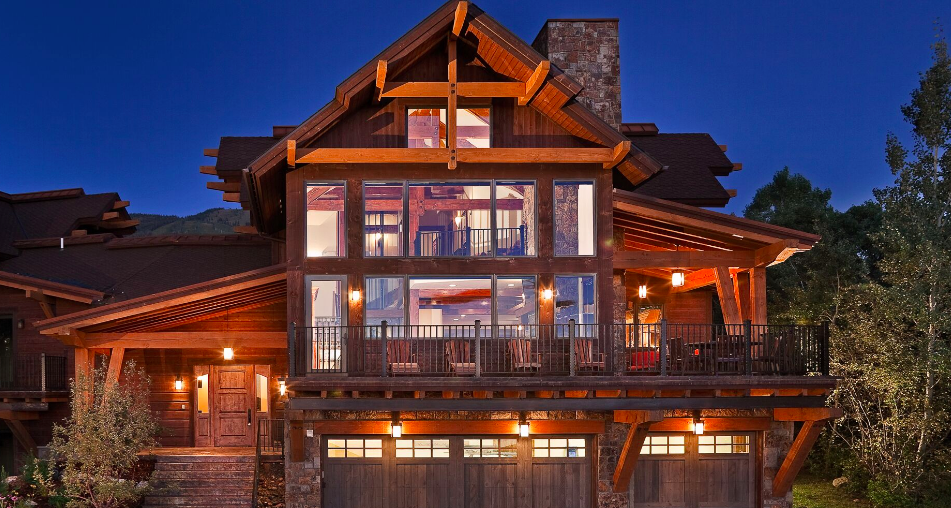 Robin Craigen and his wife, Heather, came up with the concept while they were working on a luxury yacht in the British Virgin Islands. Experienced in providing luxury service, they were looking for a way to do that while settling down to have a family. Then they had guests on board from Steamboat Springs.
"They were a walking commercial for Steamboat," laughs Robin. "They said no one had tried a European ski chalet concept in Colorado, and they encouraged us to consider Steamboat."
Three years later, the couple moved to Steamboat Springs and started Moving Mountains from their home. Today, the company manages 85 luxury vacation properties in Steamboat Springs and has just opened an office in Vail.
As for us, we've felt quite at home at Sun Ridge Lodge. The large living spaces are perfect for family time, and we end each day with a soak in the hot tub, a welcome experience after a day of skiing.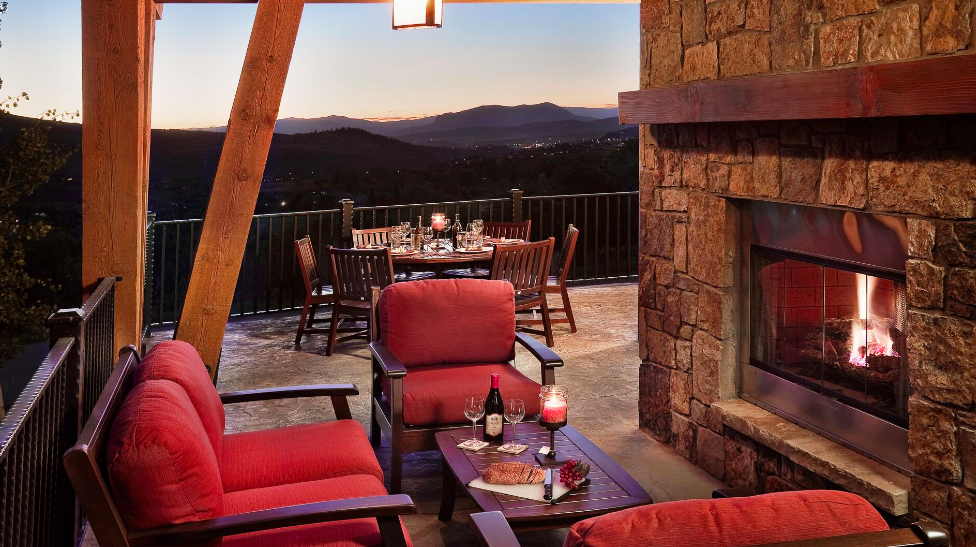 Hot Springs

There's something to be said for soaking in hot water on cold nights, so one evening we head up to Strawberry Park Hot Springs. Steamboat Springs is famous for its geothermal hot springs, and there are many in town. In fact, the city was named after Steamboat Spring, a spring located near the old train depot. Early settlers thought its bubbling gurgles sounded like a steamboat.
In summer, locals often soak in the natural hot spring pools along the river. The Old Town Hot Springs, which has multiple pools and slides, is also popular year-round.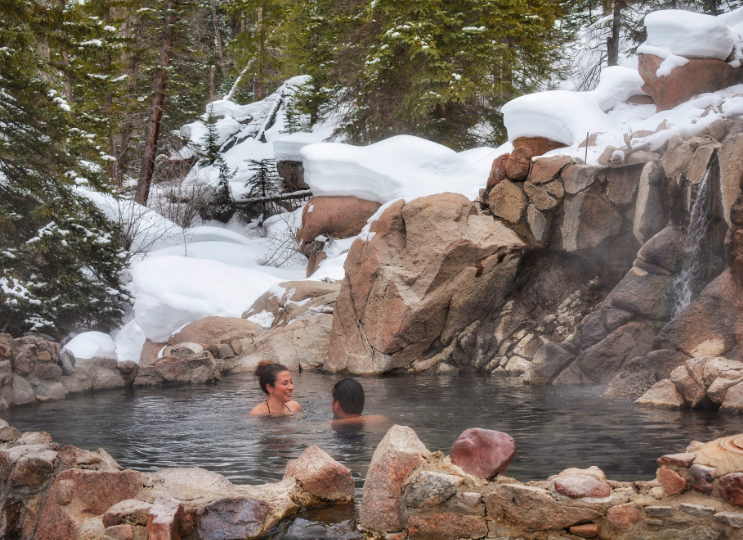 Just outside of town is Strawberry Park Hot Springs, which has multiple hot springs in natural rock formations. I like going from pool to pool, trying out the different temperatures. Those who get too hot jump into the nearby icy river for a hot-cold Nordic experience. The hot springs are popular with locals and visitors. One thing to note—after dark, Strawberry Park Hot Springs is known as "clothing optional". Don't worry, you won't see much, as lighting is minimal.
From hot springs to horseback riding and skiing powder-covered peaks, spending time together is easy in Steamboat Springs. For me, that means a successful family vacation.
The author was a guest of Steamboat Springs Chamber and Moving Mountains.
Janna Graber has covered travel in more than 45 countries. She is the editor of three travel anthologies, including "A Pink Suitcase: 22 Tales of Women's Travel," and is the managing editor of Go World Travel Magazine.