NEW YORK—"It's a really good time to be a string quartet fan," said cellist Andrew Yee. "It's just amazing to hear what keeps on coming out of the quartet realm."
There is a string quartet for every taste today and a never-ending fountain of interpretations of the wide-ranging repertoire. Established quartets of decades continue to evolve, and enterprising young quartets cut their own paths every season. 
The form, genre, and ensemble of the string quartet continues to be enigmatic, and each quartet has its own unique personality as an ensemble. 
Yee is a founding member of the Attacca Quartet, an ensemble that is fun and sincere in their love for music making. 
Formed at Juilliard in 2003, the quartet is considered young, though they are frequently noted for their mature sound. Like the most interesting quartets, the members are all fiercely individual, but come together to present one coherent point of view. Amy Schroeder plays first violin, Keiko Tokunaga is on second violin, and violist Nathan Schram joined the quartet about a year and a half ago. 
Not very long after the quartet was established, the members tackled the complete works of Haydn, which is about as classical as the repertoire can get. The quartet members (and the reviews) credit it in helping establish their footing as a project-based quartet, gain musical maturity, and speak the language of string quartets—the interplay of the four voices and their combined tonal characteristics—that much more fluently. 
From the beginning, the quartet has also played works by living composers, works that they approach with as much seriousness and search for meaning as any of the classics. This season and beyond, they are endeavoring to play the complete works of living composers they are genuinely passionate about, like John Adams and Caroline Shaw, as well as Beethoven, and any other music they may discover and find they love.
"Today's music is just as exciting as the masters' of the past, and if we can help find those masters of the future that are in some way descendants of Haydn, that's even better," Schram said.
Though the group was named on a whim (before a musical competition, Yee and Schroeder went through the dictionary to see which words sounded good in front of "quartet"), "attacca" is apt. The term denotes moving quickly from one musical passage to the next, and this quartet does just that.
"There's something nice about always having something new, burning a hole in our binders all the time," Yee said.
Meet the Members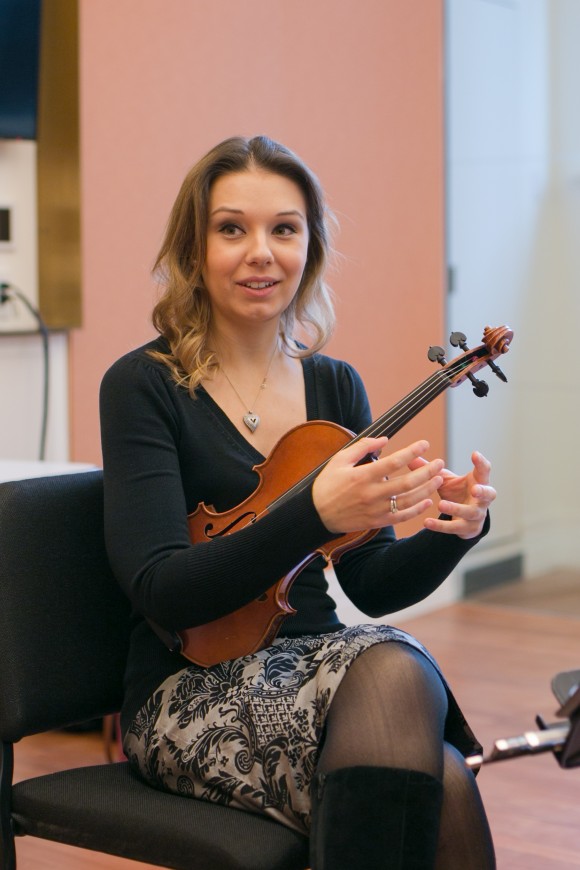 First violinist Amy Schroeder said that in many ways, she was groomed to be a pianist. Her mother is a piano teacher, and as a young child, Schroeder would sit on her mother's lap, with her hands on her mother's hands, enjoying piano music.
But for whatever reason, it was always the violin concertos on the radio that moved her most. "I just fell in love with the sound," she said. She remembers standing out in the yard, playing the open strings with the bow in her fist soon after her parents finally bought her a violin. 
Schroeder said she is able to be herself in a string quartet more than any other type of arrangement. "I also really enjoy that my colleagues have different backgrounds than I do and different playing styles and … it always inspires me to be a better player and come up with new ideas, to think about my part in a different way."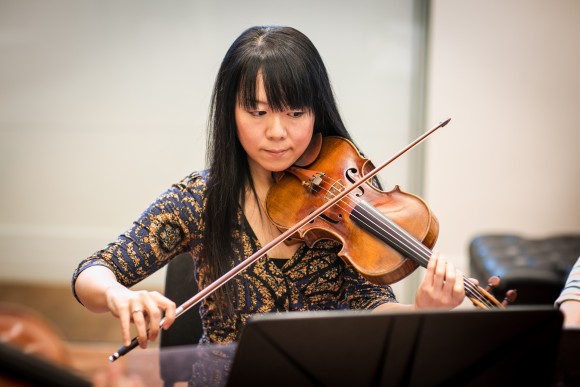 Second violinist Keiko Tokunaga said that in kindergarten, all of her friends either played piano or danced ballet, so she was resolute that she would do neither of those things. She wanted to be different.
"I saw on television one day, they were showing a student recital, and this girl came out and played beautifully in a really cute dress. And I was dying to be on TV at that point in my life, so I told my mother that was the way I was going to be on TV. That was what I wanted to do—Suzuki violin," Tokunaga said. Her mother thought, "Why not?" And the violin became her mode of expression.
"It was just like an instant connection for me," Tokunaga said.
She was drawn to quartet playing because she wanted her voice to be heard.
"We can have this very colorful sound, this very orchestra-like sound together, or we can be really thin, and we all have a say in it," she said. "We create this together."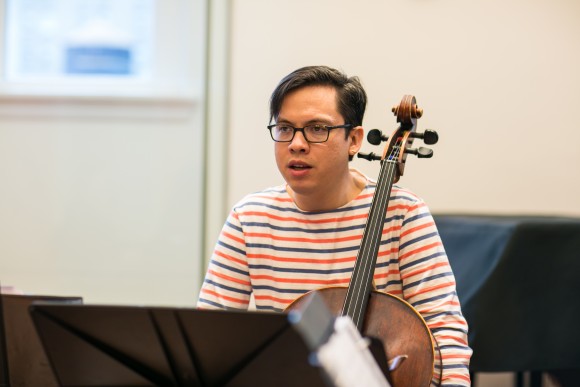 Cellist Andrew Yee says he was a very hyperactive child who could never concentrate until he sat down in front of a cello.
"Suddenly, I was able to focus and have a sense of control that I never felt in any other area of my childhood," he said. 
He and Schroeder played a duet together on their first day at Juilliard, then formed and played in a piano trio until their pianist left a year later. They then formed a quartet because it was required and just never put it down.
"It's just the language we speak, there's something very particular about the string quartet medium," Yee said. "When I hear other pieces written for different ensembles, oftentimes my brain goes through a translating process of what that would sound like in a quartet."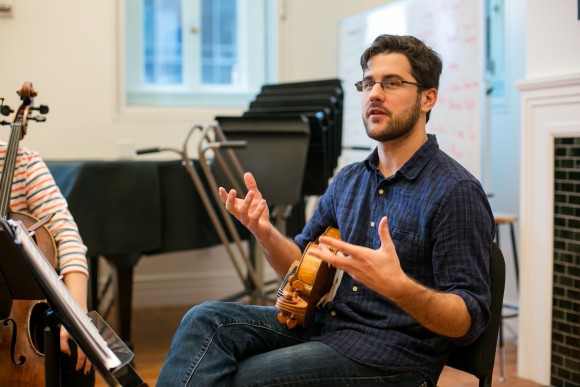 Violist Nathan Schram joined the Attacca Quartet about a year and half ago, after an informal audition process. After they'd played together, he thought it was too good of a group dynamic to pass up.
While blending in with everyone in an orchestra is a very noble thing to do, "it just never fit with my kind of personality," Schram said. 
"[As a kid,] I moved a lot, which meant every city I would go to try to find a youth orchestra or something as an entry point to a new community, because it's tough as a kid to move and kind of reset all your friends," he said. "Music became this binding agent from city to city."
The String Quartet: A Musical Legacy 
Many consider string quartets to be a true test of a composer's skill and the repertoire to be some of the best music ever written. According to some accounts, the composer called the Father of the String Quartet developed this form by accident.
At age 18, Franz Joseph Haydn (1732–1809) was called upon to compose some chamber music, and it just happened that two violins, a viola, and a cello would be available for the performance. 
There is documentation of music composed for that specific ensemble prior to Haydn's attempts, by composers Gregorio Allegri (1582–1652) and Alessandro Scarlatti (1660–1725), for example. But the form did not really catch on until after Haydn. 
After Haydn's first handful of string quartets, he did not return to them until the late 1760s, after which he developed the architecture of a string quartet and established its form.
German writer Johann Wolfgang von Goethe famously described listening to a string quartet as like eavesdropping on a group of intelligent people conversing, which is very much how it was established in the late 18th century.
After all, Haydn is a composer we know for his wit, musical humor, and play on convention and form. And with chamber music being played mostly in private settings, the audiences were learned listeners who could follow these conventions and surprises.
Just as they would from a conversation, listeners expected from a string quartet four unique voices and an interesting exchange of ideas. Just imagine Haydn, Mozart, the Austrian composer and violinist Dittersdorf, and the Czech composer Vanhal on the cello playing a string quartet at a dinner party—which they frequently did.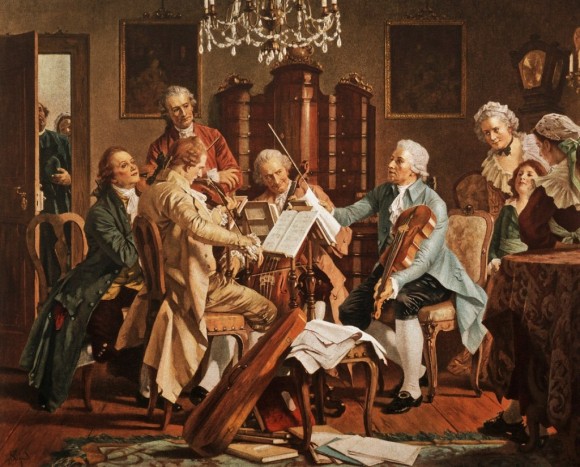 Decades later, Beethoven wrote what many consider the heart of the string quartet body of work, bringing his brand of dynamism to the genre. Each great composer followed, with a brief lull in the 19th century, when most composers wrote only one string quartet, perhaps just to show they could. 
"Not that there was ever a dull moment in string quartet writing," Schram said. Just like all string quartets are descended from Haydn, "I can't imagine ever playing work by a composer of string quartets that wouldn't be somehow inspired, wouldn't have been deeply influenced by, Beethoven string quartets."
"There are moments in Beethoven's music where I feel deeply in touch with something beyond humanity—or perhaps it is humanity. It is very difficult to explain, just like spirituality is," he said. "So I always find it gratifying to bring that to the audience, to show this very universal thing that not only crosses cultures and genres across great bounds, [but also] great spaces of times."
Beethoven and Beyond
Reverence for Beethoven is one reason Attacca Quartet created their series "Based on Beethoven," which programs works by living composers between two Beethoven quartets. 
"Beethoven quartets are so dense, and they're so packed with feelings and meaning," that it's nice to have something a bit different, and maybe just as amazing, in between, said Yee. It is a way to dig into the rich history of the string quartet genre while showing the vividness of what living composers are doing with it today. 
Schroeder noted the ethereal, god-like state found in movements of Beethoven's music, before he "brings you back into reality and humanity in the best ways possible." In a way, he is one of the most human of composers, she said.
Yee says Beethoven and living composers often have opposite problems.
"For Beethoven, I think a lot of times what people get wrong about him is that we've sort of put him on a pedestal as a god, and we forget that he's a human being," Yee said. "With living composers, it's so easy for us to see them as human and sometimes hard for us to treat their music as something that's more than human, something that's unspeakably beautiful." 
It's also too easy as a player to approach a piece of new music mechanically, not digging in to find meaning beyond the dots and lines on a page. That's why they like playing Beethoven alongside new works, Yee said. "It really forces us to cross-pollinate in that way."
Programming is the result of a lot of discussion between all the members, and the group has always gone after projects even when there weren't concerts lined up, Schroeder said. They all love the quartet repertoire and want to play it, sometimes differently than they might be asked to. They try to avoid learning pieces out of duty, or performing certain composers just because they're considered popular or powerful, Yee added. 
"We choose pieces that we're, number one, passionate about. That's a must," Tokunaga said. 
"We want to play composers that we wholeheartedly believe in, their message of the music, and feel that they affect us in a way that we can bring something to it, and hopefully bring something to the audience," Schroeder said. 
One of the composers Attacca Quartet is pairing with Beethoven is Michael Ippolito, who has written orchestral, vocal, and chamber music.
The first time he wrote a piece for the string quartet, it was an assignment at Juilliard, and he was terrified, Ippolito said. "It was hard, very, very hard, it was daunting—to have these giants on your back as you try to work."
With more than four instruments, a piece can be complicated in other ways, but you can make some shape or texture that works really well. Not so with the string quartet, he said. "With quartet music, there's nothing to hide behind. Any filler or not treating a part as seriously as the rest gives you a result that is less than three dimensional."
Collaborating with Attacca Quartet was actually a pivotal learning experience in understanding the language of string quartets, Ippolito said, because the form definitely has its own idiosyncrasies. It is like live theater, in that a play isn't a play until great actors interact with each other and the audience.
The quartet took and "rehabilitated" one of his pieces, Ippolito said, recalling a rehearsal of hashing out the nitty gritty technical details. He saw the difference a musician's personality makes with a piece of music.
Since then, he has always felt in safe hands while working with the group. "They are unafraid to try things out and discover aspects of the music that I, as the composer, may not have been aware of. I see that as an act of real generosity, a willingness to share and be open and contribute their creativity."
New Music
Approached with fresh eyes and ears, new music can be really fun.
"You have all of your senses heightened; you're trying to take it all in. It's a really gratifying experience, because there are so many different stages to it," Schram said.
First, there's getting to know your own part. "It's like meeting a new person," Tokunaga said. "We can just look at the music and play the music, figure out what the music is telling us, just letting the music speak on its own, instead of going there from a brains-first [approach]."
You have your first impressions as you begin to play a piece, and then you try to put together the big picture. And then as you practice, you discover subtleties, personality ticks, or hints the composers drop here and there.
"If you give it three, four, maybe 10 listens, then you find those little details, the kind that you share with a friend, [saying], 'Hey man, check out this part at 32 seconds in, there's this amazing thing the cello does,'" Schram said. "And that kind of thing you look for more and more throughout the process. It's all pretty fun."
Yee said in playing the entire cycle of works by one composer, which they are currently doing in their "Recently Added" concert series, it's like meeting "a friend at four different periods in their lives: You see the change."
For Schroeder, the works of living composers add to the relevance of classical music as a whole.
"We're living now and people are writing music now, and playing the music of today sometimes feels the most natural to us, because we're living in this world and this music was written in this world," Schroeder said. If anyone doubts classical music is thriving, point them to the Attacca Quartet.
Hear Them At
'Based on Beethoven' #2 
Friday, Jan. 20, at 7:30 p.m.
Holy Trinity Lutheran Church, 3 W. 65th St., New York
Beethoven's string quartets No. 9 & 10, along with Michael Ippolito's "Big Sky, Low Horizon."
Sunday, Feb. 19, at 7 p.m.
National Sawdust, 80 N. Sixth St., Brooklyn
The Attacca Quartet plays the (almost) completed string quartet music of Michael Ippolito.
February will mark Attacca Quartet's release of a new album, "Songlines," of Ippolito's string quartet works.
'Recently Added' Concert #3
Sunday, April 2, at 3 p.m.
National Sawdust, 80 N. Sixth St., Brooklyn
Concert No.3 features the music of John Adams, which Attacca Quartet previously recorded on an album called "Fellow Traveler."
'Based on Beethoven' #3
Friday, May 12, at 7:30 p.m.
Holy Trinity Lutheran Church, 3 W. 65th St., New York
Beethoven's string quartets No. 2 and 15, along with John Adams's String Quartet No. 2.