Each dish is a masterpiece in miniature.
Slices of sashimi gleam in a lacquered tray. Salmon temari-zushi and snowy-skinned dried persimmon nestle in a brilliant jade green dish. A leaf-wrapped parcel of mushrooms and meat, folded with the precision of origami, rests behind a garden of gingko-shaped sweet potato, red wine-stained bayberry, and cloud-like cauliflower crowned with a single ringlet of chili.
They're a feast for the eyes and stomach alike, with presentation and flavor both impeccably balanced.
This is the art of kaiseki.
The traditional Japanese cuisine, a seasonally-driven, multi-course style of dining analogous to Western haute cuisine, is served here at Suzuki, in Manhattan's Theater District.
Opened in April of last year, Suzuki is the reincarnation of sushi legend Toshio Suzuki's Sushi Zen, a pioneer in serving raw fish in New York City that first opened its doors in 1983. Toshio's son, Yuta, has assumed the managerial reins for Suzuki; Toshio, meanwhile, focuses on what he does best behind the counter of the restaurant's Michelin-starred, eight-seat omakase sushi bar, Satsuki.
In the main dining room, the artist behind the kaiseki menu is chef Takashi Yamamoto. Trained in kaiseki establishments in Tokyo, Yamamoto previously served as executive chef for the Consulate General of Japan in New York, before becoming a chef at Sushi Zen. Now, helming the kitchen at Suzuki, his culinary mastery is on full display.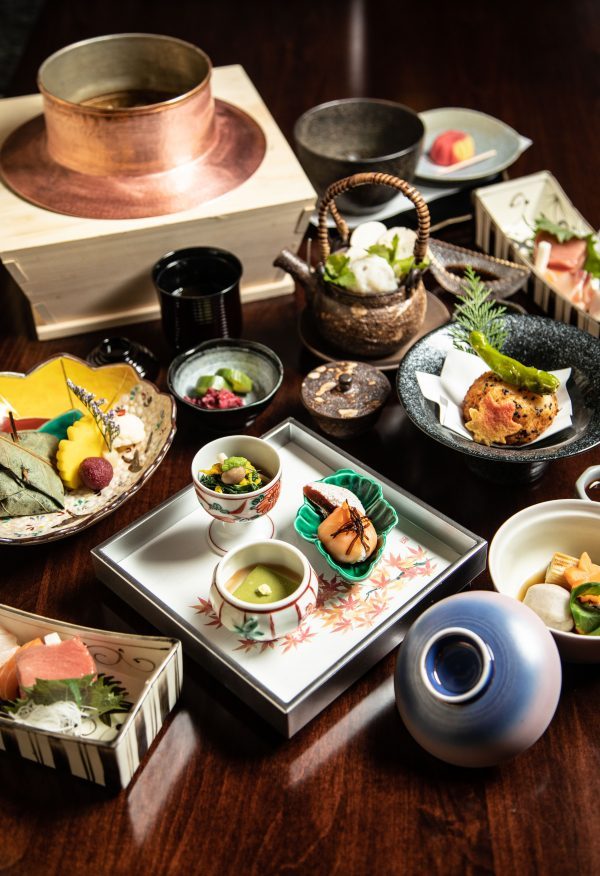 Humble Origins
Kaiseki today is an elaborate, fine dining affair. Its origins, though, may be surprising: it can be traced back more than a thousand years to the simple, vegetarian fare of Buddhist monks, known as shojin-ryori. In fact, the original kanji characters for kaiseki translate to "bosom-pocket stone," referencing the monks' practice of putting warm stones in their robes, near their stomachs, to suppress their hunger.
The cuisine evolved over the generations, picking up influences from different eras. It first took on the form of simple meals served before a tea ceremony, and then branched off into more elaborate, celebratory feasts to be paired with sake, enjoyed by the imperial court during the Edo period at the end of the 18th century.
Both styles still exist; Suzuki serves the latter, rooted in the post-modern Meiji era, when Japan began importing goods like beef, pork, and chicken from the Western world.
Capturing the Season
Above all, kaiseki is an expression of the season. Menus center around seasonal vegetables and fish (Suzuki shares sushi-grade cuts sourced from Japan's Tsukiji Fish Market with the omakase bar), and even the serving plates and garnishes are carefully chosen to match.
Yamamoto changes his menu once a month, tracing the course of the year's micro-seasons "little bit by little bit," he says. In the spring, delicate cherry blossoms abound; winter, on the other hand, calls for soul-warming hot pot-style offerings.
At a tasting in mid-October, the dishes sing of autumn.
Borne on polished trays and plates, some decorated as maple and gingko leaves, comes a parade of seasonal treasures: dried persimmon, earthy-sweet chestnut, and sweet potato. A cracker shaped like a maple leaf adorns a baked crab croquette; a real leaf accompanies the sweet bean paste wagashi served with matcha for dessert.
Matsutake mushroom, harvested between September and October, weaves a fragrant thread through the menu. It infuses a delicate broth in the wanmori (soup) course, steamed with fall-apart tender pike eel dumplings in a traditional dobin teapot, and later perfumes the simple shokuji (rice dish), with a flavor that starts off subtle but grows stronger with every bite.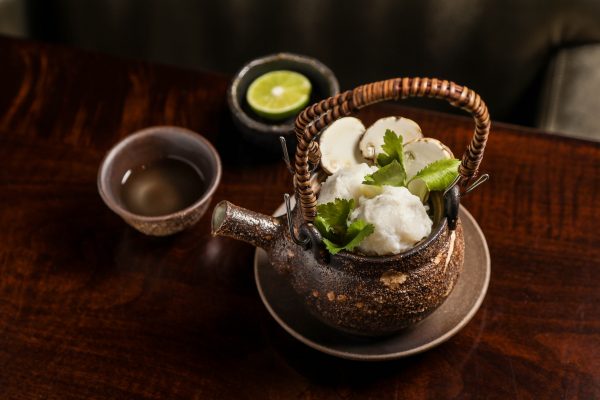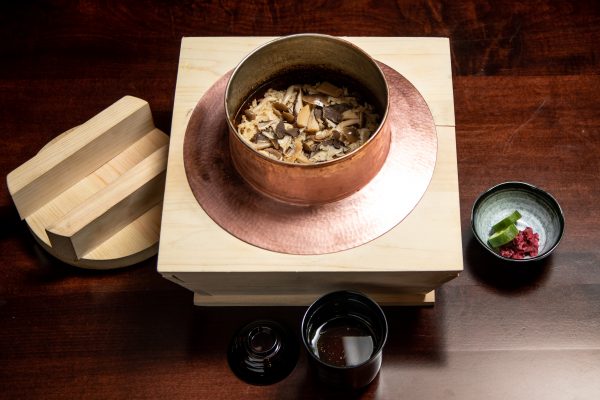 In Perfect Balance
A kaiseki meal is composed of a series of small plates, each built from smaller components. Unlike the fine dining of many other cuisines, in which garnishes and accompaniments usually play secondary support to a main item at the center of the plate, kaiseki courses are made of "many little parts" that mutually complement and harmonize with each other, Yamamoto explains.
Aesthetics are crucial—after all, you eat with your eyes first, he says.
For Yamamoto, an empty plate is "like white paper," on which his task is to "draw a picture." When he designs a menu, he'll start by constructing 80 percent of it. He'll test out sample dishes and decorations, and then adjust as needed—adding more red items, for example, or dialing back the green—until they strike the perfect balance.
The same requirements hold for the taste. A sweet component might be balanced by a bitter one; heavy flavors offset by light and bright.
That harmony is well demonstrated by a zensai, or appetizer course, of spinach, sesame tofu, and smoked salmon temari-zushi. The spinach, showered with chrysanthemum petals in an extraordinarily clean, vinegar-kissed bonito broth, is the counterpoint to the strong and briny temari-zushi. Meanwhile, the creamy tofu, at once delicate and rich, meets them somewhere in the middle.
The yakimono, or grilled course, is another highlight. On one side of the plate sits an umami bomb: a miso-smothered medley of buttery-rich A5 wagyu, abalone, and mushrooms smoked in a fragrant hoba leaf. On the other awaits a dainty selection of treats like bright, pickled cauliflower and a juicy-crisp bayberry dipped in sweetened red wine, primed to cleanse the palate.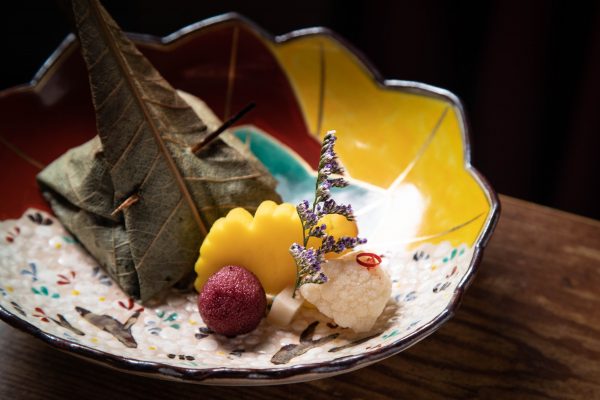 'Skill and Imagination'
Kaiseki follows certain guidelines—seasonality and harmony, and a typical sequence of courses that serves as its backbone—but there are no strict rules.
"If 10 kaiseki chefs were to be given a season, there would be 10 different interpretations," Yamamoto says. "It's not confined to a certain style or technique … there's no definitive answer."
Instead, much of it is left up to the individual chef's "skill and imagination," Yamamoto adds. That's what draws him to the cuisine: the freedom, and the challenge in wielding it well. To master it requires years of training and experience.
"To be a kaiseki chef, you need to learn all the [culinary] arts within Japanese culture," Yuta emphasizes. Sushi and sashimi are but two of many; Yamamoto's repertoire spans grilling to handmaking exquisite confections.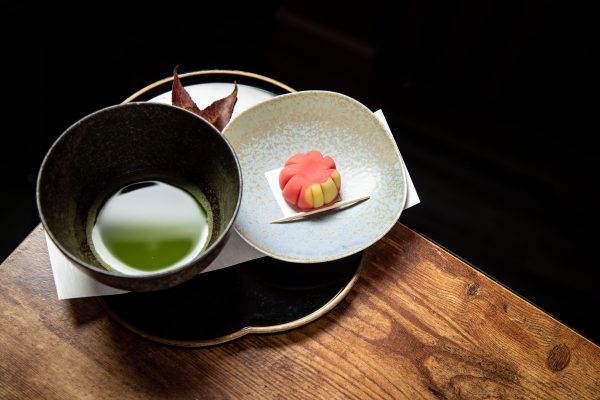 That breadth also gives kaiseki broader appeal, Yuta believes, and people are catching on. In the international culinary scene right now, he sees kaiseki "in the blooming stage," gaining interest and influence among chefs and diners alike—following in the footsteps of sushi.
Yamamoto agrees: "Now, all the people know omakase; the next stage is kaiseki." He wants to spread the gospel of true, traditional Japanese kaiseki cuisine throughout the United States and the rest of the world, for generations to come.
At Suzuki, he's pushing ahead with his mission—one plate, one brush stroke at a time.
For lunch, Suzuki offers a five-course kaiseki menu for $50. Dinner kaiseki ranges from a five-course menu for $50 to the nine-course chef's menu for $150; the vegetarian shojin menu is $80. Select sushi items from Satsuki's omakase menu are also available. SuzukiNYC.com