It can be difficult to find authentic Mexican cuisine in the United States, but it does exist if you know where to look. One young entrepreneur has set up shop in New York City and is cranking out some hot tamales.
Israel Veliz, 29, arrives at City Tamale in Hunts Point, the Bronx, at 4 a.m. He begins his work in the kitchen, prepping and cooking tamales based on his mother's recipe. When the doors open at 5:30 a.m., the hardworking community of Hunts Point comes to fuel up for the long work day. 
It was a long journey that led Veliz to his own restaurant. He was born in the Bronx, but moved to Mexico with his parents when he was 5 years old. He lived there for 10 years.
"When I came back to New York, I didn't speak any English. I was just like any other immigrant in New York City trying to make it," Veliz said. He began working in the restaurant industry and tried to make a life for himself on his own, before his mother came to live with him in 2014.
A Young Entrepreneur
Veliz started working in restaurants while still in school. At age 15, he started off as a dishwasher and delivery man; he soon worked his way up to busboy, and eventually earned a position as a waiter.
When he lived in Mexico, Veliz would eat a tamale and drink arroz con leche, a Mexican rice pudding, every morning on his way to school. In New York, he struggled to find a tamale vendor who he trusted. That's when he discovered the opportunity to start making them on his own.
When Veliz was 24, he enrolled in the business school at Baruch College and began developing the business concept for his own restaurant.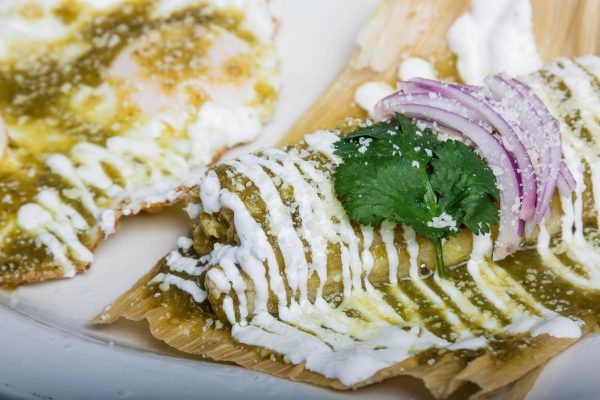 A Close Consultant
Veliz began making tamales based on his mother's recipes. She had made them for him while he was growing up in Mexico, but it wasn't until she began living with him that she taught him the recipe.
One of the most important techniques is whipping the masa dough, he said, getting it just aerated enough to create a tender, fluffy consistency.
Another secret is in the sauces. His mother's traditional red salsa is made with Guajillo chiles, Costeño chiles, cinnamon, garlic, and cloves, which combine to create a unique flavor.
"I didn't live with my mother for 10, 11 years, so it helped to reconnect with my mother," Veliz said. "Through tamales, we were able to reconnect and to form some bonds between mother and son."
Veliz started selling his tamales out of his apartment and at small catering events. He would also go to soccer games at the park where the local Hispanic community would gather, and sell his tamales there.
Veliz received feedback from his friends and improved his recipes accordingly. He then began to look for a space to open his own restaurant, which wasn't without its challenges. He lacked the capital needed, and was still in school at the time.
"I took a leap of faith, I guess," he said. "I knew that if I wanted to build something that was worth it, I should be willing to go through hardships."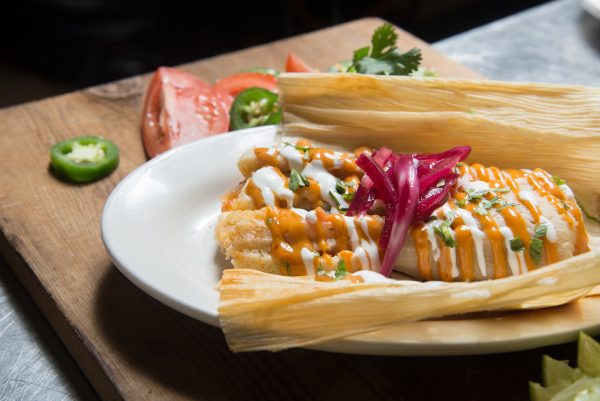 Learning on the Job
When Veliz initially started his business, he didn't know anything about management. Over the years, he began to learn how to be a leader and business owner, consulting the Small Business Administration and former employers for help. In January 2016, he finally opened his own brick and mortar. 
While he based his tamales on his mother's recipe, he also developed others that would be more accessible to the American palate. Take his breakfast tamale: As opposed to the traditional option, typically a plain masa dough around a scarce meat filling, Veliz's is a shredded chicken tamale served with salsa verde, eggs, and bacon. As soon as the egg yolk bursts, it soaks the tamale and bacon on the plate.
The more traditional tamales on the menu include the salsa verde con pollo and rajas con queso. The salsa verde con pollo tamale is filled with chicken and roasted tomatillo salsa. While simple, the chicken is tender and the salsa verde adds just a hint of heat.
The rajas con queso tamale features jalapeños, onions, tomatoes, cheese, and epazote, an herb used in southern Mexico. The jalapeños are not overly spicy, and the onions and tomatoes are fresh, with the cheese bringing the ensemble of ingredients together. Most impressive is the masa itself: firm yet tender, without being too dry or too moist.
Tamales cost $2.25 for one, or $6 for three. Customers also can purchase two tamales with rice and beans for $6.50. While the restaurant is focused on tamales, the menu also includes salads, ceviche, burritos, enchiladas, and other Mexican fare.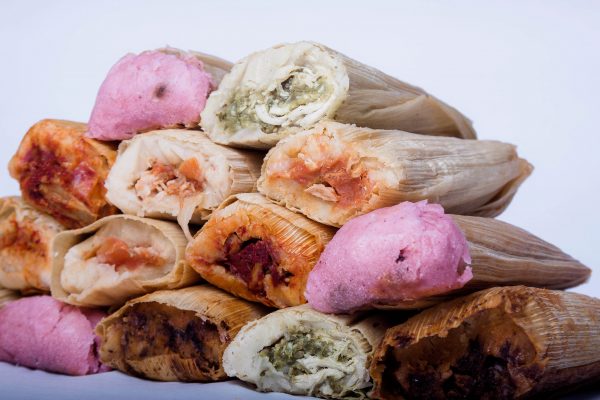 Community
Veliz sources all of his ingredients from the Hunts Point market in the Bronx, ensuring he gets the freshest products available every day. The market is one of New York's main food distributors.
Hunts Point is an industrial, working class community, and Veliz's business is dependent on loyal patrons who work in the area. He has customers who come to City Tamale five days a week for breakfast and lunch, and his restaurant fosters a sense of community. He also keeps prices low.
"The purpose of tamales was to feed the hungry, to feed the hardworking people that are going to work early in the morning," he explained. "If we raise the prices to a point where that purpose isn't the purpose anymore, then I guess tamales are no longer tamales. It just changes everything."