Asia Week 2013 Concludes With Notable Sales
March 26, 2013 4:17 pm Last Updated: April 3, 2013 7:19 am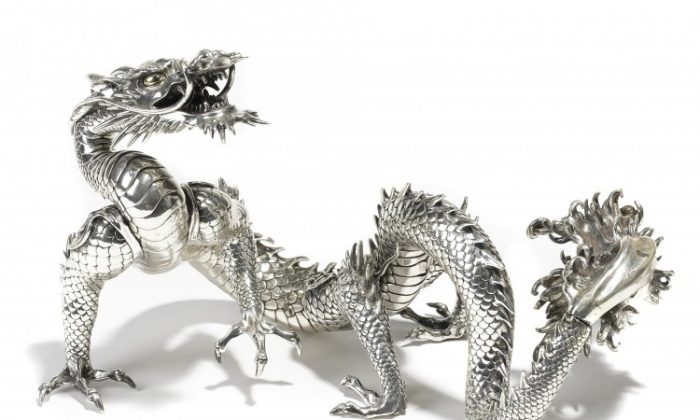 NEW YORK—For New York's semiannual citywide Asian art event, collectors, gallerists, museums, and auction houses brought out their best works of Asian art. For many dealers and private collectors, this meant swarming to sales with a magnifying glass in one hand and a wad of cash in the other. 
Christie's, Sotheby's, Bonhams, and Doyle all ran successful auctions between March 18 and 22, doing particularly well with dynastic Chinese objects. All sale prices listed include buyer's premium.
Christie's 
The Lizzadro Collection. Jades garnered a lot of attention this year, and the highest-grossing lot at this auction of Chinese jade carvings and works of art attests to that. 
A white jade openwork plaque with finely carved dragons and blessings for future generations fetched $387,750, far above the estimate of $80,000–$120,000. This piece bears the Qianlong mark. Similar examples have been sold at auction in recent years, and one resides in a Beijing museum.
Fine Chinese Ceramics and Works of Art. A huge huanghuali-wood plank-top pedestal table overtook the ceramics and statues to take the top sale at this auction. Measuring over 14 feet long, this table is carved simply and elegantly in a rare and prized wood. The piece, which was recently exhibited at the Denver Art Museum, sold for $9,083,750.
Next was a visually striking yellow-and-blue underglaze Qing porcelain, bearing a Qianlong mark and selling for $3,819,750. At just over 7 inches high, the ceramic has an uncommon pear shape. Who says potbellies aren't attractive? 
It is worth noting that the next two highest-achieving items were earlier Chinese works—a pair of bronze Bodhisattva figures from the Ming Dynasty (1368–1644) and a bronze vessel from the Shang Dynasty (1600–1046 B.C.).
Fine Chinese Snuff Bottles. Of 117 lots, one snuff bottle from the large Hildegard Schonfeld collection stood out: a carved green-and-pink tourmaline. The precious gem is rarely used in snuff bottles, and the craftsmanship and ingenious use of the stone's natural colorings raised its value to $171,750.
Japanese and Korean Art. A rare 22-inch-high white porcelain jar produced in Korea's Joseon Dynasty (18th century) realized $1,203,750. 
Masterpieces of Early Tibetan Painting. This sale consisted entirely of works from the collection of Heidi and Helmut Neumann. A painting of Buddha with illustrated stories from his many lives sold for $1,263,750.
Sotheby's 
Fine Chinese Ceramics and Artwork. An unassuming 1,000-year-old Chinese "ding" bowl from the Northern Song Dynasty stole the show this year, fetching an unbelievable figure of $2.22 million. At only 5 inches wide, the bowl is all white, featuring finely carved floral designs on the inside and outside. 
The seller bought it at a garage sale in 2007 for $3 and had kept it the living room for several years before getting it appraised, according to the auction house.
Indian and Southeast Asian Art. Thangkas (Tibetan devotional wall hangings) took precedence over bronze figures among the highest sellers in this auction. The big item from this sale was a rare thangka depicting Sachen Kunga Nyingpo, the first of the Five Great Sakya Masters. 
Fine Classical Chinese Paintings. While Christie's focused primarily on objects, Sotheby's held an auction entirely composed of Chinese paintings. The top lot was a long horizontal landscape done in ink on silk by Chen Tang Dai, a 17th century painter. The reason for its $2,741,000 final bid is the five imperial collector seals it bears, indicating that it was owned by Qing emperors Qianlong, Jiaqing, and Xuantong.
Bonhams
 The Indian, Himalayan, and Southeast Asian art sale and the fine Japanese works of art sale both came up shining—in gold and silver to be exact. A gilded dorje from 18th century Tibet was the highlight of the former sale at $92,500, while a silver model of a dragon by the artist Kazumi of the Meiji period was the highlight of the latter, closing at $128,500.
The Epoch Times publishes in 35 countries and in 20 languages. Subscribe to our e-newsletter.