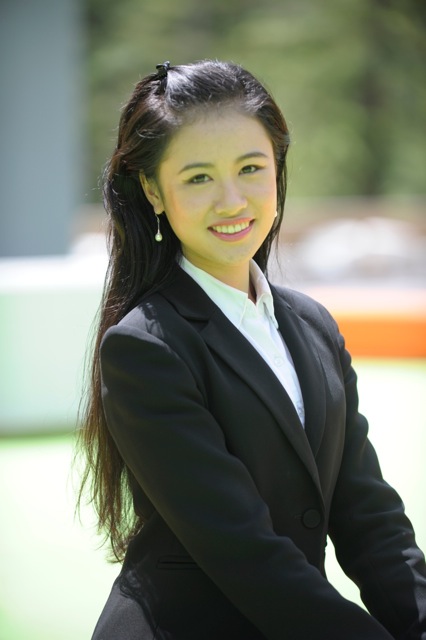 Remarkable is the story of how Ms. Brazeline Chau got selected as one of only two girls from Melbourne, Australia, to train with Fei Tian Academy of the Arts in New York.
She got a chance to see the Chinese New Year Spectacular in Melbourne, and "as soon as I saw the opening scene, I knew that one day I want to be on stage and be part of it. I auditioned with Fei Tian Academy of the Arts in Melbourne, and the response was really quick. They wanted me in New York right away."
Fei Tian helped her renew her love for Chinese culture and its roots. "At a young age, I was always interested in traditional Chinese culture, and learnt Chinese dance. But after coming to Fei Tian, I learnt how Chinese dance was so broad. There is classical Chinese dance as well as ethnic and folk dance. To excel in a field of performing arts requires learning about the culture connected with it also. I learnt traditional Chinese values and morals, and how also how to be a better person."
Not that her love for the art made it any easier. Ms. Chau also had to make a lot of sacrifices to make sure her performance at Fei Tian met the high standards required. "It was challenging because of the tight schedule. The community [in Fei Tian] is understanding and supportive. It prepares us very well for what we need to do," she explains. "The overall requirements here are higher, much higher than in Australia," she says, referring to the depth of the educational and artistic classes that she takes at Fei Tian.
Dance Competition
In 2009, Ms. Chau was one of 15 girls from around the world selected to participate in NTD Television's International Classical Chinese Dance Competition. "I chose a solo dance, and improved over the course of the competition."
The competition was different from other dance competitions, she says. "You do not go to compete, and show how good you are … it is a process of being humble and showing improvement."
"That year, I did an umbrella dance. I chose my own music. As I listened to the music more, I started to get feedback on how to dance with the music. I held that inner feeling of a traditional woman in ancient China, upholding traditional moral values. That whole process helped me get selected for the competition."
Audience Feedback
Ms. Chau has toured Asia-Pacific, Europe, and North America through the practicum arrangement with Shen Yun Performing Arts, helping "bring Chinese culture to the audience," in her words. "Sometimes we can get a glimpse at the audience. You see their wowing, and it pushes you [to do better], give it your all. Sometimes they really applaud after or during a dance, and especially during the curtain call, the audience stands up. It brings me to tears. It is then that I suddenly feel all the hard work is worthwhile."
She has also attended a lot of VIP receptions. "One time, in Denmark, a lady needed a translator; the translator could not translate everything, but she spoke with tears in her eyes and that really touched me."
And that, she is quick to point out, is a result of hard work. "Every fellow dancer who has a technique works hard on it before the show, while we warm up. When we are not performing, we challenge ourselves with new techniques. We then practice ourselves or with other dancers." What is very special about Fei Tian is that there is plenty of goodwill to go around: "When you complete the technique, you are really happy and others are happy for you too."
Discipline and Hard Work
Ms. Chau says classical Chinese dance is completely different from ballet. "Classical Chinese
dance uses natural muscle strength. In ballet you have to use all your muscles, it requires a lot of force. Classical Chinese dance also has many unique and beautiful tumbling moves."
Classical Chinese dance is very expressive, according to Ms. Chau. "With ballet, if you add a different move, it is not ballet. Classical Chinese dance has so many postures and gestures, you express yourself through your eyes and fingertips, and with your breathing. We can depict different characters, in fact, we can depict any character from Chinese history."
Even though she and her friends work hard at Fei Tian and when performing, their lifestyle is completely different from that of other dancers. "We eat normally and, through self-discipline, we develop healthy habits. Even though our schedule is pretty intense, we learn to be efficient with time and we start training early in the day, giving us that extra bit of time which adds up and can carry us a long way."
In addition, Ms. Chau and her fellow dancers are not only self-motivated, but "we motivate each other as well. All our minds have to be set to the same goals. We have lots of rehearsals to get the rhythm right. Our hearts have to be together."
It is not easy. "For classical Chinese dance, you need a lot of determination to keep going. Getting help from everyone is really important."
She gives an example of a time when she almost lost a move: "There is this one tumbling technique, a front walk over. It took me a while to get it. Then there is the cartwheel following from the walk over. After that, I had to make some aerial moves. But, suddenly, my body could not tell the difference between the two, and I could not do the walk over anymore. My fellow dancers came to my assistance and they helped me recall important muscle moves. It is then that I could get my walk over back to normal."
Ms. Chau cherishes her role at Fei Tian and in the practicum performances at Shen Yun. "I am honored to be part of the group. I treasure the opportunity given to me and I will work my best and keep making breakthroughs, going beyond any limits of myself."
The Epoch Times publishes in 35 countries and in 19 languages. Subscribe to our e-newsletter.