Peruvian artist Pablo Roque was a musician by trade, though he had loved drawing and painting since he was a child. But in 2012, Roque suffered an accident that prevented him from making music for a year. He found a silver lining.
"That is how I found my painting—my salvation and my great passion," Roque said. "And I have not stopped painting since then."
Roque spends most of his days in his workshop, not just painting but studying, reading, and researching. He draws inspiration from academic and classical painters, artists he says are "great teachers [who] will always be a source of inspiration and motivation."
"I think my taste for realistic painting comes from my somewhat obsessive nature," Roque said. "I try to be very disciplined in my work … I try to maintain the constant discipline and search for beauty, having as reference the great masters of academic painting."
Since Roque started painting in 2012, his realistic work has been exhibited at least once a year, mainly in his home nation of Peru. Earlier this year, he was a finalist in the International Art Renewal Center Salon competition with his work "Legacy."
His latest work is "Between Generations," an oil on canvas piece that has placed him among the finalists in the 5th International NTD Figure Painting Competition. Finalists' works will be on exhibition in New York City at the Salmagundi Art Club at 47 Fifth Ave. from Nov. 24–30.
Roque was happy to discover the competition, as well as its interesting but strict standards. In addition to requiring a realistic, academic style of the human figure, there was an emphasis on content. The central theme of the contest is pure truth, human kindness, and pure beauty.
"Such a contest demands a greater demand for the high level of participants," he said. "I love the idea of reassessing the taste for good painting, with content and message. I have great expectations with this contest, since it is a great window to show my work and a bit of my essence."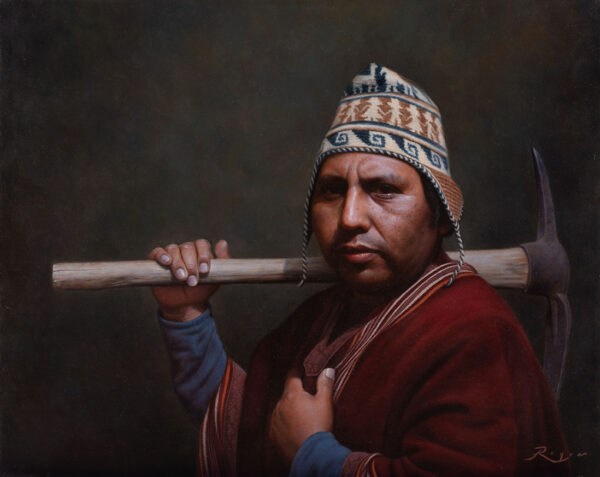 In "Between Generations," Roque depicts an Andean man's traditional values.
"This work portrays the feelings of the Andean man, who revalues his roots and his essence; as the basis of hard work, forging the land, and also its future," Roque said. "The ancient Peruvians developed a close bond with nature, of respect, fear, and adoration. Men and animals depended exclusively on what the land produced and provided."
"Thus, this work pays homage to Mother Earth, the 'Pachamama,' in gratitude for all the benefits we receive from her," Roque said. He wanted to show "Andean customs that persist over time."
"It is my commitment to spread the Andean culture towards future generations," he said.
This piece took Roque several months, as he works with a slow process of glazes. Roque said he begins with a restricted color palette and progressively adds more color with soft glazes as he works.
"Each work is a great challenge. And in this case it was a great experience, from finding the model and composing the scene, representing what I had in mind," he said.
"The strength of the eyes and the look had to be the strong point of the work," Roque said.
He tried to focus on the man's deep gaze and expression, livening it in such a way that the character could connect straight with the viewer.
"In the end I was satisfied with the work," he added.
Roque says his greatest desire as an artist is to grow as an artist, and share a little of the essence of who he is with others through each of his works.
"What comes from the soul, comes to the soul," he said.
The finalist exhibition will be open to the public at the Salmagundi Art Club at 47 Fifth Ave. in Manhattan from Nov. 24–30. Winners of the competition will be awarded on Nov. 26, and auctioning of the works will take place on Nov. 30. For more information, please see oilpainting.ntdtv.com