NEW YORK—The lettering on the awning stands out: "Addeo and Sons Bakery, Quality Baked Goods." The neat cursive letters painted in red remind you of an earlier time.
Once inside, you'll feel like you've traveled back to the 1940s. Vintage models of bread-slicing machines and kitchen scales are still in use by third-generation owner Laurence Addeo and his staff. In display cases and bread racks are loaves upon loaves of Italian bread rolls in a variety of shapes. Look closely at the packages of breadcrumbs and taralli, Italian-style pretzels, and you'll see a distinctive logo for the bakery, with three happy faces and the slogan "Gee! … it's Good." The ceiling, light fixtures, and even the vinyl window blinds look like they belong to the era of black-and-white television.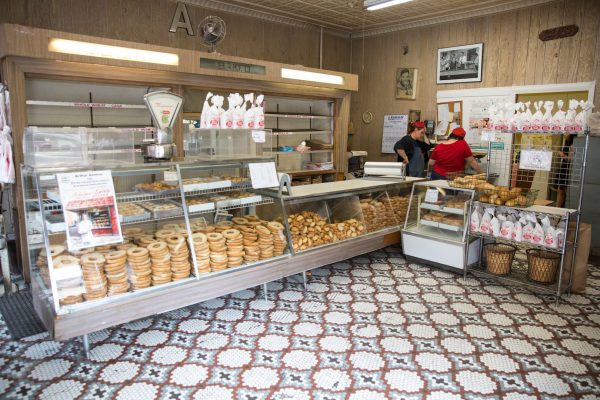 Addeo Bakery hasn't changed much since it opened in 1944. It still serves the same kinds of bread that remain a staple for many families' Sunday suppers. And like in those times of yore—what your grandmother might call the "good old days"—everyone is family in this Little Italy strip of the Bronx, located in the middle of the borough near the Bronx Zoo.
"People come in and tell me how their grandparents brought them here, and they've been coming ever since, and [now] they bring their kids," said Addeo.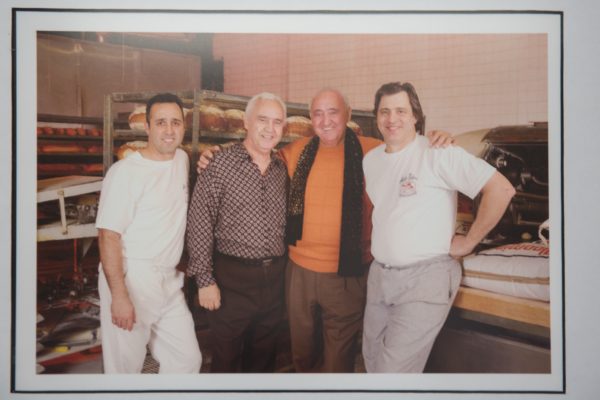 This is a remnant of New York City where neighborhoods still truly feel like home. Like Addeo's Bakery, many of the businesses lining Arthur Avenue have been operated by the same Italian-American families for several generations.
Inside the indoor bazaar Arthur Avenue Retail Market, Dave Greco presides over a deli counter, passing out fresh mozzarella and ricotta for customers to sample. He took over Mike's Deli from his father, who immigrated from Calabria, Italy, in 1947. Greco calls the grandmothers who frequent his shop "extended family." He remembers a Sicilian nonna who lived right across from the market. "She didn't like to wait in line. .. She used to bring rice balls for breakfast with chocolate drops and powdered sugar on them. We didn't make her wait." Later, when she could no longer walk down the steps of her apartment to go shopping, Greco put her groceries in a bag that she pulled up from her window. In turn, she taught Greco how to make arancini and eggplant caponata—"my claim to fame," he said.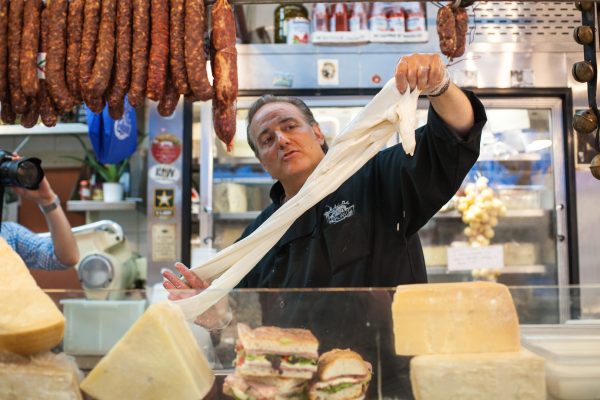 Greco's family recipes have remained unchanged. "If something works, don't change it," he said. With Arthur Avenue, too, its denizens are happy to keep it the way it is. "What we created is what we've saved—to keep this neighborhood going," Greco said.
Visit NYCGo.com to learn more about New York's neighborhoods.
Where to Shop
Arthur Avenue Retail Market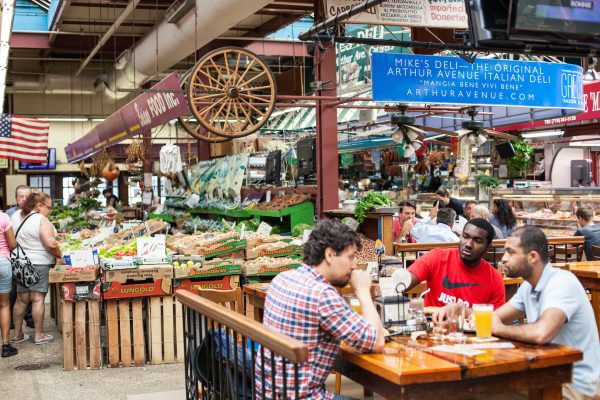 Mayor Fiorello H. LaGuardia opened this indoor market in 1940 as a more sanitary space for the many street cart vendors that plied the streets. Today, the market includes Mike's Deli, a produce market, a butcher shop, a beer hall, and a cigar shop where workers hand-roll the tobacco in front of you.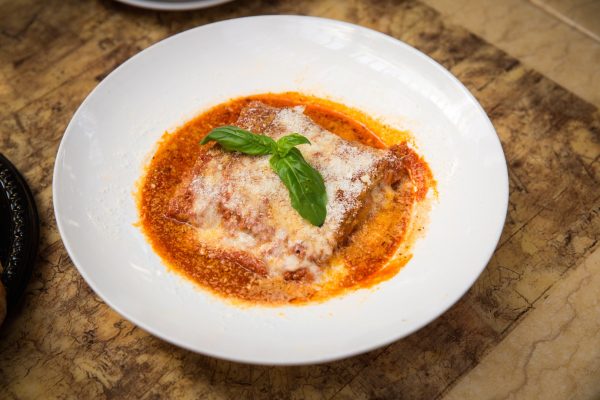 Mike's Deli serves a large menu of pastas, sandwiches, and antipasti, from recipes crafted by both sides of Greco's family, who are Calabrian and Neapolitan (on his mother's side). Greco's eggplant parmesan—which beat Bobby Flay's version on his show "Throwdown"—is a Calabrian take on the traditional recipe, with breadcrumbs added to help absorb excess oil, Greco explained. All that cheese, soft eggplant, and satisfying tomato sauce feel like a warm hug from Grandma. ArthurAvenue.com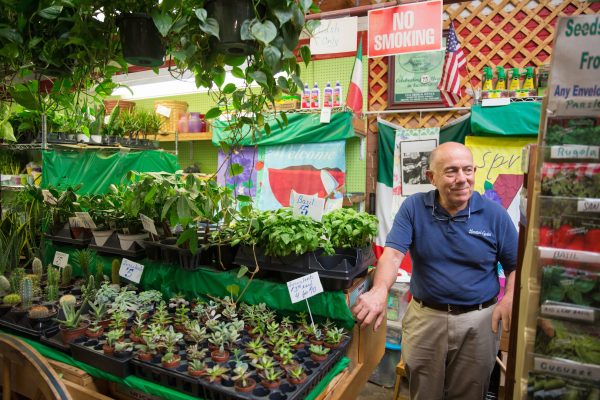 If you're looking to work on your green thumb, stop by Liberatore's Garden for potted herbs and imported Italian seeds. Richard Liberatore took over the stand from his late father, who was the last of the original pushcart vendors. Instagram.com/LiberatoresGarden
Randazzo's Seafood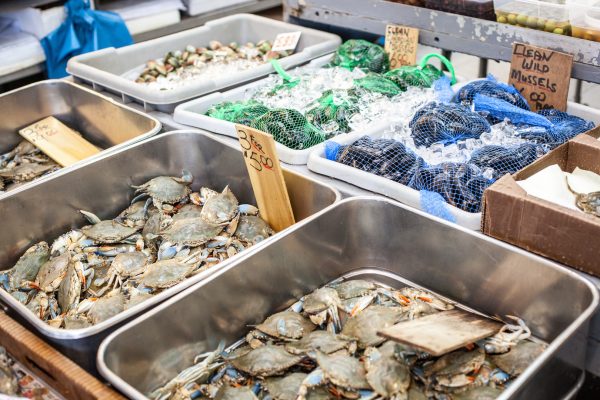 This fish and seafood market was opened in the 1920s by Frank Randazzo's grandfather, a fisherman from Palermo, Sicily. It still carries an array of imported Italian seafood, from sardines to branzino to langoustines, alongside seafood from the East Coast. The live eel and baccalà, or salted cod, are popular items for the Feast of the Seven Fishes on Christmas Eve, Randazzo said.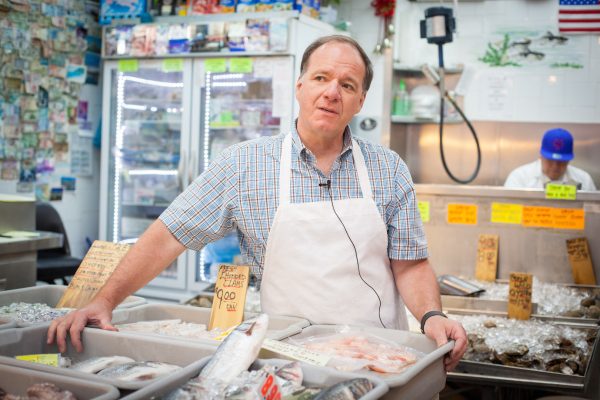 If you're hungry for a quick bite, freshly shucked oysters are sold from a counter set up right outside the market. RandazzoSeafood.com
Calabria Pork Store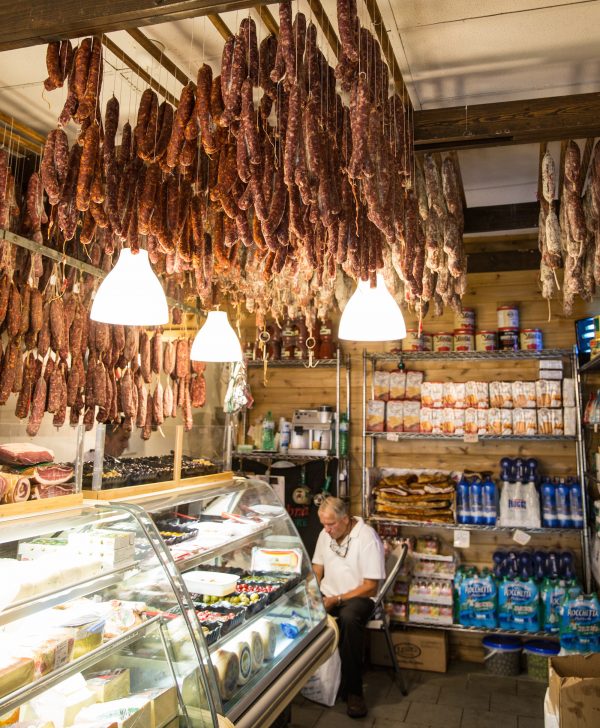 Walk into this shop, and you'll see and smell the "sausage chandelier" right away: rows upon rows of pork sausages hanging from the ceiling, airing out for dry-curing. All sausages here are made in-house, from fresh ones ideal for barbecuing on the grill, stuffed with an assortment of herbs, to dry-cured capicola, pancetta, hot soppressata, and prosciutto. These are the real deal. The shop also sells sandwiches made from its cured meats. Facebook.com/CalabriaPorkStoreBx
Addeo Bakery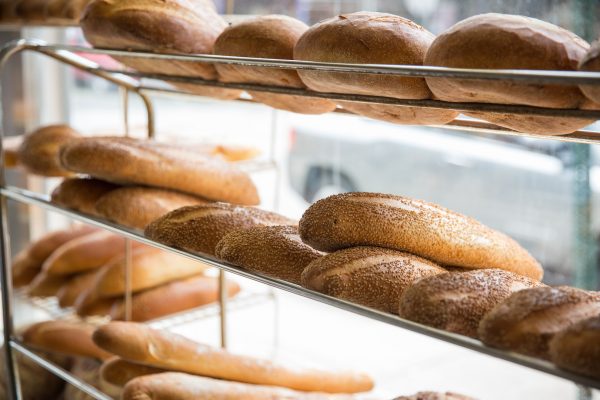 Addeo Bakery makes all shapes and sizes of Italian bread rolls, from pane di casa to ciabatta and focaccia. In recent years, Laurence Addeo added other non-Italian varieties too, like a sourdough baguette and raisin-nut rolls. If you're cooking up an Italian feast, this place will cover all your bread-related needs—you'll even find fresh pizza dough. AddeoBakers.com
Artuso Pastry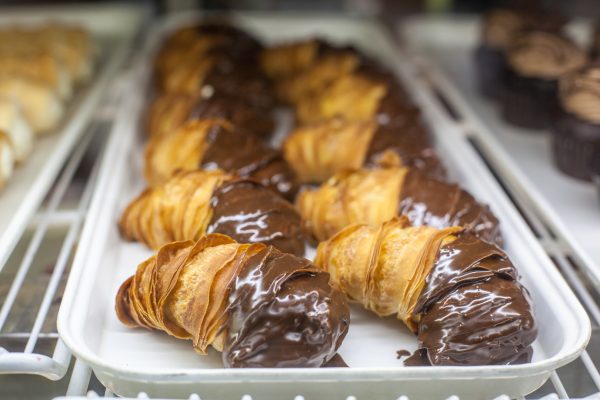 This pastry shop has been patronized by those with a sweet tooth since 1946. Italian cookies of all types can be found here, from slightly sweet rainbow cookies to nutty pignoli cookies. A must-have is the lobster tail. Shaped like its animal counterpart, the pastry contains crispy layers of dough that break apart into little brittle pieces. A filling of cream awaits inside, simple and perfect. ArtusoPastry.com
Arthur Avenue Recommendations by Chef Joe Isidori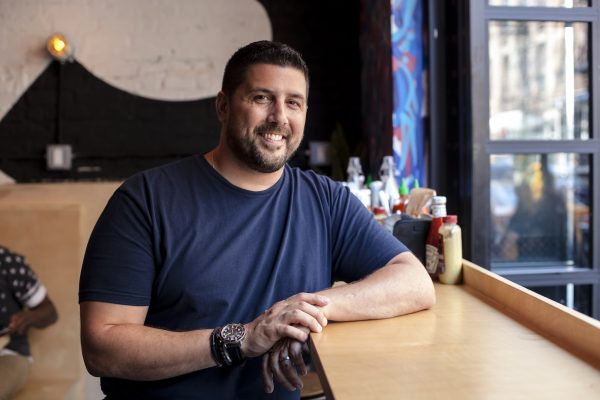 Before chef Joe Isidori became the mastermind behind Black Tap—the burger joint serving epic, Instagram-famous milkshakes—he spent his childhood hanging out around Arthur Avenue. Though his family had moved to Yonkers after he was born, Isidori spent many Saturdays buying groceries in Little Italy to prepare for the family's weekend feast. "Every weekend, my grandma would wake up and write her list … and I'd have to go down Arthur Avenue and do the shopping. She'd want a pound of capicola, a pound of provolone. I'd have to go to Randazzo's and get the fresh filet of sole, a couple of lobsters, you name it. I'd come home with stinky cheese, funky meats, awesome seafood." Grandma's cooking would begin on Saturday night and last all the way to Sunday afternoon with a big pot of Sunday gravy.
Isidori first cut his teeth in the restaurant industry while helping out at the Bronx restaurant where his father worked, Frankie & Johnnie Pine Tavern. His father and the staff there would show him the way around the kitchen. One important lesson has stuck with him:
"My father always taught me, don't be so fancy. Foie gras and oysters don't pay the bills. Chicken parmesan pays the bills. Serve chicken parm, and you'll make money, and everybody will be happy, and that's all that counts."
Isidori also recommends a stop at Dominick's for dinner, an old-school red sauce joint with one long, communal table for all guests to dine at. There's no menu; the waitstaff tell you what's cooking that night. But regulars like Isidori know these are the classics: penne alla vodka, pork chops "the size of your head," eggplant rollatini (his mother's favorite), and mussels fra diavolo.
Going to watch the Yankees game was another special childhood memory. Isidori's family ritual was to first stop by Pasquale's Rigoletto in Little Italy, and order a table full of dishes—veal scallopini, fried calamari, and mozzarella among them. "Six-thirty would pop up, and everyone would get up and leave the restaurant at once, because the first pitch was at 7:05," he said.