NEW YORK—For collectors, the thrill of finding an item that completes their collection or makes it even more valuable is like a jolt of adrenaline to a sprinter on the home stretch of a race. Now to the delight of collectors, Macklowe Gallery, a trusted source for designers, collectors, scholars, museum curators, and the world's most respected institutions, recently doubled its store space.
According to its website, Macklowe Gallery supplied a unique Japanese-inspired bronze sculpture by Lucien Gaillard to the famed collection of Benedict Silverman, and a Tiffany daffodil narcissus lamp to the collection of rock star Rod Stewart.
Moving from its former Madison Avenue address to a coveted corner spot on 57th Street and Park Avenue, the new gallery space is luxuriously appointed with hand-screened wallpaper, lush carpeting, chic interior design elements, and improved lighting for its treasures. In addition, there is a cozy reading room off the main sales floor that is stocked with first edition books about Louis Comfort Tiffany, art nouveau design, and antique and estate jewelry, categories in which Macklowe Gallery is one of the undisputed authorities in the world.   
Benjamin Macklowe took over leadership of the gallery from his parents, and he has continued their vision: "to deliver an experience where customers can expect to find exceptional goods, unerring authenticity, and develop longstanding, personal relationships." 
"With all of the challenges faced by luxury retailers in today's marketplace, we are thrilled to announce that Macklowe Gallery is growing, thanks to our existing clients and a new generation of passionate collectors," Macklowe says on the website. "Excellent quality [and] rare items never go out of style. Sophisticated buyers and collectors understand this and know that we offer personalized attention and the very best available in 20th century decorative arts and jewelry."  
On the lower level of the new store is a well-appointed, spacious conference room where special events, workshops, and lectures will be planned that relate to decorative arts, and antique and estate jewelry. "I love having conversations with collectors when they come in and visit us, and this new space allows us to showcase more of what we had in storage," Macklowe said.   
Tiffany Glass
One of Macklowe Gallery's specialties is its authentic Louis Comfort Tiffany lamps and glassware. Most collectors recognize Tiffany Studios' Dragonfly, Lily, and Wisteria patterns, which were made under the artistic direction of Louis Comfort Tiffany.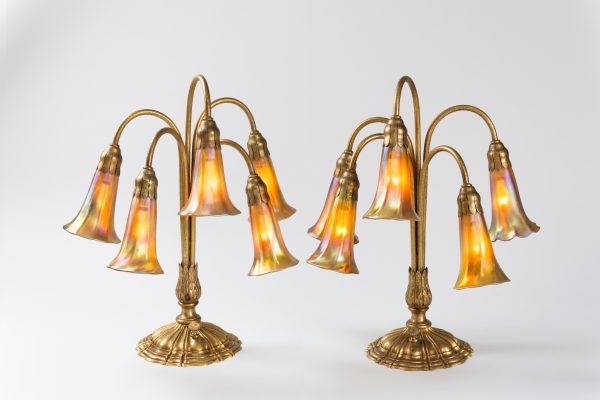 Louis Comfort Tiffany, the son of Charles Lewis Tiffany who founded Tiffany and Company, began his career as a painter in the 1870s but was seduced by creating art forms in glass. In the beginning, Tiffany used cheap jelly jars and bottles as source material because they had mineral impurities that finer glass lacked. These impurities added a depth to the glass that Tiffany preferred. When he was unable to convince the glassmakers he was contracting to leave in the impurities, he began making his own glass.
He set up his own glassmaking firm, Louis C. Tiffany and Company, in 1878, which was renamed several times: Tiffany Glass Company in 1885, Tiffany Glass and Decorating Company in 1892, and Allied Arts in 1900. On Nov. 13, 1894, he trademarked "Favrile" (from the Old English word for handmade) and later used this word to apply to all of his glass, enamel, and pottery. In 1902, the company was renamed Tiffany Studios, which it kept until 1932.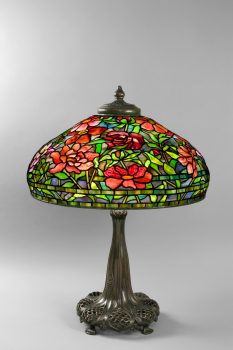 Much of his company's production was in making stained glass windows and lamps, but the studio also made floor lamps, wall sconces, chandeliers, and virtually anything that could hold a lightbulb. At one point, Tiffany Studios employed 300 artisans in Corona, Queens.
Louis C. Tiffany revolutionized the industry. Most colored glass produced in Europe was made by painting with enamel or glass paint on clear glass and then setting the glass pieces in lead channels. But Tiffany used opalescent glass in a variety of colors and textures to create a unique style of stained glass. He also developed the "copper foil" technique, which, by edging each piece of cut glass in copper foil and soldering it together to create his windows and lamps, made possible a level of detail previously unknown.  
In addition to the colorful glass patterns, Louis Comfort Tiffany was responsible for creating the Peony lamp, which was made with his special invention of iridescent glass, referring to the luster of the glass, not its sparkle.
The newly located Macklowe Gallery welcomes collectors and art nouveau enthusiasts to browse its entire Tiffany lamp collection.  
Isabelle Kellogg is a strategic consultant in communications and editorial content for fine jewelry, lifestyle, and life science clients.