Decked out in snorkel equipment and wetsuit—getting into and out of which was admittedly the most challenging aspect of the whole experience–I entered the 200,000-gallon coral reef tank. It was filled with large and small residents—more than 50 species of fish, sharks, and eels—into whose life I was about to intrude at the Aquarium Encounters complex in Marathon, Florida.
In the tank, I swam with tarpon, common snook, French grunts, permit fish, horse-eyed jack, and assorted friends. The cownose rays were especially playful. At every turn I was greeted by another underwater inhabitant: puffers, porcupine and butterfly fish, snappers and groupers—not that I really had any idea as to their individual identities at the time.
The sharks here are behind a Plexiglas shield and fed through small holes, so I carefully followed the instructions on how the feeding was to be done.
Instructor Dan intoned, "I'll open the window and see how fast you guys can swim."
"Cool," said my ever-eager 10-year-old snorkel companion. Fortunately, his shark-challenged swimming capabilities remained untested.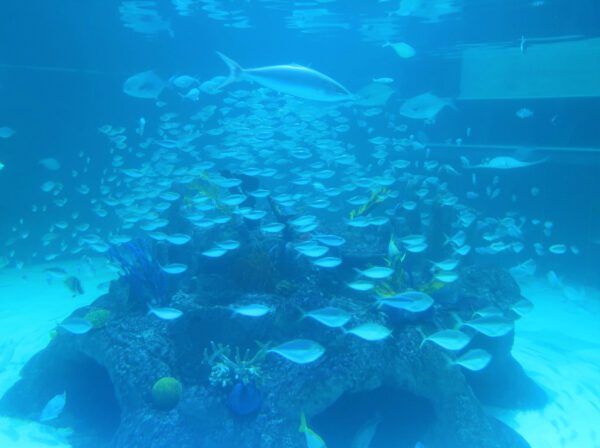 Once back on land, I found touring the grounds almost as spectacular. Walking around the complex, I felt like I had entered a magical forest of tropical plants, mangroves, and palm trees surrounding multiple pools of a wide variety of fish from grouper to stingrays to angelfish and parrotfish to turtles, sharks, and spiny lobsters. The extensive educational signage everywhere would satisfy the most eco-curious of visitors.
Throw food in one lagoon and rainbow parrotfish appear from nowhere and brighten up the water immediately and immeasurably. A surprising thrill!
Carousing with stingrays in their private pool, I felt snuggled most of the time, as if by a soft lightweight blanket caressing my body. As lions travel in "prides" and fish in "schools," a group of stingrays is a "fever," and a bunch of sharks is a "shiver." I clearly was surrounded by a fever of stingrays.
There are multiple touch tanks and feeding options. At Big Shark Bay, the sharks—relatives, I assume, to those in the coral reef tank—react to a sound and light show that brings them to an area to be fed and petted. But if they don't choose to respond, no one is going to force them. They're big—and well—also they're sharks.
The African-spurred tortoises are the third-largest species of tortoise in the world and it's difficult to distinguish them from the huge boulders sharing their exhibit. And then there are the incredibly bizarre-looking, colorful, very distinctly shaped lionfish, who are terribly destructive to the environment but ironically considered a dining delicacy.
Whether just traversing the grounds or actively participating in an underwater adventure, Marathon's Aquarium Encounters is a thoroughly interactive experience that leaves you ever more appreciative of the many denizens of the deep.
When You Go
For more information: FloridaKeysAquariumEncounters.com
Fyllis Hockman is a freelance writer. To read features by other Creators Syndicate writers and cartoonists, visit the Creators Syndicate website at Creators.com. Copyright 2021 Creators.com