Haiyan Kong lay awake the night of April 24, 1999, unable to get a wink of sleep. Would she go tomorrow, or stay home? She would undoubtedly be safe if she stayed home that weekend. But if she didn't speak out for what was right and true, how would she live with herself? If everyone turned a blind eye to injustice and kept their heads down to go about their day, what kind of society would that be?
"If everyone indeed thought that way, there would be no April 25 to speak of. And then what? We would be a society without humanity," Kong said.
At the time, Kong had been an adherent of the spiritual practice Falun Gong for five years. Falun Gong, or Falun Dafa, was introduced to the public in China in 1992, and taught people to follow the principles of truthfulness, compassion, and forbearance.
The day before, a few dozen people protested outside a college in Tianjin, a port city of Beijing, because a state-run newspaper had published blatantly false information, mischaracterizing a practitioner of Falun Gong. Riot police descended on the protesters, beating many and arresting 45 people.
One of these people was Kong's friend, and they sometimes read together in the evenings. But when Kong visited this friend on her way home that night, the apartment was empty. She knew her friend had been arrested for merely wanting the truth to come to light. Kong decided that sleepless night that she would go to Beijing the next day, and make an appeal at the State Appeals Office asking for the arrested practitioners to be released.
Little did she know, she would be one of about 10,000 people coming out in support of Falun Gong at the State Appeals Office that day.


5 Years in the Making
Kong is an artist, and ever since that historic day, she has had a wish to memorialize the scene through art.
It would be years before she would have the opportunity to do so, but for the last five years, Kong, who lives in Hong Kong, has worked on the massive oil painting that now spans more than 4 1/2 yards.
It was on display at the Salmagundi Club in New York the week of Thanksgiving, and just won the gold prize at the 5th NTD International Figure Painting Competition.
"I am grateful," Kong said. "I'm grateful for this competition and the opportunity to show this work. I'm very grateful that I have been able to practice Falun Dafa, which not only changed my health, but changed my perspective and outlook on the world, without which I could not have created this painting. And I'm so grateful for all of my family and friends who have continued to support me throughout it all."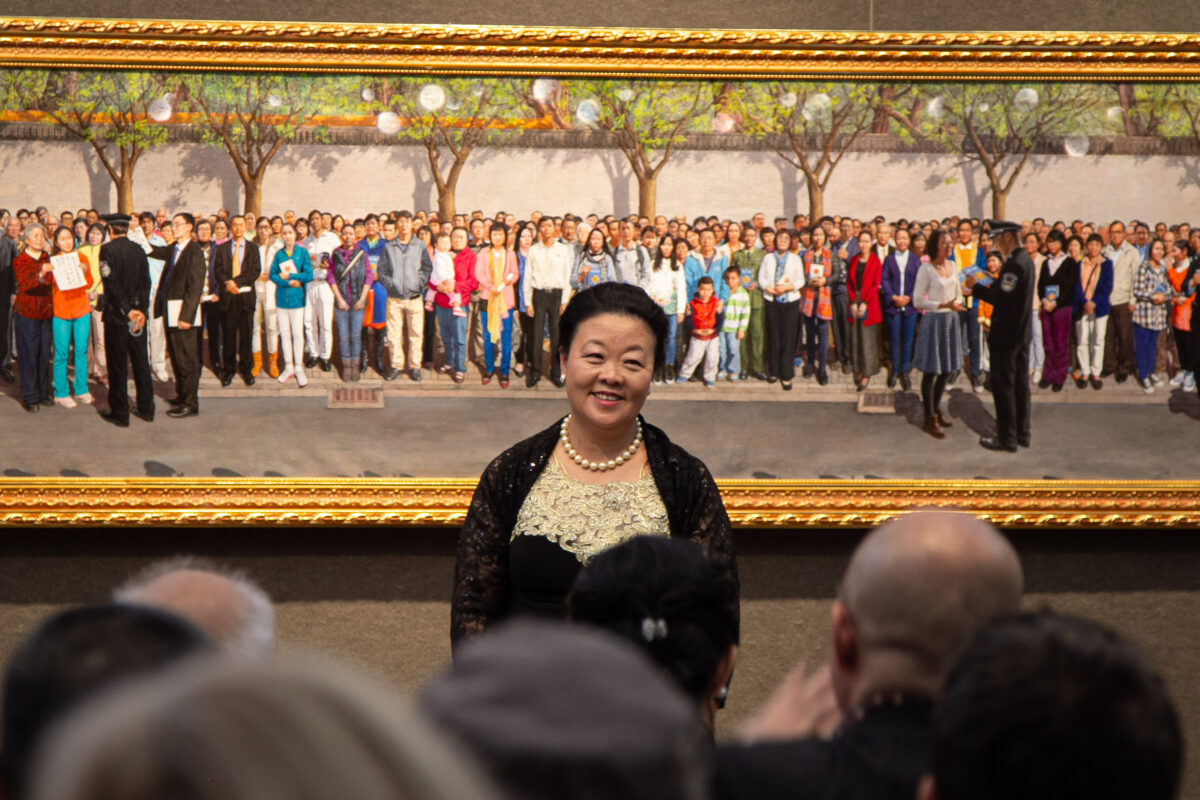 The long, horizontal format of the painting is reminiscent of Chinese scroll paintings, Kong said, and you can look at it walking slowly from one end to the other. There are three main events within the painting as you do so, like an interaction between one of the protesters and the police standing guard.
The painting doesn't contain 10,000 figures—there are about 400 figures, and 200 of them with visible, discernible faces. Kong arrived in New York in August in order to see the painting in the space where it would hang, and add finishing details. She had been working on the painting in her home, which is small, so it was the first time she had been able to step back and see it in its full length from a few yards away.
When you look at the painting up close, you will find a sea of solemn faces staring back at you, each a portrait of faithful conviction, even in the faces so small to span only half an inch.
Every one of these figures is a real person.
"I have their names, I have their stories," Kong said.
But they are not the original protesters of April 25, 1999.
"That was what I originally wanted to do, I wanted to paint the people who had come to Beijing on that day, but when I looked at the photographs I could find, they were far too blurry for me to make out the faces," Kong said. So she reached out to other Falun Dafa practitioners she knew, who would kindly introduce her to other Falun Dafa practitioners they knew, and for the last five years Kong has photographed and painted their likeness into the painting.
"They all went out of their way for me, they went above and beyond for me," Kong said. "They matched the expressions I needed. Some cried hearing the stories of the people they were posing for. A woman was moved to tears, but then she composed herself to do this for me."
There was a woman who hadn't worn high heels like the figure she would be posing for, but without complaint stood on her toes as if she were wearing heels. There was a busy musician who traveled around the world frequently, but he took the time to pose for Kong in multiple sessions, over several years.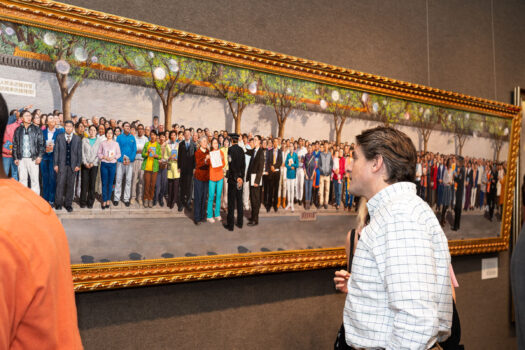 The work is surprisingly complex, and truly a labor of love not just for Kong, but for many.
"I have five years worth of stories," Kong said. Living in Hong Kong at the time presented unique challenges. Kong needed to find the kind of trees that were planted along the street in front of the Chinese Communist Party's headquarters in Beijing, and it turned out there was only one location in all of Hong Kong where these Chinese scholar trees grew. She was unable to find traditional art materials such as certain pigments and brushes in Hong Kong, and other Falun Gong practitioners helped her place an order for brushes from France, and guide her in Taiwan to buy pigments.
"If it wasn't for Falun Dafa practitioners, this painting would not have happened," Kong said.
Some of the practitioners Kong corresponded with were artists as well, and they provided invaluable insight—techniques and secrets of the trade that she says artists normally wouldn't so openly share.
Because of this, Kong's artistic skills have made a stunning improvement.
In fact, five years ago, Kong had submitted another work into the NTD competition, and it marked her foray back into representational styles. It was a difficult process and, she now admits, rather clumsy. But she received such meaningful feedback that it encouraged her to pursue traditional art, and set her on the path she is on today.
A Long, Artistic Journey
Kong loved art even as a child. Her father, who was in the arts as well, saw her talent and let her take lessons. Kong had two tutors who taught her drawing and painting in the traditional style, and then for university, she applied to several of the top art schools.
At the time, much as it is today, the trend was toward abstract expressionism. This was the norm, and this was all that was taught. Kong hadn't thought much of it, because this was the acknowledged mainstream form of fine art.
"We'd have model drawing classes, and a good drawing would be one where the model did not look like the model. The goal was not to make art that looked like the thing it was representing," Kong said. "The goal was to be individual, or I guess you can call it 'original.'" Students were encouraged to develop a style so obtuse as to be unreplicable—thus creating a signature, or brand. They were taught this was the way to attain success.
And it was true in Kong's case. She received good reviews and inquiries from collectors after her graduation exhibition and had a second exhibition a few years later that was also deemed a success.
But though Kong was well on her way to fame and making a name for herself, she started to wonder whether this was what she really wanted to pursue as an artist.
As an artist, she viewed a lot of works, and it was clear that the trend was increasingly toward the avant-garde. But it was also clear that artists weren't just seeking uniqueness, but darkness, or an irrational state of mind. It was chaos and despair rendered in painting and sculpture, and Kong started to consider whether this was the best way to represent the world. Art holds a mirror up to society, after all.
She remembers a moment during her second exhibition, when a foreigner who'd come to the gallery with friends got down on his knees in front of one of her abstract works and bowed his head to it. Kong says it isn't a good memory. He tried to buy the painting, but she felt she couldn't sell it to him. Now she is glad she didn't—it was dark, and she doesn't believe it would have been good for him to live with a painting like that.
There was another instance of feedback that was more personal, but it would only make sense to Kong in retrospect.
Kong's son was born around the time she was a rising artist, and her home was also her studio. But her baby would always cry when he saw her works, and she ended up having to flip them around to face the walls. Kong's mother later told her that the room she used as her studio always had such a dark, gloomy, and oppressive feeling, and it was difficult for her to even set foot in it. Kong says it's a testament to how deeply led astray she was that all this went unnoticed by her at first.
Truthfulness, Compassion, Forbearance
But then in 1993, Kong was walking through a park when she saw a group of people doing slow, meditative exercises, like those of tai chi. They had a banner that read "truthfulness, compassion, forbearance," and she felt an immediate connection.
These three words, which turned out to be the three principles taught in Falun Gong, were exactly what she wanted to represent in her work. Truthfulness, compassion, and forbearance seemed to sum up the goodness of humankind, and Kong knew that was the path she wanted to walk as an artist.
"I felt I had finally found what humans are supposed to be," Kong said. Having been immersed in darkness and chaos for years, this was a revelation. "My whole attitude changed. From then on, I changed."
She started practicing Falun Gong herself, and in addition to her new outlook on life, improved her physical health dramatically.
Kong then made the decision to stop selling her modern art, which was still fetching high prices on the market. It wasn't as difficult a decision as one might think. Then for the next several years, Kong worked as a university art instructor and taught basics and fundamentals.
But raising her skills as a representational artist able to depict and communicate something truly meaningful would take a lot of work.
"Actually, my original training [with my tutors] was traditional. I had to really work to forget all of my training, it was really hard. It was actually a lot of work," Kong said. In university, they studied things like the "reality of flatness" and other modern and post-modern art philosophies in an effort to achieve that ego-centric originality.
When she started making representational art again, Kong realized just how much her skills had decayed.
"It was difficult," she said heavily. "I had forgotten the fundamentals after university, and at first I would draw something, and the lines wouldn't be straight, the eyes would be off. I had trained myself to draw in that crooked style."
"A lot of it has to do with seeing," Kong said. She was learning to see the world differently again, through a lens of truth, compassion, and forbearance this time.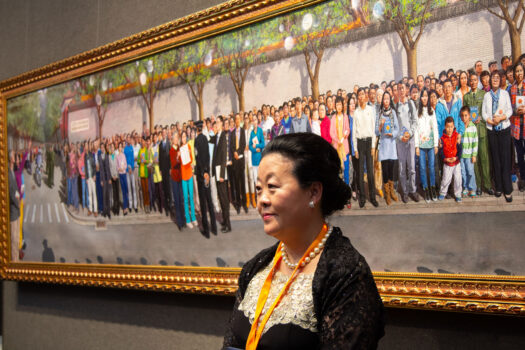 While living in Hong Kong, where she had moved in 2007, she heard about the Zhen Shan Ren ("Truthfulness Compassion Forbearance") Art Exhibition, which was put together by practitioners of Falun Gong from around the world. It was an effort to depict the peaceful meditation practice through fine arts as well as reveal the ongoing persecution of Falun Gong by the Chinese Communist Party.
Kong immediately thought again of her wish to paint the April 25 event.
"This is a historic event, a protest of this scale," Kong said. "And it was completely peaceful."
"I'd lived in Beijing for 20 years, I went to the April 25th protest. I knew these streets of Beijing, and I wanted to paint this," Kong said.
But she realized her skills weren't up to scratch, and she wasn't able to finish a piece in time. Over the years, the Zhen Shan Ren Art Exhibition has gone on to tour in 900 cities in 50 countries worldwide.
But an opportunity arose for Kong when she heard about the NTD International Figure Painting Competition, which would be held in New York in 2014. She submitted a portrait of a child that, though rough around the edges, made it to the finalist round. She was afforded the opportunity to meet many other artists, including fellow finalists and the judges, who shared their own experiences and invaluable encouragement.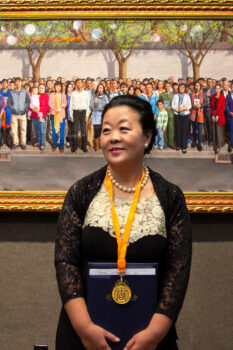 "I set my heart on this effort of being a better artist," Kong said. "And through my study, I also came to realize with conviction the responsibility of an artist."
Kong says an artist has a responsibility to society, and thus a personal moral responsibility as well. When a work of art is hung in someone's home or displayed for all to see, it carries a bit of the artist's character as well, and Kong feels it's only right that the effect should be a good one. Her wish to do right by others comes from her practicing Falun Gong.
Art is a powerful medium, and it inevitably influences its viewers, Kong said, and an artist has to make a choice as to which path they will follow.
"I want to convey compassion, and give people something bright and uplifting," Kong said. "And I believe many artists in the world want to create traditional arts and present traditional values. That's why a competition like this, that gives artists a chance to show these works to the world, is important."