It's always fun to open up my grandma's recipe box to find the perfect dish handwritten on an index card. And her classic applesauce cake jumped out at me as the ideal treat for fall.
It's made with all the warm spices we associate with the cooler months—cinnamon, cloves, and allspice—and there are chopped walnuts and raisins for some texture. Plus, applesauce adds extra moisture, which means you'll need slightly less butter for this recipe than many other baked goods.
After making my grandma's traditional applesauce cake, I wanted to jazz it up a bit with a modern twist. That's when I decided to serve it with a hot rum sauce poured on top just before serving. This warm and creamy sauce is made rich and thick with a bit of cornstarch and an egg. A dash of vanilla extract adds elegant flavor, while a shot of light rum adds just enough kick to perk up the palate.
My grandma was known to enjoy a slightly spiked beverage as a special treat from time to time, so I don't think she will mind that I added my own little twist to her timeless recipe.
What Does Applesauce Do in Cake?
Applesauce adds wonderful moisture and flavor to cake. Unsweetened, plain applesauce works well because then you can add just the amount of sugar and spices that you like to suit your taste.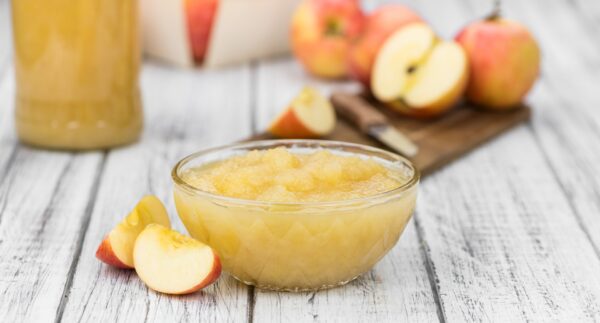 Does Applesauce Cake Need to Be Refrigerated?
Applesauce cake can be covered and stored at room temperature for up to three days or in the refrigerator for up to one week.
Can I Use Applesauce Instead of Butter in Cake?
While applesauce doesn't completely replace butter in a cake, it can be used to reduce the amount of butter needed for a rich, moist, and flavorful cake.
Rum Substitutions
If you prefer to make the sauce without the rum, simply omit the rum and double the amount of vanilla extract. The sauce could also be prepared with 1 teaspoon vanilla extract and 1 teaspoon rum extract for a non-alcoholic version.
Only have dark rum? No problem. Dark or spiced rum work equally well in this recipe and can be substituted one-to-one. Your sauce might just turn out a little darker than what's pictured here.
Applesauce Cake
Serves 9
For the Applesauce Cake
4 tablespoons unsalted butter, plus more for the pan
1 1/2 cups plus 1 tablespoon all-purpose flour, divided, plus more for the pan
1 cup granulated sugar
1 large egg
1 cup unsweetened applesauce
1 teaspoon baking soda
1 teaspoon ground cinnamon
1/2 teaspoon ground cloves
1/4 teaspoon ground allspice
1 cup chopped walnuts
1 cup raisins
For the Hot Rum Sauce
1 large egg
1/3 cup granulated sugar
2 tablespoons cornstarch
1/4 teaspoon kosher salt
2 cups whole milk
1/4 cup light rum
1 teaspoon vanilla extract
Make the Cake
Place 4 tablespoons of unsalted butter in the bowl of a stand mixer (or large bowl if using an electric hand mixer). Let sit at room temperature until softened. Arrange a rack in the middle of the oven and heat the oven to 350 degrees F. Coat an 8-by-8-inch square pan with butter, then coat with flour and tap out the excess.
Add the sugar and egg to the butter. Beat on medium speed until light and fluffy, 2 to 3 minutes. Add the unsweetened applesauce and beat until combined.
Place 1 1/2 cups all-purpose flour, the baking soda, ground cinnamon, ground cloves, and ground allspice in a medium bowl and whisk to combine. Add to the applesauce mixture and beat on low speed until combined.
Place the remaining 1 tablespoon all-purpose flour, chopped walnuts, and raisins in the now-empty bowl and toss to combine. Add to the cake batter and fold in by hand with a rubber spatula until combined. Pour the batter into the baking pan.
Bake until a toothpick inserted in the center comes out clean, 35 to 40 minutes. Let cool completely on a wire rack, then cut into squares to serve.
Make the Hot Rum Sauce
Whisk the egg in a small bowl until broken up.
Place the sugar, cornstarch, and kosher salt in a small saucepan and whisk to combine. Add the whole milk, whisk to combine, and bring to a boil over medium heat. Reduce the heat to low and cook, stirring constantly, until the mixture is thickened, 3 to 5 minutes.
Add a small amount of the warm sauce to the egg and whisk thoroughly to temper the egg. Pour the mixture into the saucepan and whisk until smooth. Cook, stirring constantly, until the mixture is thickened, 3 to 5 minutes. Remove from the heat. Add the light rum and vanilla extract and stir until well-blended. If desired, the sauce can be strained through a fine-mesh strainer before serving.
To serve, pour the rum sauce over each cake square. Serve with more warm sauce if desired.
Recipe Notes
The cake can be baked up to one day in advance. Cover tightly with plastic wrap and store at room temperature. Serve with the warm sauce. The sauce is best made just before serving.
Leftover applesauce cake can be refrigerated in an airtight container for up to five days, or wrapped in plastic wrap and stored in an airtight freezer-safe container for up to three months. Thaw the cake in the refrigerator overnight. The cake can be enjoyed cold, at room temperature, or warmed in the microwave.