Tattoo is an Appaloosa horse, but he doesn't look like your average "painted horse" of his breed. He has a unique coat pattern that stands out and looks like leopard spots.
In an interview with I Love Horses, Tattoo's owner, Branigan, remembers meeting him for the first time.
She says she was a sophomore in college, interning with a breeder barn. There, she was given the opportunity to tend to mares that were about to give birth.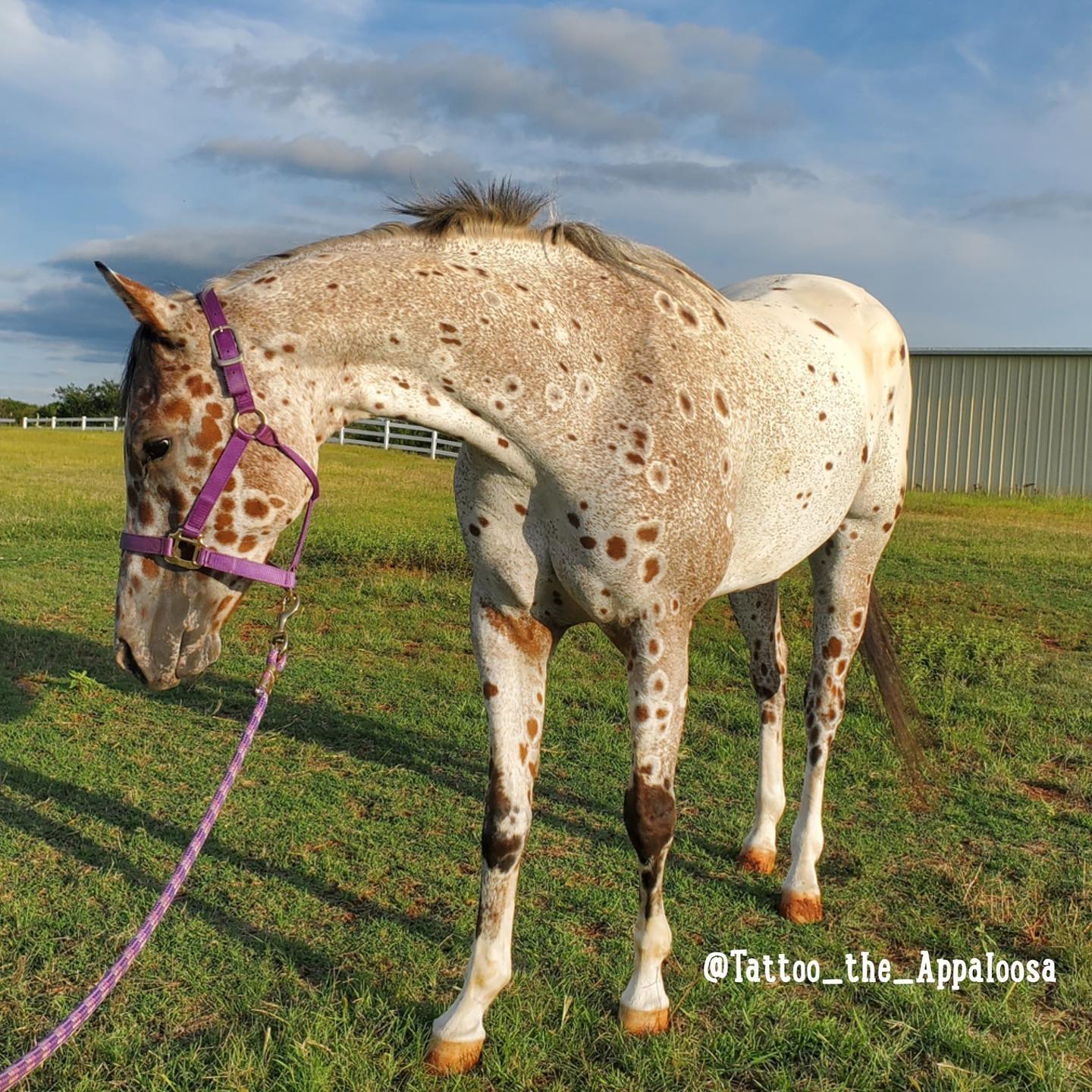 "Tattoo came into this world on May 18, and his mama gave birth to him early in the morning," she remembers. "I met baby Tattoo when he was only one hour old, soaking wet and learning to stand."
The wobbly-legged foal was unique as could be, and the young intern was instantly smitten.
His name, "Tattoo," means "a rhythmic tapping or drumming." Branigan says that her mother chose the name because "the sight of him literally throws my heart into drumming, ever since I met him."
As part of her internship, Branigan had the opportunity to help Tattoo acclimatize to people. The same day he was born, her parents came to visit at the barn, and she says they all knew she was already in love with the foal.



"I was in the stall, holding Tattoo in my lap, crying my eyes out," Branigan says. "I was madly in love at first sight. They both said, 'Oh, no…' We all knew that raising and training my own horse was my dream, but this foal was not mine, but deep in my heart I knew that I wanted him to be."
Before long, the two had become inseparable.
"He would let me cuddle him while he napped and he even let me halter him at three weeks old. His mother trusted me so much and so did baby Tattoo," Branigan recounts.
However, it seemed it wasn't meant to last. Six months later, Branigan received devastating news.
She was told by her trainers that Tattoo had been sold, and she should prepare herself, and him, to say goodbye. She added that it was "the hardest two months of my life."

Still, Branigan knew she had to say goodbye, so she steeled herself for the day he had to leave.
She never expected to receive the surprise of her life three months later on Christmas morning.
"I sat with my family around the tree, and the last box was given to me," Branigan says. "It was from 'all of them' and when I opened it up it was a picture of Tattoo, a tiny model horse with spots. I cried so hard, knowing that I had said goodbye and that I would remember him."
But her parents told her to read the bottom of the paper, where the words "transfer ownership" were inscribed in bold letters.
It turns out her parents had purchased Tattoo six months earlier.

"I had no idea," Branigan says. "I cried for weeks!"
It was a dream come true for the young horse-trainer-to-be, who says she and Tattoo experienced many "firsts" together at horse shows and competitions.
Now, Tattoo loves getting into things, playing chase with Branigan, and meeting miniature horses and donkeys.
Branigan says the "chill, goofy, and mischievous" horse is "one of the coolest horses" to ride.
Now, the eye-catching horse even has a following on social media, with over 19,000 followers on Instagram.
From Branigan's descriptions and her endless pictures and videos of Tattoo, it's clear the pair will love each other for the rest of their days together.

This story was last updated in January 2021.
Share your stories with us at emg.inspired@epochtimes.com, and continue to get your daily dose of inspiration by signing up for the Epoch Inspired newsletter at TheEpochTimes.com/newsletter