Aphrodisias: A Land of Beauty, A Land of Harmony
Curator speaks of new exhibition at the Turkish Cultural Center
May 1, 2013 3:35 am Last Updated: May 1, 2013 5:20 pm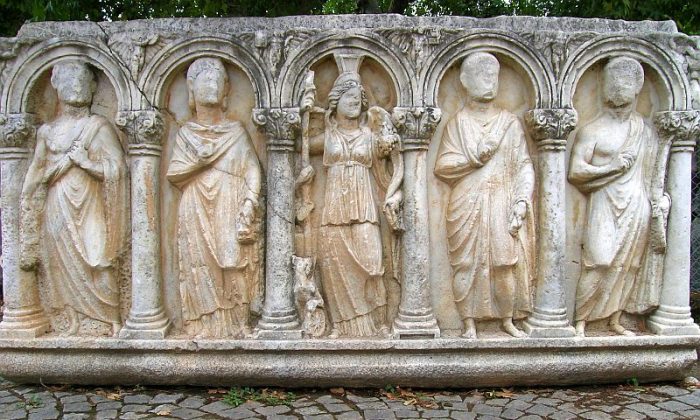 Archaeology—with its unique approach towards interpreting antiquity while at the same time preserving treasured sites and heritages—demonstrates our shared humanity. Few sites display the unity among people so profoundly as the once bustling, dazzling Aphrodisias with its unique spiritual atmosphere.
Numinous, analogous to Chichen Itza, Delphi, and Jerusalem with various cultures united across time within their borders—Aphrodisias today engenders an ambience of peace while personifying in marble its resident deity, the goddess Aphrodite.
Put another way, wondrous Aphrodisias, testament of the ability of diverse populations to live harmoniously over eons, can function as a sorely needed template for our own conflicted world.
Aphrodisias originated in the prehistoric period and continued with some interruption into the Ottoman era. Its high point occurred, however, during Greco-Roman times.
Famed for its "School of Sculpture" and remarkable imperial patronage, Julius Caesar made offerings in the Temple of Aphrodite while Roman Emperor Augustus called Aphrodisias his chosen city in all of Asia Minor (the name for Turkey during the Classical periods when Jews and Christians were integrated within an overwhelmingly pagan society).
This exhibition, augmenting a May 9 panel, was curated by Mira Stulman and me. It is divided into three sections.
The First Section
The first predominantly features photographs and wall texts. Included is a 1907 diary entry by British archaeologist-explorer Gertrude Bell with many of the monuments clearly recognizable a century later.
The earliest major excavation was undertaken by Kenan T. Kerim in 1961. Kenneth Jay Linsner, archaeologist under Kenan, contributed reproductions of the Aphrodisias Theater.
Additional images mostly of sculpture illustrate Classical art of the highest order and were provided by Daniel Thompson of the Global Heritage Fund, the Aphrodisias Archives, and Mesut Ilgim, Board Member of Turkey's Geyre Foundation.
Among the latter's pictures is one of a pillar from the synagogue inscribed with the names and occupations of prominent Jews, along with their "Godfearers" or early Christian supporters.
Another depicts a sarcophagus discovered in the Bishop's Palace with a row of figures attesting to a time when the town was renamed Stavropolis or City of the Cross and the Temple of Aphrodite was transformed into a Christian basilica.
The Second Section
The next group relates to Dec. 7, 2011, when the Archaeology Committee of The National Arts Club commemorated 50 years of excavation at Aphrodisias. Artifacts from the celebration include an invitation and the program.
The "Aphrodisias Scroll" commences with Courtney Colette Brown's poetry translated into Turkish with the two languages separated by the canonical cult figure of Aphrodite. Two essays written by Alexander Sokolicek of Aphrodisias Archives, supplement others on diverse topics.
A keynote presentation about the festivities can be viewed in which Bert Smith received the Club's premier Certificate of Merit while Martha Sharp Joukowsky and Christopher Ratté spoke.
The Third Section
The final assemblage emphasizes the imaginings of Philip Pavia, Joan Giordano, and Lynne Mayocole. Deriving energy from the beauty and harmony that is Aphrodisias, their unique pieces demonstrate the influence of this rare, awe-inspiring place.
The sculptor Philip Pavia is renowned for marbles and bronzes, such as his six-foot high head of President John F. Kennedy, formerly exhibited at The Metropolitan Museum of Art. It parallels numerous portraits of Roman emperors in Aphrodisias.
Pavia's "Walking Men" drawing executed in 1947 demonstrates this artist's facility with ink and graphite. His depiction of figural stances and dress are similar to those of ancient antiquity, thus affirming his understanding of Classical traditions. (In accepting the Artist Equity's 2003 Artist of the Year award, he spoke movingly about the preeminence of Greek and Roman art.)
Among antiquity's towns, Aphrodisias seems fairly tolerant of feminine prowess. Aristocratic women were honored in public with displays often mentioning their communal roles. With names at times inscribed on seats, they might have attended theater as well as some stadium sporting events.
Whatever their age, matrons were often portrayed as goddesses with idealized appearances. The statue of Claudia Antonia Tatiana, Priestess of Aphrodite, from the Bouleuterion intrigued Giordano and Mayocole. They both envisioned a spiritual merging of the priestess with diverse results.
Giordano's lithograph collage (1983) "Aphrodite with Claudia Antonia Tatiana" physically unites the two figures with one worshiping the other. This is evident by their pose and also technically as individual sheets were hand pulled and pasted one upon the other. With facial features reminiscent of those seen on reliefs from the Agora Gate, a marketplace that was one of the hearts of the city, there is a gentle, rhythmic grandeur to this monoprint with its subtle coloration.
In Mayocole's "Aged Claudia Antonia Tatiana Wearing the Mask of Aphrodite With Mirror," the head of the goddess flows organically from the body of her priestess, affirming the feminine concern with maintaining eternal youth. Begun in 2003 and only finished this year, this blue and white ceramic piece recalls Aphrodisian quarries replete with the unusual two-toned marbles, which sophisticated local craftsmen utilized.
Let history unfold before your eyes and witness the various cultures integrated within the sacred borders of Aphrodisias, nominated to be inscribed as an UNESCO World Heritage Site.
May we all be stewards of the past, profoundly enhanced by knowledge, and waylaid by beauty.
Aphrodisias: A Land of Beauty, A Land of Harmony is running at The Turkish Cultural Center, 535 Fifth Avenue, May 9–June 7, with a special opening May 9, 6–8 pm.
Michele A. F. Kidwell has taught Ancient and Renaissance art history at the New School University and is currently chair of the Archaeology Committee of The National Arts Club.