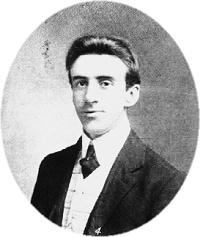 The kind and courageous conduct of the musicians who went down with the Titanic on the night of the April 14/15th, 1912, is inextricably entwined in the history of that tragic sea disaster. 
Though the eight were not even White Star Line's employees but second-class passengers booked through a Liverpool agency, there was nothing second class about the dignified bravery this legendary band showed. They played on with familiar songs for the comfort of the passengers, despite the impending doom. Presenting in full evening wear, they played initially in the first class lounge, then on the boat deck during the iconic liners's maiden but final voyage. 
Formerly, band members had performed for passengers not as an orchestra but separately as a quintet and trio. Yet 33 year old bandleader Wallace Hartley gathered them together for the first time on that fateful night and like the ship itself they struck up together in a first but last performance. How poignant must the classical refrains have sounded to the passengers, their hope fading, as the giant ship listed dramatically and her decks slanted perilessly towards the freezing, merciless waters of the vast Atlantic. 
The dignity of these men moved people so much in the wake of the disaster that their courage has been told and retold across a whole century. Their poise and altruism in the face of certain death remains legendary because they continued to play when it must have became clear that there simply weren't as many lifeboat places as there were people. It continues to be a source of great romantic speculation as to what the last song they played might have been, with some enthusiasts favouring "Nearer, My God, to Thee".
At the suggestion of a then director of The Liverpool Philharmonic Society, a plaque to the eight was erected. This was because Titanic's viola player, John Frederick Preston Clarke, had been connected to Liverpool Philharmonic Hall in the past. The memorial, formerly situated along a back stage corridor, now graces the Hall's front foyer.
The inscription reads:
"THIS TABLET IS DEDICATED TO THE MEMORY
OF W.HARTLEY OF DEWSBURY
-BANDMASTER-
W.T.BRAILEY OF LONDON
R.BRICOUX OF LILLE,FRANCE
J.F.CLARKE OF LIVERPOOL
J.L.HUME OF DUMFRIES
G. KRINS OF LIEGE, BELGIUM
P.C.TAYLOR OF LONDON
J.W.WOODWARD OF HEADINGTON
MEMBERS OF THE BAND ON BOARD
THE "TITANIC"; THEY BRAVELY
CONTINUED PLAYING TO SOOTHE THE
ANGUISH OF THEIR FELLOW PASSENGERS
UNTIL THE SHIP SANK IN THE DEEP
APRIL 14TH 1912.
COURAGE AND COMPASSION JOINED
MAKE THE HERO AND THE MAN COMPLETE"