A Canadian amputee who says he was forced to crawl on his belly because United Airlines confiscated batteries for his electric mobility scooter, is speaking out about what he calls a "most humiliating experience."
Stearn Hodge, 68, lost his left arm and right leg in a workplace accident in 1984, CBC reported. Thanks to his electric scooter, Hodge has retained much of his independence.
Hodge and his wife of 43 years, Jan, were about to embark on a holiday to celebrate their wedding anniversary when airline and flight safety officials told him the batteries were not allowed on the plane due to fire risk.
The alarming news came as the couple were at Calgary Airport in Canada on Feb. 26, 2017, trying to board a flight to Tulsa, Oklahoma, according to the CBC report.
Having written permission to take on board the lithium-ion batteries didn't help, Hodge told reporters. He said neither agents with the Canadian Air Transport Security Authority (CATSA) nor United Airlines officials would listen to his arguments nor read the approval he says he secured from the airline beforehand.
Technical guidance issued by the International Air Transport Association (IATA) (pdf) says "batteries that power wheelchairs and mobility aids are considered dangerous goods when carried by air," but adds that "these and some other dangerous goods that are permitted for carriage by passengers can be transported safely by air provided certain safety requirements are met."
The guidance document adds that "passengers may only travel with a battery-powered mobility aid with the airline's approval."
It also calls for appropriate training for all relevant staff so that they provide "quality service to persons with reduced mobility in a consistent and respectful manner" and "in a manner that respects their dignity, and as a professional service to which the person is entitled, rather than as a favor or compassionate gesture."
Hodges told the CBC that the CATSA agent's follow-up suggestion that he simply use a wheelchair instead of his mobility scooter was incompetent and disrespectful.
"How's a one-armed guy going to run a wheelchair? How am I going to go down a ramp and brake with one hand? But that shouldn't even have to come up," Hodge told the CBC.
He also said his wife had recently undergone cancer treatment that affected her spine, and so she was unable to push a wheelchair for him.
"Having to crawl across the floor in front of my wife is the most humiliating thing that I can think of," said Hodge. A…

Posted by CBC on Monday, April 29, 2019
When Hodge and his wife got to their hotel, he says he was forced to crawl on the floor to use the bathroom. He said he spent much of the holiday in bed—something he described as "the most humiliating experience I can think of."
Now he wants his case heard by the Canadian Human Rights Commission, and told CBC, "It unmasks how real my disability is … I haven't been the same since."
Hodge's lawyer, John Burns, will ask a Federal Court judge on May 9 to order the commission to hear his case, the CBC reported.
Meanwhile, United Airlines sent Hodge an email, which said, "It appears we were in violation of federal disability requirements," and offered him an $800 travel certificate as compensation. The air carrier also apologized for the "inconvenience."
"Inconvenience is when it rains on your holiday," said Hodge, CBC reported. "This was a … life-changing moment for me and my wife."
Doctor Dragged Off Plane Speaks Out
The incident recalls the case of a Kentucky doctor who was violently removed from a United Airlines flight two years ago and has since spoken out about his traumatic ordeal.
Dr. David Dao, 69, was dragged bruised and bloodied off an overbooked flight at Chicago's O'Hare International Airport on April 9, 2017, according to multiple reports.
Footage captured on cellphone video by fellow passengers showed the bleeding grandfather being dragged down the aisle by agents after he refused to give up his seat to make way for airline staff.
Dao broke his silence about the incident on ABC's "Good Morning America" on April 9.
"I don't know, I just cried," he told Amy Roback after he viewed the video clips taken by fellow passengers that sparked the online outrage.
Dr. David Dao, who was dragged off a United Airlines flight at O'Hare International Airport two years ago, is speaking out for the first time ever. https://t.co/TGhZzVVX3U

— ABC 7 Chicago (@ABC7Chicago) April 9, 2019
'Don't Know What Happened'
Dao, a doctor of internal medicine, and his wife, a pediatrician, were on their way to Louisville on April 9, 2017, when airline staff asked them and two other passengers to disembark in order to make room for United Airlines staff who needed to fly, the Courier-Journal reported.
He refused to give up his seat and was hauled off the plane by Chicago Department of Aviation officers.
Cellphone recordings showed blood coming out of Dao's nose and his glasses askew as he was dragged down the aisle. He said he suffered a concussion, lost teeth, and had his nose broken.
Footage of the incident went viral, sparking outrage and scrutiny over how United handled the situation.
David Dao, the Kentucky doctor who was unceremoniously — and very literally — dragged off a United Airlines flight on April 9, 2017, is speaking out about the viral incident for the first time in two years.https://t.co/DfLbRYAbGK

— TheBlaze (@theblaze) April 9, 2019
'Disruptive and Belligerent'
United CEO Oscar Munoz initially said in an internal email to staff in the days that followed the incident that Dao had been "disruptive and belligerent," the Daily Mail reported.
Munoz was cited in the report as saying that Dao "raised his voice and refused to comply" with staff requests to leave the aircraft.
The CEO later issued a public apology saying he "apologized for having to re-accommodate these customers," Daily Mail reported.
"Flight 3411 was a defining moment for United Airlines and it is our responsibility to make sure we as a company and all of our 90,000 employees continue to learn from that experience," the airline said in a statement to NBC News.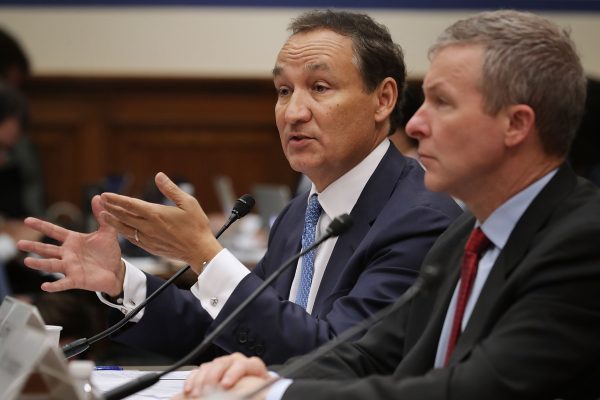 "The changes we have implemented since that incident better serve our customers and further empower our employees," United stated, according to NBC.
Dao was offered an undisclosed settlement weeks after the incident.
While Dao said the traumatic ordeal left him with chronic problems like difficulties with balance and concentration, he said he has no regrets because it forced United to review its policies.
"Everything happens with a reason," he told ABC.