Today many think of Broadway musicals as esoteric or effete, but from the 1920s through the 1960s, they were mainstream popular entertainment, spinning off hit songs recorded by stars like Bing Crosby and Judy Garland. My Uncle Keith, for example, was a tough Army vet, a man's man, yet he loved musical theater. When we visited his family over the holidays, he'd happily show us VHS tapes of "Oklahoma!" or "Camelot." Even today, who doesn't recognize "Some Enchanted Evening" from "South Pacific" or "Luck Be a Lady" from "Guys and Dolls"?
Some musicals even became cultural icons. Opening in 1943, "Oklahoma!" ran on Broadway for over five years. The box set of its score (six 78 RPM discs) sold over a million copies. The 1955 movie version filled theaters and has thrived ever since on television. Its soundtrack was the first "Gold" record, and by 1992 it was certified "2X Multi-Platinum."
"My Fair Lady" ran even longer, and its cast album stayed on the Billboard chart for 480 weeks, outselling Elvis and the Beatles. For decades, musicals brought Americans together, enriching and elevating our shared popular culture.
Of all Broadway composers, none was more versatile or influential than Richard Rodgers. Born in 1902 to Mamie and Dr. William Rodgers, a respected physician who had changed the family name from Rogazinsky, he grew up in New York, studied music at the school now called Juilliard, and attended Columbia, where he met a young writer named Lorenz Hart. Together they started writing songs, with little success.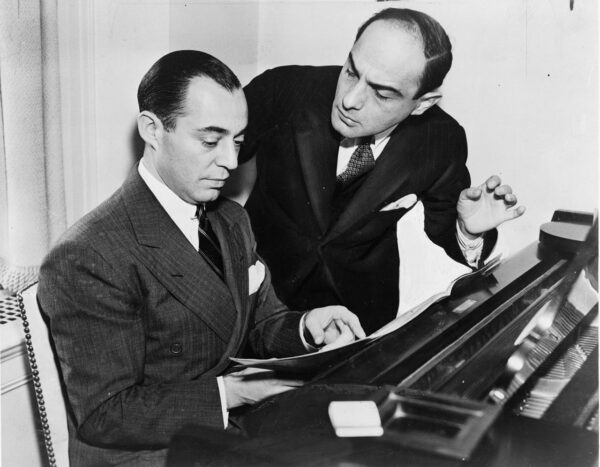 Rodgers and Hart
After years of doing amateur shows for no money, Rodgers resignedly took a job selling children's underwear. That very day, in 1925, he got an offer to score a benefit show that became a surprise hit on Broadway, propelled by Rodgers and Hart's first of many standards: "Manhattan."
"I'll take Manhattan,
The Bronx and Staten Island, too.
It's lovely going through the zoo…"
Even the Supremes recorded that one.
Rodgers's lively tunes and Hart's sly wit and tricky rhymes proved to be a winning combination. The incredible 28 shows they wrote together produced a seemingly endless parade of memorable songs, including "Blue Moon," "My Funny Valentine," "The Lady Is a Tramp," "Isn't It Romantic?," "Where or When," and "You Took Advantage of Me." The team sought never to repeat themselves: Their formula was … don't have a formula!
Every new show was an experiment, expanding what musical comedy could be. But in 1940, some thought they went too far. "Pal Joey" told the tale of an unscrupulous hoofer who romances a rich older woman to open his own nightclub. The New York Times review concluded: "Although 'Pal Joey' is expertly done, can you draw sweet water from a foul well?" (Later revivals revealed the solid moral values under this musical's cynical veneer, and it was recognized as a classic.)
The show made its youthful leading man, Gene Kelly, a star. And Doris Day's hit recording of the rich lady's lament, "Bewitched, Bothered and Bewildered," was followed by many others.
Rodgers had worked exclusively with Hart, but by the early 1940s, the lyricist was losing a long battle with alcohol and depression. Rodgers, torn between his loyalty to Hart and a need to create new songs and shows, turned to an older colleague for help. In the 1920s, Oscar Hammerstein II had co-written operettas like "Rose-Marie" and "The Desert Song"; also "Show Boat" (1927) was so innovative that it made operetta obsolete. But after a series of flops, Hammerstein himself seemed obsolete, a fading name from a bygone era. Rodgers, though, knew better than to count out the man who'd written "Show Boat."
In 1941, a Theatre Guild producer sent Rodgers an old play they owned the rights to, "Green Grow the Lilacs." The homespun tale of cowboys and farm girls didn't appeal to Hart, who hadn't long to live, but Hammerstein agreed it might make a good musical. That's how our composer entered the second phase of his career.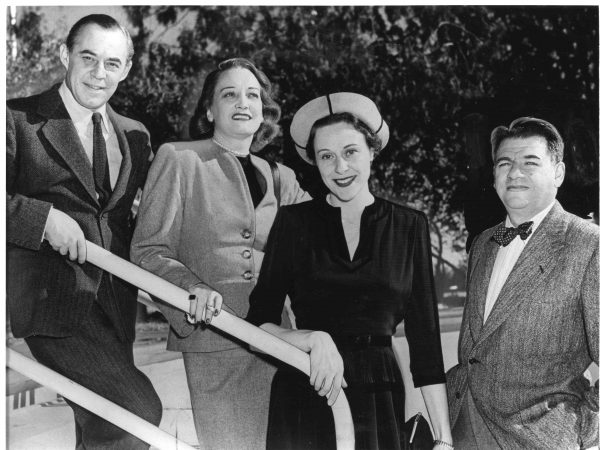 Rodgers and Hammerstein
Rodgers and Hammerstein got to work adapting the play. As the show took shape, with choreographer Agnes de Mille added to the team, everyone started getting goosebumps, aware that they were creating something new and different—beyond the usual Broadway formula of toe-tapping tunes, vulgar comics, and scantily clad chorus girls. Was it too different? That was the verdict of experts like producer Mike Todd, who walked out of a preview sneering: "No gags, no gals, no chance," according to Ethan Mordden's book "Rodgers and Hammerstein."
"Oklahoma!" did more than prove the experts wrong. It was the biggest smash in Broadway history. Songs like "The Surrey With the Fringe on Top" and "People Will Say We're in Love" were immediate hits. Radio and records brought the score into American living rooms, and the faithful movie version is as beloved today as it was 60 years ago.
Almost overnight, the show revolutionized Broadway, replacing "legs and laffs" with a new paradigm: Words, music, and dance combined seamlessly to tell a meaningful story that evoked real emotions. Characters had depth, and comic scenes were balanced with more serious themes. In "Oklahoma!" a debauched farm hand attempts murder and dies in a knife fight. What?! Frothy, superficial entertainments paled in comparison. A new kind of show required a new name: "Musical comedy" was out, and the "musical play" or "integrated musical" was in.
In later shows, the team fearlessly took on hot-button issues: crime and spousal abuse ("Carousel"), cultural conflict ("The King and I"), war and racial prejudice ("South Pacific"), and even Nazis ("The Sound of Music"). All of it sung to Rodgers's unforgettable music.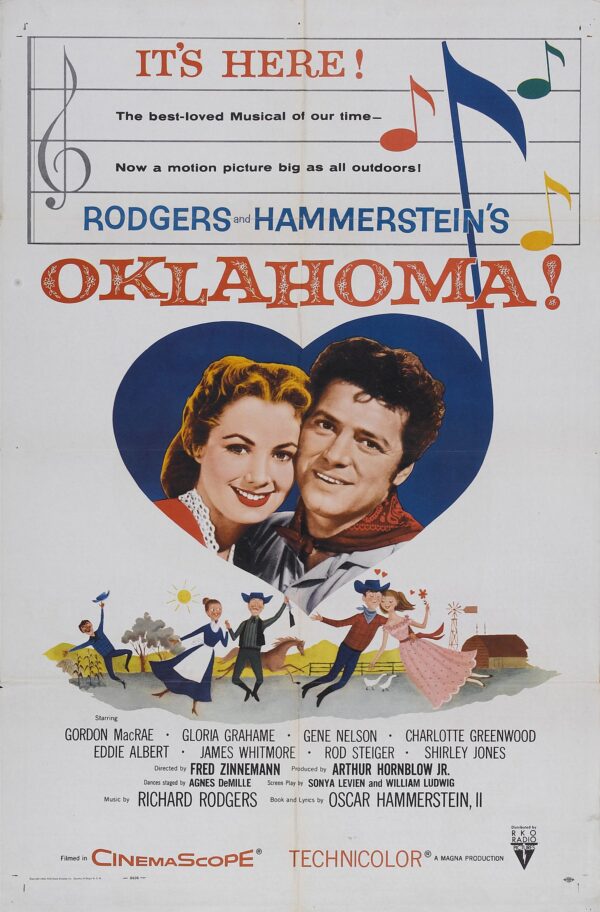 Rodgers, the Musical Magician
So what's so great about the music? In his first phase, Rodgers matched Hart's quicksilver wit with clever, witty tunes. With Hammerstein, his music changed completely. His new partner's warm, openhearted lyrics called for warmer, more expansive melodies. The tunes were often simple but never simplistic. It took Rodgers enormous effort, knowledge, and skill to produce songs as apparently unsophisticated as "Bali Hai" and "Oh, What a Beautiful Mornin'."
Let's look at the latter, the song that opens "Oklahoma!" to see how Rodgers takes the familiar and makes it unique. He sets "oh what a beau-ti-ful" on an elementary musical phrase—in the key of C major it goes G-E-B-C-E-G. Simple so far, but then on "MOR-ning" he hits us with a "wrong note," a B-flat that doesn't belong in the key at all. When the phrase repeats in the third line, the flat is replaced by a B natural, resolving the dissonance and making us feel that the tune itself is taking flight over the bright prairie where,
"The corn is as high as an elephant's eye,
An' it looks like it's climbing clear up to the sky."
Most people have heard this song, but how many realize that it's a waltz? Typically, Broadway composers had avoided 3/4 time because it recalled old-time operettas like "The Merry Widow." Then came Rodgers. His waltzes were different: American as apple pie and so smartly composed that most listeners don't even realize they're in 3/4.
You might call them "stealth waltzes." Other examples are "Edelweiss," "My Favorite Things" and the touching "Hello, Young Lovers." Then again, when you expect a waltz—as in "Shall We Dance" from "The King and I"—he doesn't give you one. Rodgers never settled for the obvious.
Many of his songs use the most basic musical structure: the scale. He finds endless ways to deploy and modify it. His first hit, "Manhattan," begins by repeating a plain major scale over and over, like a child practicing piano. The effect is startling in its squareness, making Hart's amusing lyrics even funnier. In their final show, Rodgers and Hammerstein paid charming tribute to the musical scale with "Do-Re-Mi."
How amazing is it that Rodgers and Hammerstein wrote their happiest show in 1959, when Hammerstein was dying of cancer? The lyricist gave the world one last gift of joy and beauty: "The Sound of Music." His love of nature, children, and everyday people was undimmed to the end. The loss of Hammerstein devastated Rodgers. All his career, he'd only worked with two partners. Both were gone. What would he do now?
Rodgers wrote his own lyrics for his last success, "No Strings," and worked with other writers, but none of his later shows pleased critics or audiences. No matter—when he died in 1979, his place was secure in our national culture and in the hearts of millions of Americans.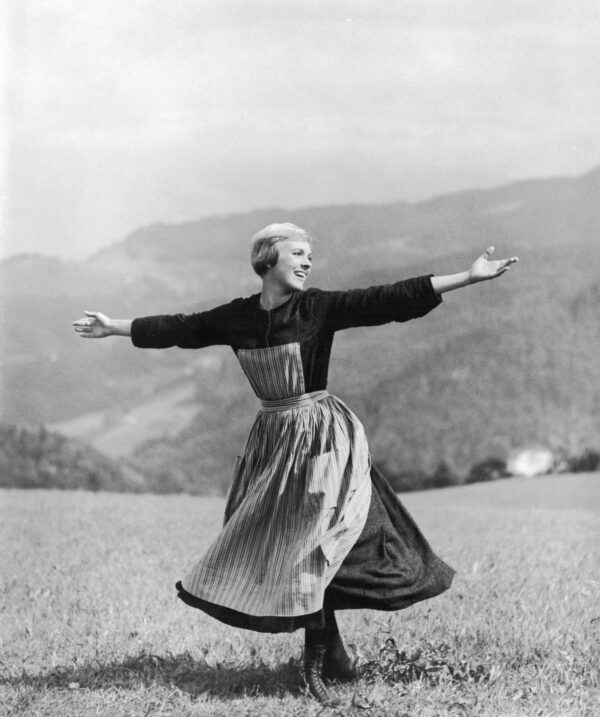 The Legacy
In Rodgers's era, Broadway composers didn't just want hit shows. They wanted hits on the radio, so they built their songs to function doubly: in their specific theatrical contexts and more generally, as pop hits for Tony Bennett or Rosemary Clooney. "My Funny Valentine," for example, was sung in "Babes in Arms" to a character named Valentine, but it works just as well without him.
Some of the songs outlived their shows in surprising ways. "You'll Never Walk Alone," sung to the heroine of "Carousel" by her cousin, became an inspirational classic. Playing it over and over gave a horribly wounded young soldier named Bob Dole the courage to overcome his injuries, become a senator, and run for president. It's hard to find a singer, choir, or chorus that hasn't performed this affecting anthem. It's heard at graduations, tributes, and presidential inaugurations, and you'll find it today in the hymn books of many African American churches. The famed Liverpool soccer team even adopted it as their theme song.
With both Hart and Hammerstein, Rodgers searched tirelessly for fresh ways to express universal human emotions. (Rodgers was the first EGOT—winner of an Emmy, a Grammy, an Oscar, and a Tony Award. Only 15 others have joined this exclusive club.) He built his melodies to last, and they have for close to a century, proving that our classic musicals and popular songs can still delight and touch the hearts of Americans from every walk of life. Even my Uncle Keith.
Stephen Oles has worked as an inner city school teacher, a writer, actor, singer, and a playwright. His plays have been performed in London, Seattle, Los Angeles, and Long Beach, California. He lives in Seattle and is currently working on his second novel.