Neither "Spoon River Anthology" nor "Simply Heavenly" was a hit on Broadway, but both Masterworks Broadway CDs are highly recommended.
Edgar Lee Masters (1868–1950) is remembered primarily for writing "Spoon River Anthology." The book, which was first published in 1915, comprises free-verse monologues in which the deceased inhabitants of a mythical Midwestern town speak of their lives.
Charles Aidman (1925–1993) adapted the work for the stage, directed the show, and appeared in it when the production came to Broadway in 1963. The remarkable original cast album has just been released on Masterworks Broadway.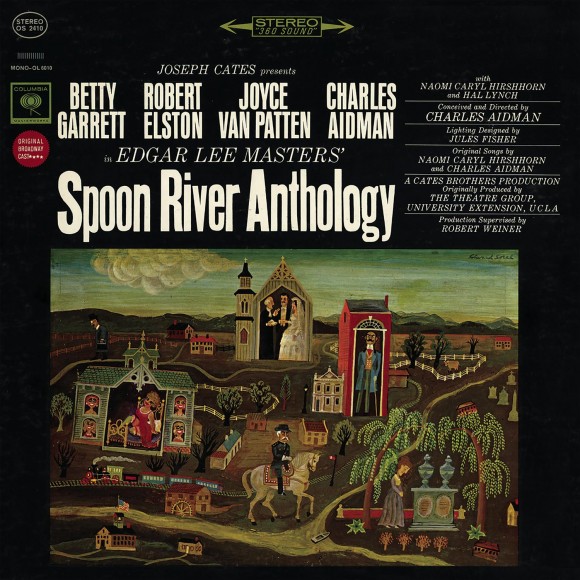 The show was a labor of love for Aidman, a busy supporting actor in movies and television, who came from the Midwest. He also co-wrote two songs for the show with Naomi Caryl Hirshhorn.
Sweet-voiced Hirshhorn sang her own compositions plus folk songs with Hal Lynch. The music is imaginatively used between some of the poems or occasionally in the background during the recitations.
In addition to Aidman, Hirshhorn, and Lynch, the other actors on stage were Betty Garrett, Joyce Van Patten, and Robert Elston. The versatile actors played a multiplicity of roles, adroitly changing ages and accents.
Garrett (1919–2011) was best known for musical comedies, such as the movies "On the Town" and "Take Me Out to the Ballgame." She was blacklisted during the McCarthy era, along with her husband, Larry Parks. The "Spoon River" album reveals that she had a depth as an actress that was overlooked by Hollywood as well as in the later TV sitcoms she acted in, "Laverne and Shirley" and "All in the Family."
Van Patten also specialized in comedy. After this show, she went on to become a regular on the Danny Kaye TV show. Elston (1932–1987) continued to act and direct, and he became a noted acting teacher as well as the co-founder of the American Renaissance Theater Company.
The monologues of "Spoon River Anthology" mostly depict unhappy lives: husbands and wives who hate each other, soldiers who died in battle or survived, immigrants, a mistreated black man, a woman poet, and those from different occupations, from lawyers to farmers. A Jewish man complains that he didn't mind conducting business in Spoon River but he doesn't like being buried there.
Near the end, there are positive statements by two inspiring women: Ann Rutledge (the supposed first love of Abraham Lincoln, portrayed by Van Patten) and the strong-willed frontierswoman Lucinda Matlock (Garrett).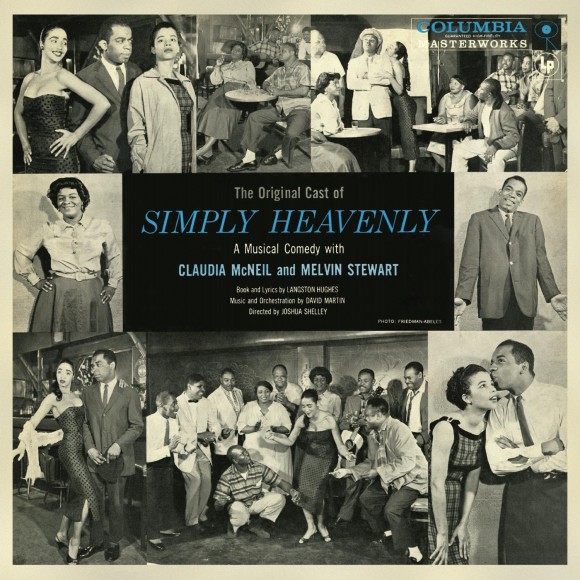 'Simply Heavenly'
Langston Hughes (1902–1967) was a noted poet, playwright, novelist, and newspaper columnist. He lived in Harlem for most of his life and celebrated the black working class with humor, while also poking fun at white racism.
Hughes's most famous creation was the fictional character Jesse B. Semple (known as Simple). Simple is the central figure in "Simply Heavenly," a 1957 Broadway musical, which had a book and song lyrics by Hughes with music by David Martin.
The CD includes two of Simple's monologues.
The plot deals with Simple's efforts to raise the money to get a divorce and marry the straight-laced Joyce. He is distracted by the flirtatious Zarita and lands in a hospital bed after a car accident with the seductress. As he explains, her car tried to climb the George Washington Bridge instead of crossing it. Simple recovers and eventually achieves a happy ending with Joyce. Another character, Mamie, is being pursued romantically by a watermelon peddler.
The engaging songs by Hughes and Martin reflect the influences of jazz, blues, and calypso as well as pop music. The cast includes a true bluesman, singer-guitarist Brownie McGee. The surprise is the Mamie of Claudia McNeil (1917–1993), primarily remembered for her powerhouse performance as the matriarch in "A Raisin in the Sun" (which she played on stage and in the film). In fact, she had been a nightclub singer before she became an actress and had a distinctive smoky voice.
The rest of the cast also puts over their numbers with charm: Melvin Stewart as Simple plus Anna English, Marilyn Berry, John Bouie, and Duke Williams.
Fortunately, the CD includes two of Simple's monologues. In one, he bemoans the fact that the white newspapers mention black people only when they commit crimes, and notes that no African-Americans caught sight of flying saucers (in vogue at the time in the tabloid press). In the other, he dreams of leading an army regiment of white men from Mississippi.
Barry Bassis has been a music, theater, and travel writer for over a decade for various publications.