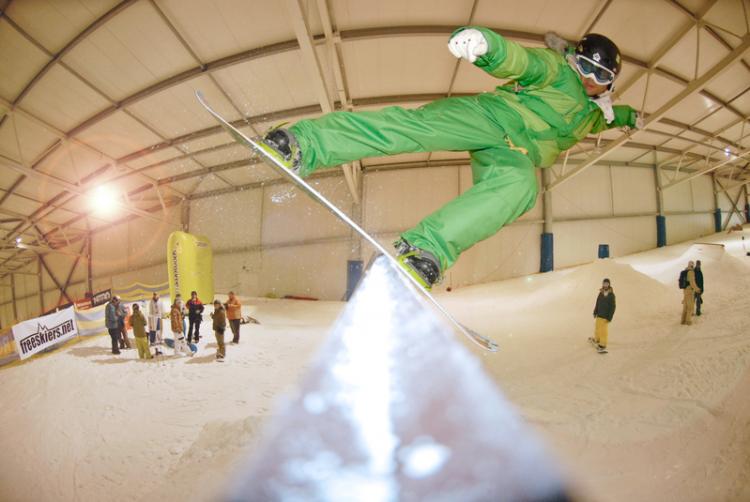 At the Alpine Center, Wittenburg, ski and snowboarding enthusiasts are enticed by minus degrees for 365 days of the year.
Only one hour by car from Hamburg, the activity park was built in the former East German town in 2006, by a Dutch enterprise the Van der Valk GmbH. Now the re-modeling has been completed, the grand opening will take place this coming weekend.
The "Snow Hall" features an integrated "Halfpipe," meant for artistic maneuvers that are well known in snowboarding circles. Because of the facility's strict adherence to the FIS guidelines regarding dimensions and grades, this park was the only one deemed suitable for the 2007 world-wide training of future Olympic snowboarding masters.
"The goal for such a facility as this is to cater for a wide-ranging variety of activities, with the aim of pleasing the greatest number of visitors," said Mr Frank Rieder, the man responsible for the remodeling. He himself has been an enthusiastic snowboarder for the past 17 years. The newly revised third of the facility's 30,000 sq meters will let the competent skier practice free-style maneuvers, traversing obstacles.
One of the center's advertisements is aimed at potential customers using a mix of English and German, luring not only dyed-in-the-wool snowboarders, but others: "Die Highlights im Setup stellen zwei Kicker dar, welche in einer Linie zu fahren sind, ein Mega Air Bag als Landung für den Big Air Kicker und ein Naturobstacle, welches in einer Indoor Schneehalle nicht alltäglich ist". [Proper translation: The highlights of the setup are two "kickers," one when riding in a straight line that holds a mega air bag, and the other a huge "air kicker" and a natural obstacle, rare in an indoor snow hall."]
Joining Botrop, near Gelsenkirchen, Wittenburg is the second all-year activity park the hotel conglomerate Van der Valk GmbH manages, in addition to their 200 hotels and resorts worldwide. Outstanding features include a climbing feature beneath the snow hall, and an area for children and a "Car Trennbahn."
The adjacent hotel not only offers comfortable lodging but prides itself on serving food suitable for a ski area, just as one would find at a ski lodge in the mountains, or, as Mr Rieder stated, 'Mulled wine even during the summer."
Read thios article in the original German: http://www.epochtimes.de/articles/2008/11/22/373640.html