The title "Jascha Heifetz: The Supreme" of Arkiv's two-disc Artists of the Century collection, which ranges from Bach to Tchaikovsky to Gershwin, is absolutely accurate: Jascha Heifetz is often regarded as the greatest violinist who ever lived, but certainly of the 20th century—and beyond.
Comprising seven representative performances, the set from the RCA Victor Red Seal label includes five concertos in their finest renditions.
No one can surpass Heifetz for tone, accuracy of intonation, technical agility—and, yes—heart. Perhaps his greatest attributes are his multicolorations and his unique phrasing. At times, he appears to be behind the beat, but this serves to increase tension—and interest.
His rendition of the solo Bach Chaconne alternates power with lyricism, varying intensity with quicksilver ease. His playing is full of sentiment but is never sentimental.
Several major violinists have recorded this work. Itzhak Perlman's version is powerful, but lacks variety and is a bit heavy-handed, seeming more suitable for an organ rather than a stringed instrument.
Heifetz's gifts are potently and economically displayed in Max Bruch's "Scottish Fantasy." Here is the master's exquisite tone: by turns lyrical, unbearably sweet, passionate, a slow pace leaping to swift and crystal-clear trills, vibrato like the brushing together of a hummingbird's wings. Sir Malcolm Sargent conducts the New Symphony Orchestra.
The Brahms and Tchaikovsky concertos have interesting connections. They're both in D major, were composed in 1878, but the Brahms in Austria and the Tchaikovsky in Russia. In each, Heifetz is accompanied by the superb Chicago Symphony Orchestra (CSO) under the baton of the brilliant Fritz Reiner, sometimes referred to as the Heifetz of conductors.
Both concertos feature Heifetz's fiery attack; each note, including each note of the trills, is crystal clear. The lyrical passages are so moving that I got gooseflesh as I listened. Heifetz's mood changes are so abrupt and defined that they seem wrought by machine. But I mean that as a compliment. There is no one like him.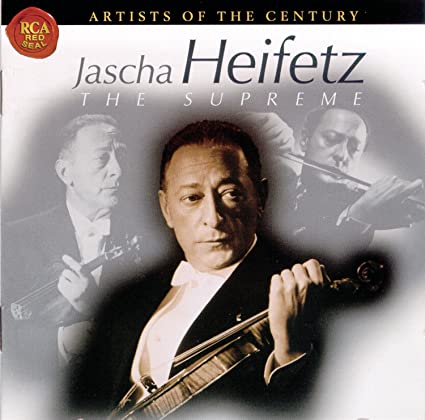 The CSO, this time conducted by Walter Hendl, accompanies Heifetz in the Sibelius, the only concerto the noted Finnish composer ever wrote. It's in a class of its own.
Heifetz gives a masterful interpretation of this work, which features occasional Asian-like motifs, sometimes a gypsy quality. Some passages are dark, almost tragic in feeling. Heifetz, a master of all genres and styles, of course, rises to the occasion.
Maxim Vengerov also gives a fine interpretation of the Sibelius, available on YouTube: very passionate but lacking variety. Perhaps it is a matter of taste. He is accompanied by the CSO with Daniel Barenboim at the podium.
Heifetz's rendition of the Glazunov concerto, conducted by Walter Hendl, this time with the RCA Victor Symphony Orchestra, sweeps from sweetly lyrical to passionate, and rings with nobility at times. Heifetz plucks the strings with aplomb and demonstrates phenomenal speed at the end of the piece.
There had to be a special place in Heifetz's heart for George Gershwin. The two were friends; Heifetz had hoped Gershwin would compose a work especially for him, but fate intervened. Gershwin died, tragically, at age 38, from a brain tumor, leaving such major works as "Rhapsody in Blue" and the opera "Porgy and Bess."
Heifetz himself transcribed for violin Gershwin's three Preludes for Piano, included here. He plays with his usual sensitivity and élan.
Perhaps the following, offered by writers Florine Mark and Maria Scott, explains something of Heifetz's magic. A young boy approached Heifetz after one of his concerts and gushed: "I'd give my life to play violin the way you do."
Heifetz replied, "… I did."
Diana Barth writes for several theater publications, including New Millennium. She may be contacted at diabarth99@gmail.com