African American Heirlooms Brought Out From Shoeboxes
July 20, 2013 3:16 pm Last Updated: July 22, 2013 1:39 pm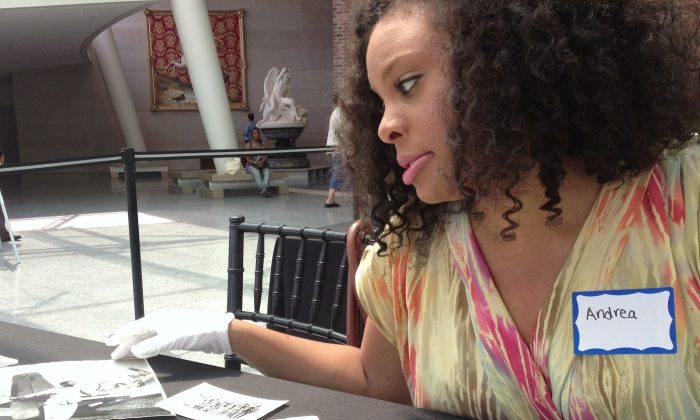 NEW YORK—The lobby of the Brooklyn Museum looked like the Antiques Roadshow on Saturday, July 20.
The museum teamed up with Smithsonian Institution's National Museum of African American History and Culture to make available the services of about 30 professional conservators and curators from around the country. For one day, they helped members of the public to identify and preserve cultural items brought from home.
"A lot of the important things of history are still in people's attics," said Esther J. Washington, director of education for the Nation Museum of African American History and Culture.
Indeed, many members of the African-American community brought in textiles, documents, photographs, small sculptures and mementos, some of which were quite impressive.
The items were not being appraised for value, but the information that came out of the 15-minute sessions was valuable. In each free consultation with conservators, participants learned about the origin of their items, what the items were made of, and how to properly store and care for them.
This event was the thirteenth in the traveling series. Save Our African American Treasures has already been to Los Angeles, Detroit, South Carolina, Mississippi, and will be in Florida next.
"Each place has a different flavor—in South Carolina people brought in a lot of metalwork because that's a speciality there. In the North, we saw a lot of civil rights documents from the abolitionist movement," Washington said.
Some people brought in recent purchases hoping to learn more about they bought.
Vincent Nealy from Brooklyn bought a quilt at a Manhattan flea market for $20, which he learned is contemporary.
"It'll be old someday," reassured Nancy Love, a textile conservator from Philadelphia, for whom this was the fifth or sixth Save Our African American Treasures day she had worked.
Nealy took notes on the type of plexiglass he should buy to protect the textile.
Karen Wells brought in Yoruba sculptures that her well-traveled mother had collected. They were well loved, but cracked in places, and Steve Mellor, chief conservator at the National Museum of African Art, advised her on how to handle and clean it.
Perhaps one of the more satisfying group of items brought in was from Andrea O'Neal, whose paternal grandfather, James O'Neal, traveled with the Tuskegee Airmen as an aviation engineer to Italy in the early 1940s, during World War II.
A passionate photographer, he documented the men at the base camps. The collection of many large and small black-and-white photos show the men repairing training planes, refilling artillery, and hanging out with Italian women.
A uniformed man believed to be the famed boxer Joe Louis stood in one of the photographs. O'Neal's research revealed that Louis was serving in Italy at the time.
When O'Neal's grandfather passed away, he left her father his army trunk filled with letters to her grandmother, these photos, and a folded flag. These items have been in her dad's basement for years.
"As an only child, I was the only one really interested in this stuff," she said. "As I was going through these photos, I thought, 'Oh my god this is really important.'"
"I knew I had something special," she said, following the consultation. "I'm just thrilled. For me, these objects are very important. To be able to preserve it and share it and create a larger narrative, that's something I'm really passionate about. This kind of stuff deserves more than a shoebox."
O'Neal is set to donate her collection to the National Archive.