Avery Carlson is a bright 18-year-old from Harvard, Illinois, who first developed an interest in riding horses when she was 8 years old. Both her parents grew up with horses, so the young Carlson had an understandable attraction to the equine mammals. Now, she's developed a passion for riding, and also rescuing injured and abused horses.
Carlson's first rescue occurred when she was 9, after her mother Cristen discovered a miniature horse that was blind, terrified, and possibly pregnant. Carlson fell in love with the animal and rescued it from New Jersey. To date, Carlson has rescued 20 horses.
There is a shady business in the horse world called the "Kill Buyer Practice," in which middlemen buy horses at auction and take them to feed lots and try to find them homes. If they can't find a home, the horses are sent off to slaughter.
"It's controversial because some see it as morally wrong. It's not really the best thing to be buying horses and then sending them to slaughter. That's just really messed up. A horse is worth miles more than that. They have a soul," Carlson told The Epoch Times.
Rescuing Emma
Cristen encountered a horse named Emma on Facebook, as the owners were looking to find her another home. Cristen showed Carlson some photos, and she was immediately enamored.
"She had these deep eyes, and you could look right into her soul. She had these cute little ears that kind sat off to the side, and they were really furry. She was just precious, and I saw her and I'm like, 'I have to have this horse. I feel like I'm meant to have this horse,'" Carlson recalled.
Emma was in Oklahoma, and Carlson and her mother drove all the way there from Illinois in March 2017. When they arrived, Emma's physical condition was much worse in person.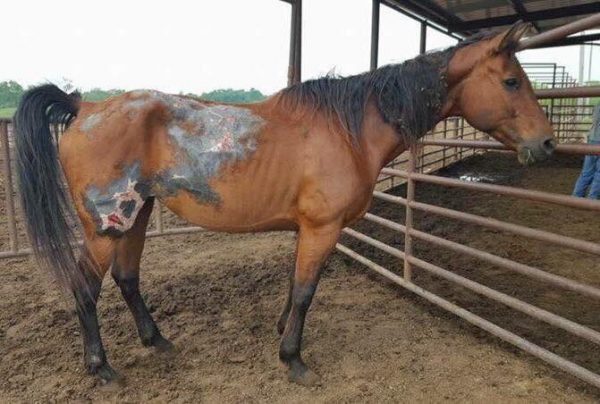 Carlson noticed her severe burns, and immediately began to weep. It was unclear if she had been abused or in a fire, and her wounds were raw and oozing with fluid.
But Carlson noticed a great deal of potential in Emma.
"I hadn't really felt that way about another rescue horse. I saw her, and I think it was just love at first sight," Carlson said.
Looking at Emma, Carlson thought Emma might make an excellent therapy horse for others with burn injuries.
Healing and Rehabilitation
The first priority was to manage Emma's pain and take care of her burns. If horses are in pain, it affects their diet and they won't eat.
Once they had the pain under control, Carlson and her father, who is a veterinarian, addressed the burns. Her father was able to use a high-grade therapy laser that improved Emma's circulation and healing.
Afterward, Carlson and her father applied silver sulfadiazine ointment to help the burns heal and prevent infection.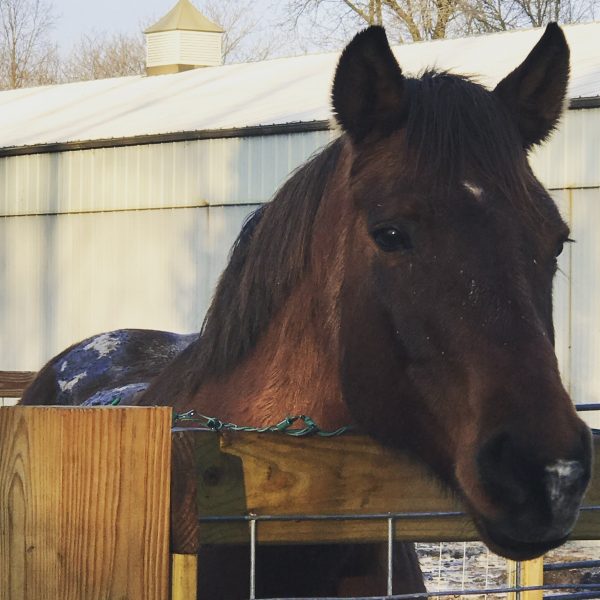 One of the biggest challenges for Emma was learning discipline.
When they first met Emma, she was stubborn, and wouldn't get into the trailer. Carlson had to teach Emma that it was inappropriate to knock people over or step on their feet.
"It was disciplining her, but also making sure she knew she was loved and she was safe," Carlson said.
Every day onward presented its own little high point. Whether a wound didn't break open or Emma didn't knock into Carlson, it was a good day.
After a year of recovery, Carlson tried to ride with Emma.
Many people had doubts, but Carlson maintained the hope that Emma might be able to ride again.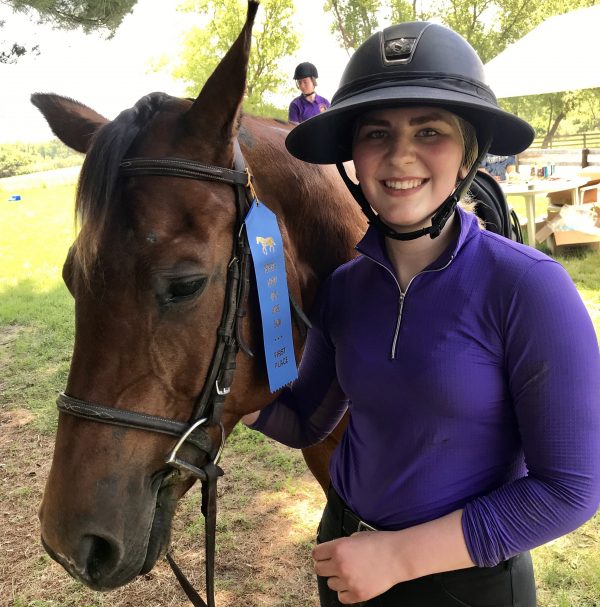 Positive reinforcement was the overall strategy for the training process. Everyday, Emma slowly learned more and more, though she would occasionally relapse, and they would have to redo the training exercises.
Over time, Emma was able to walk and trot. She even gained the ability to jump small hurdles. Without a rider on her back, she's able to canter out in the pasture.
After about a year of training, Emma was ready to compete.
The Blue Ribbon
In June 2019, Carlson put Emma in the trailer, and took her to a horse show called "Pepper's Legacy" that was only 10 minutes from their home.
The atmosphere was calm, and the competition was accepting and aware of having a burned horse competing.
"Of course she was a bit frightened. She was pretty worried just because it was a new place," Carlson explained.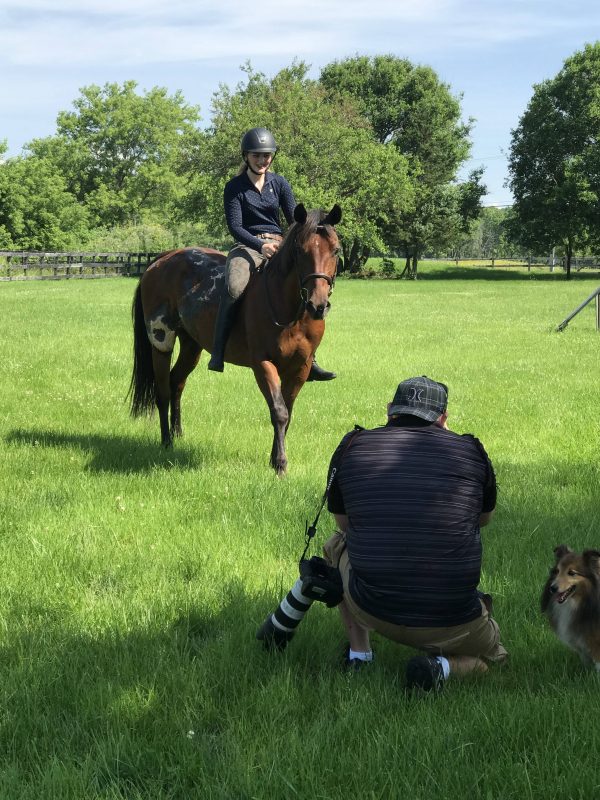 Fortunately, Carlson and Emma had developed a close bond, which helped Emma's confidence level. Once Emma entered the show ring, she began showing off to the crowd.
"Her whole personality took a whole different turn," Carlson said.
"Once she was in the show ring she literally came alive like I've never seen her come alive before. It was like if she had a new light appear in her."
After all the horses had competed, Carlson and Emma had won the first-place blue ribbon. When Carlson heard Emma's name announced, she couldn't help but cry.
"I was just so proud of her. All I could do was just start crying and just hug her because she was amazing, and she knew it, too. She was so proud of herself," Carlson said.