It takes a good restaurant for New Yorkers to want to stand in line—especially in Koreatown, which overflows with restaurants and eateries. MissKOREA is exceptional on that count; diners are happy to line up, especially on the weekends.
It's a testament to how it distinguishes itself. For one, in a landscape where service is matter-of-fact at best, here it is friendly and efficient (note the wireless headsets waitstaff wear for communication). The design, with a nod to nature as inspiration, makes for a pleasant, inviting retreat from the bustle of Midtown Manhattan.
The cuisine, also inspired by nature's seasonality, takes a healthier approach than most Korean restaurants. For owner Sophia Lee, who was an elementary school teacher for 27 years before opening three successful restaurants in Manhattan and New Jersey, restaurants have always been a place for nourishment and relaxation. They were her refuge when she faced difficulties—sure enough, good food, hospitality, and beautiful surroundings never failed to turn her mood around. These very elements make up the essence of missKOREA.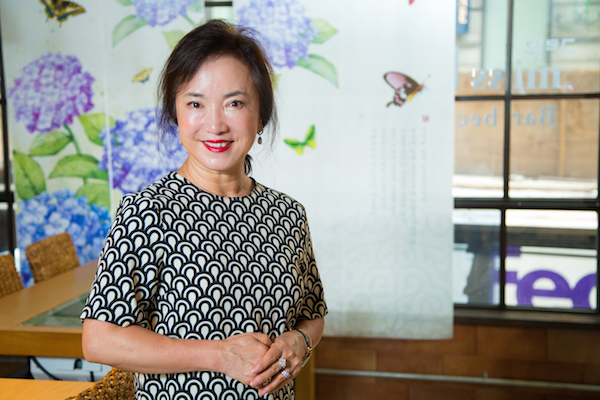 Three in One
MissKOREA feels more like three restaurants in one. The original missKOREA, on the first floor, "Jin," or "The First," has a trendy vibe with a nature-inspired aesthetic—from the stone walls with tufts of grass (artificial, but this is Manhattan, so what do you expect?), to the muted mural of a forest on one side, to the irregular, naturalistic edges of the tables.
To the joy of people with irregular schedules, it is open 24 hours a day, with a special late menu starting at 10:30 p.m. It has been so successful that two more floors were added. The third one is a contemporary space, with shades of black and white with accents of red, that pays homage to poet Hwang Jin Yi, who was known for her poems about longing.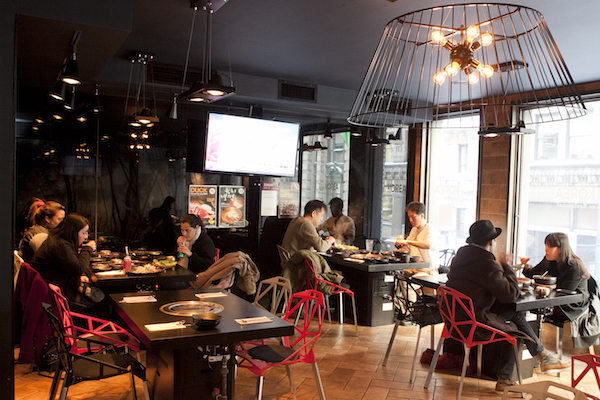 It's not obvious at first, but the restaurant's name missKOREA is not about beauty queens, but rather a yearning and nostalgia for Korea. The next floor up, "The Second" or "Sun," is an oasis of calm, inspired by Korea's Joseon Dynasty (1392–1910).
The aesthetic is spare and beautiful, with light wood and warm lighting throughout, and it's adorned with delicate details and Korean artwork. Peaceful private rooms, accommodating parties of eight or more, were inspired by the Korean sarangbang. In historical times, these traditional study rooms, where one could practice writing, calligraphy, and painting, also doubled as places where nobles would engage in discussion of politics and culture, over tea. In a sense, they were cradles for reflection, interaction, and new ideas. The rooms at missKOREA are especially sought after by business people looking for a quiet, classy space away from prying eyes and ears, but even families will appreciate the serene environment. The rhythm of agrarian and natural life is on display, with seasonal landscapes gracing the walls, mingling with illustrations from well-known Korean stories.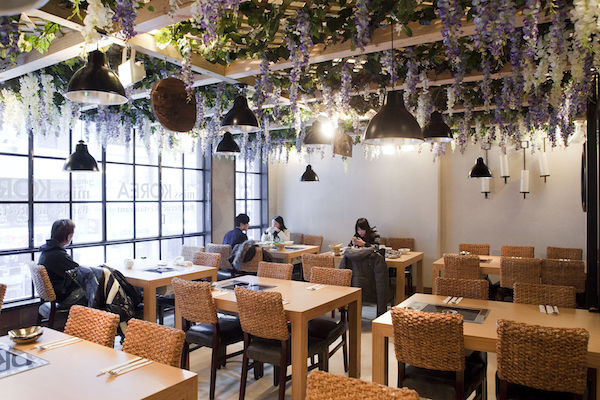 Details are carefully tended to, even down to the tableware. Brassware bowls and chopsticks are the norm here. They are valued for their insulating properties, but are difficult to maintain; the onerous group task of polishing takes place once a month.
A Healthier Cuisine
Compared to most Korean restaurants, where many dishes contain a significant amount of sodium and sugar, missKOREA has a more restrained flavor profile. It's out of consideration to diners' health, but in truth, it makes it easier to appreciate the wide range of flavors in the dishes. It is just as satisfying, if not more so.
The banchan alone, with its multiple palate-whetting small dishes (nine for lunch, eight for dinner, all included in the price of the entrée) take you on a journey between the astonishing sweetness of different greens and the earthiness and tanginess that can only be coaxed out through an alchemy of fermentation.
To create the menu, Lee called on the services of Sun Kyu Lee, who is a renowned food consultant in South Korea. A highlight is the five-course dinner menu served on the second floor (available for $49.95, $59.95, or $69.95 for dinner; lunch for $24.95). There are more affordable options as well, including lunch specials, ranging from $8.95 for kimchi jigae, a spicy kimchi stew with pork, tofu, and vegetables, to $16.95 for barbecued galbisal, marinated boneless short ribs.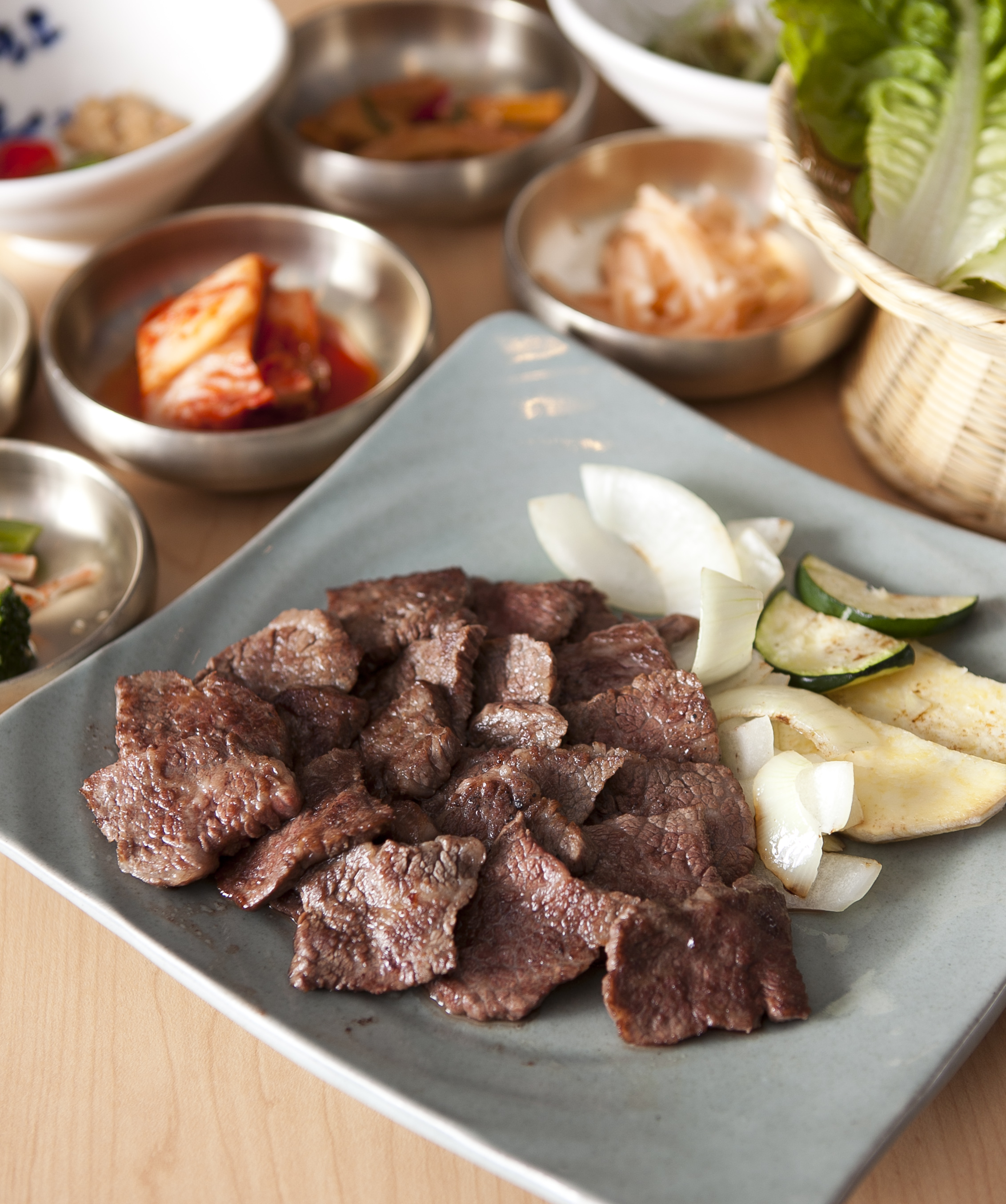 Always popular is the kalbi jjim, a stew of boneless short ribs served with sautéed golden needles, potatoes, rice cakes (not the crumbly dieting kind mind you, but dense, chewy little slices made of rice flour), and jujube strands. Another entree included a sauteed red snapper, with golden mushrooms, and nutty-sweet-starchy lotus root. MissKOREA's signature dish is the clay pot galbi, marinated for 48 hours in onggi, Korean ethnic earthenware. In ancient times, these were believed to be breathing vessels, and indeed magnification reveals pores large enough to let air circulate. The two-day process allows for better texture and flavor.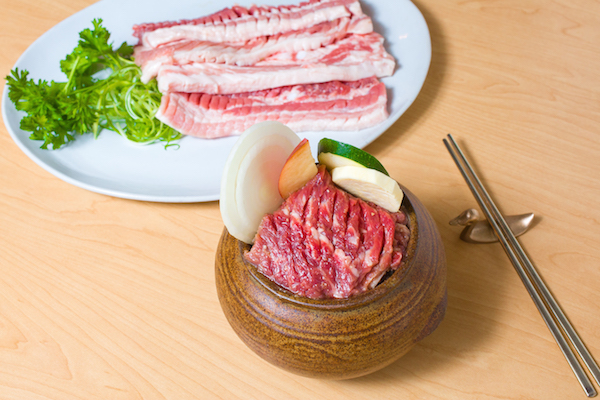 While the marinated beef doesn't need anything but a dab of soybean sauce (also lighter in comparison to most places) and some rice, the whole carried through on a fresh lettuce leaf, unmarinated beef can be painted over with a bit of simple sauce made from sesame salt and oil.
If ancient tradition has its place at the table at missKOREA, so does cutting-edge technology. The infrared grills at the table (the first on the East Coast) make for quicker cooking and are smokeless. After the barbecue dishes, mul naengmyeon, a cold buckwheat noodle soup, is perfect. With delicate, thin slices of cucumber and Asian pear, it is surprisingly refreshing—a fitting ending to a couple of hours spent in a peaceful refuge.
missKOREA BBQ
10 West 32nd Street, New York, NY 10001
(212) 594-4963
info@missKOREABBQ.com
missKOREABBQ.com