This ham, olive, and cheese bread is very popular in France, and a French aperitif favorite.
Known in French as a "cake salé," or savory cake, you'll often find this type of rustic loaf served at friendly get-togethers or for pre-meal snacks and drinks. They come in all kinds of variations and are traditionally cut into thin slices or cubes for guests to pick at while mingling before dinner.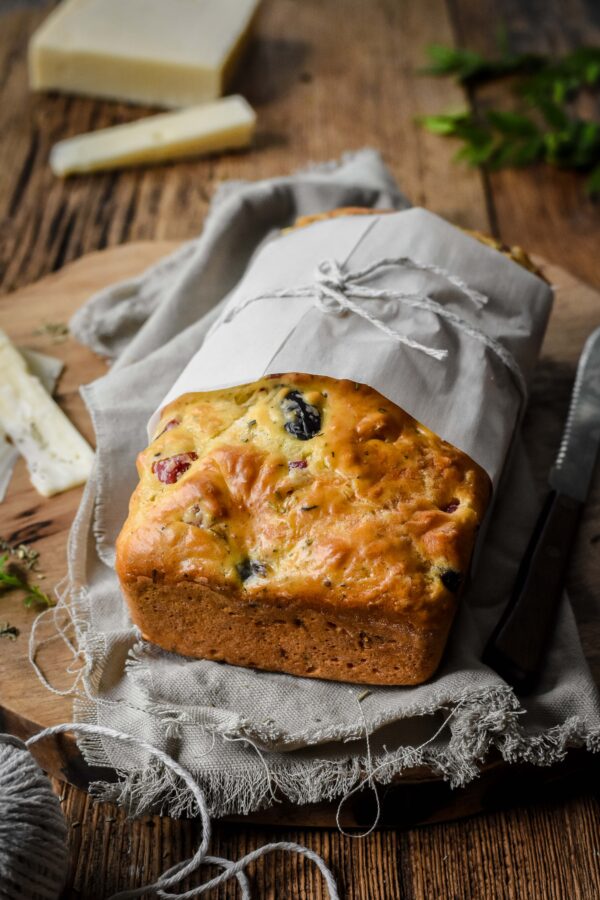 This one is probably the most popular of all. It is made just a like a cake, with flour and eggs but minus the sugar, as well as ham, cheese, and olives—most ingredients you probably already have in your pantry and fridge. It is quick and simple to make, and I have no hesitation in saying that it is a total crowd-pleaser.
It is halfway between a bread and a savory cake, which I think is just perfect: it is salty and flavorful, but not too rich nor too moist. It has a tender crumb that's both cheesy and eggy, spruced up with dried herbs and nestled with salty ham cubes and briny olives.
For serving, cut the loaf into slices or cubes, and place them on a serving tray with skewers and napkins. Because it is sturdy and keeps well, it also great for picnics or lunches on-the-go, to accompany a salad.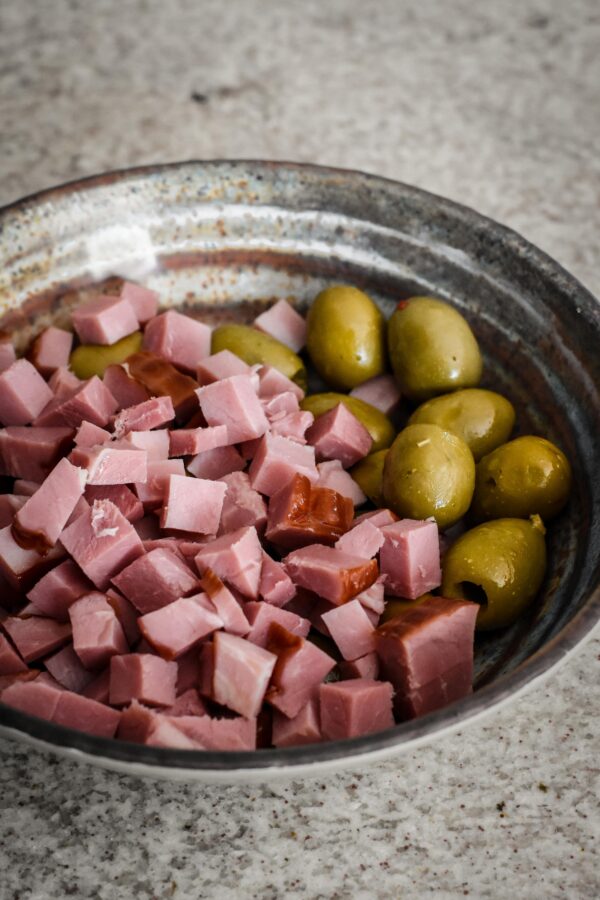 Ham, Cheese, and Olive Bread
Makes one (8-inch-by-4-inch) loaf
1 1/4 cup all-purpose flour
1 1/2 teaspoon baking powder
1/2 teaspoon salt
1/2 teaspoon freshly ground black pepper
1/2 teaspoon herbs de Provence (or dried thyme, dried rosemary, dried savory)
3 large eggs
1/4 cup milk (2 percent or whole)
2 tablespoons extra virgin olive oil
1 cup grated cheese (Emmental or Gruyere)
3 1/2 ounces olives, pitted (black, green, or a mix)
2 1/2 ounces ham, diced and skin removed
Preheat your oven to 350 degrees F with a rack in the middle. Butter and flour an 8-inch-by-4-inch loaf pan very well.
In a large mixing bowl, combine the flour, baking powder, salt, black pepper, and herbs de Provence. Add the eggs and mix, using a wooden spoon or spatula.
Mix in the milk and extra virgin olive oil. Fold in the grated cheese, followed by the olives and ham cubes.
Transfer the batter into the prepared loaf pan. The batter is quite thick, so use a spatula to smooth out the top.
Bake for 45 minutes, until the top is golden and a knife inserted into the middle comes out clean.
Transfer to a cooling rack and wait 15 minutes before removing the loaf from the pan.
Enjoy warm or at room temperature.
Notes
For the ham, choose an "original" or "traditional black forest" ham (not flavored, such as brown sugar or honey maple). Cut it into small cubes, and make sure you remove the skin (the skin doesn't bake well in this cake, and ends up being very rubbery).
For the cheese, Gruyère or Emmental are best, but you can also opt for another hard grated cheese such as cheddar, smoked cheddar, parmesan, or provolone.
If you aren't a fan of olives, you can substitute them with the same amount of sun-dried tomatoes, drained and chopped.  
Audrey Le Goff is a French food writer, photographer, and creator of the food blog Pardon Your French, where she shares recipes and stories from her beloved home country, France. She is the author of the cookbook "Rustic French Cooking Made Easy" (2019). She currently lives in Niagara, Canada. Follow her on Instagram @pardonyourfrench
Reprinted with permission from Pardon Your French.