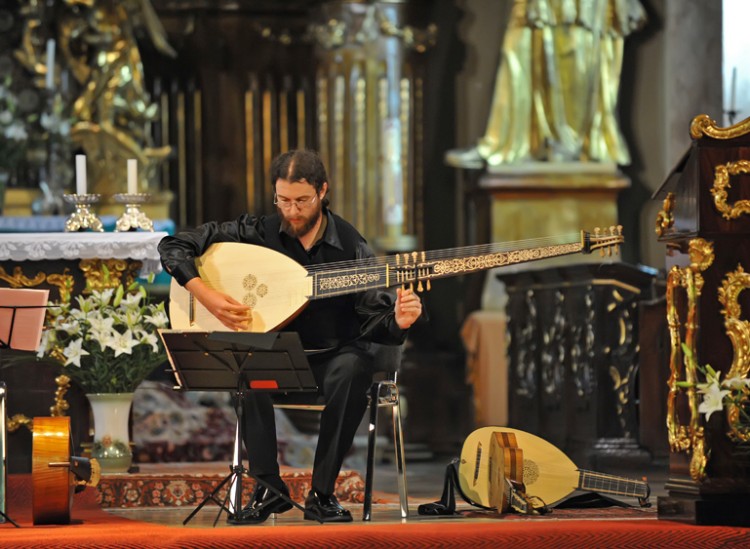 Romanian lute player Caius Hera's love affair with the lute began in his room in Timisoara, Romania where he imitated the sound of the lute on his guitar. His passion led him to Basel, Switzerland and there, under the tutelage of the famous lute master Hopkinson Smith, young Hera reached the level of lute mastery that he'd always dreamed of.
Currently, Hera is working on projects with Hungarian singer Judit Andrejszki, with most of their concerts performed in Eastern Europe. In May, Hera will perform Renaissance music with Judit Andrejszki and the famous Hungarian folk singer Márta Sebestyén in Budapest. At the end of August, he is preparing a big tour in Romania, Hungary, and other nearby countries.
His First Lute
Hera had already studied classical guitar and music theory on his own in high school and only became acquainted with the lute in 2000 at the West University of Timisoara. It was then that he started experimenting with his guitar, trying to make it sound like a lute.
"I simply liked it and tried to see how it would sound on my guitar. It sounded good, but I felt that it wasn't exactly what I wanted. Lute strings are thinner, and there are some things about the instrument's construction [that differs]. The tensions are different. The overall sonority of the instrument is far lower than that of the guitar. The guitar sounds loud and aggressive; the lute sounds soft, very soft," he said.
After searching for years, Hera found, in a small Romanian town, a violin maker able to make a lute for him—his first lute.
The violin maker wasn't what Hera was prepared for. "'What do you want, kid? You want to ruin yourself?' was the answer to his order for a lute, Hera recalled. 'You better go do some pop music. You want to go down the road of no return? It's like a disease, kid. When you get one lute, you'll want another, and another.'"
But Hera replied, "Give me a break, sir. Don't depress me. I want a lute! I've dreamed of having my own lute for years. Now I finally found you, so please make one for me."
"The man said, 'Okay, kid. I'll make a lute for you.'"
On New Year's Eve, 2004, Hera had his first lute in hand. But when he started to pluck the lute strings the next day, he was totally disappointed. The sound had no color.
He called the violin maker, "'Sir, what have you given me here? This doesn't sound right!' and the man replied, 'Kid, you don't know what you've gotten yourself into. It doesn't work that way—switching from a guitar to a lute, and that's it? You need a specific technique. You have to study the technique of interpretation, as if you were going from the piano to the harpsichord. You must realize this is another tool. You must take master classes.'"
Unwilling to renounce his dream of mastering the lute, Hera went to Lake Balaton in Hungary. There was a music festival that year and the great lute master, Hopkinson Smith, was invited. Hera met him and arranged some master classes with him and then he said to himself, "This is good! I'm finally on the right track." But he wanted more. He wanted to sit there and study everything from the beginning. Hera remembers: "Hopkinson said, 'No problem, you can find me in Basel.'"
With extraordinary guts, Hera took all of his savings, booked a train ticket and—bang!—he went to Basel. He studied with Hopkinson Smith for two years. And, although he wondered about it, because it was enormously expensive, he ended up studying with the greatest and the most famous musicians of early music—with Crawford Young, studying Medieval to early Renaissance lute playing, and with British lutenist Anthony Rooley.
Hera went to Basel with one lute, but he returned with many other old instruments. In addition to the Renaissance lute, he mastered the vihuela da mano, a baroque lute with 13 strings; a theorbo, or long-necked lute; an oud, a pear-shaped string instrument; a Baroque guitar; a Renaissance lute and many other instruments with six, seven, and ten strings.
"It was just as the violin maker said, 'That thing will get you, kid. You won't be able to stop. You'll always want new instruments and you're always going to call me and tell me that you need a tool shank with this or that, or another with—I don't know what—and in the end you will end up with four or five instruments that are the same, with only small differences between them.'"
'Musical Archaeology'
What is it that drives Hera to devote all the time and effort he puts into his concerts and collaborations? A desire to perform music from past ages—Medieval, Renaissance and Baroque—as authentically as possible, through instruments and techniques.
"In fact, what I do is a kind of 'musical archeology' because I basically do not dig in the ground. I don't take the shovel in one hand and dig to see what others have left behind them. No. What I do is take the old scores and dig in them. I try to discover how they were composed, why they were composed that way and how they were interpreted."
Hera explains that he does not venture into the realm of the super avant-garde because when he sees what's there, he gets quite scared. He sees it as something we cannot control, catalogue, or know its value.
Hera believes that "You must know where to start and where you want to go."
"That's why I was most interested in presenting this kind of music as authentically as possible. It was for this that I purchased all the instruments and strings required for the tunings used at that time; the plucking techniques of the right hand and holding for left hand—absolutely all the techniques I use are authentic and very well documented. Nothing is invented," Hera said.
The Future
Caius Hera doesn't know which direction music is heading, but he is sure of one thing: "Classical music is stagnating or declining. But this is not true for pop music. Pop music has no way to stall because it is not profound enough to be put in this problematic situation. It is the background music that no one hears, and no longer understands. It is that noise."
Hera thinks that musical creation is linked to the morality of a civilization or a composer. "I remember a very interesting thing the great guitarist Andrés Segovia said, 'the guitar is kept by the heart and sang from the heart.' So, as an interpreter you are already a creator; and even more so for a composer. If you do not have an intense experience and you are not sincere in what you write, it is useless."
Caius Hera exemplifies the proverbial artist who lives for his art. He is an example of courage, perseverance, and authenticity that can inspire any artist who follows in his footsteps to say "Indeed, now I am on the right track!"
To discover more about Caius Hera, subscribe to his YouTube channel HERE, or listen samples of his music on his MySpace account.
The Epoch Times publishes in 35 countries and in 19 languages. Subscribe to our e-newsletter.