Original article on www.todayshuman.com
Just mere days after the terrorist attacks that caused so much turmoil, sadness, and anger across France, the country rose up and proved to the world that they would not let these acts destroy their spirit and what they stand for. In the confusion of trying to find answers to why these events occurred, emotions ran high and it seemed everyone had an opinion. Such deep emotion could cause a further divide in a an already divided country, but France showed the world that they are not just political parties, but a united country that can stand together in the largest gathering ever in the history of France and all in the name of unity.
Whether individuals came to promote freedom of speech in response to the Charlie Hebdo killing, to show support of the families and victims, or any other reason, the sheer amount of people that did was quite stunning.
I interviewed one native Parisian who attended the rally in Paris to speak about his experiences and views.
23 year-old Amaël Pilven is from a Paris suburb and lives very close to the city, so he has been witness to what the city has been going through in the recent days. He has a Masters Degree in Public Affairs from the Sciences Po, a University specialized in political sciences, located in the center of Paris (in the VII arrondissement).
Why did you, personally, attend the rally today?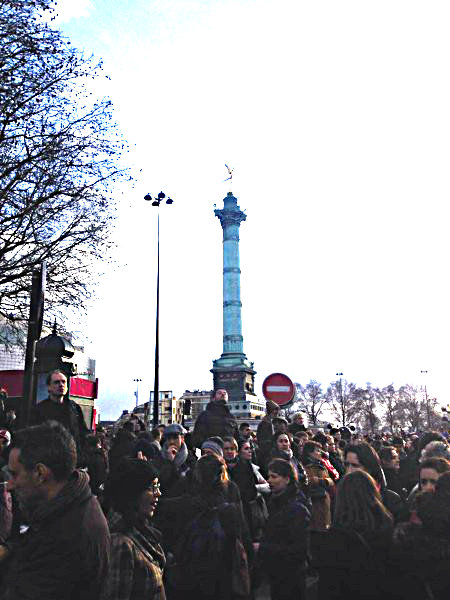 Even though it might seem odd for a French guy, it was the first march/demonstration I took part in. The necessity to attend that rally quickly became obvious to me. In the past few days, the atmosphere in Paris was the strangest I had ever seen. Few people in the streets, everybody talking about the terrorist attacks, no way to work as I was hung to the news… It was oppressive and stressful. That's why this march was in the first place a means to put an end to this terrible week, to leave all this behind. More importantly, it was meant to pay a tribute to the victims and to show that France will always stand united against barbarism. For all these reasons, I definitely wanted to be part of this all the more so as I knew the whole world would be watching.
Could you describe the sights, sounds, emotions, etc. that you witnessed?
We have spent a good deal of the afternoon stuck in the middle of the crowd, standing still and waiting for the police to open the streets. These parts were quite uncomfortable. I saw many many many people around me during all the march. All were in a very good mood, discussing with each other, smiling at each other. Apart from the several times we sang La Marseillaise (our national anthem), the crowd was more or less silent, clapping its hands from time to time to pay tribute to the victims or to cheer the police. If I had to stand out one moment in this afternoon, it would be the moment when, at the end of the march, a mother came to us and asked if we could lend our French flag to her two little boys. She said she was not French but her two boys were French and willing to sing La Marseillaise with us. It felt to me like a symbol of unity among all French people, regardless of their origins or age…
How do you think the recent incidences (the violence and the reaction) will change France? Also, how do you think this will change the world?

I don't know if it will really change France and world. But it is unquestionably a warning. It gives an additional hint of what the terrorist threat is. So far, France had not experienced such a nationwide aggression whereas the US, the UK, or Spain had. I hope it will lead to a crackdown and a better prevention, even perhaps policies aiming at a better integration of some immigrants (often French citizens) that are left aside of the society and therefore more vulnerable to radical Islam. In that respect, it has probably casted a light on deep-seated issues of the French society that will have to be faced. In the short-run, it has at least succeeded to bring together the French people… On the international scale, I guess this is just another warning, another incentive for all western democracies to work together against terrorism and to find answers to the situation in the Middle East.
Had you, previously, been familiar with Charlie Hebdo and how did you view the magazine now and after the attack?
Of course I had heard about the past attacks Charlie Hebdo had suffered, but to be honest, I was not a reader of Charlie Hebdo and I will perhaps buy it next week, but I won't become a reader. I definitely think freedom of speech is a cornerstone of democracy, however I would be inclined to say that Charlie Hebdo went sometimes a bit too far. They were sometimes provocative, but I still think it is their right to be so unless the law forbids it. My view hasn't really changed after the attacks, but Charlie Hebdo has obviously become a symbol. By attacking them, terrorists have attacked freedom of speech and, by extension, all the French people. This is why I am fully willing to say Je Suis Charlie, because even though I don't approve all their drawings, it seems important to me to fight for their right to say or draw whatever they want to.
Copyright © 2015 by Vagabond Journey Travel. This article was written by Evan McCaffrey and originally published on www.todayshuman.com
Views expressed in this article are the opinions of the author and do not necessarily reflect the views of The Epoch Times.