Each subtle brushstroke by traditional Chinese artist Zhang Cuiying brings canvases alive with the guiding force of truth, compassion, and tolerance, revealing the unspoken wonders of her tranquil inner world.
Behind the renowned Chinese-Australian painter's delicate art lies lifelong hard work and an unwavering resolve to uphold her faith. It's hard to believe that an acclaimed artist like Zhang, with solo exhibitions in over 100 cities in the world, once faced persecution in her homeland before the Australian government managed to rescue her.
Zhang, who swapped toys for paintbrushes as a child, believes that traditional Chinese painting is an art bestowed by the heavens, and therefore, the discipline is exceptionally strict. A blend of literature, poetry, calligraphy, and seal cutting, this divine art foremost entails the "cultivation" of one's inner self, eventually leading to the attainment of "harmony between man and nature."
"The painting is just like a person, as every stroke carries messages of the painter's inner self, thus there are high demands on the painter's moral character," Zhang, 59, told The Epoch Times. "We must constantly improve our moral character, making our artistic style very pure, elegant, delicate, and meaningful.
"I use 'truthfulness, compassion, and forbearance' as the guiding ideology of my paintings. It adds compassion and purity to my work. At a painting exhibition in Japan, a member of the National Diet said that the eyes of every figure that I've painted showed kindness and compassion."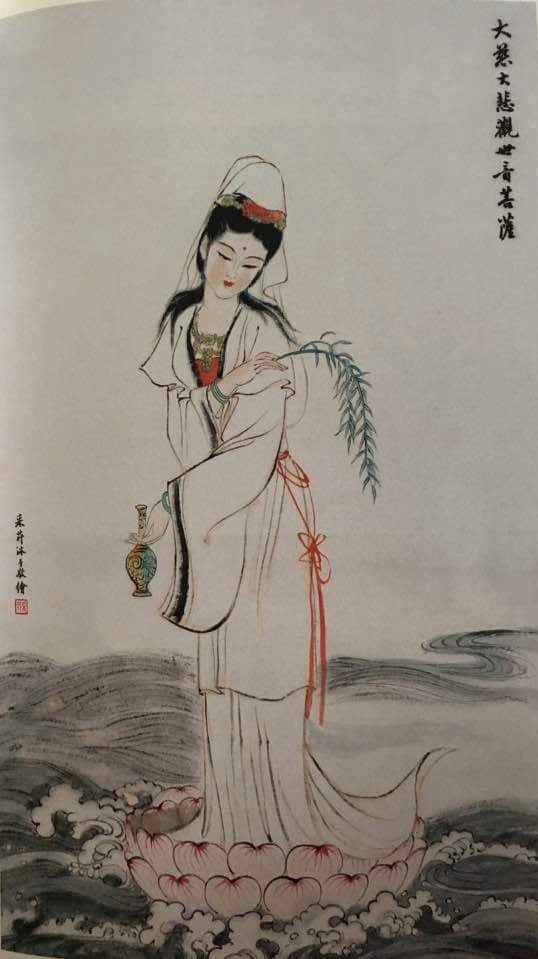 Zhang had a strong inclination to paint from an early age. The art would transport her to a world where she felt at peace and content.
Her journey toward becoming a professional artist began at the age of 10, under the mentorship of the famous calligrapher and painter Shen Zicheng. With a strong foundation in the traditional ways of painting, she later had the opportunity to learn from outstanding artists like Qian Juntao, Xie Zhiliu, and Liu Haisu.
The talented artist is known for her detailed paintings on themes ranging from earthly landscapes to heavenly paradises and traditional Chinese culture. Her artwork has been published in newspapers and magazines both in China and around the world, with celebrities from all walks of life attending her exhibitions.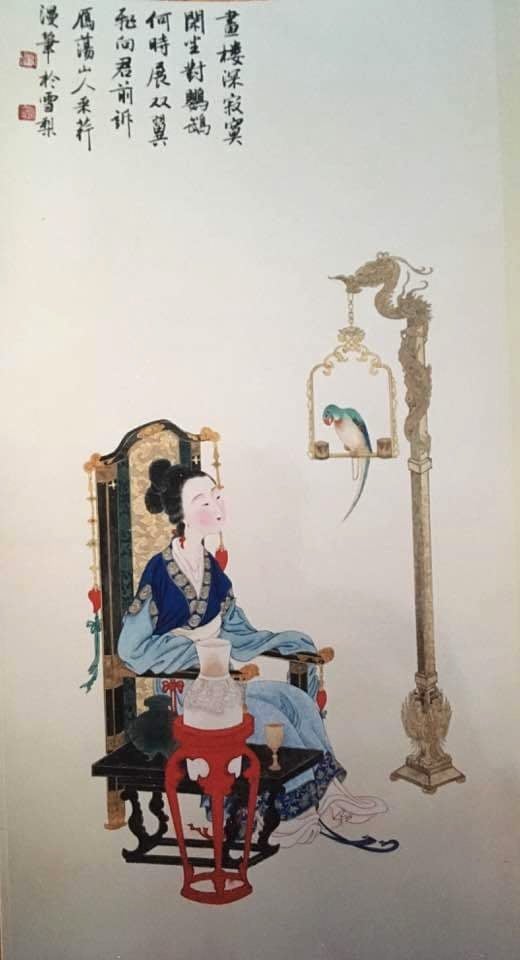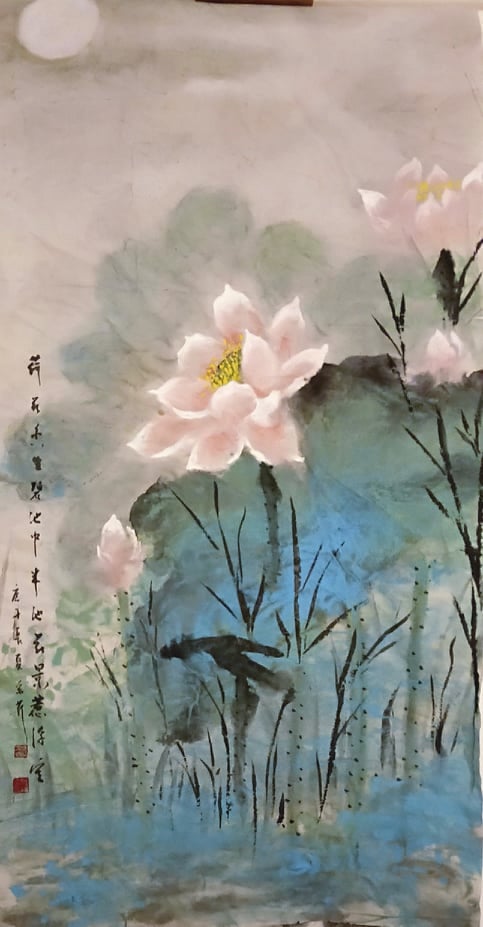 Visitors and attendees find her artwork radiating "warm and bright energy" and "strength and calmness of the painter's inner spirit." She recalled one such compliment where an audience member said how her paintings inspire "people to want to do good things."
Zhang has won several awards at exhibitions in China, Japan, Australia, and the United States. She is also the recipient of honorary awards from the state of Georgia, the city of St. Louis in Missouri, the California State Council, and the Columbus City Council, while Springfield in Illinois and Cincinnati in Ohio have issued proclamations in her name, "Zhang Cuiying Day."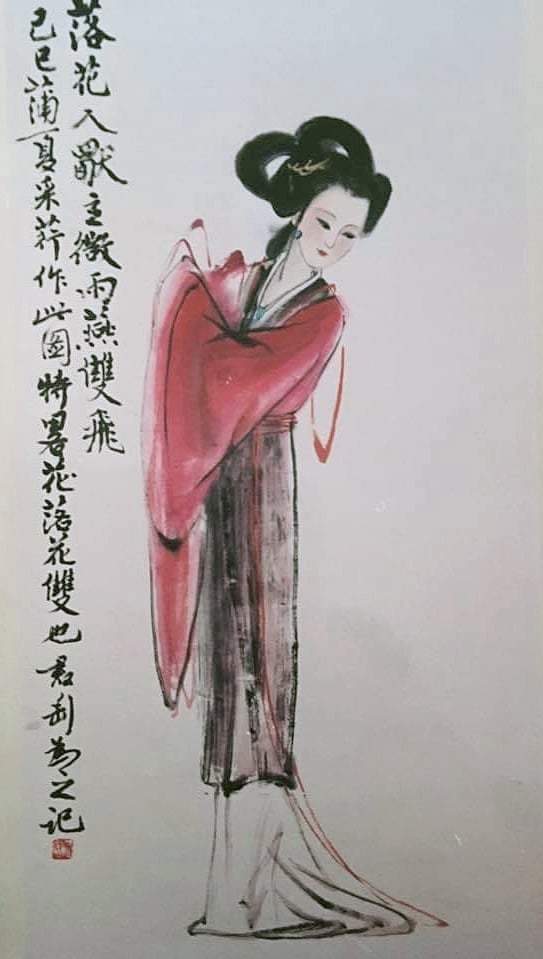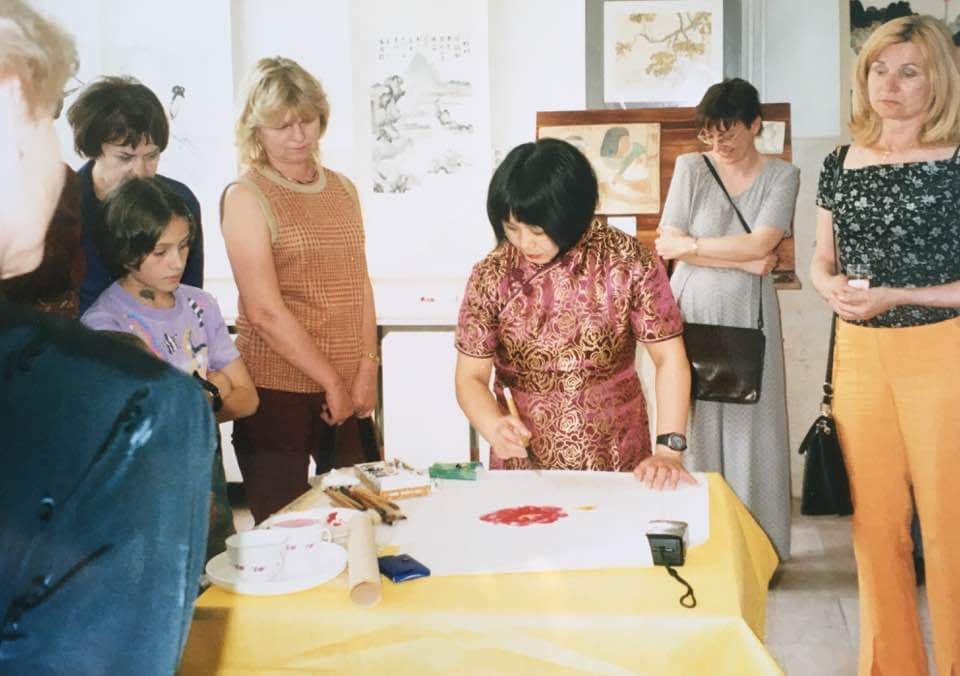 Finding Hope, Cultivating Compassion
Zhang got married in 1985 and migrated to Australia six years later with her husband. In the next few years, she had a relapse of rheumatoid arthritis, a condition she suffered from in her childhood; gradually, she struggled to even pick up her brush pens to paint.
"It was difficult to walk and eat, and I almost gave up all hope," Zhang said. "I went to the Western doctors and also the traditional Chinese doctors. I underwent ultraviolet rays, infrared rays, physiotherapy treatments. My condition did not improve and instead got worse day after day. I was still young but bedridden."
In 1997, Zhang came across an advertisement in an Australian newspaper about free meditation classes of Falun Gong, an ancient spiritual practice much-acclaimed for its health benefits that is currently practiced in over 80 countries. "It stated that some people felt so light after learning the practice that they walked effortlessly, as though they were flying," she recalled. "I was already bedridden and suffering, so I thought why not give it a try since it's free anyway—I didn't expect a miracle to happen."
Yet, Zhang said that her health underwent a dramatic change after the classes. "All pain in my body had disappeared. It was as though I had changed into a new person," she said. "The pain miraculously disappeared."
Falun Gong, also known as Falun Dafa, comprises five meditative exercises and moral teachings based on the tenets of truthfulness, compassion, and tolerance. As she endeavored to attune herself to Falun Gong's moral teachings, she felt her compassionate self emerging and inner world changing for the better, bringing her closer to higher realms of awareness.
"With regular meditative practice and every bit of improvement in my moral nature, my artwork also gradually became extraordinary, as though I was receiving help from the gods," she said. "My paintings improved further and it opened up a new path for me. My creations were published in Chinese, English, Japanese, and Russian albums of artwork."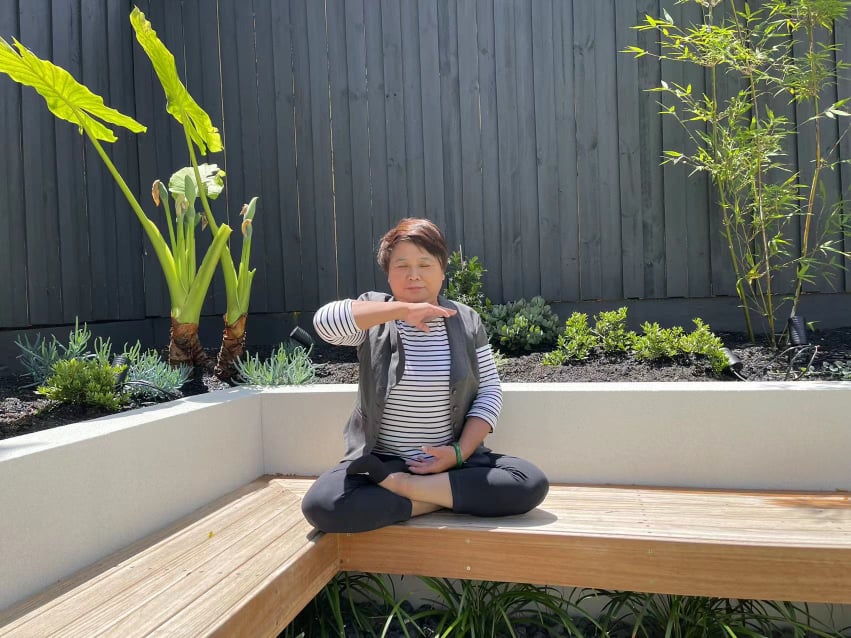 'Life In Prison Was Worse Than Death'
Falun Gong was introduced in China in 1992 and, by the late '90s, over 70 to 100 million Chinese people were practicing it. However, in July 1999, then-Chinese Communist Party (CCP) leader Jiang Zemin launched nationwide persecutory propaganda to overturn the public opinion of Falun Gong, fearing the growing popularity of the spiritual system that didn't fall under the regime's direct control.
"When I heard about the Chinese regime's suppression of Falun Gong, I felt like my heart was pierced with a knife. I was heartbroken with tears streaming down my face," Zhang said.
Hearing the reports about Falun Gong practitioners being tortured to death in China, Zhang wrote letters to the Chinese embassy in Sydney to help stop these human rights violations. But when nothing worked, she—like many other Falun Gong adherents—decided to go to China to explain the true situation directly to the authorities.
"I did not expect that my good intention would result in imprisonment, torture, and slander that lasted for eight months," she said. "I endured hellish torture, including sleeping on the concrete floor near the stinking toilet, being beaten, wearing shackles and handcuffs, and doing forced labor for over 10 hours a day, seven days a week."
Recalling that fateful day of Dec. 31, 1999, Zhang said she went to Beijing's Tiananmen Square with a hotel tour group to watch the raising of the national flag and she recognized another Falun Gong adherent from Melbourne, Australia. Suddenly, three plainclothes police officers dragged Zhang into the police vehicle; shortly after, she was arrested and beaten. By the morning, numerous other practitioners had been detained by the Public Security Bureau for going to Tiananmen Square.
Regardless of her celebrated painting career, Zhang had become a "state enemy" and target of persecution just like the countless other Falun Gong adherents in China.
In January 2000, Zhang was briefly detained for practicing exercises at the Rending Lake Park in Beijing. A month later, on Feb. 4, 2000, Zhang and her husband were having dinner at a restaurant in Beijing when a dozen plainclothes policemen from the Ministry of National Security arrested them "without any reason," she said. The policemen drove them in two cars to the Beijing Detention Center where they both were detained together with political and death-row prisoners for a week. The authorities forced her to stand on the cement floor in freezing winters, deprived her of sleep, and took turns to interrogate her for 24 hours. They harassed her to make her forgo her Australian citizenship; she responded to their brutality by going on a hunger strike. After the one-week arrest, she went to Hong Kong, but only to come back to China in March, via Shenzhen city.
On March 5 that year, Zhang and a few other Hong Kong Falun Gong practitioners decided to go to China to appeal once again, hoping that the communist regime would stop the persecution. However, police arrested her at the Shenzhen airport after they found her letter to Jiang Zemin and Prime Minister Zhu and Falun Gong books in her bag. She was detained and tortured in the city's Shangmeilin No. 1 Detention Center. On March 16, 2000, she went on a hunger strike, which lasted over 50 days.
In August 2000, Zhang was transferred to the Shenzhen No. 3 Detention Center and brutally tortured. In order to break her spirit, for almost two months, the detention center locked her in a cell in a male prisoners' building until the Australian consulate stepped in to get her placed back in the women's prison. While in detention, Zhang was handcuffed and shackled with over 13 pounds (approx. 6 kg) of ankle chains, had lunch boxes thrown at her, cold water splashed, and had her hair pulled.
"Life in prison for eight months was worse than death; I couldn't bear to look back," she said. "I was cruelly imprisoned in a dark and damp cell and slept on the cold concrete floor. ​​They vilely instigated the criminal inmates to beat me, press my head to the ground, and stomp on the back of my hand, leaving bones broken.
"I was made to sleep on the cold concrete floor with my head next to the toilet and had to smell the urine and stool of over a dozen people every day. I wasn't allowed to write letters to my relatives, couldn't make phone calls, and didn't see sunlight for eight months."
Throughout her time in prison, Zhang worried for her then-12-year-old daughter and her husband in Australia. She wasn't permitted to meet her relatives in China, while the Australian consulate was only allowed to visit her once a month. "Though the consulate wanted to visit me every week, they weren't allowed to do so," she said. "When they visited me, they also saw how bad the police's attitude was. The translator didn't really dare to translate our conversation and the officials had to tell the interpreter not to worry and carry on.
"The Australian officials knew that I was being persecuted, thus they were worried. The officials wanted me to be released, but the Chinese government refused; they kept calling the government to negotiate."
During the eight-month-long torture, Zhang remained steadfast. She says it is her faith in Falun Gong that kept her strong. "I believe in truthfulness, compassion, and forbearance. Thus I was able to persevere," she said.
With the relentless efforts of the Australian government, Zhang was released in early November 2000. Surrounded by almost a dozen police officers at the Shenzhen airport's waiting room on Nov. 4, 2000, Zhang went ahead one last time to expose the communist regime's persecution of faith while still in her homeland. She took off her coat to reveal a T-shirt on which she had inscribed a poem while in detention. While passersby looked at her with surprise and admiration, the policemen were left embarrassed; all they could do was to try in vain to threaten Zhang to cover the T-shirt with her coat.
The verses read: "Just for saying Falun Dafa is a righteous Law (Dharma), I was imprisoned for eight months and faced hardships. My head can be cut off, my blood can shed, but my noble spirit will live on in the prison. China will become an eternal sinner for persecuting Falun Gong!"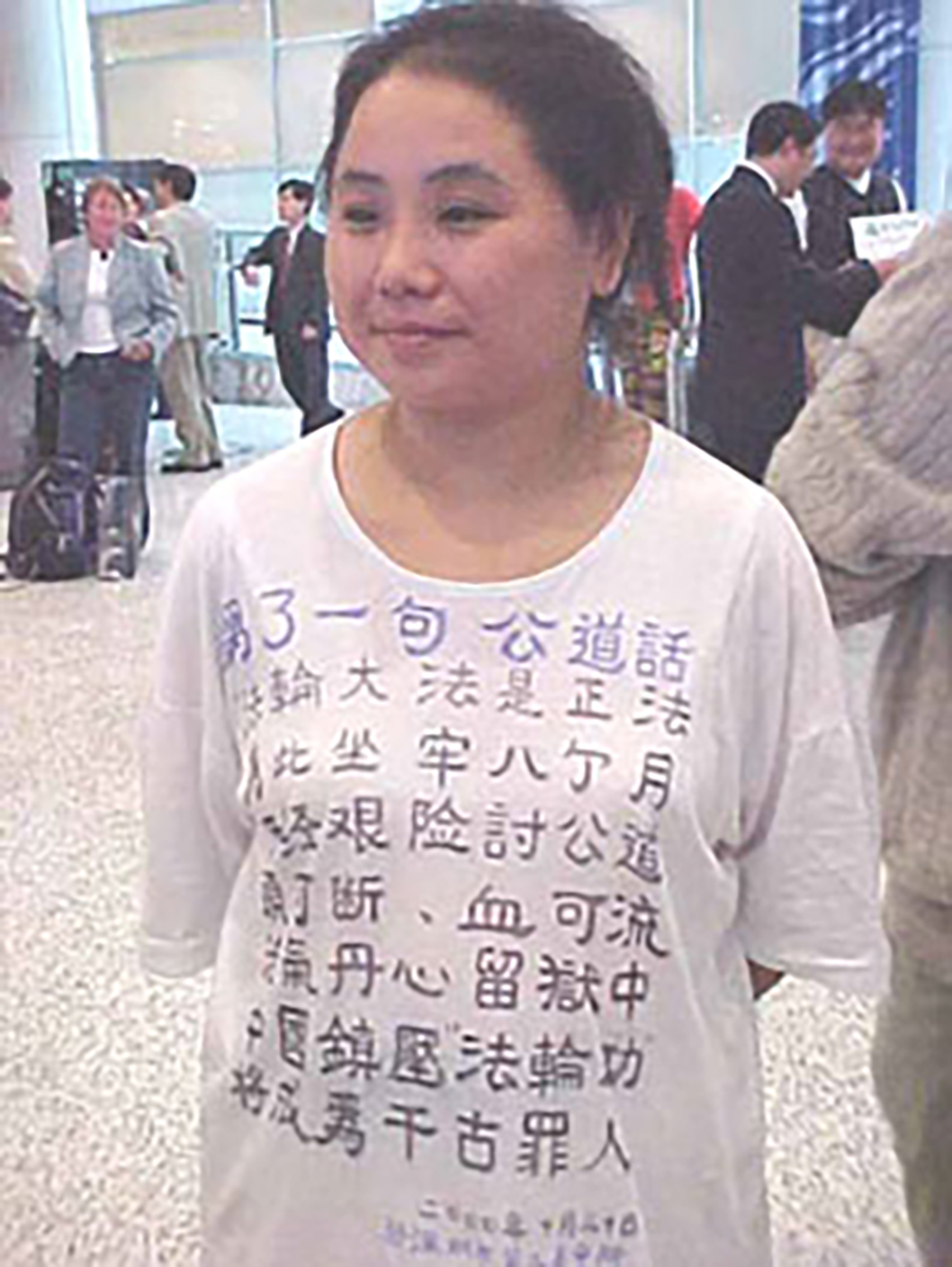 On Nov. 5, 2000, Zhang returned to Australia and reunited with her family. "The officials at the Australian Ministry of Foreign Affairs were in tears when they learned of my tragic experience in the Chinese prison," she said.
Zhang is happy that she can practice her faith openly in Australia, but her heart forever longs to see her Chinese people free from communist rule.
"In China, people have no freedom, they have no belief, they cannot speak their mind, and they can't appeal when they are persecuted," she said. "I hope that the Chinese citizens could learn about the goodness of Falun Gong. The Chinese should be able to see the evilness of the CCP and be able to see the light of the world."
Jocelyn Neo and Arshdeep Sarao contributed to this report.