Who better to paint biblical scenes than someone who had devoted her life to God. Sister Plautilla Nelli painted 13 life-size male figures, depicting the moment of Christ's betrayal, across a 21-foot canvas—one of the largest paintings by any early female artist worldwide.
Nelli's "Last Supper," painted around 1550, is the only "Last Supper" known to have been painted by a woman. The painting was recently unveiled in the Old Refectory of the Santa Maria Novella museum in Florence, Italy, after four years of extensive restoration. It is now part of the museum's permanent display.




Yet, you can be forgiven for never having heard of Florence's first female painter. Essentially, it wasn't until 1938 that Nelli was rediscovered and noted in an article by Giovanna Pierattini titled "Sister Plautilla Nelli, Dominican Painter." As recently as 2006, only three works were attributed to her. Now there are nearly two dozen.
Many of Nelli's works, like the "Last Supper," have been recovered and restored to their former glory, largely due to fundraising by the U.S. organization Advancing Women Artists (AWA). It was founded in 2009 by the late author and philanthropist Jane Fortune (1942–2018).
Fortune was intrigued as to why so little was known of Nelli's works considering that her paintings were popular when she was alive. Fortune vowed to make other female artists visible, and hence the AWA's aim is to "research, restore, and exhibit art by women in Tuscany's museums, churches, and storehouses."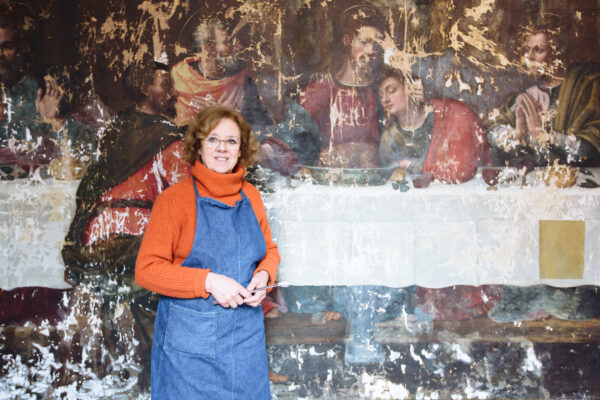 AWA's recovery of Nelli's forgotten oeuvre led to the Uffizi's first exhibition of her work in 2017: "Plautilla Nelli: Convent Art and Devotion in the Footsteps of Savonarola," which included 15 of the 20 paintings and drawings attributed to the artist that AWA had restored over the course of a decade.
Sister, Prioress, and Painter
Pulisena Margherita Nelli was born in 1524, to a draper. In 1538, at the age of 14, Pulisena took to the cloth and became Sister Plautilla in the Dominican Convent of Saint Catherine of Siena, in Florence. Her only sibling had preceded her into the convent. Nelli was a prioress at the convent on three occasions, and possibly when she painted the "Last Supper."
Nelli continued the artistic tradition of the early 16th-century School of San Marco, which aligned with the concepts and philosophy of Friar Girolamo Savonarola. In 1495, Savonarola instigated the Bonfire of the Vanities, whereby objects that encouraged people to sin were destroyed, such as cosmetics, art, and literature. At that time, Savonarola also supported art created by religious women "as a way to avoid sloth."
Dominican monasteries and convents were places that focused on fostering literature, music, painting, and miniatures, Pierattini noted in her 1938 essay. Undoubtedly, this rich cultural environment would've aided any artist. The religious artwork in Nelli's convent would have also aided spiritual contemplation and concentration.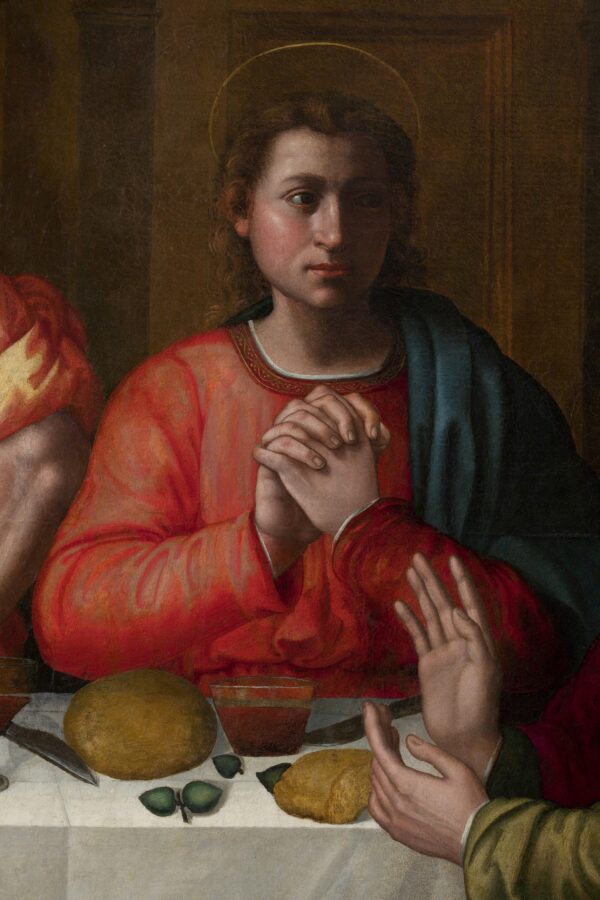 Nelli painted large canvases with biblical subjects. Her "Last Supper" was a workshop piece; eight sisters are thought to have worked on the painting, all with varying levels of skill. The painting was originally hung in the refectory of the Dominican Convent of Saint Catherine of Siena, where at mealtimes the sisters were able to reflect on the religious scene, aiding their meditations.
Although the confines of the convent workshop meant that Nelli must have been limited to certain artistic experiences, she overcame these challenges. For example, as a nun she couldn't study anatomy. In addition, apart from her own hair, she may not have been able to closely study other examples of hair due to its being hidden under the habit.
The art historian and artist Giorgio Vasari noted that Nelli "had no great practice in her art," in his 1568 publication, "Lives of the Most Excellent Painters, Sculptors, and Architects." What he meant was that women were unable to apprentice in a workshop alongside a master. Nelli would not have learned to study, draw, and copy living and natural objects as men did, Vasari wrote.
Nelli worked with what she had. She taught herself art through the first book of meditations on the rules of drawing by Alessandro Allori and M. Agnolo Bronzino, as Vasari attests to in his "Lives," and simply through copying great art. Along with the interior of the convent, which would have had remarkable devotional works, she had inherited 500 of Fra Bartolomeo's drawings. Bartolomeo also owned a collection of wooden models that the sisters at the convent may have also inherited.
Bartolomeo was a prominent devotional painter of the San Marco School, who was inspired by the pre-eminent Italian painter Fra Angelico. Bartolomeo's drawings, consisting of not only Bartolomeo's works but also those of many other accomplished artists, were a valuable resource for her to copy and hone her skills.
"She, beginning little by little to draw and to imitate in colors pictures and paintings by excellent masters, has executed some works with such diligence, that she has caused the craftsmen to marvel," Vasari wrote.
Indeed they did marvel. Nelli's art was highly regarded by noblemen who believed that her paintings held a mystical quality. Her paintings were "in the houses of gentlemen throughout Florence," Vasari wrote. "There are so many pictures that it would be tedious to attempt to speak of them all."
To find out more about Plautilla Nelli's "Last Supper" visit SMN.it


The restoration of Nelli's "Last Supper" is the result of many expert hands at the Municipality of Florence, Florentine Civic Museums, the Superintendent's Office for Archeology, Fine Arts and Landscape of Florence, Pistoia and Prato, and the Dominican friars of the Monastery of Santa Maria Novella. The project is detailed in the book "Visible. Plautilla Nelli and her Last Supper, restored" by Linda Falcone.