Along with more than 3 billion spectators, Art Thompson's anxiety grew as he intensely watched monitors in a packed control room in New Mexico. Austrian daredevil Felix Baumgartner was about to leap from a capsule, 128,560 feet (24.5 miles) above the earth's surface. On Oct. 14, 2012, 50 seconds after stepping off the capsule ledge, Baumgartner broke the sound barrier, reaching speeds of 843.6 miles per hour (Mach 1.25, or 1.25 times the speed of sound). He broke the record for the highest freefall, largest manned balloon (at 30 million cubic feet), and highest balloon flight that Col. Joe Kittinger set on Aug. 16, 1960.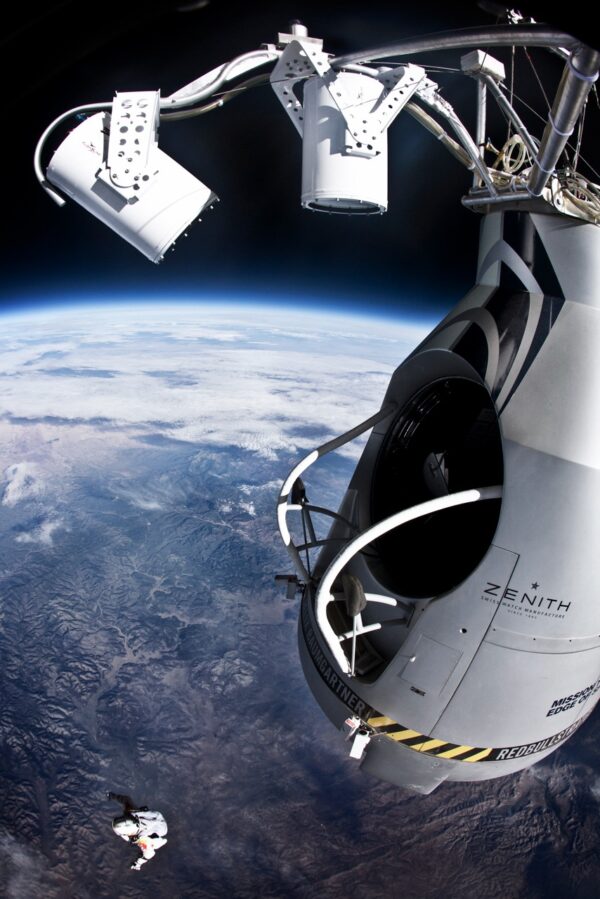 Thompson, 64, of Sage Cheshire and A2ZFX is the eclectic genius behind a large number of projects spanning an incredibly diverse portfolio. He was responsible for the design, engineering, and building of the Red Bull Stratos pressurized capsule along with the life support system, technical procedures, and flight-testing. As the only company allowed to purchase spacesuits, Sage Cheshire modified the design with the David Clark Company for a higher-mobility spacesuit that is now integrated into the next generation suit for NASA.
"Someday, perhaps I'll write a book of all the behind-the-scenes action that took place—it's quite remarkable," Thompson said, adding that he could not have done it without his great mentor and friend Joe Kittinger and life-support engineer Mike Todd.
"If you can imagine it, we can probably build it," he said from his humble shop in Lancaster, California, smack in the middle of the Mojave Desert and Aerospace Valley. "No project is too big or too small. We can build big, creating an over the top project or vehicle, or make something small like a special award for your favorite organization."
Posters of blockbuster films he worked on, along with numerous memorabilia, adorn his office. Some of his projects include building an eight-foot giant yo-yo, one-foot stomp rocket, and rocket-powered wagons for Nitro Circus; vehicles for "Batman and Robin"; Mini Coopers and DJ party vans for Red Bull; and one of his favorites, the HumRider (an SUV fitted with hydraulics that elevates it over traffic), which reached more than 35 million views in the first 48 hours and hundreds of millions of total views on YouTube.
"We have created the highest-viewed programs with the most success for our customers but have never advertised to promote who we are," Thompson said. On the Red Bull Stratos program alone, Red Bull's return on investment for international exposure and increased business was $3.9 billion.
Childhood Memories
One of his earliest memories he clearly recalls was at the age of 2, when his father, working as an industrial air-conditioning technician, took him and his sister, Sunny, to work.
"I remember playing in a backyard, and this man picks me up, sets me in his lap, and drives me and Sunny around his yard on this little train. I was so fascinated by all the little villages and models," Thompson said. "I later found out that that man was Mr. Walt Disney. I think it helped spark a fascination in me that contributed to what I am today."
Typically, children might receive tricycles and jump ropes for entertainment. Thompson was handed an armful of wood, a handful of nails, hammer, saw, paint, and plenty of drawing paper. His parents, who were science teachers, exposed him at an early age to science, art, music, animals, and so many fascinating topics.
"Unfortunately, parents today rely too much on TV, iPhones, and video games to educate and entertain kids. I don't think it does much to grow their imagination. The younger you can engage them and teach the fascinations of the world the better. The earlier you pack their brain, the more they will produce when they are older," he said.
After running an R&D department at Northrop Corp. as part of a team of engineers to build the B-2 "Stealth" Bomber, Thompson supported design, fabrication, and testing for other aerospace companies on varied projects such as UAVs (unmanned aerial vehicles), electric helicopters, low observable vehicles, and rocket programs. He claims he can do things because his company is small and there is no red tape.   
"We handle everything, so we don't have to wait on anybody's approval," he said.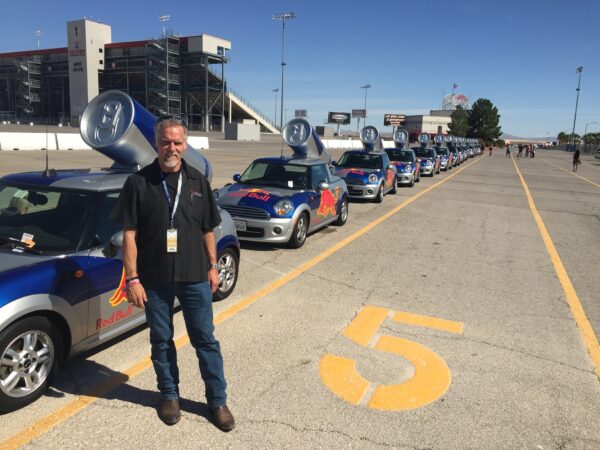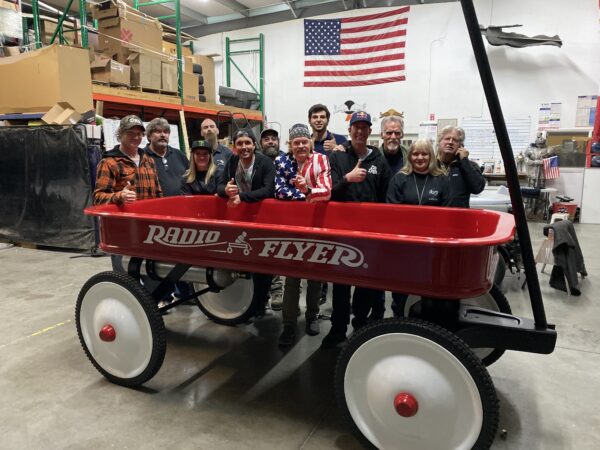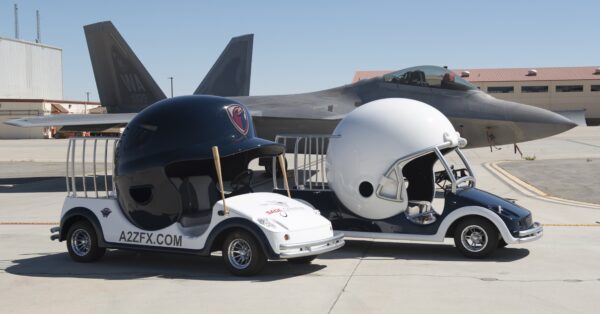 One customer, Gulfstream, contracted his company Sage Cheshire to build a certain missile avoidance component.
"It would typically take a year and a half to produce, and we did it under three weeks with FAA approval. That saved the company a ton of time, money, and headaches," he said.
Thompson recently became involved with the acquisition of XCOR, a rocket company that filed for bankruptcy.
"I'm not sure what we are going to do with all the patents and technology but the XCOR team was brilliant in many of their designs. They were competing early on with Elon Musk of Space-X,  Blue Origin, and Virgin Galactic; they just didn't have the marketing, management, or a billionaire behind them. I am hoping someone will want to do something with the technology because it will help revolutionize affordable space systems," he said.
Inspiring Others by Doing the Impossible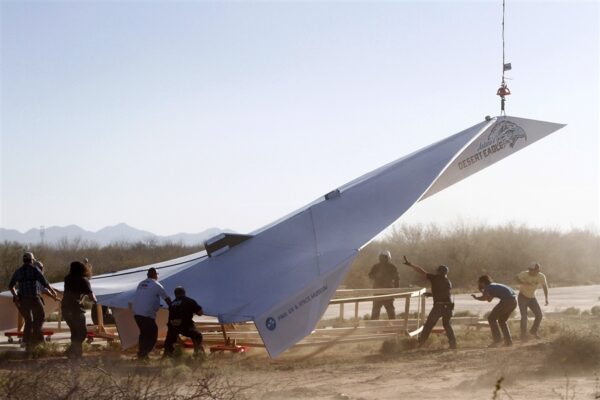 Inspiring kids of all ages and helping his community is a top priority. When the City of Lancaster asked him to design and build a memorial for Sgt. Steve Owen, an officer who was horribly killed on duty, he didn't hesitate. Along with sculptor Nay Shudder, they built a beautiful bronze memorial, honoring Owen's memory and giving hope to the community.
Constantly thinking of ways to support STEAM (science, technology, engineering, art, math) education, Thompson is the president of the Flight Test Historical Foundation, a nonprofit that is raising money to build a new museum at Edwards Air Force Base.
"We want to preserve the memory of aerospace that happened mostly here in the Antelope Valley, and inspire the next generation by including hands-on learning stations," he said.
"I love inspiration—when we can touch a child's mind to never give up and continue to dream of the possibilities no matter what has to be overcome. We can create and inspire the world by just doing it and following through with what many people would think of as impossible."
His latest project was the Ascension project, helping David Blaine to float across the Arizona sky, carried by 52 helium balloons and reaching an altitude of 24,900 feet before he parachuted to earth.
"David dreamt of flying with a handful of balloons since he was a child and was inspired to do something beautiful for his daughter and bring hope to a public torn by the pandemic," Thompson said. "We were honored to be a part of David's dream and work with  friends from the Stratos project again, like Luke Aikins who managed the David Blaine Ascension project."
Thompson hired Aikins on Red Bull Stratos to test the parachute and safety systems for Baumgartner, and Aikins went on to be the first person to jump from 25,000 feet without a parachute into a net on the ground.  
"Don't let people tell you something can't be done," Thompson said. "With faith and determination, more than likely, your dreams can become reality."
Linda KC Reynolds began her photography career in the U.S. Air Force. After serving six years, she worked full-time for Northrop Grumman on the B-2 Stealth Bomber and now freelances for various aerospace companies and other venues. She is passionate about free speech, musical production, and sharing peoples' stories.