Mention "vacation to Florida" in conversation and the images that come to mind for most people are commercial, Disney-fied, technicolor visions of family-packed beaches, Mickey Mouse ears, crowded theme parks, and palm trees dancing in the sunshine. 
And while Florida indeed has all of that, the Sunshine State has so much more—including its own tropical take on national parks. But most don't picture the state's great outdoors or a national park adventure when they think of visiting Florida.
While there are national preserves, national monuments, national memorials, national seashores, and even a cultural heritage corridor spread across Florida, there are only three designated national parks in the state. Most families don't consider Florida when they begin planning a national park vacation, they should—the state is home to three of the most unique parks in our nation's repository. 
Unsurprisingly, Florida's parks don't sport the waterfalls, geysers, mountain ranges, and glacially-fed lakes that make national parks such as Yellowstone and Yosemite famous, but they do have one-of-a-kind draws of their own. Aside from preserves like the freshwater Big Cypress Swamp and centuries-old monuments like the 1695 Castillo de San Marcos—both worth a visit in their own right—the assortment of Florida highlights manned by the U.S. National Park Service includes Everglades National Park, Biscayne National Park, and Dry Tortugas National Park. 
All three of Florida's national parks are located in the southern half of the state, making it easy to check them all off in one trip—not to mention the fact that they're open year-round. Two of the three, Everglades National Park and Biscayne National Park, border Miami—and, fun fact, Miami is said to be the only city in the U.S. with two national parks on its borders. 
Let's take a look at what makes each of these parks so unique.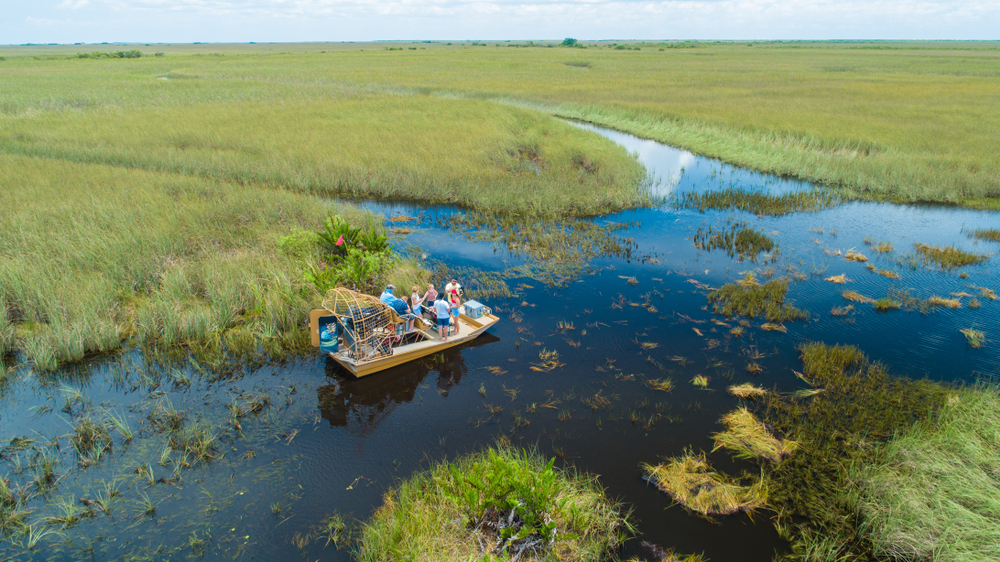 Everglades
Everglades National Park is a gigantic swath of mangroves, swamps, wetlands, and wildlife; at 1.5 million acres, it's the largest subtropical wilderness in the U.S. Actually a vast sheet of slow-moving water, the Everglades stretches from coast to coast across the lower Florida peninsula, taking up a large portion of the bottom half of the state. The area is recognized as a World Heritage Site, an International Biosphere Reserve, a Wetland of International Importance, and is even a specially protected area under the Cartagena Treaty.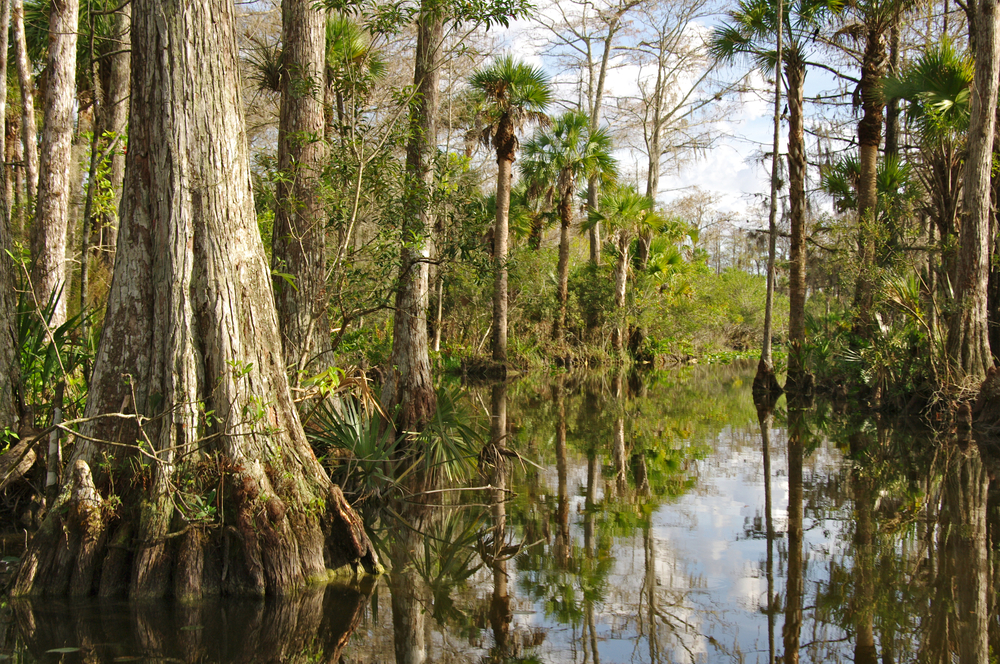 Visitors to Everglades National Park can expect to encounter not only a precious, delicate landscape but also an entire ecosystem, a habitat for rare and endangered species such as manatees, American crocodiles, and even Florida panthers. There's also a good chance of spotting alligators, turtles, dolphins, and many different types of birds in the Everglades. 
You can tour yourself through the park on adventures like bird watching, boating, camping, fishing, or hiking, but guided tours are also available. Airboats, which have giant air propellers on the back to glide the vessel over the surface of the water, are another popular way to explore the Everglades; there are various tour guides and outfitters who offer this type of adventure. 


Some of the most popular attractions of Everglades National Park include Anhinga Trail, the Nike Hercules missile base, the 99-mile Wilderness Waterway, the 65-foot observation tower at Shark Valley, exploring the Florida Bay, boarding a narrated tram tour, and visiting Flamingo, the southernmost point of mainland Florida.
You can access the park through three different areas of South Florida, though it's important to note that these three entrances are hours apart.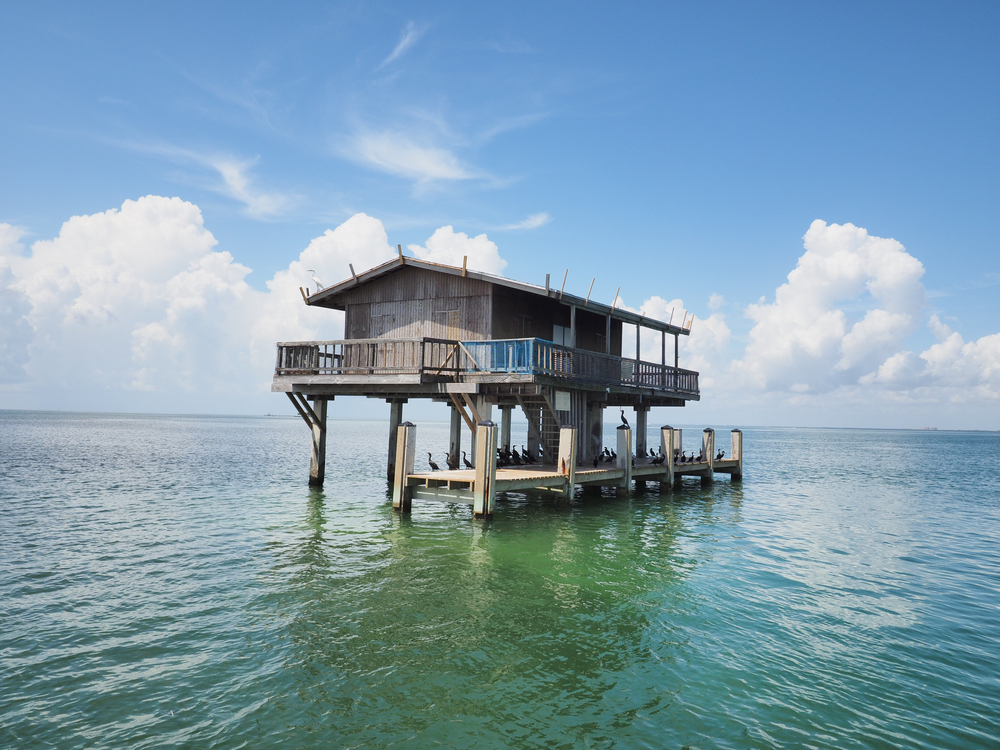 Biscayne
After you've fully explored the River of Grass, continue your trek south to Biscayne National Park, located a little less than an hour south of Miami. Perhaps the most unique trait of this park is that it's 95 percent underwater—a saltwater paradise ripe with colorful corals and sea life. Plan to snorkel, scuba dive, or board a glass-bottomed boat tour to get the most out of Biscayne National Park; swimming here is a bit like swimming in a tropical aquarium. You can spot the Miami skyline from the park, yet it feels like another world entirely.
Plan to visit the park's many islands by boating, kayaking, canoeing, or taking a tour; you don't want to miss the 1930s lighthouse on Boca Chita Key nor the underwater Maritime Heritage Trail, peppered with the remains of shipwrecks of centuries past. But shipwrecks aren't the only history hidden in the park: Elliott Key, the park's largest island, was once populated by a community of spongers, wreck divers, and pineapple farmers; the Jones Family Historic District was home to a family who sold the land to become millionaires, an uncommon fate for early-20th-century black families living in the American South.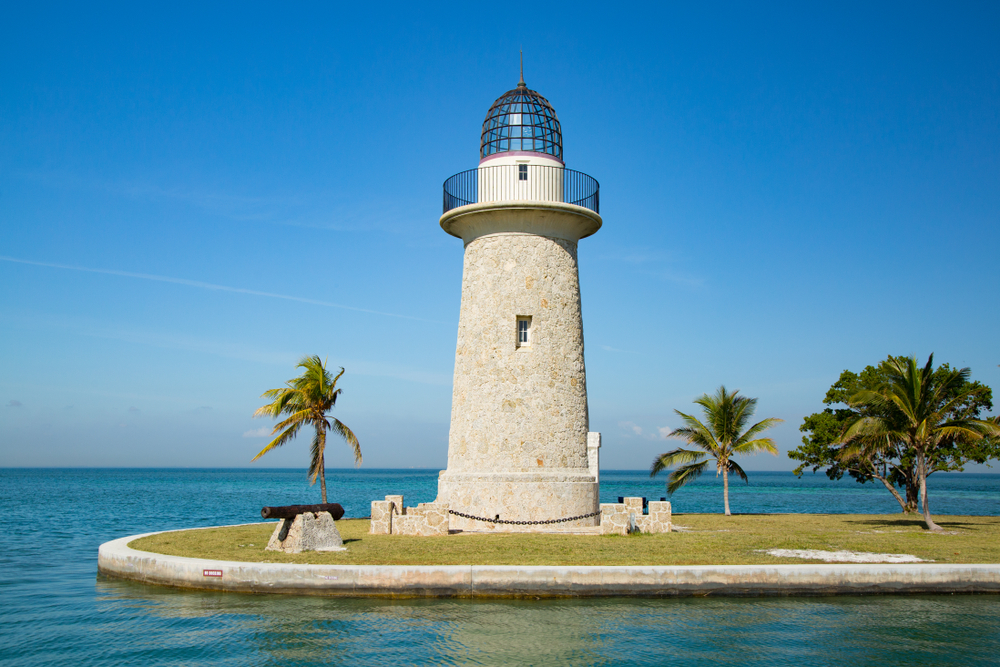 Another interesting feature of Biscayne National Park is Stiltsville, a collection of 1930s homes built on stilts.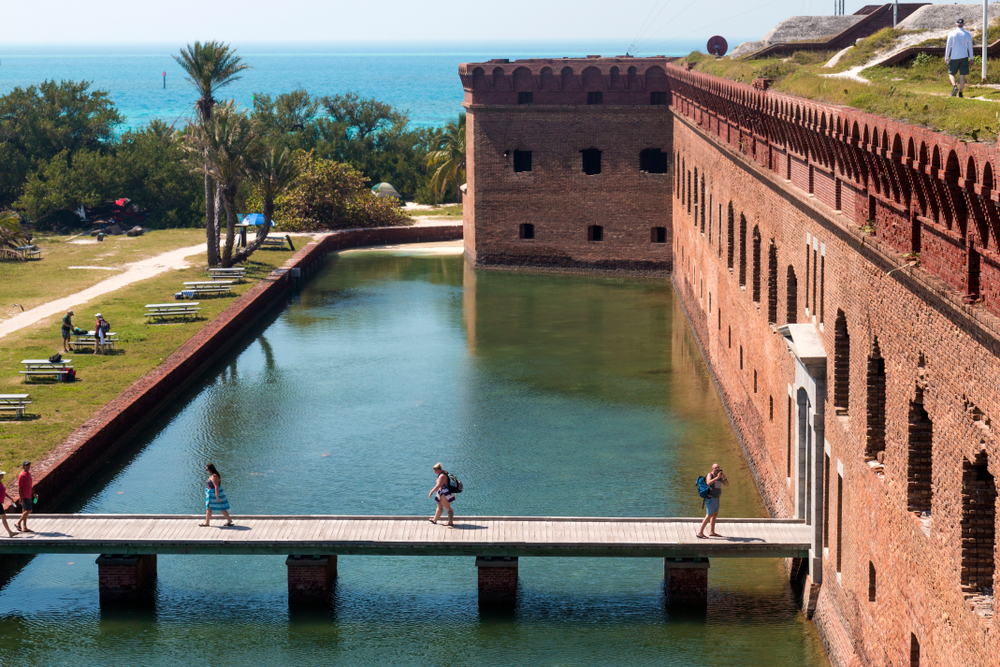 Dry Tortugas
Dry off from the watery fun of Biscayne National Park and head even further south to reach Dry Tortugas National Park—in fact, you'll need to head as far south as possible, all the way to Key West, the southernmost point of the continental U.S. Located 70 miles off the coast of Key West, Dry Tortugas is accessible only by boat or seaplane. It's home to the historic Fort Jefferson, used as a prison during the Civil War, and also boasts a variety of aquatic adventures thanks to the fact that it's primarily underwater.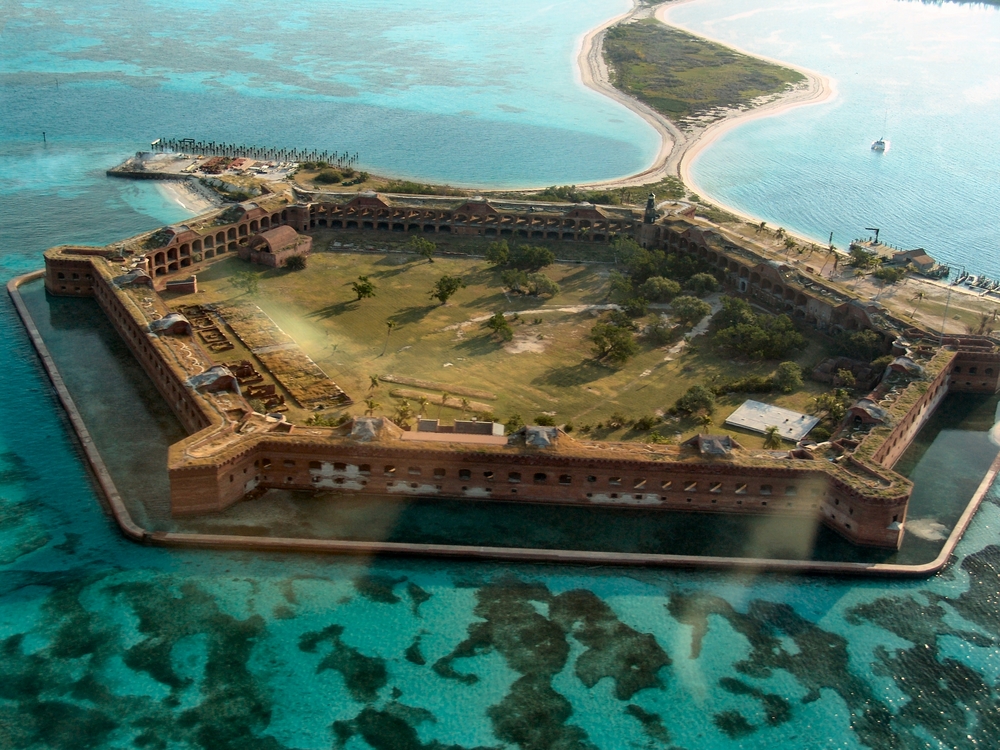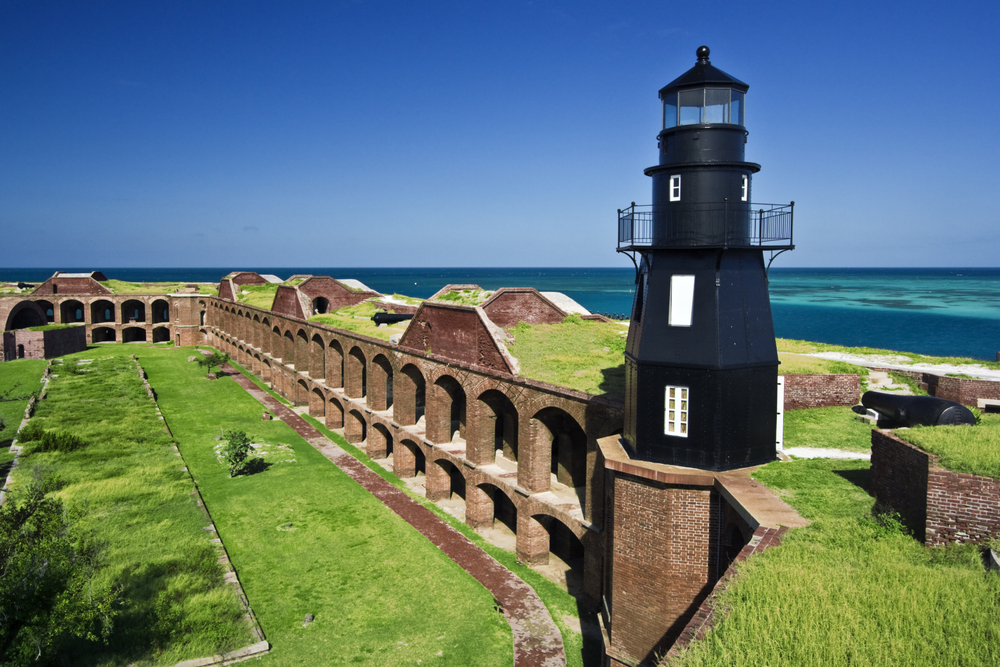 Plan to snorkel, dive, boat, or swim during your visit, and keep in mind that it's a long day in the sun: most visitors opt to take the two-hour ferry there and back in the same day, making for a full day visiting the Dry Tortugas, as the only other choice is to camp there overnight.
Though the parks are open year-round thanks to Florida's unapologetic lack of a real winter, it's important to keep in mind that summers in Florida can get extremely hot and wet, especially since this overlaps with hurricane season, when potential storms are always a threat.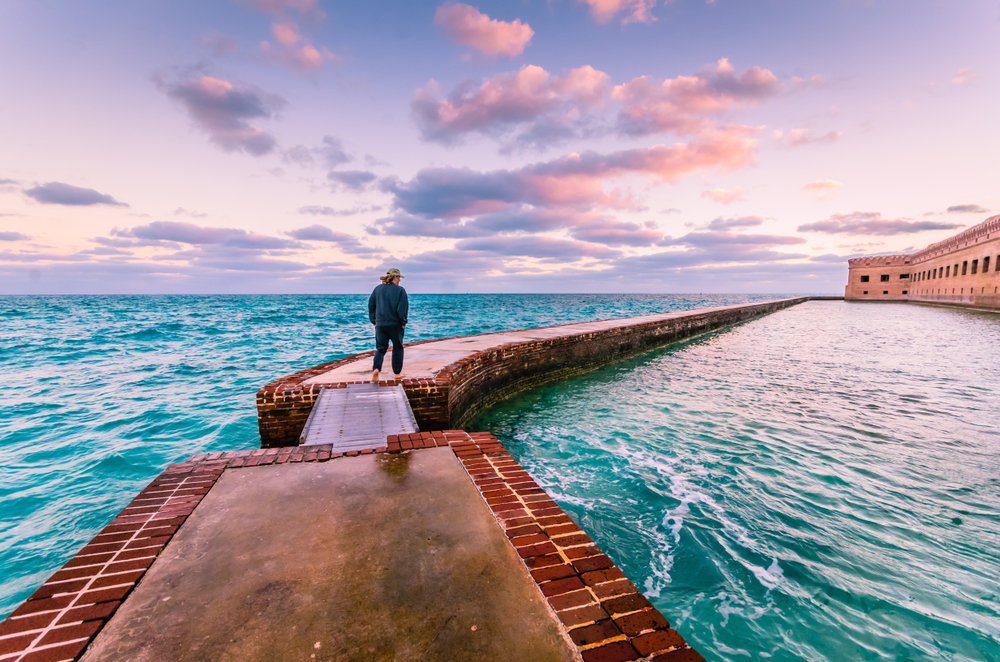 These might not be your ideal conditions for a national parks vacation to Florida, so plan accordingly.
Skye Sherman is a freelance travel writer based in West Palm Beach, Fla. She covers news, transit, and international destinations for a variety of outlets. You can follow her adventures on Instagram and Twitter @skyesherman