I spent a weekend in Paris in early January and participated in some activities that may be more "off the beaten track" for some visitors but which were fun and interesting nonetheless. Needless to say, this great city is just as seductive in the dead of winter as at other times of the year.
My first stop was the international trade fair Maison & Objet, a huge lifestyle show held twice a year that is open to the public. 
A deep dive into everything art-of-living related, the exhibits, booths, and still-life presentations are the highest standard of chic. Like Paris Fashion Week, M&O calls itself Paris Design Week. It is held in eight exhibit halls at the sprawling Paris-Nord Villepinte fairgrounds near the Charles de Gaulle airport. 
M&O upends anything you thought was cool enough to buy at West Elm or Pottery Barn. Billed as a forecaster of the future of living, every aspect of decoration, design, furniture, accessories, textiles, fragrances, tableware, and the world of children is exhibited at the show.    
I had a design epiphany while I walked, wide-eyed, from hall to hall, albeit exhausted from seeing acres of design ideas that represented cutting edge, contemporary, and upgraded traditional. 
The great part of visiting this trade fair is that it is held in Paris, also one of the world's culinary capitals, and thus offers the most sophisticated dining options. From trendy coffee bars overflowing with fashionably dressed attendees to incredibly decorated pop-up dining rooms with chandeliers worthy of Versailles and menus to tantalize taste buds, my entire M&O experience was first class.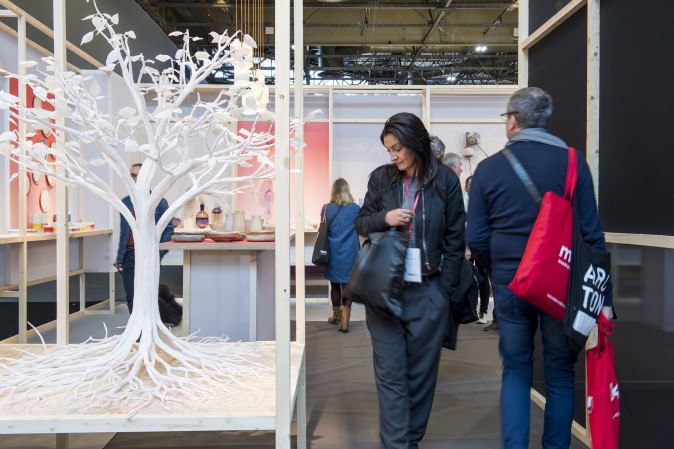 Van Cleef & Arpels
The few days I spent in Paris were not only design focused, but also involved some artisanal experiences. With a little planning, I was fortunate to be able to attend a class at renowned jewelry manufacturer Van Cleef & Arpels' L'Ecole. Opened in 2012, L'Ecole is a unique learning institution for the public to peek inside the exquisite world of jewelry and watch-making and work alongside the company's exceptional craftspeople.
Daily classes (reservations necessary) are held in one of the company's gloriously renovated mansions off the historic Place Vendome. Having already had training in diamond grading through my previous employer, I was excited to try a hands-on class to learn more about jewelry techniques like wax carving and stone setting with their master jewellers. 
The classroom is set up exactly like the upstairs workrooms: individual work stations have a leather apron-like skirt attached to the work surface which catches gold filings and any tiny gems that fall off the desk while you're fiercely focused on "getting it right." Suffice it to say, my skills at carving a small block of green wax with a tiny metal file were abysmal. Setting a gemstone was a little better.
The best part was wearing an official white lab coat (which I wanted desperately to take home with me, but couldn't) and getting a certificate at the end of the class!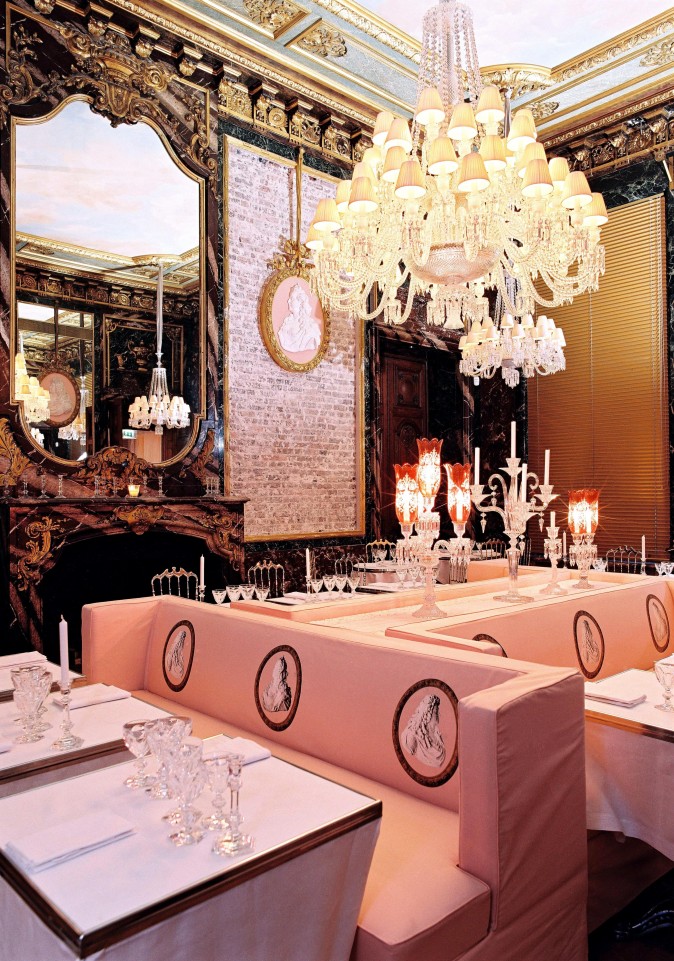 The Big Wheel, Musée Baccarat
Emerging from L'Ecole onto the Place Vendome into the blazing sunlight and brisk temperature, I noticed La Grande Roue—the Big Wheel—in the distance at Place de la Concorde. This ferris wheel comfortably sits 6-8 people in a single gondola and offers some of the best views of the city for tourists, romantics, families, or even the occasional Parisian!
I got in line immediately and, from a height of 70 metres, had a thrilling "aerial" tour of Paris, spotting landmarks such as the Louvre, the Tuileries Gardens, the Champs-Elysées, and of course, the Eiffel Tower.
I got in line immediately and, from a height of 70 metres, had a thrilling 'aerial' tour of Paris.
The next day was reserved for Baccarat's elaborate gallery-museum in a restored 19th-century private mansion in the residential 16th arrondissement. French designer Philippe Starck was hired to refurbish the interior of this special mansion which houses the company's headquarters, a boutique, and a fantastic gallery where you can see examples of extraordinary crystal—everything from chandeliers to glasses to vases. The fully restored ballroom is spectacular.
The museum is also home to Michelin-starred chef Guy Martin's Cristal Room restaurant, which serves lunch and dinner in an over-the-top setting with, of course, Baccarat stemware from which to enjoy the accompanying wines and champagnes.
Even in the short time I had on this visit to Paris I enjoyed some exciting and fulfilling experiences that I would love to repeat again sometime.





Isabelle Kellogg is a writer and public relations consultant in the luxury sector, with a passion for diamonds, jewelry, watches, and other luxury products, including travel.